This website uses cookies to ensure you get the best experience while browsing it. By clicking 'Got It' you're accepting these terms.
A Vanishing Ecosystem Southwest Of Houston Gains Protection
Feb. 21, 2012 08:55AM EST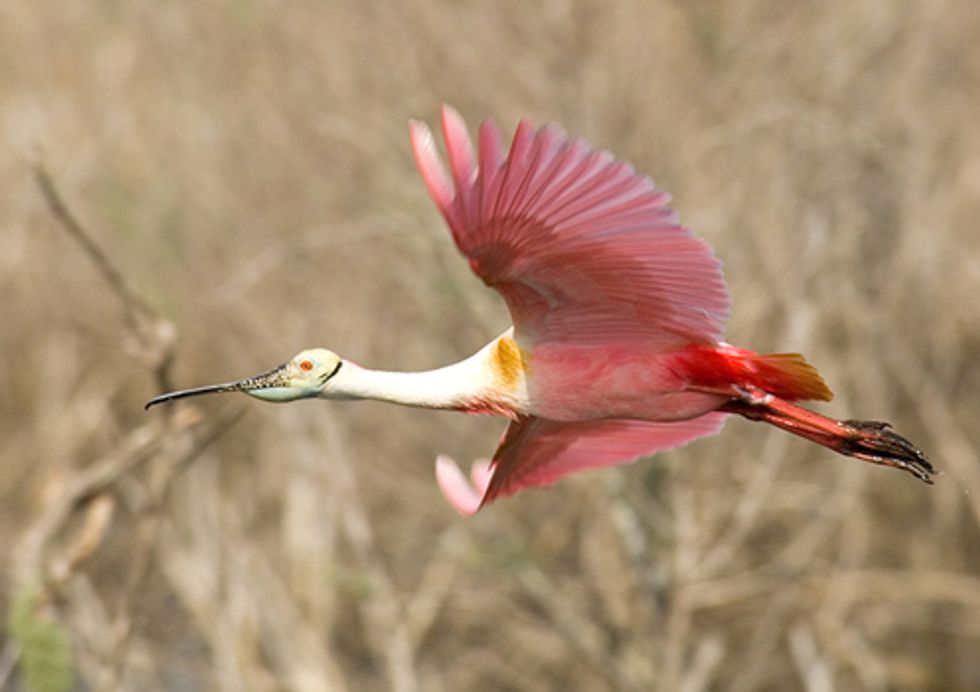 The Conservation Fund and the U.S. Fish and Wildlife Service (FWS) on Feb. 21 announced the purchase of 4,471 acres of unique Columbia Bottomlands habitat near West Columbia. This acquisition will permanently protect a diverse freshwater wetland and the Brazos River floodplain forest surrounding Eagle Nest Lake for wildlife, public recreation and education.
"The service is excited about the opportunity that conservation of Osceola Plantation will provide for wildlife and visitors; including restoring the emergent marsh to provide freshwater habitat for thousands of wintering ducks and geese and restoring one thousand acres of diverse native prairie habitat where one day an Attwater's prairie chicken may once again be heard," said Jennifer Sanchez, refuge manager of the Texas Mid-Coast NWR Complex, which includes San Bernard National Wildlife Refuge (NWR).
The property, known as the Osceola Plantation, features one of the largest natural lakes in the coastal region. The tract's unique and diverse habitat features coastal prairie, river bottom forests, freshwater wetland and open water. The habitat is a magnet for migratory land birds, wintering sparrows, shorebirds and waterfowl, including the Mottled Duck, a species in sharp decline.
The Conservation Fund has conveyed the tract to the FWS for incorporation into the San Bernard NWR as part of the FWS's Austin's Woods/Columbia Bottomlands Conservation Plan—an effort to conserve 70,000 acres of bottomland hardwood forests and other associated habitats vital for approximately 29 million migrant birds. As one of the "birdiest" spots in the world, the Texas Gulf Coast brought in $2.9 billion in revenue for the state from wildlife watching in 2006. These low-lying forests loved by birds also help to clean the water on its way through to the Gulf of Mexico, improving conditions for aquatic life and the multimillion-dollar seafood industry.
The U.S. Department of Agriculture's Natural Resources Conservation Service designated funds for the protection of the property with a conservation easement through its Wetlands Reserve Program. In 2009, the U.S. Congress approved funding for the purchase of the property through the Land and Water Conservation Fund. A North American Wetlands Conservation Act grant and $3 million from the Migratory Bird Conservation Commission's Federal Duck Stamp program were also approved for this conservation effort. In addition, generous private donations from Houston Endowment, Inc.; The Brown Foundation, Inc.; The Trull Foundation; Malcolm C. Damuth Foundation; The Jacob and Teresa Hershey Foundation; George and Mary Josephine Hamman Foundation and the Great Texas Birding Classic helped make this acquisition possible.
"The San Bernard National Wildlife Refuge has attracted visitors from around the world," said U.S. Sen. Kay Bailey Hutchinson (R-TX). "Today's welcome announcement assures that this wildlife refuge and its unique habitat are protected for future generations to enjoy."
"This project attracted the attention of so many partners because of its beauty, habitat diversity, recreational potential and proximity to the Houston metroplex," said Julie Shackelford, Texas programs director of The Conservation Fund. "With key support from the National Fish and Wildlife Foundation and all of our partners, we were finally able to facilitate its permanent protection."
 For more information, click here.
—————
The San Bernard NWR is one of three refuges that make up the Texas Mid-Coast National Wildlife Refuge Complex and form a vital area of coastal wetlands harboring more than 300 bird species. The complex serves as an end point of the Central Flyway for waterfowl in winter, and an entry point for neotropical migratory songbirds tired from a 600-mile Gulf crossing from Mexico's Yucatan Peninsula. Located just south of Houston, the refuge complex offers a haven for both wildlife and people. The public is welcome at several locations across San Bernard NWR, providing opportunities to encounter marsh, prairie and forest ecosystems.
At The Conservation Fund, we combine a passion for conservation with an entrepreneurial spirit to protect your favorite places before they become just a memory. A hallmark of our work is our deep, unwavering understanding that for conservation solutions to last, they need to make economic sense. Top-ranked, we have protected nearly 7 million acres across America.
EcoWatch Daily Newsletter
We need our government to do everything it can to stop PFAS contamination and exposure from wreaking havoc in communities across the country. LuAnn Hun /
Unsplash
By Genna Reed
The EPA announced last week that it is issuing a preliminary regulatory determination for public comment to set an enforceable drinking water standard to two of the most common and well-studied PFAS, PFOA and PFOS.
This decision is based on three criteria:
PFOA and PFOS have an adverse effect on public health
PFOA and PFOS occur in drinking water often enough and at levels of public health concern;
regulation of PFOA and PFOS is a meaningful opportunity for reducing the health risk to those served by public water systems.
Charging EVs in Stockholm: But where does a dead battery go? Ranjithsiji / Wikimedia Commons
By Kieran Cooke
Driving an electric-powered vehicle (EV) rather than one reliant on fossil fuels is a key way to tackle climate change and improve air quality — but it does leave the old batteries behind as a nasty residue.
U.S. Secretary of the Treasure Steven Mnuchin arrives for a welcome dinner at the Murabba Palace in Riyadh, Saudi Arabia on Feb. 22, 2020 during the G20 finance ministers and central bank governors meeting. FAYEZ NURELDINE / AFP via Getty Images
Finance ministers from the 20 largest economies agreed to add a scant mention of the climate crisis in its final communiqué in Riyadh, Saudi Arabia on Sunday, but they stopped short of calling it a major economic risk, as Reuters reported. It was the first time the G20 has mentioned the climate crisis in its final communiqué since Donald Trump became president in 2017.
Aerial view of Parque da Cachoeira, which suffered the January 2019 dam collapse, in Brumadinho, state of Minas Gerais, Brazil — one of the country's worst industrial accidents that left 270 people dead. Millions of tons of toxic mining waste engulfed houses, farms and waterways, devastating the mineral-rich region. DOUGLAS MAGNO / AFP / Getty Images
Participants of the climate demonstration Fridays for Future walk through Hamburg, Germany on Feb. 21, 2020. Axel Heimken / picture alliance via Getty Images