This website uses cookies to ensure you get the best experience while browsing it. By clicking 'Got It' you're accepting these terms.

Six Pulitzer Prize-winning photographers are joining ranks with dozens of other legendary artists to support acclaimed filmmaker Chad Stevens, as part of a unique online auction to raise funds for his forthcoming film on mountaintop removal mining in Appalachia, A Thousand Little Cuts.
Proceeds from the online print auction, featuring signed prints by contemporary photography giants like Ed Kashi, David LaBelle, Carolyn Cole, Stephanie Sinclair, Liz O. Baylen and Bob Sacha, will be donated to the final production phase for Stevens' long-awaited six-year documentary project exploring the grassroots movement to stop mountaintop removal strip mining on Coal River Mountain in West Virginia, ground zero for one of the most egregious environmental and human rights violations in our times.
In truth, Coal River Mountain in West Virginia is not simply the most important symbol in the climate change and clean energy debate; it has emerged as the pivotal frontlines in one of the most inspiring and transformative movements for social and environmental justice in the nation. Faced with a devastating 6,600-acre mountaintop removal operation across their historic range, residents along the Coal River Valley have fought for years to galvanize a national campaign of coal mining families, teachers and students, citizens groups, business people and environmentalists, to move toward a just transition to clean energy alternatives that would sustain their land and community.
No one has had a better view of this unfolding historical drama in the Coal River Valley than Chad Stevens. One of the most talented photographers and documentary filmmakers of his generation, the Alfred I. duPont Award-winning Kentucky native has not only taken the level of artistic and journalistic inquiry to a new level; his extraordinary vision, cultural insights and investigative doggedness have inspired and influenced writers, journalists, artists and other filmmakers working on environmental and social documentaries across the country.
A Thousand Little Cuts focuses on Lorelei Scarbro, a tenacious grandmother and coal miner's widow fighting to save one of the last untouched mountains in Appalachia.
Lorelei simply wanted to tend her garden, paint ceramic angels and spoil her grandchildren. She wanted to live out her days at home—the rolling mountains of West Virginia. Then bulldozers came, followed by blasting crews. Massey Energy was gearing up for a mountaintop removal operation on Coal River Mountain, the mountain Lorelei calls home. In 2007 Lorelei spoke out. "This isn't coal mining," she yelled at a permit hearing. "This is the rape of Appalachia!"
In A Thousand Little Cuts, Emmy-winning director Chad A. Stevens takes us on the journey with Lorelei as she fights Big Coal to protect her community from an encroaching 6,500-acre mountaintop removal mine and proposes a positive community solution: the first green-energy project in the region, a 220-turbine industrial wind farm.
After political lobbying and civil disobedience fail to create tangible change, Lorelei opens a community center in the heart of a struggling coal town. The center brings locals together, even those on opposite sides of the mountaintop removal debate. The cumulative effect of her efforts grows exponentially as she finds opportunities for solutions—unifying a fractured community and supporting an evolving local economy. It's a story of change: a transforming culture, a dividing community, an awakening individual, and a family hanging in the balance.
Here's the trailer: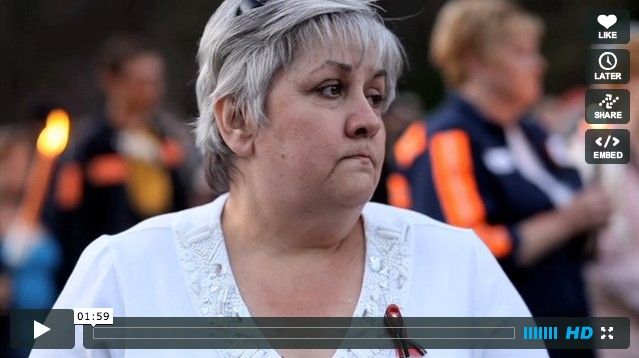 In the end, Chad Stevens has given Appalachia, and our nation, a new lens to reconsider the staggering human and environmental costs of mountaintop removal mining.
Check out the extraordinary online auction of photographs and support his work.
--------
Jeff Biggers is the American Book Award-winning author of Reckoning at Eagle Creek: The Secret Legacy of Coal in the Heartland (Nation/Basic Books), among other books. Visit his website at www.jeffbiggers.com.
EcoWatch Daily Newsletter
Smog over Los Angeles. Westend61 / Getty Images
After four decades of improving air quality, the U.S. has started to take a step backwards, as the number of polluted days has ticked upwards over the last two years, the Associated Press reported.
Photobos / iStock / Getty Images
Governors in Vermont and Maine signed bills on Monday that will ban plastic bags in their states next year, The Hill reported.
The Maine ban will go into effect next Earth Day, April 22, 2020. The Vermont ban, which extends beyond plastic bags and is the most comprehensive plastics ban so far, will go into effect in July 2020. The wait time is designed to give businesses time to adjust to the ban.
picture-alliance / AP Images / D. Goldman
By Daniel Moattar
Eastern Kentucky's hills are interrupted by jarring flats of bare rock: the aftermath of mountaintop removal mining, which uses explosives to destroy and harvest coal-rich peaks.
By Molly Taft
Lisa Marshall isn't your typical activist. For one thing, she's not into crowds. "I don't really like rallies," Marshall, a mom of three from upstate New York, said. "They're a little stressful — not my favorite thing."

An oil drilling site in a residential area of Los Angeles, California on July 16, 2014.
Faces of Fracking / Flickr
By Jake Johnson
A comprehensive analysis of nearly 1,500 scientific studies, government reports, and media stories on the consequences of fracking released Wednesday found that the evidence overwhelmingly shows the drilling method poses a profound threat to public health and the climate.

sonsam / iStock / Getty Images
By Grace Francese
A new Environmental Working Group (EWG) study published in Environmental Research found that nitrate, one of the most common contaminants of drinking water, may cause up to 12,594 cases of cancer per year, but that's not its only danger: It can pose unique health risks to children.
Melt water from Everest's Khumbu glacier. Ed Giles / Getty Images
EPA Administrator Andrew Wheeler signs his replacement for the Clean Power Plan. Win McNamee / Getty Images