This website uses cookies to ensure you get the best experience while browsing it. By clicking 'Got It' you're accepting these terms.
A Student's Take on Why It's Imperative to Risk Arrest Protesting Keystone XL Pipeline
Feb. 25, 2014 09:36AM EST
Energy
By Penn Johnson
On Sunday, March 2, at 22-years-old, I will take part in a nonviolent for civil disobedience campaign along with nearly 500 other college students in our nation's capital and very will likely be arrested. Why would I and others risk arrest without our degrees yet in hand? Aren't we worried about jobs and employment? The short answers to those questions are to stop the Keystone XL pipeline and no.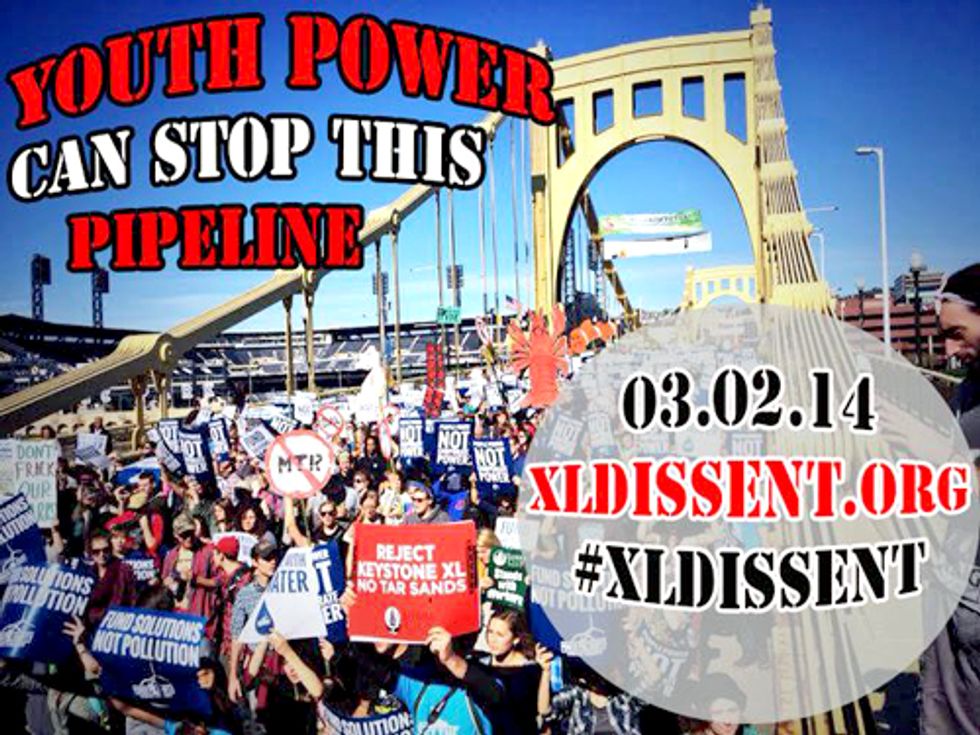 The long answers take a bit more time to explain.
In a Rolling Stone article that has been viewed by millions and referenced in thousands of news articles, Bill McKibben, founder of 350.org, highlighted three numbers: 2 degrees Celsius, 565 gigatons, and 2,795 gigatons. The sustainability tipping point temperature increase, the amount of carbon dioxide (CO2) we can emit without passing that point and the current estimates of fossil fuel company reserves, respectively.
This article helped launch the Do The Math tour, which today calls for colleges and universities to divest their endowment fund holdings from the fossil fuel industry whose emissions have been largely responsible for climate change. The best example of a successful divestment campaign was during Apartheid when 155 colleges and universities pulled their endowment holdings from companies doing business with and operating in South Africa, hoping to cause enough financial and political pressure to collapse the industry—and it worked.
An article in The Guardian, mentioned a study by Oxford University that said the Fossil Free Divestment movement is the fastest growing divestment movement in history. Today more than 400 colleges, universities, municipalities, cities, religious institutions and states are signed on to 350.org's Fossil Free Divestment campaign.
The fight to stop the Keystone XL is pivotal to the divestment campaign. This pipeline would shoot about 800,000 barrels of tar sands crude oil per day from Alberta's Tar Sands extraction site in Alberta, Canada to Port Arthur, Texas. It would produce as much carbon dioxide as seven coal-fired power plants, provide only 35 permanent jobs and be shipped overseas to China to sell on the global market. Crossing through the heart of America's cropland, its construction would decimate sacred territories of Native Americans. Van Jones, founder of Rebuild The Dream, a 21st century think tank hoping to fix the U.S. economy, says if President Obama thinks this pipeline will be as great as they say, he should be willing to name it The Obama Tar Sands Pipeline.
In 2008, Barack Obama was elected president of the U.S. Breaking racial barriers and social stigmas, he was the first African American to be elected into the White House. In his 2008 inauguration speech, he said: "We will respond to the threat of climate change, knowing that the failure to do so would betray our children and future generations." Newly involved environmental activists cheered into their television screens and toasted his words with glasses of beer.
Despite what he said, President Obama has already fast-tracked approval of the southern leg of Keystone XL (which is currently operational) and is close to approving the northern leg. At Georgetown University in June of 2013, President Obama gave another speech at which he said: "Allowing the Keystone pipeline to be built requires a finding that doing so would be in our nation's interest ... and our national interest will be served only if this project does not significantly exacerbate the problem of carbon pollution."
James Hansen, formerly of NASA, has called the production of this pipeline "game over for the climate." However, the recent State Department Final Supplemental Environmental Impact Statement states the pipeline will not significantly increase emissions. Interestingly, James Hansen left NASA last year in order to speak more openly about his concerns regarding climate change.
Young self-proclaimed environmentalists such as myself are risking arrest to stop this pipeline in an action named XL Dissent. But we're not alone. Business, economics, geoscience, philosophy, english and history majors all stand with us. This isn't just environmental students. This is students from all over the country standing up and saying "No Keystone XL Pipeline," because we want a livable future. We want clean water and clean air. We're doing this for future generations because we want them to live a life like the one we've enjoyed. We want them to live in an economically, socially and environmentally sustainable world.
EcoWatch Daily Newsletter
A new report spotlights a U.N. estimate that at least 275 million people rely on healthy coral reefs. A sea turtle near the Heron Island in the Great Barrier Reef is seen above. THE OCEAN AGENCY / XL CATLIN SEAVIEW SURVEY
In a new report about how the world's coral reefs face "the combined threats of climate change, pollution, and overfishing" — endangering the future of marine biodiversity — a London-based nonprofit calls for greater global efforts to end the climate crisis and ensure the survival of these vital underwater ecosystems.
Half of the extracted resources used were sand, clay, gravel and cement, seen above, for building, along with the other minerals that produce fertilizer. Cavan Images / Cavan / Getty Images
The world is using up more and more resources and global recycling is falling. That's the grim takeaway from a new report by the Circle Economy think tank, which found that the world used up more than 110 billion tons, or 100.6 billion metric tons, of natural resources, as Agence France-Presse (AFP) reported.
By Gero Rueter
Heating with coal, oil and natural gas accounts for around a quarter of global greenhouse gas emissions. But that's something we can change, says Wolfgang Feist, founder of the Passive House Institute in the western German city of Darmstadt.

By George Citroner
Recent research finds that official government figures may be underestimating drug deaths by half.
Researchers estimate that 142,000 people died due to drug use in 2016.
Drug use decreases life expectancy after age 15 by 1.4 years for men and by just under 1 year for women, on average.
Government records may be severely underreporting how many Americans die from drug use, according to a new study by researchers from the University of Pennsylvania and Georgetown University.
Water coolers in front of shut-off water fountains at Center School in Stow, MA on Sept. 4, 2019 after elevated levels of PFAS were found in the water. David L. Ryan / The Boston Globe via Getty Images
In a new nationwide assessment of drinking water systems, the Environmental Working Group found that toxic fluorinated chemicals known as PFAS are far more prevalent than previously thought.