This website uses cookies to ensure you get the best experience while browsing it. By clicking 'Got It' you're accepting these terms.
Waterkeeper Helps Sets Up Program Where Saddam Destoyed Vital Wetland

In the fall of 2010, a sleepless night landed me in front of my computer, working as I listened to the radio. The BBC program I had turned to included a report on wetland restoration, which was so inspiring that I realized that I wasn't going back to sleep.  What shook me completely awake was the location of the project: Iraq.
These wetlands on the banks of the Euphrates River in Nasriyah had been drained under Saddam Hussein's rule to create a military barrier, an undertaking that essentially wiped out one of the country's most biologically diverse and historically rich areas. Now, I heard, a native of that area named Azzam Alwash was not only working to re-establish the natural environment, but also promoting eco-tourism along the Tigris River. To me, he sounded like a Waterkeeper.
Environmentalism and eco-tourism in Iraq aren't things we generally hear about, and the uniqueness of Alwash's story convinced me to do something to encourage and support the effort. At the time, as Humboldt Baykeeper in Northern California and a member of the Waterkeeper Alliance board of directors, I felt this was a rare moment for connecting a person who could use some help and an organization that had the help to offer: Waterkeeper Alliance.  So I tracked Alwash down on Facebook and began to discuss with him the possibility of establishing a Waterkeeper program in Iraq, which would be the first of its kind in the Middle East.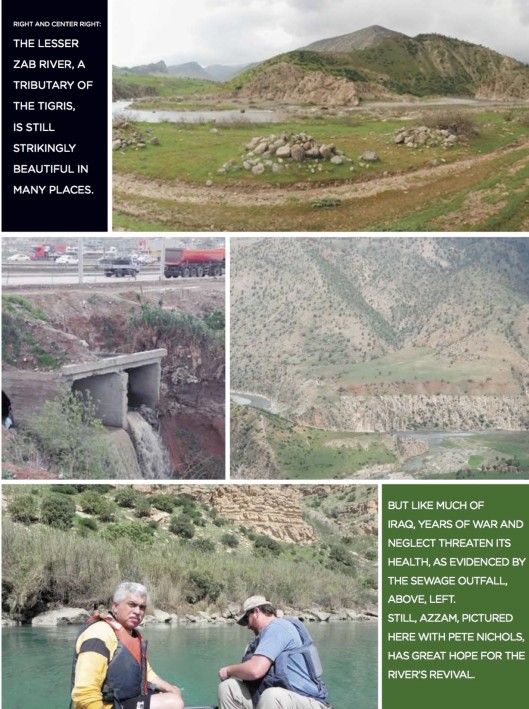 Working together, Waterkeeper members, Azzam and his very sophisticated staff at Nature Iraq developed the proposal for the Iraqi Upper Tigris River Waterkeeper. It was quickly approved, and its successful launch required only a site visit by a Waterkeeper board member to ascertain that the new program contained everything necessary to flourish.  In April 2011, I made the trek to that war-torn country most Americans view as barren and dangerous.
Although Kurdistan in northern Iraq is relatively quite safe, I was a bit nervous as well as excited when I arrived there. But I found little anti-American sentiment and increasing tourism. I then became eager to see the parts of Iraq not usually shown on national news programs: the mountains and rivers, the "cradle of civilization" between the Tigris and Euphrates.
Iraq faces many significant and daunting issues: poor water-quality and infrastructure, lack of planning for a democracy emerging under the undoubted influence of 'westernization'. Quantity of water is also a problem. The headwaters of both the Tigris and Euphrates are located in Turkey, which has invested heavily in dams to stem the flow of the rivers as they enter Iraq. These legendary waterways provide a perfect setting for a Waterkeeper program.
As do the wetlands where Saddam's destruction ruined thousands of people's lives, and where Azzam, Nature Iraq and Upper Tigris Waterkeeper Nabil Musa are relentlessly engaged in the job of restoration. They have seized the right moment to rebuild and protect this great natural resource, and the creation of Upper Tigris Waterkeeper couldn't be better timed.
Over the next 10 years, Iraqi citizens will have the chance to develop and frame environmental regulations, and the Upper Tigris Waterkeeper and Nature Iraq are in a position to establish an environmental voice early in their emerging democracy. Creating an advocacy program such as theirs will help ensure that environmentalists have a seat at the table when relevant laws and policies are developed.
I hope to return to Iraq soon to work further with Azzam and the Upper Tigris Waterkeeper staff. When I returned to the U.S., I helped to start a philanthropic vehicle, the Nature Iraq Foundation, to raise funds for environmental work throughout the region. The Foundation's mission is to tackle the many environmental issues that will inevitably face Iraq in the decades to come, including such critical steps as educating the Iraqi people about the value of clean water, arranging a 'water summit' with Turkey to discuss water-quantity issues, implementing water-conservation practices, and developing infrastructure to block the flow of pollutants, from raw sewage to toxics.
As I reflect on the adventurous and inspirational work of Azzam and his colleagues to reclaim nature from the awful legacy of a tyrant, I really believe that there is great hope for the environment of Iraq. I see great potential for additional Waterkeeper programs along the Euphrates and other rivers in Iraq—and throughout the Middle East.
Protecting and restoring the waters that in legend nurtured the Garden of Eden, that enabled the rise of agriculture and the invention of the wheel, and formed the ancient base of civilization, is a challenge ideally suited for a Waterkeeper, and I am proud to help move that vision forward.
——–
Reprinted with permission from Waterkeeper Magazine. To read the winter issue of the Waterkeeper Magazine, click here.
EcoWatch Daily Newsletter
A dead sea lion on the beach at Border Field State Park, near the international border wall between San Diego, California and Tijuana, Mexico. Sherry Smith / iStock / Getty Images
People crossing the Brooklyn Bridge on July 20, 2017 in New York City sought to shield themselves from the sun as the temperature reached 93 degrees. Drew Angerer / Getty Images
by Jordan Davidson

Taking action to stop the mercury from rising is a matter of life and death in the U.S., according to a new study published in the journal Science Advances.
Salmon fry before being released just outside San Francisco Bay. Jim Wilson / The New York Times / Redux
By Alisa Opar
For Chinook salmon, the urge to return home and spawn isn't just strong — it's imperative. And for the first time in more than 65 years, at least 23 fish that migrated as juveniles from California's San Joaquin River and into the Pacific Ocean have heeded that call and returned as adults during the annual spring run.
Protesters hold a banner and a placard while blocking off the road during a protest against Air pollution in London. Ryan Ashcroft / SOPA Images / LightRocket / Getty Images
By Jessica Corbett
Dozens of students, parents, teachers and professionals joined a Friday protest organized by Extinction Rebellion that temporarily stalled morning rush-hour traffic in London's southeasten borough of Lewisham to push politicians to more boldly address dangerous air pollution across the city.

Jose A. Bernat Bacete / Moment / Getty Images
By Bridget Shirvell
On a farm in upstate New York, a cheese brand is turning millions of pounds of food scraps into electricity needed to power its on-site businesses. Founded by eight families, each with their own dairy farms, Craigs Creamery doesn't just produce various types of cheddar, mozzarella, Swiss and Muenster cheeses, sold in chunks, slices, shreds and snack bars; they're also committed to becoming a zero-waste operation.

By Jessica A. Knoblauch
Summers in the Midwest are great for outdoor activities like growing your garden or cooling off in one of the area's many lakes and streams. But some waters aren't as clean as they should be.
That's in part because coal companies have long buried toxic waste known as coal ash near many of the Midwest's iconic waterways, including Lake Michigan. Though coal ash dumps can leak harmful chemicals like arsenic and cadmium into nearby waters, regulators have done little to address these toxic sites. As a result, the Midwest is now littered with coal ash dumps, with Illinois containing the most leaking sites in the country.

picture-alliance / AP Photo / NOAA Pacific Islands Fisheries Science Center
The Group of 20 major economies agreed a deal to reduce marine pollution at a meeting of their environment ministers on Sunday in Karuizawa, Japan.