A Passage Through Ice
Mar. 05, 2013 01:47PM EST
Climate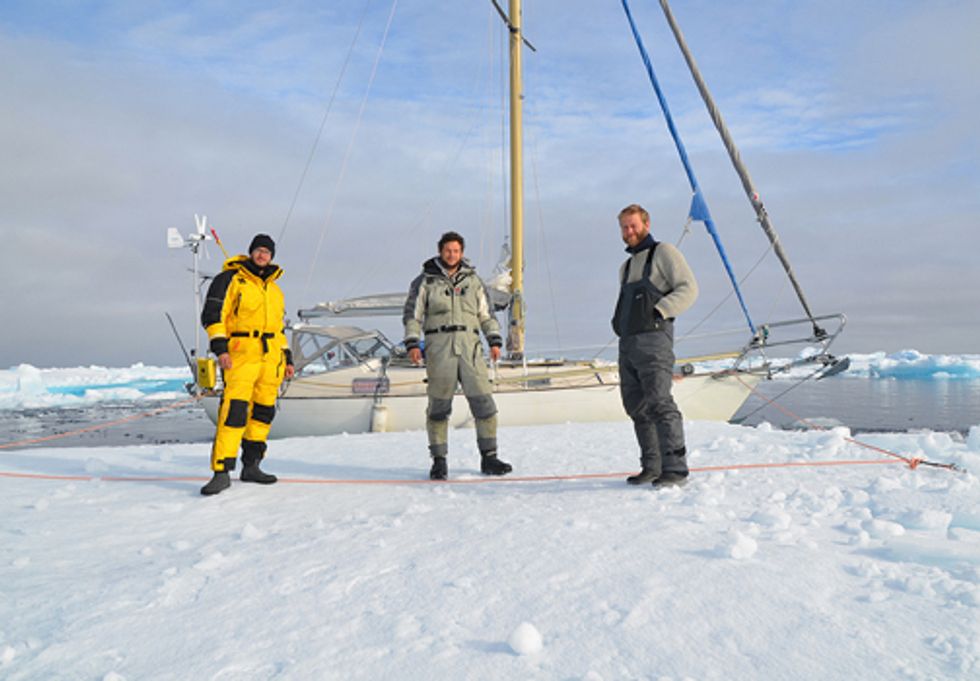 On, Monday, March 11, at The Explorers Club in New York City at an event sponsored by EcoWatch, A Passage Through Ice expedition team will share the story of its voyage into the Arctic to follow an undetermined route along the polar ice cap to track this summer's Arctic sea-ice retreat. To accomplish its goal, the team navigated the world's most isolated, high-latitude, uncharted, dangerous and ice-clogged waters.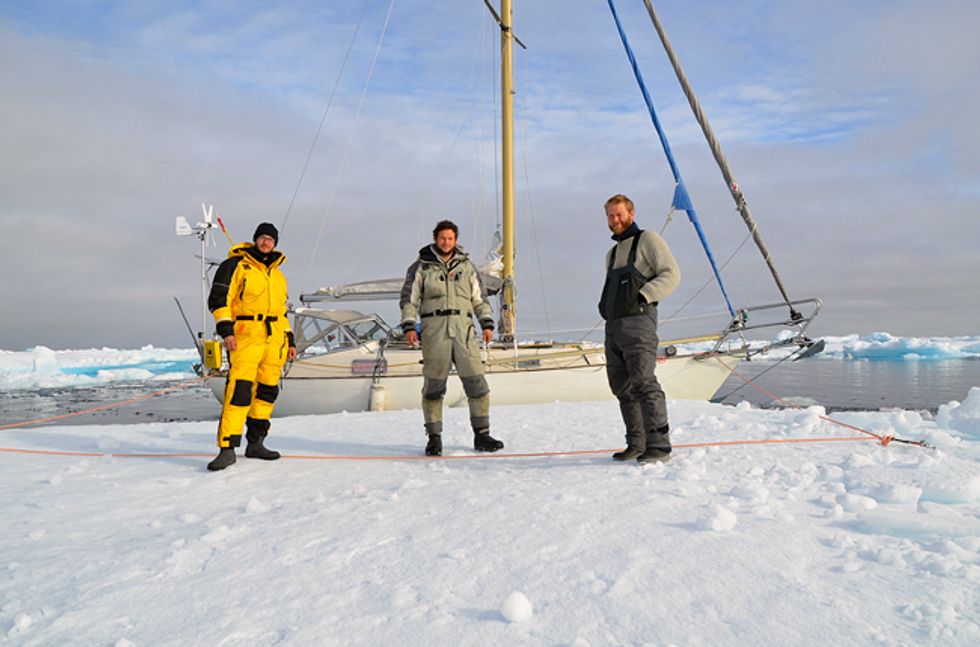 The summer of 2012 marked the lowest sea-ice extent in the Arctic in recorded history. Over the last few years, the steady retreat of ice has begun to open new routes into and through the Arctic that were once thought impossible to navigate. This summer, the expedition team set off on a four–month, 10,000 nautical mile journey aboard a 31-foot fiberglass sailboat to track the ice cap, and to attempt one of these new passages to highlight the impact of climate change taking place in the Arctic.
The three-man team's approach to tracking the extent of sea-ice depletion through the most historically compelling and politically turbulent waters attracted global attention to the melting Arctic. The team revisited the same waters where William Parry (between 1819 and 1820) and Robert McClure (between 1850 and 1854) were trapped by ice for years in their attempts to locate the Northwest Passage. In stark contrast to those sailors' experiences, this year's expedition team became the first sailboat to transit this stretch of water via the McClure Strait as part of its larger mission: to accomplish the most Northern Northwest Passage ever by sailing along the edge of the ice cap during this year's record-breaking ice retreat.
Extensive planning and research for the expedition spanned more than two years, while the expedition itself lasted four months, from East Coast Canada to West Coast U.S. With the support of the Canadian Royal Geographic Society, Canadian Ice Services and many others, A Passage Through Ice accomplished its record-breaking sail covering some of the world's most isolated, high latitude, uncharted, dangerous and ice-clogged waters to deliver a climate message that reached tens of millions of people worldwide through television, radio, printed media and the web.
The team will share its many planned (and mostly unplanned) expedition experiences, including hitting uncharted land, becoming trapped in ice, and struggling through relentless storms in the isolated and ice-filled Arctic seas. The team will also highlight sea-ice change through satellite and ice-chart images from this year's retreat, while linking to the conditions encountered by famous historical expeditions of the nineteenth century. The team will also share its plans for its 2013 Arctic expedition.
A Passage Through Ice used an ecologically sound and environmentally friendly platform to conduct its expeditions. To highlight sustainable exploration in the Arctic, the team's negligible amount of carbon was offset through investment in UN- and Kyoto-approved projects by the Office of Former U.S. Vice President Al Gore on our behalf.
About Nicolas Peissel
Expedition team member Nicolas Peissel, 35, was born to a life around boats and the sea. After pursuing an education in Anthropology and Development Studies in Canada, he spent years exploring routes and cultures through North Africa and the Middle East to Asia. He worked as a humanitarian and development aid worker with organizations such as the United Nations in remote parts of Africa and Asia, but in his spare time he began planning a series of Arctic sailing expeditions to highlight climate change in the Arctic.
In 2011 he sailed from Scandinavia into the Arctic around Iceland and Greenlandic coasts. However, in 2012 he and his team took on their greatest expedition yet: tracking the polar ice cap by attempting the most Northern Northwest Passage ever and attempting to be the first sailboat to accomplish the historical McClure passage. Throughout the four-month expedition, Peissel and his team produced dozens of video blogs and articles, and they conducted several media interviews about their expedition and the melting sea ice. These interviews reached tens of millions of people worldwide. Nicolas is still conducting media work around his 2012 expedition and working with his expedition team members on their 2013 Arctic expedition.
For more information or to purchase tickets, click here.
Visit EcoWatch's CLIMATE CHANGE page for more related news on this topic.
——–
Click here to tell Congress to Expedite Renewable Energy.

EcoWatch Daily Newsletter