This website uses cookies to ensure you get the best experience while browsing it. By clicking 'Got It' you're accepting these terms.
By Craig Hanson and Tim Searchinger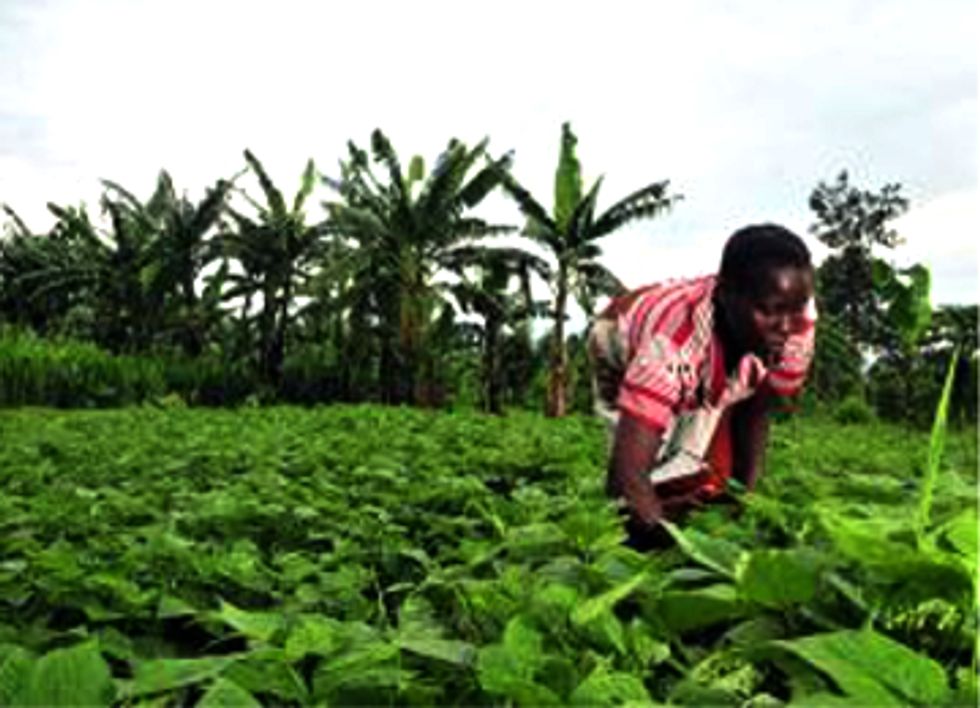 How can the world feed more than 9 billion people by 2050 in a manner that advances economic development and reduces pressure on the environment? This is one of the paramount questions the world faces over the next four decades.
Answering it requires a "great balancing act" of three needs—all of which must be met simultaneously.
Balancing Three Needs
The world needs to close the gap between the amount of food available today and the amount required in 2050. According to new WRI analysis, we'll need about 60 percent more food calories in 2050 than in 2006 if global demand continues on its current trajectory. This gap is in part a function of increasing population and wealth. The United Nations projects that the global population will likely grow from 7 billion in 2012 to 9.3 billion by 2050. At least 3 billion more people are likely to enter the global middle class by 2030, and they will almost certainly demand more resource-intensive foods like meat and vegetable oils. At the same time, approximately 870 million of the world's poorest people remain undernourished even today.

The world needs agriculture to contribute to inclusive economic and social development. Agriculture employs more than 2 billion people around the world—more than 28 percent of the global population. And according to the World Bank, growth in the agricultural sector can reduce poverty more effectively than growth arising from other economic sectors. We need a strong agricultural sector if the world is to develop in a way that reduces poverty, alleviates hunger, generates revenue and jobs and benefits women.

The world needs to reduce agriculture's impact on the environment. For instance, agriculture was responsible for approximately 24 percent of global greenhouse gas emissions in 2010 and therefore contributes to climate change. Agriculture is the dominant driver of tropical deforestation. Furthermore, agriculture accounts for about 70 percent of all the freshwater withdrawn from rivers, lakes and aquifers.
The World Resources Report (WRR) provides decision makers from government, business and civil society with analysis and insight on major issues at the nexus of development and the environment. Spearheaded by the World Resources Institute, WRR has been the product of a unique, long-term partnership with the United Nations Development Programme, the United Nations Environment Programme and The World Bank. This year, L'Institut National de la Recherche Agronomique and Le Centre de Coopération Internationale en Recherche Agronomique pour le Développement, two major agricultural research institutions in France, have joined as analytical collaborators.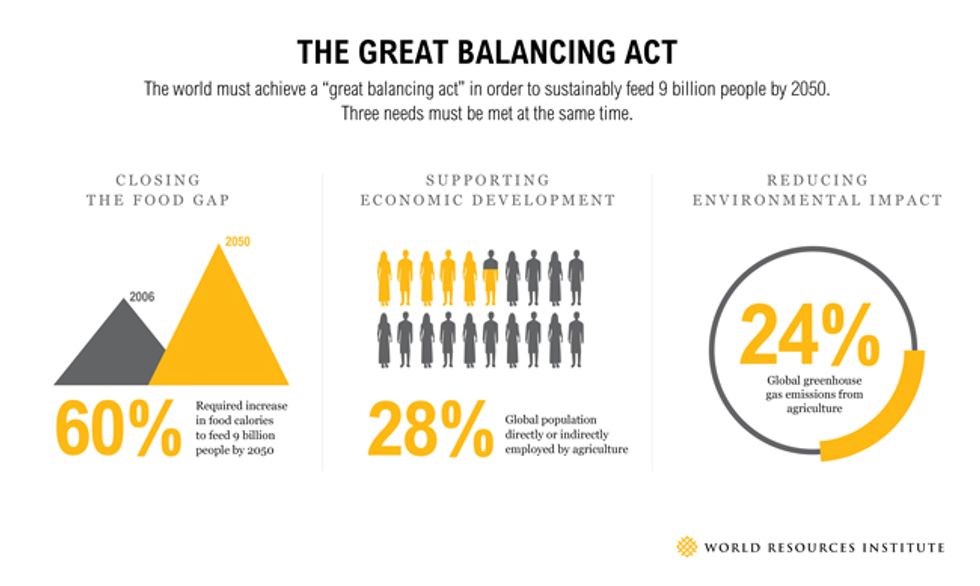 Of course, there are ways to meet any one of these needs in isolation. For instance, the world might be able to close the food gap by 2050 by converting vast areas of its remaining forests into crops and grazing lands. But doing so would worsen agriculture's impact on climate, ecosystems and long-term economic development. Rather, to achieve the great balancing act, the world needs to meet all three needs at the same time.
A Menu for a Sustainable Food Future
There is no silver bullet to accomplishing the great balancing act. But there are potential solutions. When combined effectively, these solutions could close the food gap, contribute to global development and reduce food's environmental impact.
In WRI's new working paper, The Great Balancing Act, we propose a "menu" of these potential solutions. Some menu items reduce projected growth in consumption, such as decreasing food loss and waste. Other menu items increase food production, such as restoring degraded lands back into agricultural productivity. No item on the menu can achieve a sustainable food future by itself, and the relevance of items will vary between countries and food chains. But the combination of solutions should help feed the world while contributing to poverty reduction, gender equity, ecosystem conservation, greenhouse gas emission reductions and sustainable freshwater management.
The Great Balancing Act is the first in a series of working papers that will be rolled out over the next 12 months. Each subsequent paper will take a detailed look at a potential solution that could help achieve a sustainable food future. These installments will set the foundation for and culminate in the World Resources Report 2013-2014: Creating a Sustainable Food Future.
With the right combination of approaches and unwavering commitment, the world could feed its 9 billion future inhabitants while simultaneously securing economic and social development and protecting the environment. The solutions are there. But governments, the private sector, and civil society will need to act quickly and with conviction.
This post originally appeared on the World Resources Institute's Insights blog.
Visit EcoWatch's SUSTAINABLE AGRICULTURE page for more related news on this topic.
EcoWatch Daily Newsletter
Bill Bader, owner of Bader Farms, and his wife Denise pose in front of the Rush Hudson Limbaugh Sr. United States Courthouse in Cape Girardeau, Missouri on Jan. 27, 2020.
Johnathan Hettinger /
Midwest Center for Investigative Reporting
A jury in Missouri awarded a farmer $265 million in a lawsuit that claimed Bayer and BASF's weedkiller destroyed his peach orchard, as Reuters reported.
Earthjustice says Louisiana has violated the Clean Water Act and given Formosa Plastics Group the "greenlight to double toxic air pollution in St. James" (seen above).
Louisiana Bucket Brigade
A coalition of local and national groups on Friday launched a legal challenge to a Louisiana state agency's decision to approve air permits for a $9.4 billion petrochemical complex that Taiwan-based Formosa Plastics Group plans to build in the region nationally known as "Cancer Alley."
Bears Ears National Monument in Utah. Bob Wick / BLM / onEarth
Well, he told us he would do it. And now he's actually doing it — or at least trying to. Late last week, President Trump, via the U.S. Department of the Interior's Bureau of Land Management, announced that he was formalizing his plan to develop lands that once belonged within the Bears Ears and Grand Staircase-Escalante National Monuments in southern Utah. The former is a stunningly beautiful, ecologically fragile landscape that has played a crucial role in Native American culture in the Southwest for thousands of years; the latter, just as beautiful, is one of the richest and most important paleontological sites in North America.
Smoke pours from the exhaust pipes on a truck on Nov. 5, 2019 in Miami, Florida. According to a 2017 EPA study the largest source of greenhouse gas emissions in the U.S. is from the transportation sector. Joe Raedle / Getty Images
Hundreds of thousands of green-lipped mussels (like those pictured) were found dead on a New Zealand beach.
DianesPhotographicDesigns
/ iStock / Getty Images
Hundreds of thousands of mussels that cooked to death off the New Zealand coast are likely casualties of the climate crisis.