A Guide to Food Industry Front Groups: How Corporate Lobbyists Control Public Discourse
May. 22, 2013 04:47PM EST
Health + Wellness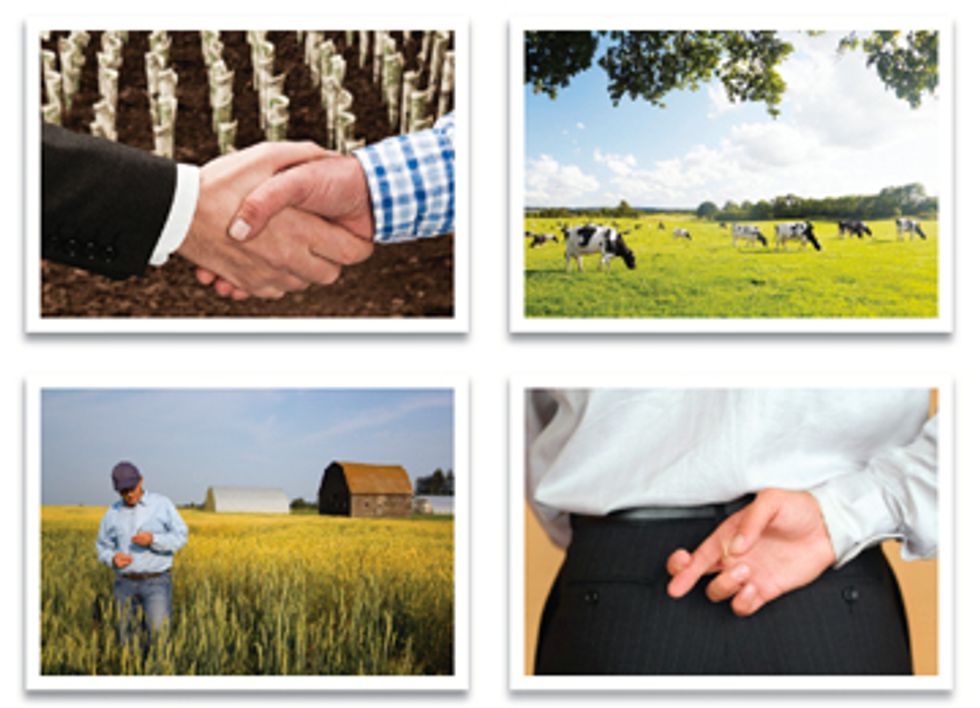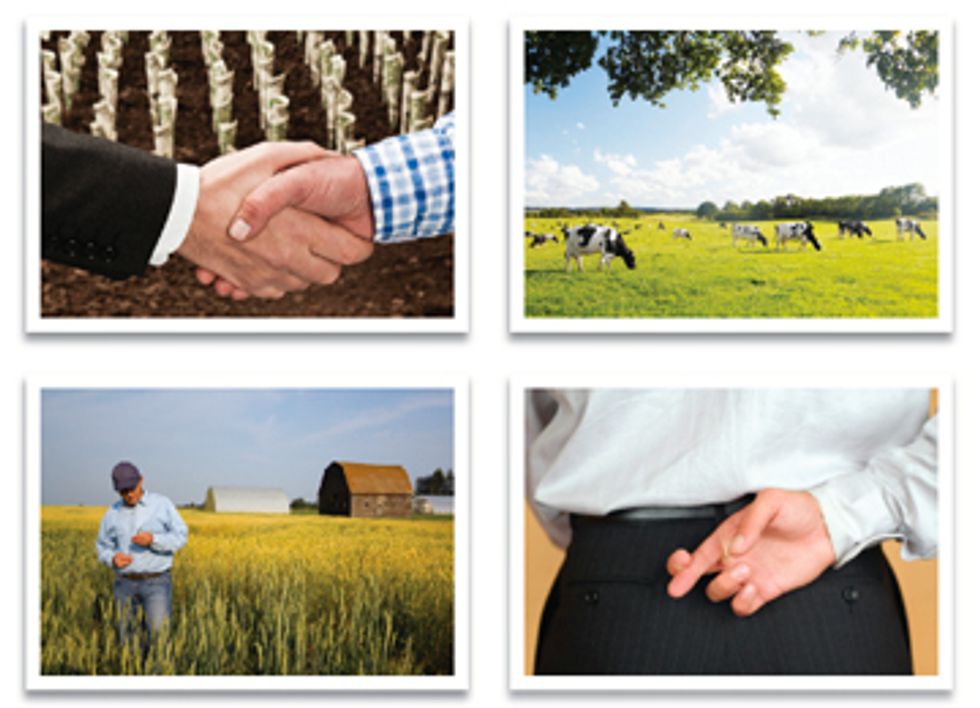 Last month, the International Food Information Council Foundation (IFIC) released the third edition of its report, Food Biotechnology: A Communicator's Guide to Improving Understanding. What sounds like a reasonable and helpful document is in fact the product of a well-oiled PR machine whose board of trustees includes executives from such food giants such as Coca-Cola, Kraft Foods and Mars.
In response to such tactics, I have authored a new report for Center for Food Safety that exposes the well-funded organizations and highly-sophisticated public relations strategies increasingly deployed to defend the food industry.
Best Public Relations Money Can Buy: A Guide to Food Industry Front Groups describes how Big Food and Big Ag hide behind friendly-sounding organizations such as: the U.S. Farmers and Ranchers Alliance, Center for Consumer Freedom and Alliance to Feed the Future. The idea is to fool the media, policymakers and general public into trusting these sources, despite their corporate-funded PR agenda.
With growing concern over the negative impacts of our highly industrialized and overly-processed food system, the food industry has a serious public relations problem on its hands. Instead of cleaning up its act, corporate lobbyists are trying to control the public discourse. As a result, industry spin is becoming more prevalent and aggressive.
For example, the same group cited above—IFIC—in addition to publishing industry-friendly reports, also infiltrates professional conferences such as the annual meeting of the Academy of Nutrition and Dietetics, the nation's trade association for registered dieticians.
In 2011, IFIC moderated a panel at this event called, How Risky is Our Food? Clarifying the Controversies of Chemical Risks in which the take-away message was not to worry about pesticides, and anybody who tells you otherwise is scaremongering and non-scientifically valid. At the 2012 conference last fall, IFIC was back again, with representatives on four separate panels, including dispelling any concerns about food additives.
In addition to IFIC, other front groups that have been around for some time include the notorious industry attack dog, Center for Consumer Freedom, which began in the 1990s with funding from tobacco giant Philip Morris.
In the recent controversy in New York City over limiting the size of sugary beverages, Center for Consumer Freedom took out full-page ads in major newspapers showing Mayor Michael Bloomberg dressed as a woman with the tagline, "New Yorkers need a Mayor, not a Nanny." Name-calling and scaremongering are very effective tactics for distracting away from the issue at hand: a serious public health problem.
Big Soda also invented an entirely new front group to do its bidding called New Yorkers for Beverage Choices, which pretended to represent individuals, but in fact was funded by the American Beverage Association, the Washington DC-based lobbying arm of the soft drink industry. It's a brilliant strategy when you realize that creating a group named "Coke and Pepsi Opposing Public Health in New York" just wouldn't fly.
By relying on a front group such as the Center for Consumer Freedom to do its dirty work, well-known companies like Coca-Cola and PepsiCo are able to keep their noses clean, and their valuable brand reputations intact.
This report is extremely timely because now more than ever new front groups are forming so quickly that it can be hard to keep up. And with deliberately confusing names such as Alliance to Feed the Future, Center for Food Integrity and Global Harvest, it can be challenging to tell the good guys from the bad. I often have to remind people not to confuse the industry front group Center for Food Integrity with either the Center for Food Safety or the Food Integrity Campaign. Front groups position themselves cleverly to try and confuse media outlets, which too often just assume the information is coming from a reliable source.
The new report answers such questions as, "What is the Different Between Trade Groups and Front Groups?" (mostly that trade groups lobby, while front groups rely more on PR), "What are Common Front Group Tactics?" (scaremongering and buying science, for example) and "How Can We Fight Front Groups?" Most importantly, the report contains numerous examples of front groups, including recently-formed groups created in response to heightened criticism and awareness, along with scientific "institutes" invented by such food giants such as Coca-Coca, Nestlé and General Mills.
Junk food companies, the biotech industry and big agribusiness are all on the defense because the nation is waking up to the myriad problems our industrialized food system has created, from public health epidemics, to environmental disasters, to horrific exploitation of humans and animals alike. It's a testament to the food movement's success that industry is responding with such sophisticated and well-funded public relations efforts.
But we can't allow these disingenuous and deceptive tactics to undermine our good work. It's imperative that reporters, policymakers and the general public do their homework to learn exactly who is behind these industry front groups and not fall for their biased propaganda and public relations stunts.
 Visit EcoWatch's FOOD page for more related news on this topic.
The Gowanus Canal in Brooklyn, New York, a polluted nearly 2 mile-long waterway that is an EPA Superfund site. Jonathan Macagba / Moment / Getty Images
Thousands of Superfund sites exist around the U.S., with toxic substances left open, mismanaged and dumped. Despite the high levels of toxicity at these sites, nearly 21 million people live within a mile of one of them, according to the U.S. Environmental Protection Agency (EPA).
EcoWatch Daily Newsletter
The National Weather Service station in Chatham, Massachusetts, near the edge of a cliff at the Monomoy National Wildlife Refuge. Bryce Williams / National Weather Service in Boston / Norton
A weather research station on a bluff overlooking the sea is closing down because of the climate crisis.
The National Weather Service (NWS) station in Chatham, Massachusetts was evacuated March 31 over concerns the entire operation would topple into the ocean.
"We had to say goodbye to the site because of where we are located at the Monomoy Wildlife Refuge, we're adjacent to a bluff that overlooks the ocean," Boston NWS meteorologist Andy Nash told WHDH at the time. "We had to close and cease operations there because that bluff has significantly eroded."
Chatham is located on the elbow of Cape Cod, a land mass extending out into the Atlantic Ocean that has been reshaped and eroded by waves and tides over tens of thousands of years, The Guardian explained. However, sea level rise and extreme weather caused by the climate crisis have sped that change along.
"It's an extremely dynamic environment, which is obviously a problem if you are building permanent infrastructure here," Andrew Ashton, an associate scientist at Cape-Cod based Woods Hole Oceanographic Institution, told The Guardian. "We are putting our foot on the accelerator to make the environment even more dynamic."
This was the case with the Chatham weather station. It used to be protected from the drop into the ocean by about 100 feet of land. However, storm action in 2020 alone washed away as much as six feet of land a day.
"We'd know[n] for a long time there was erosion but the pace of it caught everyone by surprise," Nash told The Guardian. "We felt we had maybe another 10 years but then we started losing a foot of a bluff a week and realized we didn't have years, we had just a few months. We were a couple of storms from a very big problem."
The Chatham station was part of a network of 92 NWS stations that monitor temperature, pressure, humidity, wind speed and direction and other data in the upper atmosphere, The Cape Cod Chronicle explained. The stations send up radiosondes attached to weather balloons twice a day to help with weather research and prediction. The Chatham station, which had been observing this ritual for the past half a century, sent up its last balloon the morning of March 31.
"We're going to miss the observations," Nash told The Cape Cod Chronicle. "It gives us a snapshot, a profile of the atmosphere when the balloons go up."
The station was officially decommissioned April 1, and the two buildings on the site will be demolished sometime this month. The NWS is looking for a new location in southeastern New England. In the meantime, forecasters will rely on data from stations in New York and Maine.
Nash said the leavetaking was bittersweet, but inevitable.
"[M]other nature is evicting us," he told The Cape Cod Chronicle.
Amsterdam is one of the Netherlands' cities which already has "milieuzones," where some types of vehicles are banned. Unsplash / jennieramida
By Douglas Broom
If online deliveries continue with fossil-fuel trucks, emissions will increase by a third.
So cities in the Netherlands will allow only emission-free delivery vehicles after 2025.
The government is giving delivery firms cash help to buy or lease electric vehicles.
The bans will save 1 megaton of CO2 every year by 2030.
Cities in the Netherlands want to make their air cleaner by banning fossil fuel delivery vehicles from urban areas from 2025.
"Now that we are spending more time at home, we are noticing the large number of delivery vans and lorries driving through cities," said Netherlands environment minister Stientje van Veldhoven, announcing plans to ban all but zero-emission deliveries in 14 cities.
"The agreements we are setting down will ensure that it will be a matter of course that within a few years, supermarket shelves will be stocked, waste will be collected, and packages will arrive on time, yet without any exhaust fumes and CO2 emissions," she added.
Protestors stage a demonstration against fracking in California on May 30, 2013 in San Francisco, California. Justin Sullivan / Getty Images
The bill, SB467, would have prohibited fracking and other controversial forms of oil extraction. It would also have banned oil and gas production within 2,500 feet of a home, school, hospital or other residential facility. The bill originally set the fracking ban for 2027, but amended it to 2035, The AP reported.
"Obviously I'm very disappointed," State Sen. Scott Wiener (D-San Francisco), one of the bill's two introducers, told the Los Angeles Times. "California really has not done what it needs to do in terms of addressing the oil problem. We have communities that are suffering right now, and the Legislature has repeatedly failed to act."
The bill was introduced after California Gov. Gavin Newsom said he would sign a fracking ban if it passed the legislature, though his administration has continued to issue permits in the meantime, Forbes reported. Newsom has also spoken in favor of a buffer zone between oil and gas extraction and places where people live and learn, according to the Los Angeles Times. The latter is a major environmental justice issue, as fossil fuel production is more likely to be located near Black and Latinx communities.
Urban lawmakers who want California to lead on the climate crisis supported the bill, while inland lawmakers in oil-rich areas concerned about jobs opposed it. The oil and gas industry and trade unions also opposed the bill.
This opposition meant the bill failed to get the five votes it needed to move beyond the Senate's Natural Resources and Water Committee. Only four senators approved it, while Democrat Sen. Susan Eggman of Stockton joined two Republicans to oppose it, and two other Democrats abstained.
Eggman argued that the bill would have forced California to rely on oil extracted in other states.
"We're still going to use it, but we're going to use it from places that produce it less safely," Eggman told The AP. She also said that she supported the transition away from fossil fuels, but thought the bill jumped the gun. "I don't think we're quite there yet, and this bill assumes that we are," she added.
Historically, California has been a major U.S. oil producer. Its output peaked in 1986 at 1.1 million barrels a day, just below Texas and Alaska, according to Forbes. However, production has declined since then making it the seventh-most oil-producing state.
Still, California's fossil fuel industry is at odds with state attempts to position itself as a climate leader.

"There is a large stain on California's climate record, and that is oil," Wiener said Tuesday, according to The AP.
Wiener and Democrat co-introducer Sen. Monique Limón from Santa Barbara vowed to keep fighting.
"While we saw this effort defeated today, this issue isn't going away," they wrote in a joint statement. "We'll continue to fight for aggressive climate action, against harmful drilling, and for the health of our communities."
From Your Site Articles
Related Articles Around the Web
EXTREME-PHOTOGRAPHER / E+ / Getty Images
By Brett Wilkins
As world leaders prepare for this November's United Nations Climate Conference in Scotland, a new report from the Cambridge Sustainability Commission reveals that the world's wealthiest 5% were responsible for well over a third of all global emissions growth between 1990 and 2015.
The report, Changing Our Ways: Behavior Change and the Climate Crisis, found that nearly half the growth in absolute global emissions was caused by the world's richest 10%, with the most affluent 5% alone contributing 37%.
"In the year when the UK hosts COP26, and while the government continues to reward some of Britain's biggest polluters through tax credits, the commission report shows why this is precisely the wrong way to meet the UK's climate targets," the report's introduction states.
The authors of the report urge United Kingdom policymakers to focus on this so-called "polluter elite" in an effort to persuade wealthy people to adopt more sustainable behavior, while providing "affordable, available low-carbon alternatives to poorer households."
The report found that the "polluter elite" must make "dramatic" lifestyle changes in order to meet the UK's goal — based on the Paris climate agreement's preferential objective — of limiting global heating to 1.5°C, compared with pre-industrial levels.
In addition to highlighting previous recommendations — including reducing meat consumption, reducing food waste, and switching to electric vehicles and solar power — the report recommends that policymakers take the following steps:
Implement frequent flyer levies;
Enact bans on selling and promoting SUVs and other high polluting vehicles;
Reverse the UK's recent move to cut green grants for homes and electric cars; and
Build just transitions by supporting electric public transport and community energy schemes.
"We have got to cut over-consumption and the best place to start is over-consumption among the polluting elites who contribute by far more than their share of carbon emissions," Peter Newell, a Sussex University professor and lead author of the report, told the BBC.
"These are people who fly most, drive the biggest cars most, and live in the biggest homes which they can easily afford to heat, so they tend not to worry if they're well insulated or not," said Newell. "They're also the sort of people who could really afford good insulation and solar panels if they wanted to."
Newell said that wealthy people "simply must fly less and drive less. Even if they own an electric SUV, that's still a drain on the energy system and all the emissions created making the vehicle in the first place."
"Rich people who fly a lot may think they can offset their emissions by tree-planting schemes or projects to capture carbon from the air," Newell added. "But these schemes are highly contentious and they're not proven over time."
The report concludes that "we are all on a journey and the final destination is as yet unclear. There are many contradictory road maps about where we might want to get to and how, based on different theories of value and premised on diverse values."
"Promisingly, we have brought about positive change before, and there are at least some positive signs that there is an appetite to do what is necessary to live differently but well on the planet we call home," it states.
The new report follows a September 2020 Oxfam International study that revealed the wealthiest 1% of the world's population is responsible for emitting more than twice as much carbon dioxide as the poorest 50% of humanity combined.
Reposted with permission from Common Dreams.

From Your Site Articles
Related Articles Around the Web