This website uses cookies to ensure you get the best experience while browsing it. By clicking 'Got It' you're accepting these terms.
A Green Future for New York City
Jan. 15, 2015 10:32AM EST
Through her role as a Parks Analyst with the New York City Department Parks and Recreation, Katie Edmond (MPA-ESP '14) is working toward a greener future for New Yorkers in high-need communities.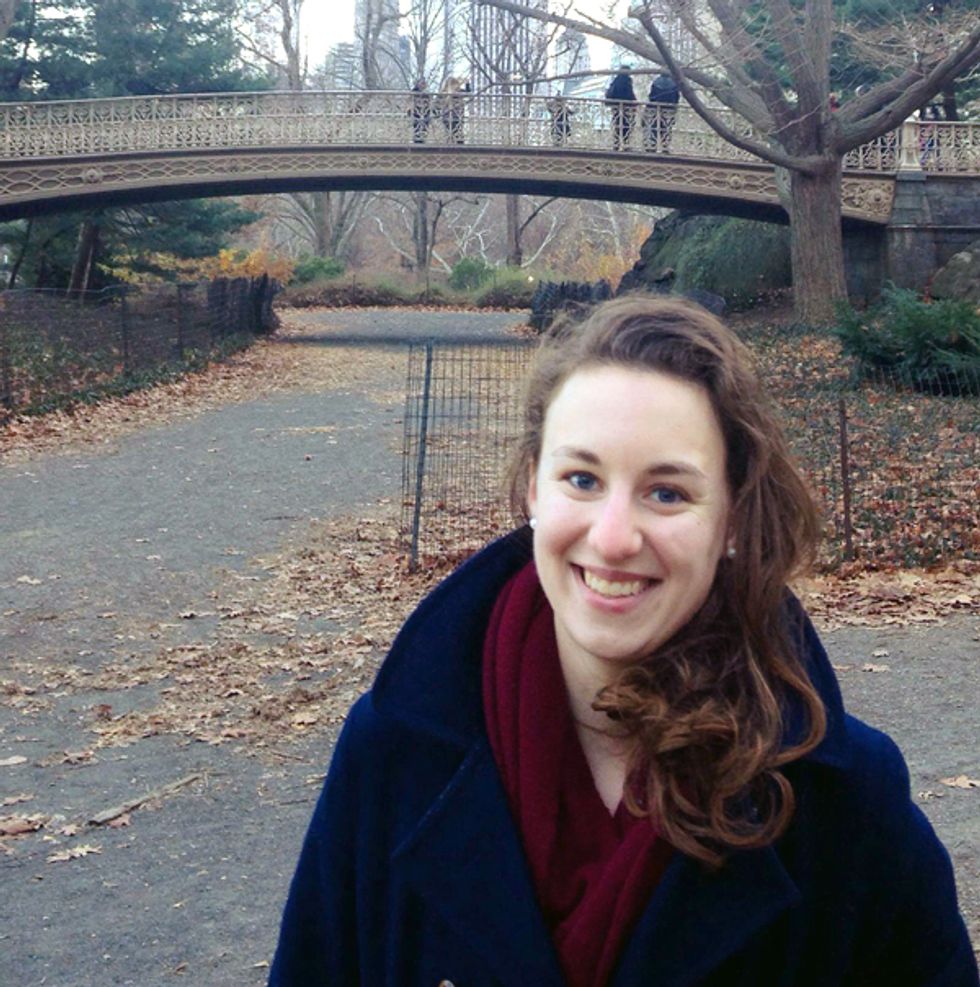 1. What is your current job?
I'm a Parks Analyst with the New York City Department of Parks and Recreation working on the Community Parks Initiative, which aims to improve parks in high-need communities through increased programming, maintenance, capital investment, and community partnerships.
2. What drew you to the Master of Public Administration in Environmental Science and Policy program (MPA-ESP)?
Coming from an environmental science background, I spent years studying the details of climate change, soil loss, invasive species, and water shortages. But as I entered the workforce and began discussing these issues with both scientists and non-scientists, I realized there was a real gap in my knowledge of how our communities address these problems. The MPA-ESP program's focus on policy, governance, and real-world environmental management really appealed to me. Essentially, my previous studies showed me what the environmental problems are and the MPA-ESP program showed me how we solve them.
3. What were you doing before you started the program?
I was working for the Minneapolis Park and Recreation Board, where I taught science and nature classes to children, led tours showcasing the ecology of the city, and inspected boats entering local lakes for aquatic invasive species. I also spent some time as an assistant instructor of soil science at the University of Minnesota.
4. What area of environmental policy and management are you most interested in?
The majority of my previous work experience centered around public speaking, education, and communications, so I'm very interested in the way the presentation of information affects how that information is perceived and understood. This is especially crucial for any discussions on climate, sustainability, and other environmental issues, which are frequently derailed by misunderstandings of data, uncertainty, risk, or the basic scientific principles involved. During my time in the MPA-ESP program, I tried to focus on the most effective ways to frame information for a variety of audiences, including scientists, policymakers, and the general public. I was even able to put what I had learned into practice during the program, as I twice had the opportunity to present formally on behalf of my Workshop team.
5. How did your professional goals develop during and after the Master of Public Administration in Environmental Science and Policy program?
I entered the program very interested in pursuing a career with the federal government, for an agency like the Environmental Protection Agency or the Department of Agriculture. My experience in the program gave me a closer look at the world of local-level public service. I came to think that, while the environmental work done at the federal level is important, it would be in city government that I could experience firsthand the impacts of my work on my community. I'm very excited to be working with NYC Parks on this parks equity initiative and building a bright, green future for all New Yorkers.
6. What skills has the MPA-ESP program taught you that you think have proven useful to your current position?
The skills I gained and honed during the MPA-ESP Workshop have proven to be invaluable. Everything from collaborating with team members, balancing multiple (and sometimes conflicting) priorities, adapting quickly when things go wrong, and even email and conference call etiquette come up on a daily basis. The Workshop taught me never to underestimate the importance of open group communication, a detailed work plan, and a good PowerPoint.
Students in the MPA in Environmental Science and Policy program enroll in a year-long, 54-credit program offered at Columbia University's School of International and Public Affairs, in partnership with the Earth Institute.
Since it began in 2002, the MPA in Environmental Science and Policy program has given students the hands-on experience, and the analytical and decision-making tools to implement effective environmental and sustainable management policies. The program's 682 graduates have advanced to jobs in domestic and international environmental policy, working in government, private and non-profit sectors. Their work involves issues of sustainability, resource use and global change, in fields focused on air, water, climate, energy efficiency, food, agriculture, transportation and waste management. They work as consultants, advisers, project managers, program directors, policy analysts, teachers, researchers and environmental scientists and engineers.
EcoWatch Daily Newsletter
Pro-environment demonstrators on the streets of Washington, DC during the Jan. 20, 2017 Trump inauguration.
Mobilus In Mobili
/ Flickr /
CC BY-SA 2.0
By Dr. Brian R. Shmaefsky
One year after the Flint Water Crisis I was invited to participate in a water rights session at a conference hosted by the US Human Rights Network in Austin, Texas in 2015. The reason I was at the conference was to promote efforts by the American Association for the Advancement of Science (AAAS) to encourage scientists to shine a light on how science intersects with human rights, in the U.S. as well as in the context of international development. My plan was to sit at an information booth and share my stories about water quality projects I spearheaded in communities in Bangladesh, Colombia, and the Philippines. I did not expect to be thrown into conversations that made me reexamine how scientists use their knowledge as a public good.
Mt. Rainier and Reflection Lake on Sept. 10, 2015. Crystal Geyser planned to open a bottling plant near Mt. Rainier, emails show.
louelke - on and off / Flickr
Bottled water manufacturers looking to capture cool, mountain water from Washington's Cascade Mountains may have to look elsewhere after the state senate passed a bill banning new water permits, as The Guardian reported.
Large storage tank of Ammonia at a fertilizer plant in Cubatão, Sao Paulo State, Brazil. Luis Veiga / The Image Bank / Getty Images
The shipping industry is coming to grips with its egregious carbon footprint, as it has an outsized contribution to greenhouse gas emissions and to the dumping of chemicals into open seas. Already, the global shipping industry contributes about 2 percent of global carbon emissions, about the same as Germany, as the BBC reported.
At high tide, people are forced off parts of the pathway surrounding DC's Tidal Basin. Andrew Bossi /
Wikimedia
The Jefferson Memorial in Washington, DC overlooks the Tidal Basin, a man-made body of water surrounded by cherry trees. Visitors can stroll along the water's edge, gazing up at the stately monument.
But at high tide, people are forced off parts of the path. Twice a day, the Tidal Basin floods and water spills onto the walkway.
Lioness displays teeth during light rainstorm in Kruger National Park, South Africa. johan63 / iStock / Getty Images
Ahead of government negotiations scheduled for next week on a global plan to address the biodiversity crisis, 23 former foreign ministers from various countries released a statement on Tuesday urging world leaders to act "boldly" to protect nature.