This website uses cookies to ensure you get the best experience while browsing it. By clicking 'Got It' you're accepting these terms.
A Green Future for New York City
Jan. 15, 2015 10:32AM EST
Through her role as a Parks Analyst with the New York City Department Parks and Recreation, Katie Edmond (MPA-ESP '14) is working toward a greener future for New Yorkers in high-need communities.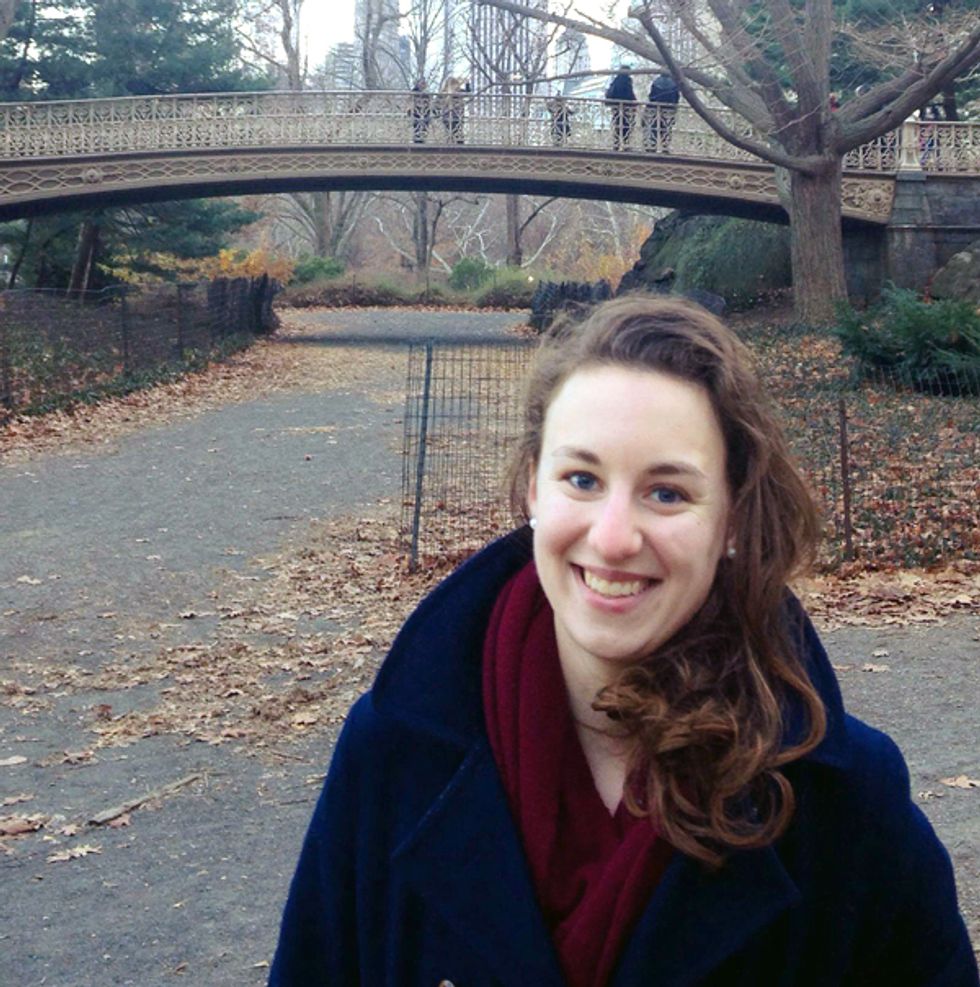 1. What is your current job?
I'm a Parks Analyst with the New York City Department of Parks and Recreation working on the Community Parks Initiative, which aims to improve parks in high-need communities through increased programming, maintenance, capital investment, and community partnerships.
2. What drew you to the Master of Public Administration in Environmental Science and Policy program (MPA-ESP)?
Coming from an environmental science background, I spent years studying the details of climate change, soil loss, invasive species, and water shortages. But as I entered the workforce and began discussing these issues with both scientists and non-scientists, I realized there was a real gap in my knowledge of how our communities address these problems. The MPA-ESP program's focus on policy, governance, and real-world environmental management really appealed to me. Essentially, my previous studies showed me what the environmental problems are and the MPA-ESP program showed me how we solve them.
3. What were you doing before you started the program?
I was working for the Minneapolis Park and Recreation Board, where I taught science and nature classes to children, led tours showcasing the ecology of the city, and inspected boats entering local lakes for aquatic invasive species. I also spent some time as an assistant instructor of soil science at the University of Minnesota.
4. What area of environmental policy and management are you most interested in?
The majority of my previous work experience centered around public speaking, education, and communications, so I'm very interested in the way the presentation of information affects how that information is perceived and understood. This is especially crucial for any discussions on climate, sustainability, and other environmental issues, which are frequently derailed by misunderstandings of data, uncertainty, risk, or the basic scientific principles involved. During my time in the MPA-ESP program, I tried to focus on the most effective ways to frame information for a variety of audiences, including scientists, policymakers, and the general public. I was even able to put what I had learned into practice during the program, as I twice had the opportunity to present formally on behalf of my Workshop team.
5. How did your professional goals develop during and after the Master of Public Administration in Environmental Science and Policy program?
I entered the program very interested in pursuing a career with the federal government, for an agency like the Environmental Protection Agency or the Department of Agriculture. My experience in the program gave me a closer look at the world of local-level public service. I came to think that, while the environmental work done at the federal level is important, it would be in city government that I could experience firsthand the impacts of my work on my community. I'm very excited to be working with NYC Parks on this parks equity initiative and building a bright, green future for all New Yorkers.
6. What skills has the MPA-ESP program taught you that you think have proven useful to your current position?
The skills I gained and honed during the MPA-ESP Workshop have proven to be invaluable. Everything from collaborating with team members, balancing multiple (and sometimes conflicting) priorities, adapting quickly when things go wrong, and even email and conference call etiquette come up on a daily basis. The Workshop taught me never to underestimate the importance of open group communication, a detailed work plan, and a good PowerPoint.
Students in the MPA in Environmental Science and Policy program enroll in a year-long, 54-credit program offered at Columbia University's School of International and Public Affairs, in partnership with the Earth Institute.
Since it began in 2002, the MPA in Environmental Science and Policy program has given students the hands-on experience, and the analytical and decision-making tools to implement effective environmental and sustainable management policies. The program's 682 graduates have advanced to jobs in domestic and international environmental policy, working in government, private and non-profit sectors. Their work involves issues of sustainability, resource use and global change, in fields focused on air, water, climate, energy efficiency, food, agriculture, transportation and waste management. They work as consultants, advisers, project managers, program directors, policy analysts, teachers, researchers and environmental scientists and engineers.
EcoWatch Daily Newsletter
Coldplay is releasing a new album on Friday, but the release will not be followed by a world tour.
Ash dieback is seen infecting a European ash (Fraxinus excelsior) in Bottomcraig, Scotland, UK on Aug. 10, 2016.
nz_willowherb / Flickr
Scientists have discovered a genetic basis to resistance against ash tree dieback, a devastating fungal infection that is predicted to kill over half of the ash trees in the region, and it could open up new possibilities to save the species.
Truth in Action is a day-long global conversation on the climate crisis and how we solve it. The Climate Reality Project
Former Vice President Al Gore kicked off 24 hours of climate talks in the U.S. and 77 other countries around the world Wednesday night.
Activists highlighted the climate emergency outside Scottish Government headquarters at St Andrew's House in Edinburgh on Oct. 13, 2017. Usage of the term "climate emergency" spiked in 2019, according to Oxford Dictionaries.
By Jessica Corbett
Climate advocates and experts celebrated Oxford Dictionaries' announcement Wednesday that "climate emergency" is the Oxford Word of the Year 2019.
By Kieran Cooke
There could be a way of countering one key aspect of the climate emergency by making much greater use of a widely-available plant: bamboo building.