A Closer Look at Obama's 'All of the Above' Energy Policy
Mar. 18, 2013 04:13PM EST
Climate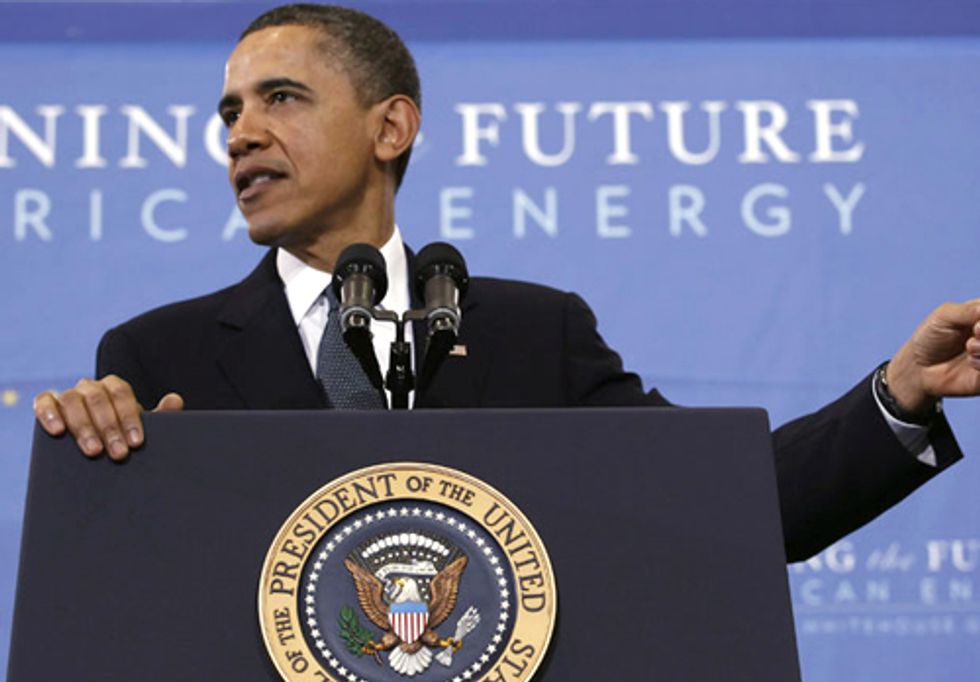 By Sharon Kelly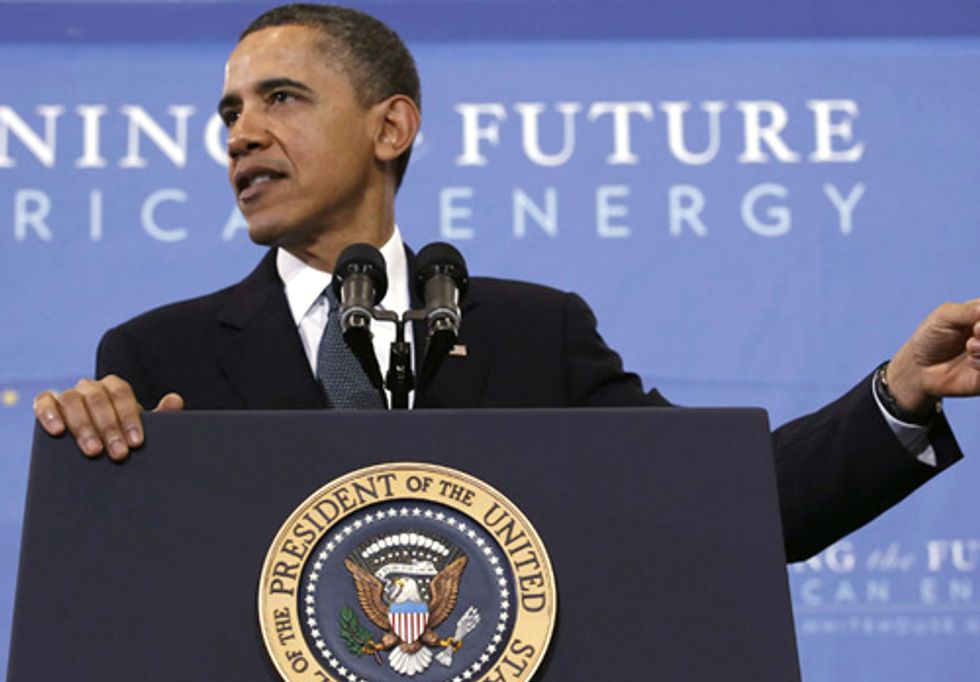 A year ago, President Obama set forth his vision of America's energy policy. "We need an energy strategy for the future," he said in a message still prominently displayed on the White House website, "an all-of-the-above strategy for the 21st century that develops every source of American-made energy."
During the presidential debates, he hammered repeatedly an "all of the above" theme, though he also surprised many by making a strong statement about the urgency of confronting climate change during his second term.
This week, President Obama once more talked about his "all the above" strategy as he announced that he was setting aside $2 billion for research and development on alternative transportation fuels.
Things are looking up for renewable energy, right? Not so fast.
Obama's choice for new directors of the three agencies with the most relevance to climate change—the U.S. Environmental Protection Agency (EPA), Department of Energy and Department of the Interior—do not sew confidence that real change is coming.
Obama selected Ernest Moniz as his choice to run the Department of Energy. An MIT professor and a proponent of fracking, Moniz recently led a controversial study that supported exporting liquefied natural gas and has taken a stance in favor of so-called "clean coal." His long-standing support for nuclear power was unwavering even in the face of the Fukushima disaster.
The U.S. EPA will be headed by Gina McCarthy, currently the assistant administrator of the EPA's Office of Air and Radiation, where she crafted the EPA's first air pollution rules for fracking and oversaw the development of as-yet-unfinalized standards that would essentially end new construction of coal-fired facilities without carbon capture or other techniques. She has drawn support from both environmentalists and industry alike.
And the person who will oversee the use of public lands is Sally Jewell, a former Mobil Oil engineer and now President and Chief Executive Officer of Recreational Equipment, Inc. (REI). Obama announced her appointment as secretary of Interior, where she will make crucial decisions about leasing federal land for oil and gas fracking or for renewable energy development. Though Jewell has a reputation as a conservationist, she has disclosed owning stock in numerous oil and gas companies, including Anadarko Petroleum Corp., Apache Corp., Chevron Corp., ConocoPhillips and Exxon Mobil Corp, along with Schlumberger and Halliburton.
All of these nominees are known for their active support of an "all of the above" approach on energy.
"I do believe that for this decade, in my context of moving toward lower carbon, natural gas will be a major bridge but it is only a bridge to what I believe will be a required deployment of zero carbon options and we have to see what nuclear's role is in there," Moniz told a Senate committee in 2011.
All three of these appointees will help determine whether to build the Keystone XL pipeline or promote shale oil and gas production on federal lands. They will also make major decisions that will affect our energy infrastructure for decades.
The $2 billion clean transportation initiative Obama announced last Friday, described as intended to replace fossil fuels in cars, follows the same pattern. It not only funds research into electric vehicles, biofuels and fuel cells, but also will promote natural gas vehicles.
But a major fallacy lies behind the "all of the above" energy trope President Obama and his nominees have espoused. As an overarching philosophy it sounds appealing and the rhetoric of inclusiveness is beguiling. But as an energy policy, it does not work because fossil fuels have historically had a huge leg up on renewables in terms of subsidies and federal loopholes and advances in technology have only recently made renewables cost competitive with cheap oil, gas and coal.
Wind and solar are at an even deeper disadvantage because the shale gas boom has flooded the market with cheap natural gas—at least over the short run—enticing consumers and utility companies alike. When natural gas supplies are on offer at a fraction of what it costs buy wind or solar energy, what choice do budget-conscious buyers have?
The fallacy of an "all of the above" theme is akin to that behind the "bridge fuel" meme that the drilling industry aggressively promoted as recently as a year ago.
As you surely will recall, proponents of natural gas touted new shale deposits and called for accelerated drilling because natural gas was—according to them—a green alternative to the "old" fossil fuels. Unlike coal and oil, natural gas burned cleaner and would serve as a way for our economy to wean itself from the dirty old fossil fuels to the new green renewables. Indeed, natural gas would serve as a bridge, they said.
 
This idea has been thoroughly debunked by now. The world is warming far too quickly for such a bridge to be built in time. If climate change is going to be reversed or halted, a transition away from fossil fuels has to occur sooner.
Furthermore, the process of extracting natural gas at the wellhead emits enough unburned methane, which has climate changing impacts that can be 30 to 100 times more destructive than those from carbon dioxide, to negate any benefits of lower carbon dioxide emissions at power plants.
Much as the idea of a "bridge fuel" is a mirage—so too is the concept of an "all of the above" approach. It serves as a tool to keep alternate fuels on a distant horizon and distract from the urgent need to shift our energy infrastructure now.
But there is a larger political lesson to be learned here about President Obama and his political calculus when it comes to the environment. It is a lesson that was recently summed up best by energy analyst, Jigar Shah, who made the point that since day one in office, the ever-studious and contemplative Obama has opted on energy for "invention over deployment" and "R&D over job creation and carbon reduction."
What Shah meant is that rather than reckoning with the fact that time is running out regarding climate change and forging ahead with a clear plan to lessen the amount of fossil fuels we use and sharply increase the use of wind and solar and other renewable technology we already have in hand, the president is opting to take the opposite approach: accelerate drilling and further study into renewables.
One quick side note on the ticking clock urgency that is upon us. One need not look far to see that even some of the most conservative commentators around get it. Just read, for example, what Thomas Friedman, by no-means a wild-eyed treehugger, has said recently. In perhaps his most clear-eyed piece on it, Friedman makes this basic point:
"Let's look at the huge carbon and financial deficits we're amassing. For thousands of years up to the dawn of the industrial age 200 years ago, the Earth's atmosphere contained 280 parts per million of the heat-trapping greenhouse gas carbon dioxide. Today, that number is nearly 400 p.p.m., with 450 p.p.m. routinely cited as the tipping point where we create the conditions for out-of-control acceleration."
But President Obama does not seem to recognize this urgency and all signs thus far into his second term seem to indicate that he plans to continue down the path he set during his first term.
Consider his announcement last week: $2 billion for more research on clean transportation. That sounds like a lot of money, especially during a recession. It's actually not. Remember that the stimulus plan set aside over $30 billion for this sort of research and most of it is spent, yet the economy is not a whole lot closer to shifting toward renewables. Meanwhile, most experts agree that we already have the technological capacity to start making the transition to cleaner fuels.
The real reason that Obama is reluctant to direct the weight of the federal government toward the deployment rather than the study of renewables has to do with politics. He got clobbered by the Solyndra scandal. That was the debacle where a solar energy company collapsed, leaving taxpayers on the hook for $535 million.
Even though billions upon billions of taxpayer dollars have been wasted over the years through subsidies to oil and gas companies, Obama has allowed the Republicans to hammer him with the Solyndra club every time he even glances at the wind or solar industries.
His recent nominees, often described as pragmatic or realistic regulators, seem unlikely to push back and take the type of assertive stance against oil and gas development that is called for.
This is especially true of Moniz, who is currently director of the MIT Energy Initiative, which, since 2006, has received more than $125 million in pledges from the oil and gas industry, according to the Public Accountability Initiative. Moniz also has served on the board of directors of ICF Consulting, which came under fire after it was found that the firm, which has oil and gas industry clients, supplied key analysis for the State Department's controversial assessment of the Keystone XL project.
"We're concerned that, as energy secretary, Ernest Moniz may take a politically expedient view of harmful fracking and divert resources from solar, geothermal and other renewable energy sources vital to avoiding climate disaster," said Bill Snape of the Center for Biological Diversity in a statement. "We're also concerned that Moniz would be in a position to delay research into the dangers fracking poses to our air, water and climate."
This comes at a time when technological advances have made the idea of relying exclusively on wind and solar more and more practical.
A study announced last week, and soon to be published in the journal Energy Policy, assessed New York state's energy needs and mapped out a potential program to run the entire state on wind, sun, geothermal energy and water, eliminating dependence on coal, oil, natural gas, and nuclear power within 17 years.
"We must be ambitious if we want to promote energy independence and curb global warming," said study co-author Robert Howarth, a Cornell University professor of ecology and environmental biology. "The economics of this plan make sense," added Anthony Ingraffea, a Cornell engineering professor and a co-author of the study. "Now it is up to the political sphere.
Visit EcoWatch's ENERGY and RENEWABLES pages for more related news on this topic.
——–
Click here to tell Congress to Expedite Renewable Energy.

Recycling and general waste plastic wheelie bins awaiting collection for disposal in Newport, Rhode Island. Tim Graham / Getty Images
Reduce. Reuse. Recycle. According to The National Museum of American History, this popular slogan, with its iconic three arrows forming a triangle, embodied a national call to action to save the environment in the 1970s. In that same decade, the first Earth Day happened, the EPA was formed and Congress passed the Resource Conservation and Recovery Act, encouraging recycling and conservation of resources, Enviro Inc. reported.
According to Forbes, the Three R's sustainability catch-phrase, and the recycling cause it bolstered, remain synonymous with the U.S. environmental movement itself. There's only one problem: despite being touted as one of the most important personal actions that individuals can take to help the planet, "recycling" – as currently carried out in the U.S. – doesn't work and doesn't help.
Turns out, there is a vast divide between the misleading, popular notion of recycling as a "solution" to the American overconsumption problem and the darker reality of recycling as a failing business model.
Tiffany Duong is an avid ocean advocate. She holds degrees from UCLA and the University of Pennsylvania Carey Law School and is an Al Gore Climate Reality Leader and student member of The Explorer's Club.
She spent years as a renewable energy lawyer in L.A. before moving to the Amazon to conduct conservation fieldwork (and revamp her life). She eventually landed in the Florida Keys as a scientific scuba diver and field reporter and writes about the oceans, climate, and the environment from her slice of paradise. Follow her on Twitter/Instagram @lilicedt.
EcoWatch Daily Newsletter
The coal-fired Huaneng Power Plant in Huai 'an City, Jiangsu Province, China on Sept. 13, 2020. Costfoto / Barcroft Media via Getty Images
Overall energy demand is expected to rise 4.6 percent this year compared to 2020 and 0.5 percent compared to 2019, according to the IEA's Global Energy Review 2021. Demand for fossil fuels is expected to jump to such an extent that emissions will rise by nearly five percent in 2021. This will reverse 80 percent of the emissions decline reported in 2020, to end emissions just 1.2 percent below 2019 emissions levels. Because the lockdown saw the biggest drop in energy demand since World War II, the projected increase in carbon dioxide emissions will still be the second-highest on record, BBC News pointed out.
"This is a dire warning that the economic recovery from the COVID crisis is currently anything but sustainable for our climate," IEA Executive Director Fatih Birol said in a statement reported by AFP.
Birol said much of that increase was being driven by the resurgence of coal use. In fact, coal demand is expected to increase by 60 percent more than all forms of renewable energy, according to the report. Overall coal demand is expected to increase by 4.5 percent in 2021. More than 80 percent of that growth is in Asia, and more than 50 percent is in China. While coal use is expected to increase in the U.S. and Europe as well, it will remain far below pre-pandemic levels. Still, global coal use is expected to rise to nearly its 2014 peak, BBC News reported.
Natural gas demand is also expected to rise by 3.2 percent in 2021, to put it more than one percent above 2019 levels, according to the report.
There are, however, two bright spots in the report from a climate perspective. The first is that oil demand, while up 6.2 percent from 2020, is still expected to remain around 3 percent below 2019 levels. This is because oil use for ground transportation is not expected to recover until the end of 2021, and oil use for air travel is expected to remain at 20 percent below 2019 levels by December of 2021.
"A full return to pre-crisis oil demand levels would have pushed up CO2 emissions a further 1.5%, putting them well above 2019 levels," the report authors wrote.
The second bright spot is that renewable energy demand is set to rise in all sectors in 2021. In power, where its rise is the greatest, it is set to increase by more than eight percent. This is "the largest year-on-year growth on record in absolute terms," the report authors wrote.
Renewable energy will provide 30 percent of electricity overall, BBC News reported, which is the highest percentage since the industrial revolution. The problem is that the increase in renewables is running parallel to an increase in fossil fuels in some places. China, for example, is also expected to account for almost half of the rise in renewable electricity.
"As we have seen at the country-level in the past 15 years, the countries that succeed to cut their emissions are those where renewable energy replaces fossil energy," energy expert and University of East Anglia professor Corinne Le Quéré told BBC News. "What seems to be happening now is that we have a massive deployment of renewable energy, which is good for tackling climate change, but this is occurring alongside massive investments in coal and gas. Stimulus spending post-Covid-19 worldwide is still largely funding activities that lock us into high CO2 emissions for decades."
To address this issue, Birol called on the world leaders gathering for U.S. President Joe Biden's climate summit Thursday and Friday to pledge additional action before November's UN Climate Change Conference, according to AFP.
"Unless governments around the world move rapidly to start cutting emissions, we are likely to face an even worse situation in 2022," said Birol.
From Your Site Articles
Related Articles Around the Web
A grizzly bear killed an outdoor guide in a rare attack near Yellowstone Park. William Campbell / Corbis / Getty Images
Representative Alexandria Ocasio-Cortez (D-NY) re-introduces the Green New Deal in Washington, D.C. on April 20, 2021. Mandel Ngan / AFP / Getty Images
By Brett Wilkins
In the latest of a flurry of proposed Green New Deal legislation, Reps. Cori Bush and Alexandria Ocasio-Cortez on Monday introduced the Green New Deal for Cities Act of 2021, a $1 trillion plan to "tackle the environmental injustices that are making us and our children sick, costing us our homes, and destroying our planet."
Offshore oil and gas drillers have left more than 18,000 miles of pipelines at the bottom of the Gulf of Mexico. Drew Angerer / Getty Images
Offshore oil and gas drillers have discarded and abandoned more than 18,000 miles of pipelines on the floor of the Gulf of Mexico since the 1960s, a report from the Government Accountability Office says.
The industry has essentially recovered none of the pipelines laid in the Gulf in the last six decades; the abandoned infrastructure accounts for more than 97% of all of the decommissioned pipelines in the Gulf.
The pipelines pose a threat to the habitat around them, as maritime commerce and hurricanes and erosion can move sections of pipeline.
The Bureau of Safety and Environmental Enforcement does not conduct undersea inspections even though surface monitoring is "not always reliable for detecting ruptures," according to the GAO.
For a deeper dive:
For more climate change and clean energy news, you can follow Climate Nexus on Twitter and Facebook, sign up for daily Hot News, and visit their news site, Nexus Media News.