A Call for Unity: An Open Letter From a Texas Landowner to Keystone XL Pipeline Opponents
Jun. 25, 2013 10:16AM EST
Energy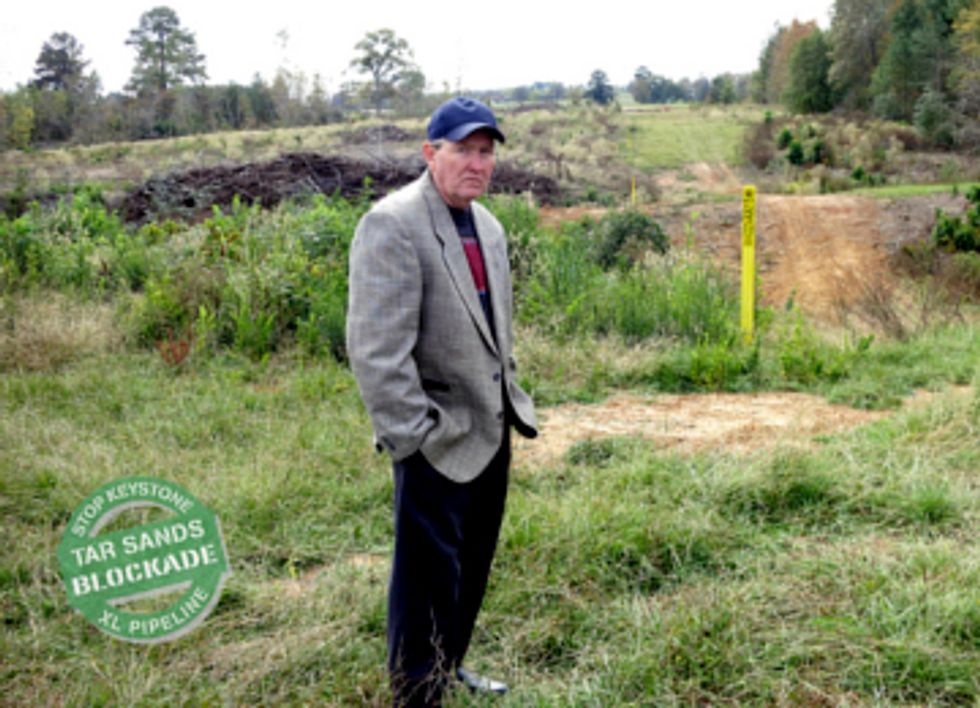 Michael Bishop
My name is Michael Bishop and I am a landowner in Douglass, TX in Nacogdoches County. I have been fighting TransCanada's Keystone XL pipeline for almost five years now and, except for a handful of good Americans, was told there was no interest in eminent domain cases or that I "couldn't win a case against TransCanada." For the record, I contacted environmental group after environmental group since the beginning of this fight and I begged for legal assistance from, literally, dozens of attorneys specializing in Constitutional law, eminent domain and civil law, to no avail. In my own state of Texas, I contacted a national nonprofit group that was not only negative about me fighting this company, but was actually rude and unwilling to even discuss the argument I was trying to make in support of litigation against TransCanada Keystone XL Pipeline, LLC. I also called a well-known environmental group in Austin that talked a good game, but, in the end, did not deliver and ended up aligning themselves with individuals who brought shame to that group through unscrupulous actions and comments against suffering landowners.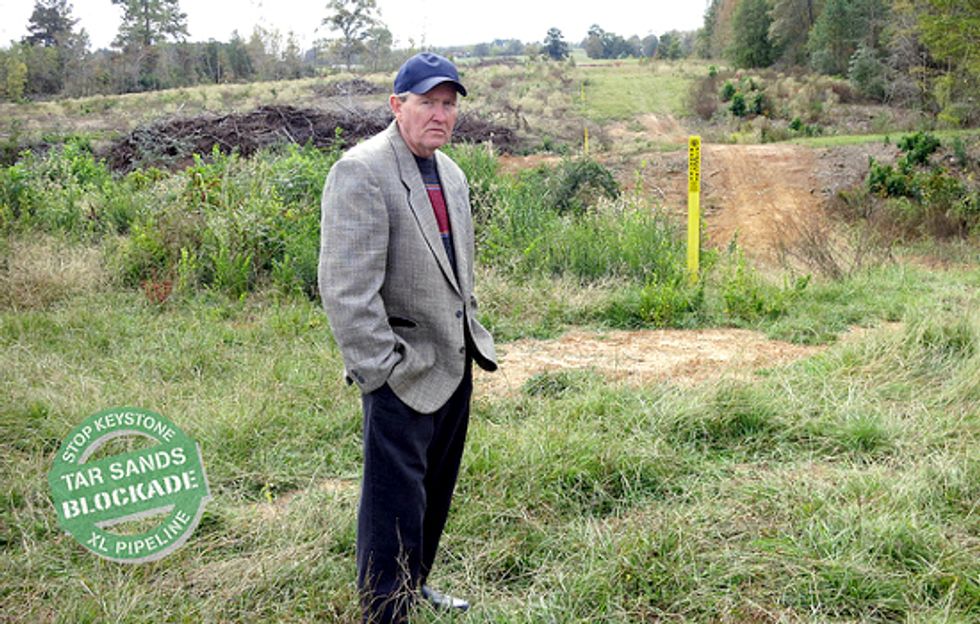 I called local county commissioners and my county judge who refused to put me on the agenda to bring them a five minute presentation as to why my county should oppose this pipeline and to show them that a legislative tool or existing law gave them the authority to stop construction. I was not allowed to make such a presentation. This is sad, given that this same commissioner's court gave TransCanada representatives over four hours of "updates" and "information" sessions and actually entered into agreements with this firm. A private citizen, taxpayer and landowner was denied the right to present information to the leaders of the county while representatives of a foreign, privately owned corporation were  given the "key to the county." I contacted multiple state agencies that are mandated by law to protect and represent the public interest in environmental matters only to be told they were unable to assist me and that they had no "legal authority," although this was, and is, clearly not the case.
What I find further disturbing during my research in the cases I have filed against TransCanada, the Texas Railroad Commission and the U.S. Army Corps of Engineers, is the level of corruption I have uncovered and witnessed in our judiciary and legislative representatives. Sadly, this allegation goes all the way to the White House. During my fight against this illegal foreign land grab, I have seen many good people in Texas and other states destroyed by the actions of TransCanada Keystone XL Pipeline, and their dreams (along with mine) for the future of their children and grandchildren shattered by greed, lies, propaganda  and bullying tactics of a private, foreign corporation that has the complete and overwhelming support of these corrupt local leaders, politicians and judges. It is time for change.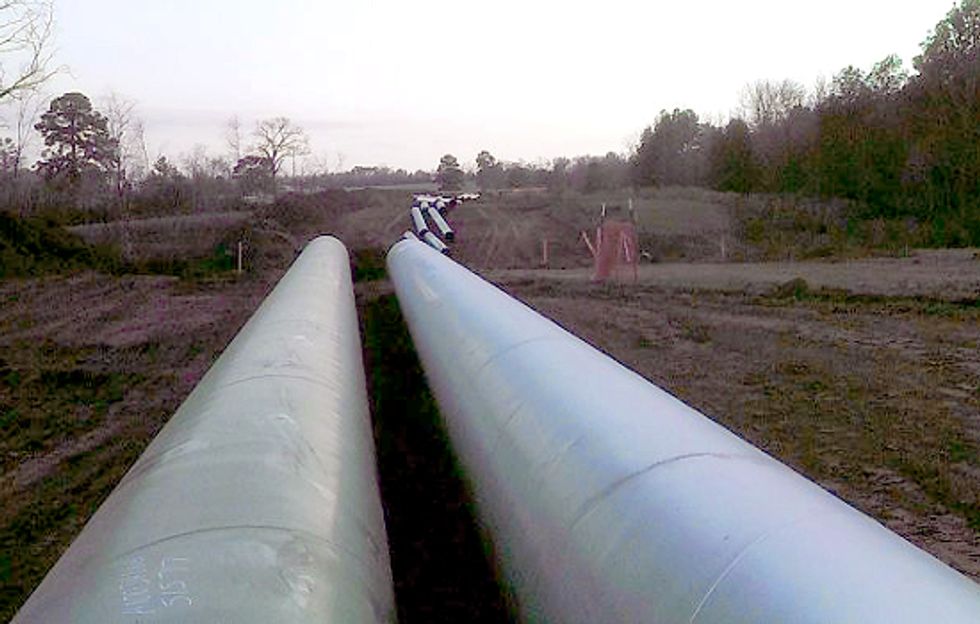 I am sick of the rhetoric of politicians who speak out of both sides of their mouths: they support stopping climate change while approving this pipeline; they support "property rights" while refusing to support reform of eminent domain laws that violate the Constitutional rights of citizens. I am tired of individuals who "praise and support" our efforts to stop the pipeline but have a selfish agenda that is counter-productive to the on-going fight. Daddy used to tell me that people are basically driven by four things: power, sex, money or all of the above. I have witnessed, firsthand, in my fight against TransCanada Keystone XL Pipeline, individuals and groups that are not team players, do not support or have not supported those landowners in need and continue to get their names in the news as "key players" in this fight, when in fact, they do not support, have not supported and have not contributed one original idea, one cent or one original strategy to this serious war we are engaged in. In fact, some of them are actually guilty of plagiarism and giving misleading and misinformed statements to the media. It is time to put away self-serving agendas and concentrate on the few legitimate fights that are currently going on out here in the real world. With the exception of dedicated environmental news outlets and real journalists, the mainstream media has fallen prey to the propaganda machine of TransCanada and the U.S. government  information "puppets." They are not reporting the true stories of landowners who have stood firm and are fighting this illegal pipeline and in spite of multiple lawsuits, Heartland America is not aware of our plight. The media is controlled and has no interest in truth and this is also a sad reality of our current society.
For months I have thought about what to write and the answer is clear: unity. We are all aware of the universal fact that the government, concerned about "eco-terrorists," have embedded agents in the various groups opposed to the TransCanada Keystone XL Pipeline and it is also no secret that there are "double agents" paid by TransCanada to infiltrate these various organizations opposed to the pipeline and provide them with information regarding anti-pipeline activities. I can name at least four major groups that are receiving massive amounts of money to protest and fight TransCanada from private investors or "funders" as well as several nonprofit foundations. What has this funding achieved? Nothing. Julia Trigg Crawford, to my understanding, has waged her legal battle, for the most part, with her own funding. The Texas Rice Farmers group, my own legal battles and other landowners have not been able to raise money to assist in these legal battles, although there are groups out there receiving substantial sums of money. The race for "headlines," the urgency to make a name for themselves and the struggle for power and recognition have blinded these individuals and groups to the real legal battles that are currently on-going in Texas. This is sad and it must end.
As a U.S. Marine, I learned and learned well the absolute requirement for working as a team and performing as a cohesive unit. It is time for individuals and groups that have separate political agendas and financial motives to reassess their actions, review the work that myself and other landowners have accomplished thus far and join in to help us. Without this support and absolute unity, TransCanada will prevail and the "twin" pipeline that has already been planned and proposed will follow this Southern segment of the KXL. This will become a reality in another year or two and we will then be in double jeopardy.
I urge everyone to consider this letter and to join the few of us that are out here fighting for the future of our children and grandchildren and not vying for political or financial advancement. If you are not part of the solution, you are part of the problem. I hope that this call to unity will give those who are guilty pause for consideration and that they will join us and stop working against us in this honorable and real fight against TransCanada's Keystone XL Pipeline.
Michael Bishop previously provided EcoWatch with a four-part firsthand account of what happens when a company like TransCanada claims eminent domain on one's property and begins building a tar sands pipeline—the southern leg of the Keystone XL. Read Part I, Part II, Part III and Part IV.
Visit EcoWatch's KEYSTONE XL page for more related news on this topic.
——-
EcoWatch Daily Newsletter
Related Articles from EcoWatch
Recent Stories from EcoWatch