This website uses cookies to ensure you get the best experience while browsing it. By clicking 'Got It' you're accepting these terms.
A Better World Lies Beyond Coal, Oil and Gas
May. 20, 2013 09:24AM EST
Climate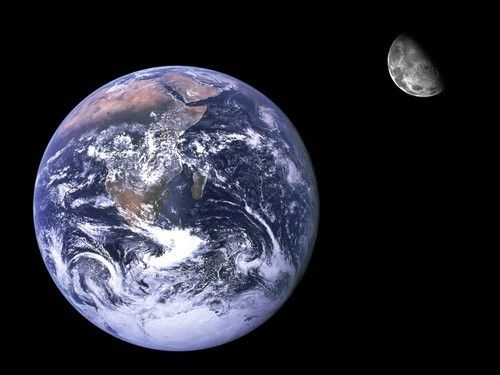 Photo courtesy of Shutterstock

Few of us will ever venture past the 60-mile boundary that separates Earth and outer space. If you do, though, you're likely to experience something known as "the overview effect"—a cognitive shift in how you perceive our planet. Political boundaries disappear, and our atmosphere, which seemed like a boundless expanse of blue from the ground, is suddenly revealed to be a paper-thin shield between life and the dark void of space.
Last week, the fragility of that thin blue shield was underscored by the news that we've reached a daily average of 400 parts per million (ppm) of carbon dioxide in our atmosphere. That's the highest level in at least 3 million years. In less than two centuries, we've increased atmospheric carbon dioxide (CO2) by 42 percent—by burning fossil fuels, degrading our forests and disturbing our soils. And it's still going up.
Although the notion of sending Congress, the President and every other decision maker into outer space has some appeal, it's not exactly the most practical thing. Yet the climate crisis demands the same kind of cognitive shift experienced by astronauts: we cannot let that CO2 ppm number keep ticking up, and the best way to stop it is to stop burning fossil fuels and replace them with renewable energy as fast as we can.
Unfortunately, although President Obama has spoken eloquently about the climate crisis, the energy policies of his administration too often say "business as usual," not "cognitive shift." Here are just three examples:
First, on the same day that the 400 ppm milestone was reported, the administration released its National Strategy for the Arctic Region. Ironically, although the report correctly notes that the Arctic will be severely affected by climate disruption, it also includes talking points that could have come straight out of the Bush administration, including this sentence:
Continuing to responsibly develop Arctic oil and gas resources aligns with the United States "all of the above" approach to developing new domestic energy sources, including renewables, expanding oil and gas production and increasing efficiency and conservation efforts to reduce our reliance on imported oil and strengthen our nation's energy security.
Wrong. Although the parenthetical nod to renewables is nice, any "all of the above" policy that furthers our dependence on oil and gas doesn't strengthen our energy security. Instead, it increases our climate insecurity. As Shell Oil learned the hard way, there are many good reasons why it's a bad idea to attempt offshore drilling in the Arctic. We only need this one, though: If we are serious about addressing the climate crisis, then oil under the Arctic Ocean needs to stay there.
Second, on May 16, the Bureau of Land Management released new proposed regulations for fracking natural gas on public lands. The new rules are disappointing for many reasons: drillers won't be required to disclose what chemicals they're using, there is no requirement for baseline water testing and there are no setback requirements to govern how close to homes and schools drilling can happen.
Once again, though, the policy documents an even bigger failure to grasp a fundamental principle: if we're serious about the climate crisis, then the last thing we should be doing is opening up still more federal land to drilling and fracking for fossil fuels.
Lastly, of course, there is the issue of tar sands crude and the Keystone XL pipeline. I've written many times about the risks of both, but the bottom line is that allowing tar sands extraction to expand will undermine the progress that has been made to reduce carbon pollution elsewhere in the economy.
The good news: we still have time to act. Through clean energy technology, smart policies and responsible leadership, we can spare future generations the "worst-case scenario" for climate disruption. To make that happen, though, the biggest change has to occur on the inside first—a cognitive shift away from the fossil fuel world we've known our entire lives.
We can't literally escape gravity to stare in awe at our amazingly beautiful planet and suddenly comprehend what's at stake—but we can make the journey in our hearts and minds. Once we do—whether we're sitting behind a desk in the Oval Office or on a back porch swing in Salinas, KS—we can see the better world that lies beyond coal, oil and gas.
Visit EcoWatch's CLIMATE CHANGE page for more related news on this topic.
——–
Click here to tell Congress to Expedite Renewable Energy.

EcoWatch Daily Newsletter
Protesters gathered outside US Bank and Wells Fargo locations around the U.S. to protest investment in the Dakota Access Pipeline on Dec. 1, 2016. This photo is from a protest outside US Bank in south Minneapolis, Minnesota.
Fibonacci Blue / CC BY 2.0
By Jake Johnson
As a growing number of states move to pass laws that would criminalize pipeline protests and hit demonstrators with years in prison, an audio recording obtained by The Intercept showed a representative of a powerful oil and gas lobbying group bragging about the industry's success in crafting anti-protest legislation behind closed doors.
Reposted with permission from our media associate Common Dreams.

DESIREE MARTIN / AFP / Getty Images
Wildfires raging on Gran Canaria, the second most populous of Spain's Canary Islands, have forced around 9,000 people to evacuate.
Wolves in Mount Rainier, Washington. Ron Reznick / VW Pics / Universal Images Group via Getty Images
The last four members of an embattled wolf pack were killed in Washington State Friday, hours before the court order that could have saved them.
Aerial view of lava flows from the eruption of volcano Kilauea on Hawaii, May 2018. Frizi / iStock / Getty Images
Hawaii's Kilauea volcano could be gearing up for an eruption after a pond of water was discovered inside its summit crater for the first time in recorded history, according to the AP.
Plateau Creek near De Beque, Colorado, where land has been leased for oil and gas production. Helen H. Richardson / The Denver Post / Getty Images
By Randi Spivak
Slashing two national monuments in Utah may have received the most attention, but Trump's Interior Department and U.S. Forest Service have been quietly, systematically ceding control of America's public lands to fossil fuel, mining, timber and livestock interests since the day he took office.
Global SO2 Emission Hotspot Database / Greenpeace
A new report by Greenpeace International pinpointed the world's worst sources of sulfur dioxide pollution, an irritant gas that harms human health. India has seized the top spot from Russia and China, contributing nearly 15 percent of global sulfur dioxide emissions.
The huge surge this year in Amazon deforestation is leading some European countries to think twice about donations to the Amazon Fund. LeoFFreitas / Moment / Getty Images
By Sue Branford and Thais Borges
Ola Elvestrun, Norway's environment minister, announced Thursday that it is freezing its contributions to the Amazon Fund, and will no longer be transferring €300 million ($33.2 million) to Brazil. In a press release, the Norwegian embassy in Brazil stated:
Gina Lopez, the Philippine secretary of the environment, at a meeting with residents affected by a mine tailing disaster. Keith Schneider
Gina Lopez, a former Philippine environment secretary, philanthropist and eco-warrior, died on Aug. 19 from brain cancer. She was 65.