Visible satellite image of Cyclone Tauktae from the VIIRS instrument on the NOAA-20 satellite on Monday afternoon, May 17, 2021.
NASA Earth Observatory
By Jeff Masters
Extremely dangerous Tropical Cyclone Tauktae made landfall in western India's Gujarat coast on the Arabian Sea around 1:30 p.m. EDT (1730 UTC), May 17.
In its last advisory just after landfall, at 18 UTC, the Joint Typhoon Warning Center (JTWC) rated Tauktae a major category 3 storm with 125 mph winds (1-minute average). At 9 UTC, the India Meteorological Department (IMD), the official agency responsible for issuing tropical cyclone forecasts in the Indian Ocean, rated Tauktae an "extremely severe cyclonic storm" with peak winds of 115 mph (three-minute average), and a central pressure of 950 mb.
Satellite imagery (see Tweet by Scott Bachmeier) showed that Tauktae's structure had changed markedly just before landfall, with the eye growing more distinct and the thunderstorms in the eyewall growing more intense, with colder cloud tops.
As of 11 a.m. EDT May 17, ANI reported that Tauktae had killed six and injured nine in India. A barge owned by the state-run Oil and Natural Gas Corporation (ONGC), moored to an oil drilling platform in the Heera oil fields (110 miles west-northwest of Mumbai), capsized on Monday, after breaking its mooring. Satellite imagery suggests that the eye of Tauktae passed directly over the site. Working in "challenging conditions," two ships have saved 88 of the 273 people on board the barge; recovery efforts continue. The cyclone likely brought severe wind damage where the eyewall winds hit, a portion of the coast not heavy populated by India's standards. The largest city in the region, Diu (population 52,000), recorded a wind gust of 83 mph (133 kph) in the weaker western eyewall of Tauktae at 12:30 EDT (9:30 p.m. local time). The winds were strong enough to bring down a cell phone tower in the nearby city of Una, Chintan Gandhi reported in a Tweet:
Perhaps the biggest threat from Tauktae is its storm surge, a threat that will continue for many hours past landfall. The Gulf of Khambhat, to the east of Tauktae's landfall location, is a funnel-shaped bay, ideal for concentrating storm surge water. IMD predicted that the storm surge could reach four meters (13 feet) at the head of the bay. Heavy rains causing flashing flooding and river flooding will also be a major concern all across northwestern India through Tuesday. Evacuation and recovery efforts for Tauktae's impact are sure to complicate India's ongoing severe COVID-19 pandemic in the region.

Figure 1. The top 10 strongest tropical cyclones observed in the Arabian Sea (the portion of the North Indian Ocean between India's west coast and the Middle East). Tauktae was the fifth-strongest Arabian Sea cyclone on record.
Tauktae the Fifth-Strongest Arabian Sea Cyclone on Record

Tropical Cyclone Tauktae reached peak intensity as a category 4 storm with 140 mph winds at 0 UTC, May 17, according to the JTWC. The fifth-strongest tropical cyclone on record in the Northern Indian Ocean's Arabian Sea, Tauktae is one of only six category 4+ cyclones on record in the Arabian Sea. IMD put Tauktae's peak intensity (occurring at 0 UTC, May 17), at 120 mph winds (three-minute average), with a central pressure of 950 mb. Accurate satellite goes back to 1998 for the Indian Ocean.
The JTWC does not assign landfall intensities, but if one considers the six-hourly advisory before landfall (or at landfall), Tauktae is tied as the strongest landfalling Arabian Sea cyclone on record: the top five, according to the JTWC (available at the NOAA Historical Hurricane Tracks database):
1. 125 mph, May 20, 1999, Cyclone 02A/ARB 01, Gujarat State, India
1. 125 mph, May 17, 2021, Cyclone Tauktae, Gujarat State, India
3. 120 mph, June 3, 2010, Cyclone Phet, Oman
3. 120 mph, June 9, 1998, Cyclone 03A/ARB 02, Gujarat State, India
5. 105 mph, June 6, 2007, Cyclone Gonu, Oman
Figure 2. Tracks of all tropical cyclones that have reached at least category 3 strength (1-minute sustained winds of 115 mph or greater) in the Arabian Sea. Only six cyclones have attained category 4 strength (including Tauktae). The one category 5 storm on record was Tropical Cyclone Gonu in 2007 NOAA Historical Hurricane Tracks database
Tauktae Spares Major Metro Area of Mumbai

On Monday, Tauktae passed only 85 miles (140 km) west-southwest of Mumbai, India, the seventh-most populated city in the world (metro area population 20 million). A direct hit clearly could have been catastrophic. According to a 2019 study led by Dr. Adam Sobel, "Tropical Cyclone Hazard to Mumbai in the Recent Historical Climate," a category 3 or stronger cyclone passing within 150 km of the city is estimated to be a 1-in-500-year event (a 0.2% chance of occurring in any particular year). That research did not address how climate change may be impacting these odds, but noted that "the hazard to the city is likely to be increasing because of sea-level rise as well as changes in storm climatology."
Cyclones affecting Mumbai are very rare, as prevailing steering currents tend to drive storms northward and westward rather than eastward onto India's west coast. Mumbai has had only one landfall by a storm at tropical storm strength on record, an unnamed 1940 system (though Adam Sobel has documented a possible hurricane-strength Bombay cyclone in 1948, which killed at least 12 people). (An 1882 Bombay cyclone reputed to have killed 100,000 people in the city was a hoax.)

Tauktae brought winds gusting as high as 71 mph (114 kph) to Mumbai at 2 p.m. local time Monday. Heavy rains also affected the city, with the Mumbai Mesonet showing two stations receiving over 200 mm of rain in less than 24 hours. The 308.5 mm (12.15") that fell at the Ram Mandir location as of 5 p.m. EDT, May 17, set a new 24-hour precipitation record for May. The previous May record 24-hour precipitation for the city (since 1981) was 190.8 mm (7.51"), set on May 19, 2000.
Figure 3. Winds of Cyclone Tauktae from synthetic aperture radar (SAR) at 1:03 UTC, May 17, 2021. Winds as high as 81 knots (93 mph) were measured.NOAA STAR – Center for Satellite Applications and Research
Climate Change Is Increasing Threat of Powerful Arabian Sea Tropical Cyclones

The North Indian Ocean has two tropical cyclone seasons – one centered in May, before the onset of the monsoon, and one centered in October/November, after the monsoon has waned. During the June-September peak of the monsoon, tropical cyclones are uncommon because of interference from the monsoon circulation. Since the introduction of reliable satellite data in 1998 over the Indian Ocean, no category 4 or stronger cyclones were observed until 2010. Since then, six such storms have formed (including Tauktae).
This unprecedented shift in tropical cyclone activity led to a 2017 modeling study by Murakami et al. which concluded that human-caused climate change had increased the probability of powerful tropical cyclones over the Arabian Sea during the post-monsoon period (October/November), and that this risk would increase further in the future – with potentially damaging consequences to the nations bordering the Arabian Sea. In a 2018 review paper ("Tropical Cyclones and Climate Change Assessment: Part I. Detection and Attribution"), all 11 hurricane scientist authors concluded that the balance of evidence suggests that there was a detectable increase in post-monsoon extremely severe cyclonic storms in the Arabian Sea during the 1998 – 2015 period; 8 of 11 authors concluded that human-caused climate change contributed to the increase.
Tauktae formed during the pre-monsoon season (May), so these conclusions do not directly apply to the storm. However, 10 of 11 authors of the 2018 review paper concluded that the balance of evidence suggests that there is a detectable increase in the worldwide average intensity of global hurricanes since the early 1980s. Eight of the 11 authors concluded that human-caused climate change contributed to that increase.
A heads-up: The 12Z May 17 run of the GFS model and the 0Z May 17 run of the European model predicted that the North Indian Ocean's Bay of Bengal would experience a hurricane-strength cyclone in the week of May 23-29.
Reposted with permission from Yale Climate Connections.
EcoWatch Daily Newsletter
Denmark has begun to excavate mink that were buried last year after coronavirus concerns led to an industry-wide cull. MIKKEL BERG PEDERSEN / Ritzau Scanpix/AFP via Getty Images
Denmark has begun to dig up millions of mink that were culled and buried to stop the spread of a coronavirus mutation.

The country culled its entire population of around 17 million mink in November of 2020 after COVID-19 outbreaks erupted on several mink farms and mutations were found in people living nearby, as Reuters reported. While most of the mink were incinerated, around four million were buried in western Denmark, and now there are concerns they could contaminate drinking water and a nearby lake.
"Once the mink are no longer contaminated with Covid-19, they will be transported to an incineration facility, where they'll be burned as commercial waste," the ministry of food and agriculture announced in December of last year of the decision to exhume the mink, as BBC News reported at the time.
The story of Denmark's mink has been troubled from the start, as VICE explained.
First, it was revealed that the decision to cull the mink in the first place was illegal, forcing Minister of Agriculture Mogens Jensen to resign.
Then, the mink that were buried were not buried deeply enough. This meant that some of the mink began to rise out of the grave like zombies, as some observers described it.
"As the bodies decay, gases can be formed," national police spokesman Thomas Kristensen explained to the state broadcaster DR in late November, as The Guardian reported. "This causes the whole thing to expand a little. In this way, in the worst cases, the mink get pushed out of the ground."
Further, the Danish Environmental Protection Agency calculated that the buried mink would pollute nearby groundwater in two to three years, according to VICE.
"The disposal of the minks did not go optimally," Minister of Food, Agriculture, and Fisheries Rasmus Prehn told the daily German newspaper Tagesschau, as VICE reported. "Ideally, they would have been incinerated straight away, but we had capacity issues and chose the disposal option instead."
The Danish parliament gave permission for the mink to be dug up in December of last year, but they have waited until May to begin, since that is when officials estimated the risk of coronavirus contamination from the corpses would have passed, as BBC News reported at the time.
For animal welfare advocates, the saga of Denmark's mink has been an example of the dangers and cruelties of fur farming.
"In the past months, the public has been confronted with the fact that fur farms are not only places of enormous animal suffering, but they can also act as virus factories," Dr. Joanna Swabe, senior director of public affairs for Humane Society International/Europe,
said
in December. "The living conditions on fur farms, which confine wild species at high densities and in close proximity, fail to satisfy the animals' most basic welfare needs, leaving them highly stressed, which can lead to their immune systems being compromised. The outbreaks of the SARS-CoV-2 virus on fur farms have confronted us with the terrifying reality that fur factory farms create ideal conditions for diseases to propagate from one animal to another, and for viruses to mutate into forms potentially virulent to humans. We don't need frivolous fur fashion. And we certainly don't need these unnecessary reservoirs for coronaviruses. More than ever, it is time to make fur history."
From Your Site Articles
Related Articles Around the Web
There are many different CBD oil brands in today's market. But, figuring out which brand is the best and which brand has the strongest oil might feel challenging and confusing. Our simple guide to the strongest CBD oils for pain, anxiety, and sleep will point you in the right direction.
More and more people are looking to boost their health with CBD oil. The rise in CBD's popularity shows that many people are experiencing positive outcomes through the regular use of CBD to help control and improve difficult health issues.
Our guide to the strongest CBD oils will help to point you in the right direction so that you can choose the best, most potent oil for your needs. We will also educate you about the best CBD oils along the way, while also discussing how we chose our top brands and why.
Does Strength of CBD Oil Matter?
The strength of an oil does matter. The more potent a CBD oil is, the stronger effects it will create. To that end, full spectrum oils are the best oils to go with because CBD isolates do not have all of the other vitamins, terpenes, compounds, and phytonutrients that full spectrum oils have. So, not only will you be getting all the positive effects that a strong oil has to offer, you'll also be able to receive the vast therapeutic benefits that the many compounds, terpenes, and phytonutrients bring to the table.
The strength or concentration of a CBD oil is measured in milligrams of CBD, both per bottle and per serving. For many brands, a serving is considered 1 mL of the oil tincture. The best way to evaluate the strength of a CBD oil by how many milligrams of CBD you will get with each 1 mL dropper.
6 Strongest CBD Oil Brands of 2021
Each product featured here has been independently selected by the writer. You can learn more about our review methodology here. If you make a purchase using the links included, we may earn commission.
How We Chose the Strongest CBD Oil Brands
When it comes to choosing a CBD oil brand, you need to take the time and put in the research to ensure that you are getting the strongest, and best quality product you can purchase.
We've put the time and effort into selecting the top brands that we feel have the strongest CBD oil, the best reputation, and the cleanest, most effective products. When it came to selecting our top strongest CBD oils, we looked at six key categories:
Type of CBD - We looked to see whether the CBD oil was full spectrum, broad spectrum, or CBD isolate.
Strength - We compared the oil strength and purity versus other available options. All of our recommendations offer a concentration of at least 50 mg of CBD per serving.
Source - Where does the brand source its hemp from, and is it grown organically?
Flavor - We looked for oil flavors and the ingredients used in the oil.
Transparency - A key consideration is whether a third-party lab was used to test the products and if those results are easy for customers to find
Customer experience - We also read verified customer reviews to see what actual users had to say.
Based on these factors, here are the brands that made our list of strongest CBD oils.
6 Strongest CBD Oils of 2021
Research on CBD Oil and Potency
CBD oil is created when cannabidiol, or CBD, is infused into a fat-based carrier oil such as hempseed oil, coconut oil, grapeseed oil, or olive oil. Carrier oils are usually medium-chain triglycerides that are easily digested by the body. The very basic oils will only have CBD and the carrier oil, however, some can also contain other compounds such as tetrahydrocannabinol, or THC, flavonoids, phytonutrients, and terpenes. Some brands will also infuse various natural flavors or essential oils into the final products.
CBD oil can vary in color, flavor, and consistency depending on its makeup. Likewise, the strength also depends on the oil's formulation. CBD oils can be isolates, broad spectrum, or full spectrum. In CBD isolates, only pure CBD is used. These oils are usually 99 percent pure. CBD isolates are typically made solely from the hemp plant.
Broad spectrum and full spectrum oils, on the other hand, are typically sourced from the cannabis plant and have had minimal processing and purification. These oils have a large amount of cannabinoids, terpenes, nutrients, vitamins, and phytonutrients. The difference between the two is that broad spectrum CBD products contain zero THC.
Along with CBD, one of the main compounds in full spectrum oils is THC. In large amounts, THC causes feelings of euphoria. However, legally, all CBD crafted and sold within the United States must contain less than 0.3% THC. When CBD and THC are combined, an entourage effect occurs. In the entourage effect, the compounds work together to dampen each other's negative side effects while amplifying each other's best qualities. For example, too much THC can cause feelings of nausea or dizziness. However, when THC is combined with CBD, the THC enables those with sleep issues to finally get some rest, and helps those with extreme nausea, due to cancer treatment, finally get some much-needed nourishment by increasing appetite. Put simply, the cannabinoids bind with cell receptors in the human endocannabinoid system to create therapeutic effects.
How to Choose the Right CBD Oil and Potency for You
There are several key factors to take into consideration when choosing the strongest CBD oil for pain, sleep, or anxiety. One of the first things to look at is the concentration of CBD within the product. Next, take a look at the milligrams of CBD that are in a single serving. The best quality products clearly have all the facts and information laid out on their labels. In reading the labels, you should be able to tell exactly how much CBD you are getting per serving. How much CBD you need to be taking depends on how your body reacts to the product over time.
What to Look For
Here are the primary things to look for when comparing the strongest CBD oil options.
CBD Spectrum - Make sure you know whether you are getting a full spectrum, broad spectrum, or CBD isolate oil. This is especially important if you are concerned about THC content.
Concentration - When looking for the strongest CBD oils, you need to be certain of how many milligrams of CBD are contained in each bottle and each 1 mL serving.
Lab Testing - For any CBD product, it's vital that you look for brands who ensure their CBD undergoes independent third-party lab testing for purity and safety.
How to Read Labels
Make sure that you know what to look for on the label of any CBD oil or product. Here are the key things to know.
Type of CBD - The label should clearly indicate the spectrum of CBD in the oil. If it is a broad spectrum or CBD isolate, it will usually say that it is "THC-Free."
Dosage Guide - Some brands include a dosage guide on the label to help you measure the appropriate amount of CBD per serving. This is important with higher potency oils.
Test Results - Look for proof that the CBD has undergone third-party lab testing. Many brands include a QR code or link on the label to the test results for that product.
How to Use
Everyone's body is different, so what works well for one person might not work for another. Smaller individuals might need less CBD than larger individuals based on body size and overall mass. Along with body size, the reason you are taking CBD is another consideration in purchasing strong CBD oil.
Whatever oil strength you choose, you should first start low and go slow when it comes to dosing. For example, begin by taking half of a serving of CBD once a day for one week. If you are not feeling any benefits, then go ahead and take half a dose twice a day. Continue increasing the dosage slowly until you are achieving the desired effects. Always check in with yourself to see how you are feeling along the way. This will help you to determine if you should increase the dosage at all. As with any other medication or holistic supplement, your body will need adequate time to get used to a new CBD dosage, and CBD typically works best as it builds up in your system over time.
Safety & Side Effects
There are very few minor side effects associated with CBD. To date, a great number of studies have been done on CBD showing that it is generally well-tolerated and safe for adults.
Some of the most common side effects associated with CBD include:
Dry mouth
Dizziness
Nausea
Changes in weight
Diarrhea
Drowsiness
Changes in appetite
CBD may also interact with certain prescription medications. If you are on any prescription drugs, or have questions about CBD and your health, be sure to consult with your doctor before taking CBD.
Takeaway
Those suffering from chronic pain or increased stress may benefit from stronger CBD oil tinctures that can provide a more potent dose of cannabinoids. CBD oil can be a great addition to any natural healthcare routine. Just make sure you are putting in the time and effort to find the product and the brand that is best suited to your own unique needs, condition, and lifestyle.
Ekom Waterfall in a rainforest in Cameroon, Africa. antoineede / iStock / Getty Images Plus
Aptly called, "Earth's lungs," the planet's two largest swaths of rainforest, in Amazonia and Africa, suck up 15 percent of all carbon dioxide emissions produced by humans. These ecosystems are essential for carbon sequestration and therefore curbing climate change, and while the Amazon rainforest has been the subject of mountains of research, scientists are just now beginning to understand how rainforests in Central and Western Africa respond to small changes in climate — and it's good news.
African rainforests naturally thrive in drier conditions than rainforests in Amazonia and Southeast Asia. According to new research, these conditions appear to have made African rainforests more resistant to drought and warmer-than-normal temperatures compared to rainforests in Amazonia, the world's largest rainforest, and Borneo.
"This is the first on-the-ground evidence of what happens when you heat and drought an intact African rainforest," Leeds' School of Geography professor and senior author of the new research, Simon Lewis, said in a press release. "What we found surprised me."
Despite more severe droughts and hotter weather, 100 plots of intact tropical rainforests spread across the Democratic Republic of the Congo, Gabon, Cameroon, Ghana, Liberia and the Republic of the Congo still absorbed a significant amount of Earth-warming CO2 compared to non-drought years.
To test this, the team used the 2015-2016 El Niño climate pattern as a model for what conditions may look like consistently in the near future. Exasperated by climate change, the temporary cycle brought a temperature increase of nearly 1 degree Celsius above the 1980-2010 average and the most severe drought on record.
According to lead author Amy Bennett, a professor at the Leeds' School of Geography, the extreme weather conditions brought by El Niño in 2015 and 2016 reduced the amount of carbon dioxide the forest pulled from the atmosphere by about 36 percent. However, the ecosystems continued to function as a huge carbon sink. Despite the crippling conditions, the plots indicated that rainforests in Central and Western Africa still absorbed 1.1 billion tons of carbon dioxide per year — three times the amount emitted by the United Kingdom in 2019.
"African tropical forests play an important role in the global carbon cycle, absorbing 1.7 billion tonnes of carbon dioxide from the atmosphere each year since the turn of the last century. To discover that they will be able to tolerate the predicted conditions of the near future is an unusual source of optimism in climate change science," Bennett said in a press release.
In particular, larger trees were mostly unaffected, which the researchers speculated was due to the fact that larger root systems have more stable access to water. Smaller tree species, however, had less growth and higher death rates during drought years.
In contrast, research published in Nature in 2018 found that the Amazon rainforest's canopy shrunk during spells of El Niño drought. The Amazon rainforest, the largest of its kind in the world, is expected to collapse by 2046 and scientists believe it's already on the brink of emitting more carbon dioxide than it absorbs.
Taken together, research on Earth's lungs emphasizes the importance of keeping rainforests intact while drastically reducing carbon emissions. Central Africa houses the world's second-largest tropical rainforest. Like all rainforests, the 240 million hectares of forest are threatened by logging, mining, expanding agriculture and wildfires.
"The resistance of intact African tropical forests to a bit more heat and drought than they have experienced in the past is welcome news, but we still need to cut carbon dioxide emissions fast, as our forests will probably only resist limited further rises in air temperature," said Bonaventure Sonké, a professor at University of Yaoundé in Cameroon, who co-authored the new study.
Gabon recently received $150 million in international funds from the United Nations Central African Forest Initiative to preserve its rainforests, 10 percent of which are already protected. Cameroon, its neighbor to the north, committed in 2017 to restoring more than 12 million hectares of degraded land by 2030, the International Union for Conservation of Nature reported. But on its own, preserving rainforests will not be enough to prevent the most catastrophic effects of climate change. The authors stress that humans also need to commit to emitting fewer greenhouse gases.
"Our results provide a further incentive to keep global temperature increases to 1.5 degrees Celsius, as outlined in the Paris Agreement, as these forests look to be able to withstand limited increases in temperature and drought," Sonké said in a press release.
Kaitlin Sullivan covers the environment, science and health beats. Her work has appeared in NBC News, Popular Science, NPR, VICE and Inverse, among others. Before becoming a journalist, she worked on a farm in Western Colorado, at a hostel in Brazil and as an editor for the American Alpine Club. She grew up in Minnesota, which is probably why she's so obsessed with water, and has a master's degree in health and science reporting from CUNY. When she isn't reporting, you'll probably find her outside hiking, rock climbing, sailing, camping, growing food or petting someone's dog. Follow her on Twitter: @kaitsulliva
From Your Site Articles
Related Articles Around the Web
The IEA has finally released its first ever fully-fledged energy scenario aligned with the urgent goal of limiting global warming to 1.5 degrees Celsius.
shotbydave / E+ / Getty Images
By Kelly Trout
For years, we've seen fossil fuel companies and governments justify their fossil fuel expansion plans – from the TransMountain tar sands pipeline expansion to Arctic oil drilling to the Adani coal mine – on the backs of scenarios from the International Energy Agency (IEA).
This was possible because, until today, the world's most influential energy modeling agency had not produced a scenario actually aligned with the full ambition of the Paris Agreement goals. That's true no longer.
Now, after years of pressure from climate advocates, investors, businesses, and diplomats, the IEA has finally released its first ever fully-fledged energy scenario aligned with the urgent goal of limiting global warming to 1.5 degrees Celsius (°C). As with past IEA modeling efforts, this new scenario needs some fixes (more on that below), and we're still analyzing all of its implications. But one conclusion in particular stands out to us at Oil Change International (OCI).
In its Summary for Policymakers, in a bolded headline, the IEA finds that, "There is no need for investment in new fossil fuel supply in our net zero pathway."
They add, "Beyond projects already committed as of 2021, there are no new oil and gas fields approved for development in our pathway, and no new coal mines or mine extensions are required."
This is huge. An agency that has consistently boosted new oil and gas development in its flagship annual World Energy Outlook (WEO) is now backing up the global call to stop the expansion of fossil fuel extraction.
The Oil and Gas Industry Has Lost a Powerful Shield
Big Oil and Gas companies and the governments of fossil fuel-producing countries have lost one of their key covers for claiming that developing new oil and gas reserves is fully consistent with their commitments to "net zero" or the Paris Agreement. People around the world who have been demanding that governments, banks, and other financial institutions stop enabling the expansion of oil, gas, and coal extraction can point to the IEA's "authoritative" analysis reaching the same conclusion.
Of course, the IEA is behind the curve. OCI has been analyzing the disconnect between new fossil fuel development and the Paris goals since 2016. We found then that already operating or under construction oil and gas fields and coal mines contain enough fossil fuel reserves to push the world well beyond 1.5 degrees of warming. The implication was as clear then as it is now: The world must stop digging new holes, and focus instead on managing a rapid and equitable wind down of already developed extraction.
With the IEA's fully Paris-aligned scenario now saying the same, companies like Shell and Total can no longer comfortably point to the IEA to defend their plans to expand gas extraction. The UK government, which helped commission this new IEA report, will have a tougher time claiming that its decision to keep the door open to new licenses for offshore exploration and extraction fits with its Paris commitment. In fact, IEA director Dr. Fatih Birol has already today confronted the UK over its continued support for oil, gas, and coal expansion and investment. And major fossil banks like JPMorgan Chase and Citi have a new minimum baseline for "stress testing" their portfolios and the legitimacy of their net zero plans.

A Job Half Done: The IEA Must Put 1.5°C at the Heart of the WEO
The IEA finally embracing a 1.5°C-aligned pathway as "the energy future we all need" is a major milestone. But the IEA must do much more beyond today's report to prove its climate credibility and commitment, particularly given the agency is positioning itself to play an advisory role at COP26.
To guide policies and investments towards a future fully aligned with the Paris goals, the IEA must go beyond developing a 1.5°C-aligned scenario and position it at the heart of the WEO. It is the WEO that decision makers look to year after year to guide trillions in public and private capital, and which the IEA itself calls the "gold standard of energy analysis."
Dr. Birol made a welcome announcement last week, committing that this new 1.5°C-aligned scenario will be "integral" to WEO 2021 and future WEOs. But we don't know yet what that will mean in practice.
In WEO 2019, the IEA dismissed a 1.5°C-aligned energy transformation as "very difficult and very expensive" and spent only seven of 600 plus pages discussing it. WEO 2020 included a short 1.5°C-aligned energy "case" to 2030, the building block of today's report. However, that case was rarely mentioned outside of the chapter devoted to it. The summaries of other chapters still primarily focused on the Stated Energy Policies Scenario (STEPS), a pathway towards catastrophic levels of global warming.
The scenario that the IEA positions as the central scenario in the WEO commonly becomes what governments and investors use as their default for energy decision making, guiding trillions of dollars of investment. The IEA must seize this moment to transform its flagship WEO report, putting a 1.5°C scenario at the center, and focusing each headline, chapter, and graph on the implications of it.

Risky Modeling Choices Must Be Fixed
The IEA also needs to revisit and fix risky and bad choices within its modeling between now and WEO 2021. Below we provide an overview of ways in which the IEA must improve its scenario to drive the world towards the bold and just energy solutions we need, based on initial analysis from OCI and partner groups.
Underestimating wind and solar. While the IEA closing the door on new fossil fuel extraction is a welcome shift, the IEA's new "Net Zero Energy" roadmap continues to underestimate the growth potential and cost declines of solar and wind power, a chronic problem at the IEA. Kingsmill Bond, an energy transition expert at Carbon Tracker Initiative, has noted that the IEA's scenario forecasts rapid solar capacity growth until 2030 (22 percent per year). But that growth drops to 8 percent per year to 2040 and 3 percent per year to 2050. The latest scenario by the Energy Transitions Commission shows solar power providing twice as much energy in 2050 compared to the IEA's new scenario (27-35 terawatts vs 14.5 terawatts).
As a consequence of underselling wind and solar, the IEA makes room for dirty, riskier alternatives to meet energy demand.
Gambling on CCS. The IEA assumes that carbon capture and storage (CCS) projects will wipe out 1.6 billion tonnes (Gt) of CO2 pollution as soon as 2030. The IEA admits that CCS projects only have capacity to sequester 0.04 Gt of emissions at present. Most of that capacity is currently devoted to pumping more oil out of the ground. Relying on CCS to grow almost 4,000 percent over the next nine years is wildly optimistic given the technology's poor track record and failure to take off to date. It's also an irresponsible gamble. The IEA's own report acknowledges that, with greater investment in already proven renewable energy technologies, it wouldn't be necessary to expand fossil fuel-based CCS. This alternative "Low CCUS Case" mentioned in the report should be the base assumption.
Clinging to fossil gas. By gambling on a massive scale-up of CCS taking away some of its emissions, the IEA's 1.5°C scenario also makes room for dangerous levels of fossil gas reliance this decade. In the IEA's model, gas does not peak until 2025 and declines by only 6 percent below 2020 levels by 2030. By contrast, the 2020 Production Gap Report, released by the United Nations Environment Programme and a consortium of global research organisations, shows gas declining by a median of 3 percent per year between now and 2030 in 1.5°C-consistent pathways. Moreover, even if the carbon emissions from burning fossil gas to produce electricity or hydrogen are effectively captured, that will not remove the health and pollution impacts communities face where the gas is being extracted.
Projecting dangerous growth in bioenergy. Fossil fuel production and use should be replaced with truly clean energy solutions. Bioenergy does not fit that bill. Yet, the IEA's scenario relies on a 65 percent increase in bioenergy from 2020 to 2050, increasing the total land area devoted to bioenergy production by 25% to 410 million hectares in 2050, an area the size of India and Pakistan combined. Growth in bioenergy production is already linked to land grabs and human rights violations, food insecurity, and loss of biodiversity. As Hannah Mowat, campaigns coordinator with Fern, puts it, "Instead of burning trees for energy, we should focus on cutting fossil fuel use, maximising energy efficiency and increasing renewables such as solar, wind, heat pumps and geothermal."
Higher Ambition Matters
All in all, today's 1.5°C report release is a major step forward for the IEA. Its first effort to model a 1.5-aligned energy future makes a clear case that this transformation is critical and achievable, requires deep emissions cuts by 2030 and a "huge decline" in fossil fuels, and, if done in a just and inclusive way, would improve people's well-being and livelihoods all over the world.
At the same time, we can't grade the IEA only against its past performance. The ultimate measure is whether the agency drives forward solutions that are bold enough to stem the climate crisis and protect the communities on its frontlines, not the polluters responsible for causing it. In this regard, the IEA has more homework to complete.
But now that the head of the IEA is proclaiming that, "The world does not need any new investments in oil, coal or gas," it will be a whole lot harder for governments, oil and gas companies, banks, and insurers to justify their own support for continued expansion. And that is undoubtedly a huge win for the climate.
Reposted with permission from Oil Change International.
From Your Site Articles
Related Articles Around the Web
By Claire Wiley
In March, Carissa Cabrera posted a video of severe flooding near her home in Hawaii to TikTok in response to a comment on her profile reading "climate change is not real."
Over footage of a swollen river and cars navigating badly flooded roads, a voiceover says: "This isn't global warming. This isn't climate change. Let's call it exactly what it is: climate crisis."
The 10-second video has been viewed over 300,000 times.
@carissaandclimate

Reply to @user8141627252832 Today. #oahu #hawaii #flooding #climatechange #climatecrisis #floods
Cabrera is a marine biologist and member of EcoTok, a collective of young influencers posting to video-sharing platform TikTok about environment and climate topics like carbon capture, food waste, biodiversity and recycling.
EcoTok launched in July 2020 after Las Vegas high school student Alex Silva, who mainly posts videos on low-waste living under the name "ecofreako," sent an Instagram message to fellow activists with the idea.
The group has grown to 16 members, including students, scientists, environmental educators and civil servants, and has worked with organizations such as TED Countdown, an initiative to encourage climate action, and Bill Gates' social venture capital firm Gates Ventures on campaigns for their eco-initiatives.
Like most users of TikTok, EcoTokers post fast-paced content featuring upbeat soundtracks, dances and colorful captions to make their green message go viral.
And they're not the only environmental activists doing so. Other young influencers are reaching millions of people with their posts. The hashtags climate change and sustainable have well over a billion views between them.
Creating Viral Green Videos
Cabrera was used to teaching marine conservation in classrooms of around 30 people. TikTok's appeal is in the numbers she can reach on the wildly popular app, which has now been downloaded more than 2 billion times, largely by Generation Z — those in their teens and early twenties.
Her videos, posted under the username "carissaandclimate," have been liked over a million times.
"TikTok is not really a social media app; it can be a learning resource. Gen Z wants the tools and resources, and they want it in a fun way," said Cabrera, who works with The Conservationist Collective, a small company using media and educational campaigns to promote ocean protection.
In her videos, the biologist usually sticks to her area of expertise: the oceans. To bump the chances of going viral, she keeps her content under 30 seconds and tells viewers what it's about in the first three.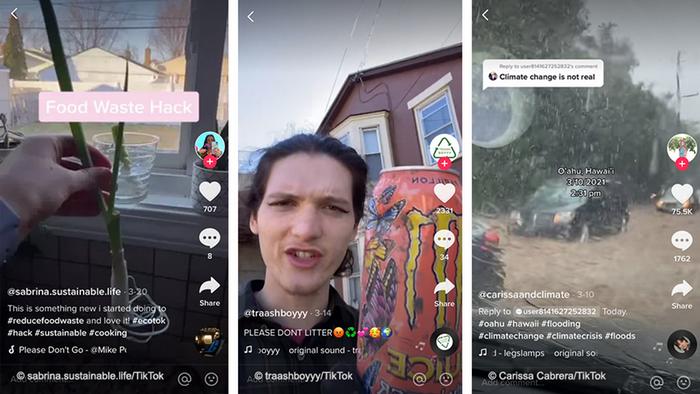 Gen Z eco-influencers are taking to TikTok to get out their green message.
"You have to [take] this super-dense topic and make it viral material," she said. "Whereas a lot of the viral material that I see on TikTok could be dances or comedy. How do you make science very fun for everyone?"
She wants to make something memorable, re-watchable, and shareable — with the goal of mobilizing people.
But not everyone thinks TikTok viral videos necessarily translate into real-world action. Sophie Moore, an 18-year-old high school student and TikTok user in California, is active in various environmental and social justice causes but thinks the platform isn't the place for climate activism.
"I think most people use TikTok as a form of mindless entertainment, to escape from school," she said. "TikTok is a more passive form of engaging with the climate justice movement. Because climate content is just mixed into my other stuff [in the TikTok feed], it's easy to see it, like it and then move on."
Key Ingredients for Real-World Activism
Still, some evidence suggests that TikTok can encourage grassroots political organizing. In June 2020, hundreds of teenage TikTok users said they had a hand in trying to sabotage a rally for then US President Donald Trump. Users registered for tickets to attend with the plan of not showing up and encouraged others to do the same.
In Indonesia, young people have used the app to protest labor law reforms. And following George Floyd's murder, the platform saw a surge in Black Lives Matter videos.
Sander van der Linden is professor of social psychology in society at Cambridge University in England and editor-in-chief of the "Journal of Environmental Psychology." He says viral social media campaigns "can result in action" if they do three key things: exert "social influence" by challenging others to join in, support a moral cause and elicit emotion.
But the effects are often short-lived, according to his research on the topic. For instance, the ice-bucket challenge raising awareness of ALS, also known as Lou Gehrig's disease, attracted lots of attention for a brief period in 2014 but just as quickly tapered off. Despite this, however, the ALS Association said it was able to increase annual research funding by 187% thanks to the $115 million raised from the challenge.
While van der Linden says he's not aware of any research specifically looking at TikTok's climate videos, his social media research suggested that it's difficult to generate long-term momentum behind the climate movement. Most don't see climate change as a moral cause or experience strong emotions around it, he added.
Van der Linden wonders if there's some "preaching to the choir." He and researchers at Yale University identified something they dubbed "The Thunberg Effect": Those who identify as environmentalists and know of Swedish school-striker Greta Thunberg have a stronger belief that collective action can help to fight climate change.
Cabrera disagrees. TikTok is a participatory platform that allows users to easily borrow, repurpose and answer each other's videos. She says her viewers get in touch to let her know they're taking action by, for example, signing petitions or making small changes to their habits.
But it's not all about individual responsibility, she adds.
"We also want to be part of this larger, more nuanced conversation about how the responsibility of climate action shouldn't just be falling on the backs of individuals," she said. "We want people to feel like we need to hold leadership accountable."
A Tide of Misinformation
Van der Linden adds that misinformation about climate change on social media generally can have huge consequences because it's such an important existential threat that "if you mislead people, it could have incredible consequences."
That misinformation is widespread and covers everything from renewable energy to the scientific consensus on climate change.
"It really spans the whole spectrum and that's why it's so difficult to tackle," he said.
It's something Cabrera and the EcoTok team are aware of. Each of their videos is shared with the entire collective before posting, and members give feedback. Of course, not all climate content on TikTok undergoes the same checks.
But Moore says that if any video she's watching "seems far-fetched," she will check the comments, where other users call out the content as fake.
Unlike some TikTok climate activism with catastrophic messages about time running out, EcoTok and Cabrera also try to avoid "doom and gloom" content, while conveying the urgency of the crisis.
That's why Cabrera's TikToks usually include a simple task. For example, one video suggests "three bathroom swaps" to reduce plastic.
"We need everyone to be an environmentalist," she said. "People need to feel motivated and inspired to do that, instead of guilted into it. But there's this catch-22 because this is a climate emergency. We don't have that much time."
Reposted with permission from Deutsche Welle.
New Big 5 project
Trophy hunters in Africa used to refer to a "Big 5" of wild animals that were particularly dangerous to kill: elephant, rhino, leopard, Cape buffalo and lion. Now, a new initiative seeks to transform the Big 5 concept into a celebration of life, not death.
In a bid to raise awareness of the importance of biodiversity, a group of more than 250 wildlife photographers, conservationists and nonprofits came together to organize the New Big 5 of Wildlife Photography by asking people around the world to vote on their favorite animals to photograph or see photographed. As of today, the winners are in.
The New Big 5 of Wildlife Photograph are elephants, polar bears, gorillas, tigers and lions.
"The 5 animals that wildlife lovers around the world have voted to include in the New Big 5 of Wildlife Photography - elephants, gorillas, tigers, lions and polar bears - are not just some of the most beautiful, incredible animals on the planet. All 5 also face serious threats to their existence," Graeme Green, a British wildlife photographer and journalist who founded the New Big 5 project, said in a statement.

Voting on the New Big 5 launched in April of 2020. Since then, more than 50,000 people from around the world have voted for their favorite furry camera star. However, the New Big 5 project isn't just about the winners. Instead, the initiative seeks to use these iconic animals as an example of the pressures facing many unique species, as habitat loss, poaching, conflict with humans, the wildlife trade and the climate crisis contribute to a sixth mass extinction.
"We're currently experiencing the worst spate of species die-offs since the loss of the dinosaurs 65 million years ago. But unlike those past mass extinctions, the current crisis is almost entirely caused by us: humans," photographer Marsel van Oosten said in a statement."The New Big 5 consists of elephants, polar bears, gorillas, tigers and lions - some of the most iconic animals on our planet. They're a stark reminder of what's at stake if we don't change our ways. That's how I will look at each of them, as beautiful representatives of the many thousands of other, often lesser-known species who desperately need our help."

That said, each of the winning species faces unique challenges and makes a unique contribution to the web of life. They are all listed as either Critically Endangered, Endangered or Vulnerable by the International Union for Conservation of Nature (IUCN) and they are all keystone species in their ecosystems.
Elephants: As the largest living land mammal, elephants are important "ecosystem engineers" that shape landscapes by moving through vegetation and spreading seeds. However, there are less than half a million of these majestic creatures left alive, and an estimated 55 African elephants are still killed by poachers every day.
Polar Bears: Polar bears are the largest carnivores on Earth, but their hunting grounds are disappearing as warming temperatures melt Arctic sea ice. There are around 23,315 left, and one study found that that number could dip towards zero by 2100 if nothing is done to stop the climate crisis.
Gorillas: As the world's largest primates, gorillas are essential to the health of the forests where they live in Rwanda, Uganda and the Democratic Republic of the Condo. While mountain gorillas are recovering due to conservation efforts, Grauer's gorillas are still critically endangered. Both populations are threatened by habitat loss.
Lions: Lions are important for controlling the population of herbivores in their ecosystems, but their numbers have fallen by around 50 percent in the last 25 years. They are threatened by poaching, habitat loss and bushmeat hunting, which reduces their prey.
Tigers: Of all the world's big cats, tigers are the closest to extinction. They are listed as endangered by the IUCN, and there are only around 3,900 left in the wild, though there are a further around 20,000 in captivity. They are especially threatened by poaching, as their body parts are used in traditional Chinese medicine.
While learning about the threats facing these amazing animals may be disheartening, the ultimate goal of the New Big 5 is to protect these and other animals.
"A million species are at risk of extinction," Jane Goodall, who supports the project, said in a statement. "If we work together, we can stop this happening. There is always hope. Change is possible if we each play our part."
A heron in the Galapagos. Rhett A. Butler
A coalition of groups, including a newly formed organization backed by actor Leonardo DiCaprio, have mobilized $43 million for efforts to restore degraded habitats in the Galápagos Islands, an archipelago renowned for its endemic species and central role in scientists' understanding of ecology and evolution.
The Galápagos initiative has three immediate priorities: Helping restore Floreana Island, one of the islands most degraded by human activities in the Galápagos; increasing the population size of the critically endangered pink iguana on Isabela Island; and strengthening protection of the archipelago's marine reserves, which are critical to the local economy yet have been besieged by foreign fishing fleets in recent years. The initiative involves more than 40 partners, ranging from local NGOs to governments to international organizations, leveraging decades of collective experience working across the archipelago.
One of the groups leading the effort is Re:wild, an organization that was just formed between Global Wildlife Conservation and Leonardo DiCaprio, who is a founding board member of the new entity. The Galápagos initiative is Re:wild's first project under its new brand, but the group plans to scale up its existing global work, putting renewed emphasis on the concept of rewilding, or restoring species and ecosystems to previous levels of abundance and health.
"Rewilding, a positive reframing for nature conservation, involves holistic solutions to remove barriers and reestablish vibrant wildlife populations and intact, functional, and resilient ecosystems that effectively integrate people," said Re:wild in a press release. "Re:wild is a movement to build a world in balance with the wild."
"We work to protect and restore nature in its wildest form as the primary solution to the triple threat of climate change, mass extinction and pandemics."
Sea lions in the Galapagos. Rhett A. Butler
In the case of the Galápagos, the new initiative has focused initially on targeted opportunities. For example, Floreana Island has great potential for restoration after loss of native vegetation and species from land clearing, intentional fire-setting, and the introduction of invasive species in the 18th and 19th centuries. The Galápagos initiative aims to reintroduce 13 species that have gone extinct and help increase the population of the island's 54 threatened species.

The efforts in Floreana Island would be expanded to other parts of the Galápagos under the initiative, which over the next decade, hopes to restore another two dozen islands, "halt and reverse" the decline of 250 threatened species, and vastly increase the extent of areas under effective protection and management. At the same time, the initiative plans to help bolster the capacity of local and regional conservation and restoration experts as well as support the development of more sustainable and resilient economies for communities in the Galápagos.
To mark the start of the new initiative, DiCaprio is turning control of his social media accounts over to Paula A. Castaño, a veterinarian and biologist with Island Conservation who lives in the Galápagos Islands, for the day. DiCaprio has more than 86 million followers across his official Instagram, Twitter, and Facebook accounts.
"When I travelled to the Galápagos Islands, I met with Paula Castaño and other environmental heroes in Ecuador working day in and day out to save one of the most irreplaceable places on the planet. I'm excited to share her team's work and to support the longstanding effort to protect and restore these iconic islands, alongside the team at Re:wild," said Leonardo DiCaprio. "Around the world, the wild is declining. We have degraded three quarters of the wild places and pushed more than one million species to the brink of extinction. More than half of Earth's remaining wild areas could disappear in the next few decades if we don't decisively act. Fortunately, conservation leaders like Paula are showing us that it is not too late to reverse this alarming trend.
"Re:wild offers a bold vision to amplify and scale the local solutions being led by Indigenous peoples and local communities, nongovernmental organizations, companies, and government agencies, to help increase their impact around the world. The environmental heroes that the planet needs are already here. Now we all must rise to the challenge and join them."
Castaño said that lessons from the efforts in the Galápagos could eventually be applied in other geographies to scale impact and reverse biodiversity decline.
"Time is running out for so many species, especially on islands where their small populations are vulnerable and threatened," Castaño said in a statement. "We know how to prevent these extinctions and restore functional and thriving ecosystems — we have done it — but we need to replicate these successes, innovate and go to scale,"
"We need catalytic investments like the one announced today to replicate our successes in the Galápagos and elsewhere."
Wes Sechrest, Re:wild chief scientist and CEO, who was formerly in the same roles at Global Wildlife Conservation, echoed Castaño's sentiments.
"In order to reverse the climate crisis and ecosystem collapse, we need to focus on a 'technology' that took billions of years to refine, that is free, and that sustains us every single day: nature, in its most wild form," said Sechrest in a statement. "Where better to begin than the Galápagos, which, as the first-declared World Heritage Site, is among the most extraordinary wild places on the planet. Re:wild's work with partners is hope in action – from Darwin's laboratory to Australia's wildlands to the Congo forests of Central Africa."
Reposted with permission from Mongabay.
PxHere
By Jeannette Cwienk
From violets and pansies to kitchen herbs, the longer spring goes on in the northern hemisphere, the more diverse our options are for outdoor flowers and plants. According to the German environmental nonprofit BUND, about a billion garden and balcony plants are sold in the country each year.
And those splashes of spring color on balconies and in gardens across Europe leave a lot of environmental damage elsewhere. Particularly cheap plants, which many people grab while shopping in the supermarket or hardware store, are often not grown sustainably.
"Most of them come from countries like Ethiopia, Kenya or Costa Rica," said Corinna Hölzel, a pesticide expert at BUND.
The climate in these regions is particularly suitable for cultivation, but young plants or cuttings are then flown from there to be grown further in the countries where they will be sold. Transport by plane releases CO2 greenhouse gases, but that's not the only problem, Hölzel said.
Using Chemicals to Get the 'Perfect' Plants
"Many pesticides are used in the countries of origin, sometimes even some that are banned in the EU because they are dangerous to our health," Hölzel explained. "In many companies there is hardly any protective clothing. The workers often work long days, have no fixed contracts, no trade unions, and often don't know what substances they are coming into contact with."
According to BUND, so-called compressing agents are also used in the cultivation of ornamental plants. These chemicals slow growth so the plants are neither too big nor in bloom before they can be sold. It is an example of using chemicals just for aesthetic reasons.
Plant Certification for More Sustainability
Various seals and certification systems are intended to ensure greater sustainability in the cultivation of ornamental plants. The certification group MPS, for example, works with more than 3,000 producers in 50 countries. The producers have to report how many and which pesticides they use, how much energy they need or how much fertilizer they use. If they significantly exceed regional comparison figures, they won't be certified.
The aim is to use as little energy as possible in all areas and companies regularly receive sustainability reports that compare them to other growers in their region.
"When producers see that others are more economical than they are, it spurs them on to consume less, too," said Karin Spengemann, who is responsible for MPS in Germany. The idea is that it doesn't only boost profits, but helps the climate and the environment.
According to Spengemann, MPS has a "blacklist" of particularly dangerous chemicals, the use of which is prohibited worldwide. Otherwise, all substances permitted in a particular country can be used.
The GlobalG.A.P. certification system works in a similar way and is used by growers in 138 countries. To get the GGN label, growers must cultivate plants according to GlobalG.A.P. standards.
In addition, they must comply with the standards of the International Labor Organization by paying the national minimum wage and other social security obligations. Plants with the GGN label are mainly sold in Germany. MPS and GlobalG.A.P. producers can be inspected at any time.
Not All Certifications Are the Same
BUND pesticide expert Hölzel takes a critical view of these two certification systems: "Both certifications primarily ensure traceability — the entire supply chain is documented. However, strict ecological guidelines are lacking; no specifications are made regarding pesticides, fertilizers or the use of peat. From an ecological point of view they are not recommended."
Those who want to ensure that their balcony or garden plants have been grown without the use of pesticides should instead look for an organic seal, Hölzel said. These types of certifications prohibit the use of genetic engineering, compression agents and synthetic fertilizers.
The Fairtrade seal is also recommendable, she said. The group does not ban all pesticides, but at least the most harmful ones, as well as genetic engineering. Additionally, good working conditions for employees are a key component of the Fairtrade program.
Doing More With Less Pesticides
Klaus Bongartz from the German Association for Ecological Ornamental & Garden Plants (FÖGA) is less critical of the MPS and GlobalG.A.P. certification systems. For companies, using them could be the first step toward environmentally friendly cultivation.
A rethink is also underway in many nurseries. Family farms do not want their children or grandchildren to come in contact with dangerous chemicals. Reports of insects dying off have also startled gardeners. "Many horticultural businesses are already doing without pesticides, and some are using 70-80% less chemicals than they used to," Bongartz said.
But the final step — applying for organic certification — is mentally the most difficult for most growers, he said. "Because then they really have to throw away the key to the poison cabinet forever."
Looking for Alternatives to Peat
Another problem that has not yet been solved in organic gardening is the use of peat. This nutrient-rich soil has perfect properties for plant cultivation: It stores moisture for a long time and, depending on the addition of other components, can be perfectly adapted to the needs of different plants.

Peat is obtained by bogs being drained, which in turn releases the carbon stored with as CO2. Globally, peatlands store around twice as much CO2 as all forests put together. They are also valuable ecosystems rich in species. According to BUND, around 10 million cubic meters of peat are used in Germany alone. That's the equivalent of 4,000 Olympic-size swimming pools.
That's why Bongartz encourages private gardeners to buy only peat-free soil. It is sufficient for normal planting. In plant cultivation, however, there is no real peat substitute yet. Since October, the organic gardener has been running a government-sponsored project to develop just such a substitute. The group is pinning its hopes on a food compost mixed with hard plant fibers.
But here, too, the devil is in the details. Coconut fibers, for example, are washed with a salt solution and have to be imported. In the end, Bongartz wants to avoid creating new problems through the best of intentions.
Buy Regional Plants in Summer
There is still another issue that not even organic cultivation can solve: To get balcony or garden plants into the ground in the spring, they have to have reached a certain size — and for this they need sufficient warmth and light.
This often requires heated greenhouses or cultivation in warm countries, which means the plants have to be transported by plane. Both cases result in the generation of CO2, though studies have shown that unless renewables are used to heat, the latter generates more emissions than flying.
Regionally grown plants sold in summer have the best carbon footprint. They are usually grown without the need for extra heating. And perennials have the added benefit of lasting for more than just one spring.
This article was adapted from German.
Reposted with permission from Deutsche Welle.
By Sharon Kelly
What's the single word that fossil fuel giant ExxonMobil's flagship environmental reports to investors and the public tie most closely to climate change and global warming?
According to newly published research from Harvard science historian Naomi Oreskes and Harvard research associate Geoffrey Supran, it's a simple four-letter word, one that carries overtones not only of danger, but also — crucially — of uncertainty: risk.
Oreskes and Supran argue in the peer-reviewed study published in the journal One Earth, that by repeating that word over and over as it discusses climate change ExxonMobil continues to connect climate change to uncertainty, even in its most carefully worded and most scrutinized discussions of the topic.
That tiny word is one sign of a massive change underway in how fossil fuel companies talk about climate change in places where it's no longer considered credible to contest climate science. Instead, Oreskes and Supran write, ExxonMobil's statements subtly shift responsibility for climate change onto the shoulders of consumers, while avoiding the need to describe in detail the risks that are posed by climate change.
And that, for the record, is a lot to gloss over — not just in terms of what scientists predict about the future, but in terms of what climate change has already played a role in bringing about. Last year, for example, tied with 2016 as the "warmest" year on record, according to NASA — 2020 brought a brutal drumbeat of climate-linked calamities, including a record-obliterating wildfire season on the West Coast that memorably turned skies orange and red and an extraordinarily intense Atlantic hurricane season.
The way that ExxonMobil talks about climate change, the paper suggests, lets the company thread a very specific rhetorical needle, communicating two ideas that fundamentally benefit their interests. "On the one hand, 'risk' rhetoric is weak enough to allow the company to maintain a position on climate science that is ambiguous, flexible, and unalarming," the researchers write. "On the other, it is strong enough — and prominent enough, in [New York Times] advertorials and elsewhere — that ExxonMobil may claim that the public has been well informed about [anthropogenic global warming]."
And if that approach feels a little familiar, maybe that's because it's very similar to the tactics used by another industry in the past: Big Tobacco.
"Akin to early, tepidly worded warning labels on cigarette packages, ExxonMobil's advertorials in America's newspaper of record help establish this claim, sometimes explicitly: 'Most people acknowledge that human-induced climate change is a long-term risk,' a 2001 advertorial states (emphases added)," the paper continues. "'The risk of climate change and its potential impacts on society and the ecosystem are widely recognized,' says another the following year."
And that's just one example of the ways that ExxonMobil's favored ideas about climate change — ideas like "we are all to blame" or "society must inevitably rely on fossil fuels for the foreseeable future" — can become embedded in conventional wisdom and creep into how people think and talk about climate change, the paper argues.
While the new paper is hardly the first to draw parallels between the fossil fuel and tobacco industries, what sets it apart is how the research was done.
"Our analysis is the first computational study illustrating how the fossil fuel industry has encouraged and embodied AGW [anthropogenic global warming] narratives fixated on individual responsibility," the paper says. The study used automated methods to analyze 180 ExxonMobil documents, 32 previously published internal company documents, and 76 New York Times "advertorials" where the company took positions on climate change. The authors believe that these methods of efficiently reviewing a large number of company records could prove useful later in litigation, where larger batches of documents may need review.
The number of climate liability lawsuits worldwide and in the U.S. continues to grow. A January 2021 United Nations report tallied 1,200 cases in the U.S. and 350 other lawsuits in nearly 40 other jurisdictions worldwide — nearly double the number of lawsuits underway three years ago by the report authors' count. Not all of those cases involve ExxonMobil — but some of the highest profile lawsuits include those filed by state attorneys general and state and local governments alleging that the company misled investors or consumers or others.
Supran and Oreskes have both assisted with legal briefs or served as expert witnesses in climate liability cases, but in an email to DeSmog, Supran noted that virtually all of that work has been done pro bono (with the sole exception that Oreskes once billed 3.5 hours for her work reviewing the historical accuracy of allegations in one 2017 case). Supran called their work and testimony in climate liability cases "a logical application of our knowledge and expertise."
ExxonMobil did not respond to a request for comment about their study from DeSmog.
'Injecting Uncertainty'
As it has become less credible to contest the legitimacy of climate science, the paper notes, the company has shifted its rhetoric on climate to focus on "risk."
"In ExxonMobil Corp's 2005 Corporate Citizenship Report, for instance, which extensively questions whether AGW is human caused and serious, a member of the public [is quoted asking]: 'Why won't ExxonMobil recognize that climate change is real…?'" Oreskes and Supran write. "The company replies: 'ExxonMobil recognizes the risk of climate change and its potential impact' (emphases added)."
That subtle shift lets ExxonMobil "inject uncertainty" into conversations about climate change, the paper continues, "even while superficially appearing not to."
"We have also observed that, starting in the mid-2000s, ExxonMobil's statements of explicit doubt about climate science and its implications (for example, that 'there does not appear to be a consensus among scientists about the effect of fossil fuel use on climate') gave way to implicit acknowledgments couched in ambiguous statements about climate 'risk' (such as discussion of lower-carbon fuels for 'addressing the risks posed by rising greenhouse gas emissions,' without mention of [anthropogenic global warming])," the paper reports.
It's also a way of talking that also lets ExxonMobil leave out any description of what, exactly, is being put at risk, the paper notes.
The company's public messaging pits clear-cut descriptions of the benefits of using fossil fuels against the risks of climate change — but while it offers examples of the ways people find fossil fuels useful, ExxonMobil is a lot more vague about what, exactly, the risks associated with climate change are, the paper argues.
That's not for a lack of available scientific data. "Today, we are at 1.2 degrees of warming and already witnessing unprecedented climate extremes and volatility in every region and on every continent," U.N. Secretary General António Guterres said in a December 2020 address. "The science is crystal clear: to limit temperature rise to 1.5-degrees Celsius above pre-industrial levels, the world needs to decrease fossil fuel production by roughly 6 per cent every year between now and 2030."
The biggest remaining questions about climate change don't concern the ways that our lives will be increasingly disrupted by extreme weather, wildfires, rising seas and the like. There's a strong body of scientific evidence that lets scientists make good predictions about what happens when we collectively burn fossil fuels at different rates. And a peer-reviewed study published last year in the journal Geophysical Research found that climate models dating back to the 1970s through 2007 have proved remarkably accurate
The biggest open questions are about policy and products, not about what the science shows.
The real source of uncertainty, in other words, is how long we will continue doing the things that cause climate change.
'Modern' Propaganda
Polling shows that Americans' understandings of climate science have shifted dramatically in recent years. In 2014, NBC News recently reported, less than half of Americans polled believed that climate change was caused by human activity. Polls from 2020, however, show that now 57 percent of Americans cite human activity as causing climate change, a jump of roughly ten percent.
But there may still be times and places where not only is discussion of risk familiar and habitually framed in terms of risk management, but also where ExxonMobil's framing might find a particularly receptive audience.
Asked by DeSmog, Supran said that investors may be particularly vulnerable to what he called ExxonMobil's "fossil fuel savior" framing.
"Within this frame, the company is an innocent supplier, simply giving consumers what they demand. That is, ExxonMobil are the good guys who we should trust to address the climate risks that we, the public, brought upon ourselves," he said. "It's also worth noting that these modern forms of propaganda are increasingly subtle and insidious, and so being exposed to them ad nauseam, as shareholders are, could make them more vulnerable to this 'discursive grooming'."
Going forward, the new paper predicts that companies like ExxonMobil may continue to rely on the strategies developed by the tobacco industry.
"In their public relations messaging, industry asserts smokers' rights as individuals who are at liberty to smoke," the paper says. "In the context of litigation, industry asserts that those who choose to smoke are solely to blame for their injuries."
"ExxonMobil's framing is reminiscent of the tobacco industry's effort 'to diminish its own responsibility (and culpability) by casting itself as a kind of neutral innocent, buffeted by the forces of consumer demand,'" it continues. "It is widely recognized that the tobacco industry used, and continues to use, narrative frames of personal responsibility — often marketed as 'freedom of choice' — to combat public criticism, influence policy debates, and defend against litigation and regulation."
Reposted with permission from DeSmog.
From Your Site Articles
Related Articles Around the Web
By Cameron Oglesby
As North Carolina heads into another hurricane season, some residents and organizations fear the stormy season will again flood communities with hog waste.
The state's hog waste management works by funneling feces, urine, and blood from hog farms into massive open waste lagoons, which let off foul odors and methane gas. When the lagoons become full, the waste water is often sprayed onto fields as nutrients for crops. The waste, which contains harmful bacteria like E. coli or salmonella, can wash off into local waterways and cause groundwater contamination and fish kills.
Hurricanes hasten this pollution. In 1999, Hurricane Floyd swept through the region, causing significant damage to swine operations and flooding waste lagoons.
In 2018, Hurricane Florence hit, leading to damage or flooding in at least 110 lagoons and putting the problem of hog waste on full display once again.
"There is nothing outdated about the lagoon and sprayfield system," said CEO of the North Carolina Pork Producers Council, Roy Lee Lindsey in a statement to EHN. "It remains the most sustainable manner for us to manage our farms."
But the state, environmental advocates, and community members disagree. And Will Hendrick, environmental justice advocate for the North Carolina Conservation Network and staff attorney with the Waterkeeper Alliance's Pure Farms program, told EHN the industry has not made "meaningful changes" in response to increasingly frequent and severe storms.
Meanwhile, the National Oceanic and Atmospheric Administration is predicting a higher than average hurricane season for North Carolina in 2021. On the Atlantic coast the agency estimates 16 to 20 major named storms, seven to 10 hurricanes, and three to five major hurricanes.
As climate change threatens to create more intense storms in the years to come, and with concerns over the location of hog farms in flood prone parts of the state coupled with lax regulatory oversight, how is the hog industry preparing for these increasingly devastating events?
Hog Farms in North Carolina's 100-year Flood Plain
In 2018, Hurricane Florence hit, leading to damage or flooding in at least 110 lagoons.
Waterkeeper Alliance Inc. / Flickr
Compared to other states in the southeast U.S., North Carolina's concentration of industrial animal agriculture in the coastal plain makes it uniquely vulnerable to storms. The region is number one for poultry farms and number two for swine in the U.S., and the majority of these farms are located in the southeast part of the state. There are roughly 2,400 hog farms in the state, many of which are family operations that work for corporate giants like Smithfield or Tyson Foods.

"This industry has concentrated in the most vulnerable part of North Carolina [for] these increasingly frequent and severe storms," Hendrick said.
The NC Pork Producers Council acknowledged this problem.
"Over the past two decades we've partnered with the State of North Carolina and closed lagoons located in 100-year flood plains," Lindsey said. Lindsey is referring to the voluntary North Carolina Floodplain Buyout Program, which has led to the permanent closure of 43 hog farms and around 103 waste lagoons from 2000 after Hurricane Floyd to summer 2020.
More North Carolina hog farmers would participate in the buyout program if there was more funding, Lindsey added. "This is a place where our industry and our critics could work together to secure additional funding and continue our efforts to reduce operations in 100-year flood plains."
In 2018, in the aftermath of Hurricane Florence, Governor Roy Cooper included in his recovery recommendations funding for "either buyout industrial animal operations in the 500-year flood plain or to help them convert to better technology." From that recommendation, the legislature committed $5 million to expand the Floodplain Buyout Program. Data on these additional buyouts is not yet available.
But Hendrick said that funding for these buyout programs relies on taxpayers dollars, raising the question of whether North Carolinians should have to foot the bill for corporate mismanagement.
Communications director for the NC Pork Council Jen Kendrick told EHN that the hog industry has been "very proactive in what [it does] to prepare for hurricanes ever since Hurricane Floyd in 1999," providing an article, written by the Pork Council, outlining how the media and environmental nonprofits blew the impacts of Hurricane Florence on hog lagoon flooding out of proportion. The report said 98 percent of hog lagoons "performed as intended" during the 2018 hurricane and that state agency reports confirmed that hog farms were not a lasting source of environmental damage. Neither Kendrick, Lindsey, nor the article elaborated on what "performed as intended" means.

Hendrick said the report focuses on impacts to lagoons and overlooks "the significant pollution resulting from the runoff of their land applied waste." In North Carolina, Hurricane Floyd, Hurricane Matthew in 2016, and Hurricane Florence led to the failure of hundreds of waste lagoons, resulting in the contamination of waterways such as the South River and tributaries of the Cape Fear, Neuse and Tar rivers. This is not inclusive of runoff of waste from sprayfields, which can occur anytime there is a heavy rain.
According to a 2016 analysis by the Environmental Working Group and Waterkeeper Alliance, of the roughly 4,000 hog farms in the state, about 306 are located within the 100-year flood plain or within a half mile of a public well, the majority concentrated around predominantly Black and low-income communities in Duplin and Sampson County.
Hendrick pointed out that in an attempt to mitigate waste runoff, in 2019 the NC Department of Environmental Quality (NC DEQ) edited the swine waste management system general permit to increase the amount of time from four hours to 12 hours after a National Weather Service storm warning that a farmer is required to stop any spraying of waste onto fields.
"We see consistently, the farm operators are concerned about the accumulation of rainwater in their lagoons, so they begin land applying as furiously and fast as they can in advance of a storm," Hendrick said. "It's making it even more likely that the waste that they just land-applied is going to end up in our rivers, lakes, and streams."
In 2018, EHN witnessed seven hog operations illegally spraying waste onto fields prior to Florence's landfall.
EHN reached out to Smithfield Foods, the largest producer of pork in the country and a major North Carolina producer, for comment on their strategy to adapt to heavier storms in North Carolina. They declined to comment.
Hog Death During Storms
Sherri White-Williamson, Environmental Justice Director for the NC Conservation Network and a resident of Duplin County, a North Carolina hog farm hotspot, highlighted the additional problem of hog mortality and disposal during these storms.
"They don't get picked up on a regular basis... by the time they pick them up decomposition has already started and you can see the fluid from that decomposition dripping from the trucks on the road," she told EHN.

She said when these animals are collected, the flies, the odor, and other disease carrying vectors have already settled and create additional health concerns for nearby communities and for water quality.
The issue of hog mortality around concentrated animal feeding operations (CAFOs) first came up in 2014 when the Porcine Epidemic Diarrhea Virus (PEDv) rocked the pork industry in the U.S. and Canada, leading to the death of millions of pigs. At the time, the Waterkeeper Alliance called out the haphazard handling of the dead hogs — which were disposed of in mass graves in what was often the 100-year flood plain — and brought forward concerns over groundwater contamination from the decomposing bodies.
Lindsey said that since Hurricane Floyd, storm-caused hog mortality has gone down. "Farmers and their partner companies work hard in preparation for storms to make sure our animals are cared for during a storm," he said, "Barns that are in flood-prone areas are cleared before a storm and the animals moved to higher ground. The results speak for themselves. We have very little animal mortality during storms."
However, during Hurricane Matthew in 2016, the Department of Agriculture estimated around 2,800 hogs died during the storm. Florence was worse, killing an estimated 5,500 hogs, along with more than 3.4 million chickens.
Hendrick also said that when it comes to the handling of animal mortality, it is once again the taxpayer who is "footing the bill" through the expansion of tax dollars to the Department of Agriculture to help with mortality management services.
North Carolina Hog Farming Regulation
Hendrick, and Communications Director for the NC Conservation Network, Brian Powell, pointed out that one of the reasons that the handling of these waste management systems has been so lax is because the DEQ's regional offices are less capable of responding to issues as a result of "draconian budget cuts" specifically targeting those offices.

"For instance, the DEQ Wilmington Regional Office, which would be responding to breaches or impacts in Duplin County, has seen a significant decrease in staffing as a result of decisions by the legislature," said Hendrick. In 2019, the nonpartisan environmental accountability nonprofit the Environmental Integrity Project found the DEQ lost 34 percent of its funding for pollution control programs between 2008 and 2018, resulting in a loss of more than 370 staff positions over the same period and making it one of the states with the largest budget cuts alongside New York, Texas, Arizona, and Louisiana. Adjusting for inflation, if the DEQ's budget had remained consistent over the years, it should have received $136 million in 2018 alone. It only received $80 million for fiscal year 2020.
Hog farms are required by law to get an annual inspection from the DEQ. But Hendrick said that because of staff cuts, the DEQ has trouble meeting that quota, oftentimes resulting in infrequent visits that last "less than 20 minutes," which is a fact that one of the DEQ's top officials in the inspection of North Carolina hog operations, Christine Lawson, admitted in the recent Artis v. Murphy-Brown nuisance suit brought against members of the hog industry. These annual inspections are separate from visits scheduled around specific community complaints, which Hendrick said consist of meetings where "operators are pre-notified and often scramble to demonstrate compliance."
EHN reached out to the North Carolina Department of Environmental Quality's Division of Water Infrastructure that handles information on swine operation, but they didn't respond.
New Hog Farming Waste Technology
"The lagoon and sprayfield system was developed by experts at North Carolina State University specifically for the soil and water characteristics of North Carolina," said Lindsey. "It is the model for swine farms across the country. While we continuously look for ways to improve the system, it remains the best available option for our farms."
But Hendrick, Powell, and White-Williamson said that the only thing stopping the industry from dropping what the state considers an outdated system is their unwillingness to invest in superior technology.
"It's just a matter of acknowledging the recent history, and preparing for its continuation, instead of pretending like there's nothing to see here, there's no problem with the status quo, and as long as we continue to manage this waste in the way we have, there won't be any problems," Hendrick said.
Environmental advocates and residents in the state have been calling for a dismantling of the lagoon and sprayfield system, in favor of "environmentally superior technologies," such as a system called Terra Blue, which would replace open cesspools with closed tanks and reduce ammonia through the introduction of nitrogen consuming bacteria. Lindsey said that this technology was not economically feasible, despite its passing of all government and industry technical, operational, and environmental standards.
Others have pointed to Advanced Nitrification/Denitrification (AND) like major pork producer Smithfield uses in its Missouri operations to reduce the amount of ammonia coming off of cesspools. The industry has also looked to biogas investment as an economically viable alternative, though that comes with its own set of community and environmental health concerns.
Powell added that for increasingly intense hurricanes specifically, the issue also depends on the development of statewide storm and flood resilience programs. As North Carolina comes up on another hurricane season in June, groups like the Eastern NC Recovery and Resilience Alliance, a coalition of local governments created to better prepare the region for extreme weather events, have been calling for legislative moves that would fund a statewide flood blueprint, which would better position governments to address the technical aspects of flood mitigation, including predictive hydrologic modeling.
In March, the North Carolina Coastal Federation also came out with a blueprint for how communities could use nature-based flood solutions, including backyard rain gardens, watershed restoration, and strategies that limit impermeable surfaces like concrete or asphalt, to combat the projected increase in rainfall.
"To the extent that we begin implementing some of those solutions and coming up with a statewide flood management strategy, there probably will be beneficial impacts to agricultural facilities in addition to communities," Powell said.
Reposted with permission from Environmental Health News.
A resident jogs at a field next to the Limetree Bay refinery in St. Croix, Virgin Islands on March 14, 2021. Salwan Georges / The Washington Post via Getty Images
Less than 48 hours after an U.S. Environmental Protection Agency (EPA) employee sent to the Virgin Islands to investigate the Limetree oil refinery told colleagues, "There is oil on my windshield," the agency took the remarkable action to shut down the entire refinery citing an "imminent" threat to human health.
This is not the first time the St. Croix refinery has made it rain oil. A release of oil vapor in early February, three days after reopening for the first time in a decade, triggered an EPA investigation and Administrator Michael Regan said the refinery showered oil on nearby residents twice and has released sulfuric gases into the surrounding area and spewed hydrocarbons into the air at least as many times over the past three-and-a-half months.
The refinery leaked more than 300,000 barrels of petrochemicals and polluted St. Croix's only aquifer over decades before it shut down nearly 10 years ago after settling a multimillion-dollar lawsuit with EPA as well as several class-action suits.
"Our children are suffering," local resident ChenziRa Davis-Kahina said during a virtual town hall meeting. "This is becoming uncomfortable to a point that we have to put out a hashtag like, 'We can't breathe.' We have to put out hashtags like, 'Stop killing us.' We have to put out hashtags to get people to hear what's happening here in a place that's supposed to be America's paradise."
Judith Enck, who oversaw the U.S. Virgin Islands for EPA as its Region 2 administrator, told The Washington Post, "This is a majority-Black island in a U.S. territory. It is located next to public housing. If this refinery were located most anywhere else in the country, it would have been shut down months ago."
For a deeper dive:
The Washington Post, InsideClimate News, The Hill, E&E, Axios, Politico Pro
For more climate change and clean energy news, you can follow Climate Nexus on Twitter and Facebook, sign up for daily Hot News, and visit their news site, Nexus Media News.
From Your Site Articles
Related Articles Around the Web
By John R. Platt
As I sat in a pharmacy chair for the required 15 minutes after my first vaccine dose, my mind turned to animals.
There weren't any animals nearby, of course — the buzzing fluorescent lighting of the run-down drugstore wasn't anyone's natural habitat, including mine. And that very absence of visible sky and wildlife — a change from the past 15 months, much of which I'd spent watching the world go by through my home-office window — served to remind me how easily we can lose sight of it.
I returned home, rushed to the back window and the birdfeeders beyond, and randomly pulled a new book out of a pile of review copies. Sure enough, its subject was animals.
And it wasn't alone. In recent months publishers have released a bevy of new books about birds, bears, koalas and other creatures. These hefty tomes do more than just celebrate our furry, feathery or chitinous friends; they also examine our relationships with them, for better or worse.
Here are publishers' descriptions of 10 of the best new wildlife-related books of 2021 so far. The books come from a long list of celebrated authors, scientists and journalists and cover species from several continents. They'll help give you a dose of the wild — and a window into other parts of the world — that will hold you over until it's safe to travel again to see loved ones. Human and otherwise.
1. Animals' Best Friends: Putting Compassion to Work for Animals in Captivity and in the Wild by Barbara J. King
An uplifting new book from the author of How Animals Grieve.
"As people come to understand more about animals' inner lives — the intricacies of their thoughts and the emotions that are expressed every day by whales and cows, octopus and mice, even bees — we feel a growing compassion, a desire to better their lives. But how do we translate this compassion into helping other creatures, both those that are and are not our pets?"
2. The Bedside Book of Birds: An Avian Miscellany by Graeme Gibson
Margaret Atwood provides the foreword to this new edition of her late partner's classic book.
"In this stunning assemblage of words and images, novelist and avid birdwatcher Graeme Gibson offers an extraordinary tribute to the venerable relationship between humans and birds."
4. Flames of Extinction: The Race to Save Australia's Threatened Wildlife by John Pickrell
Signs of hope amidst and after apocalyptic wildfires.
"In the early months of 2020, the world's attention was riveted on Australia, where the nation's iconic wildlife fought for survival in the face of unprecedented wildfires. Images of koalas drinking from firefighters' water bottles went viral and became the global face of a catastrophe that would kill as many as three billion animals. Known as the Black Summer, the fire season was responsible for more wildlife deaths and near-extinctions than any other single event in Australian history. Flames of Extinction, written by a journalist at the heart of this news coverage, is the first book to tell the stories of Australia's record-setting fires, focusing on the wild animals and plants that will be forever changed." (Read an exclusive excerpt.)
5. How to Talk to a Tiger … And Other Animals: How Critters Communicate in the Wild by Jason Bittel; illustrated by Kelsey Buzzell
A kids' book that's about a lot more than growling.
"Ever wanted to talk to a tiger? Or chatter with a cheetah? Or yak with a yak? This book brings together a babble of more than 100 beasties and explores the amazing ways they talk to each other. From fish that fart to alligators that dunk to fire worms that flash, you'll discover that wildlife have the strangest ways of sending a message…"
6. The Glitter in the Green: In Search of Hummingbirds by Jon Dunn
A worldwide travelogue examining some of the world's most charismatic and mysterious migrators.
"Hummingbirds are a glittering, sparkling collective of over 300 wildly variable species. For centuries, they have been revered by Indigenous Americans, coveted by European collectors, and admired worldwide for their unsurpassed metallic plumage and immense character. Yet they exist on a knife-edge, fighting for survival in boreal woodlands, dripping cloud forests and subpolar islands. They are, perhaps, the ultimate embodiment of evolution's power to carve a niche for a delicate creature in even the harshest of places."
7. The Grizzly in the Driveway: The Return of Bears to a Crowded American West by Rob Chaney
Can we relearn how to live with returning megafauna?
"Montana journalist Robert Chaney chronicles the resurgence of this charismatic species against the backdrop of the country's long history with the bear. Chaney captures the clash between groups with radically different visions: ranchers frustrated at losing livestock, environmental advocates, hunters, and conservation and historic preservation officers of tribal nations. Underneath, he probes the balance between our demands on nature and our tolerance for risk."
8. Beloved Beasts: Fighting for Life in an Age of Extinction by Michelle Nijhuis
An illuminating history of the conservation movement.
"In the late nineteenth century, as humans came to realize that our rapidly industrializing and globalizing societies were driving other animal species to extinction, a movement to protect and conserve them was born. In Beloved Beasts, acclaimed science journalist Michelle Nijhuis traces the movement's history: from early battles to save charismatic species such as the American bison and bald eagle to today's global effort to defend life on a larger scale."
9. Florida Scrub-Jay: Field Notes on a Vanishing Bird by Mark Jerome Walters
A portrait of the last-ditch efforts to save the final few dozen birds of a critically endangered species.
"The only bird species that lives exclusively in Florida, the Florida scrub-jay was once common across the peninsula. But as development over the last 100 years reduced the habitat on which the bird depends from 39 counties to three, the species became endangered. With a writer's eye and an explorer's spirit, Mark Walters travels the state to report on the natural history and current predicament of Florida's flagship bird."
10. Empire of Ants: The Hidden Worlds and Extraordinary Lives of Earth's Tiny Conquerors by Susanne Foitzik and Olaf Fritsche
An intimate portrait accompanied by amazing photographs.
"Inside an anthill, you'll find high drama worthy of a royal court; and between colonies, high-stakes geopolitical intrigue is afoot. Just like us, ants grow crops, raise livestock, tend their young and infirm, and make vaccines. And, just like us, ants have a dark side: They wage war, despoil environments, and enslave rivals — but also rebel against their oppressors."
11. Gone: A Search for What Remains of the World's Extinct Creatures by Michael Blencowe
Examining the scars left behind on an emptying Earth.
"Inspired by his childhood obsession with extinct species, Blencowe takes us around the globe — from the forests of New Zealand to the ferries of Finland, from the urban sprawl of San Francisco to an inflatable crocodile on Brighton's Widewater Lagoon. Spanning five centuries, from the last sighting of New Zealand's upland moa to the 2012 death of the Pinta Island giant tortoise, Lonesome George, his memoir is peppered with the accounts of the hunters and naturalists of the past as well as revealing conversations with the custodians of these totemic animals today."
Visit the Revelator Reads archives for hundreds of additional book recommendations.
John R. Platt is the editor of The Revelator. An award-winning environmental journalist, his work has appeared in Scientific American, Audubon, Motherboard, and numerous other magazines and publications. His "Extinction Countdown" column has run continuously since 2004 and has covered news and science related to more than 1,000 endangered species. He is a member of the Society of Environmental Journalists and the National Association of Science Writers. John lives on the outskirts of Portland, Ore., where he finds himself surrounded by animals and cartoonists.
Reposted with permission from The Revelator.
From Your Site Articles
Related Articles Around the Web