A. A polyp of Metridioidea sp. indet. attached to the crinoid stem, black arrow indicates the polyp of Metridioidea sp. indet. (Photograph by S. Amemiya), B. A close-up image of closed polyp of Metridioidea sp. indet. on the stem (Photograph by S. Amemiya), C. A close-up image of opened polyp of Metridioidea sp. indet. on the fragment of cirri (TM-H22).
In the deep waters off the coast of Japan, scientists have rediscovered a relationship that has not been observed in 270 million years.
The scientists, led by University of Warsaw geology professor Mikołaj Zapalski, recorded examples of non-skeletal corals growing on sea lilies, or crinoids. This phenomenon was common during the Paleozoic era — between 542 million years ago to 251 million years ago — only to vanish from the fossil record.
"The coral-crinoid associations, characteristic of Palaeozoic benthic communities, disappeared by the end of Permian, and this current work represents the first detailed examination of their rediscovery in modern seas," Zapalski and his team wrote in Palaeogeography, Palaeoclimatology, Palaeoecology last month.
In the Palaeozoic ocean, it was very common for corals to grow out of sea lily stems, Science Alert explained. This enabled the corals to extend from the seafloor to the water column, where stronger currents made filter feeding is easier.
However, the latest fossil documenting this symbiotic relationship dates from around 273 million years ago. After that, the specific species of corals and sea lilies that had interacted in this way went extinct, and there was no evidence that other species carried on the relationship.
The new paper changes that. In 2015 and 2019, the Polish and Japanese research team collected specimens off the Japanese coast in Honshu and Shikoku, the study explained. The specimens were found in waters as deep as 146 meters (approximately 479 feet). They consisted of two species of corals growing from the stems of Japanese sea lilies (Metacrinus rotundus). The corals in question were a type of sea anemone known as Metridioidea and a very rare hexacoral from the genus Abyssoanthus, according to Science Alert.
Zapalski called his team's discovery a "living fossil" in a University of Warsaw press release. However, the contemporary specimens have one key difference from the Paleozoic ones: the corals do not appear to alter the sea lilies' skeletons, as microtomography scanning revealed.
This difference could actually explain the hundred-million year gap in the fossil record, Science Alert explained. Soft corals do not usually leave fossils, so if corals were growing on sea lilies without altering their structure, it would likely be lost to time.
This also means that the new find can help researchers better understand the relationship in Paleazoic times.
"Understanding of the ecology of past ecosystems is impossible without a deep knowledge of their modern analogues," the study authors wrote.
Now, they finally have their analog.
"These specimens represent the first detailed records and examinations of a recent syn vivo association of a crinoid (host) and a hexacoral (epibiont), and therefore analyses of these associations can shed new light on our understanding of these common Palaeozoic associations," the study authors wrote.
From Your Site Articles
Related Articles Around the Web
EcoWatch Daily Newsletter
An orchard near Kettleman City in California's San Joaquin Valley on April 2, 2021. Frederic J. Brown / AFP via Getty Images
By Debra Perrone and Scott Jasechko
As the drought outlook for the Western U.S. becomes increasingly bleak, attention is turning once again to groundwater – literally, water stored in the ground. It is Earth's most widespread and reliable source of fresh water, but it's not limitless.
Wells that people drill to access groundwater supply nearly half the water used for irrigated agriculture in the U.S. and provide over 100 million Americans with drinking water. Unfortunately, pervasive pumping is causing groundwater levels to decline in some areas, including much of California's San Joaquin Valley and Kansas' High Plains.

We are a water resources engineer with training in water law and a water scientist and large-data analyst. In a recent study, we mapped the locations and depths of wells in 40 countries around the world and found that millions of wells could run dry if groundwater levels decline by only a few meters. While solutions vary from place to place, we believe that what's most important for protecting wells from running dry is managing groundwater sustainably – especially in nations like the U.S. that use a lot of it.
The U.S. has one of the highest national groundwater use rates in the world. Jasechko and Perrone, 2021,
Groundwater Use Today

Humans have been digging wells for water for thousands of years. Examples include 7,400-year-old wells in the Czech Republic and Germany, 8,000-year-old wells in the eastern Mediterranean, and 10,000-year-old wells in Cyprus. Today wells supply 40% of water used for irrigation worldwide and provide billions of people with drinking water.

Groundwater flows through tiny spaces within sediments and their underlying bedrock. At some points, called discharge areas, groundwater rises to the surface, moving into lakes, rivers and streams. At other points, known as recharge areas, water percolates deep into the ground, either through precipitation or leakage from rivers, lakes and streams.
Groundwater can remain underground for days to millennia, depending on how deep it sinks, how readily it moves through rock around it and how fast humans pump it to the surface.
Groundwater declines can have many undesirable consequences. Land surfaces sink as underground clay layers are compacted. Seawater intrusion can contaminate groundwater reserves and make them too salty to use without energy-intensive treatment. River water can leak down to underground aquifers, leaving less water available at the surface.
Groundwater depletion can also cause wells to run dry when the top surface of the groundwater – known as the water table – drops so far that the well isn't deep enough to reach it, leaving the well literally high and dry. Yet until recently, little was known about how vulnerable global wells are to running dry because of declining groundwater levels.

There is no global database of wells, so over six years we compiled 134 unique well construction databases spanning 40 different countries. In total, we analyzed nearly 39 million well construction records, including each well's location, the reason it was constructed and its depth.
Our results show that wells are vital to human livelihoods – and recording well depths helped us see how vulnerable wells are to running dry.
Millions of Wells at Risk
Our analysis led to two main findings. First, up to 20% of wells around the world extend no more than 16 feet (5 meters) below the water table. That means these wells will run dry if groundwater levels decline by just a few feet.
Second, we found that newer wells are not being dug significantly deeper than older wells in some places where groundwater levels are declining. In some areas, such as eastern New Mexico, newer wells are not drilled deeper than older wells because the deeper rock layers are impermeable and contain saline water. New wells are at least as likely to run dry as older wells in these areas.

Wells are already going dry in some locations, including parts of the U.S. West. In previous studies we estimated that as many as 1 in 30 wells were running dry in the western U.S., and as many as 1 in 5 in some areas in the southern portion of California's Central Valley.
Households already are running out of well water in the Central Valley and southeastern Arizona. Beyond the Southwest, wells have been running dry in states as diverse as Maine, Illinois and Oregon.
What to Do When the Well Gives Out
How can households adapt when their well runs dry? Here are five strategies, all of which have drawbacks.
– Dig a new, deeper well. This is an option only if fresh groundwater exists at deeper depths. In many aquifers deeper groundwater tends to be more saline than shallower groundwater, so deeper drilling is no more than a stopgap solution. And since new wells are expensive, this approach favors wealthier groundwater users and raises equity concerns.
– Sell the property. This is often considered if constructing a new well is unaffordable. Drilling a new household well in the U.S. Southwest can cost tens of thousands of dollars. But selling a property that lacks access to a reliable and convenient water supply can be challenging.
Chart: The Conversation, CC BY-ND. Source: Jasechko and Perrone 2020
– Divert or haul water from alternative sources, such as nearby rivers or lakes. This approach is feasible only if surface water resources are not already reserved for other users or too far away. Even if nearby surface waters are available, treating their quality to make them safe to drink can be harder than treating well water.

– Reduce water use to slow or stop groundwater level declines. This could mean switching to crops that are less water-intensive, or adopting irrigation systems that reduce water losses. Such approaches may reduce farmers' profits or require upfront investments in new technologies.
– Limit or abandon activities that require lots of water, such as irrigation. This strategy can be challenging if irrigated land provides higher crop yields than unirrigated land. Recent research suggests that some land in the central U.S. is not suitable for unirrigated "dryland" farming.

Households and communities can take proactive steps to protect wells from running dry. For example, one of us is working closely with Rebecca Nelson of Melbourne Law School in Australia to map groundwater withdrawal permitting – the process of seeking permission to withdraw groundwater – across the U.S. West.
State and local agencies can distribute groundwater permits in ways that help stabilize falling groundwater levels over the long run, or in ways that prioritize certain water users. Enacting and enforcing policies designed to limit groundwater depletion can help protect wells from running dry. While it can be difficult to limit use of a resource as essential as water, we believe that in most cases, simply drilling deeper is not a sustainable path forward.
Debra Perrone is an assistant professor of environmental studies at the University of California Santa Barbara.
Scott Jasechko is an assistant Professor of water resources at the University of California Santa Barbara.
Disclosure statement: The authors do not work for, consult, own shares in or receive funding from any company or organization that would benefit from this article, and have disclosed no relevant affiliations beyond their academic appointment.
Reposted with permission from The Conversation.
From Your Site Articles
Related Articles Around the Web
The contents of our mattresses are often an afterthought. That's a mistake, as research shows that the quality of your sleeping surface can significantly impact your health.
As consumers gain awareness about the health effects of sleeping on potentially toxic compounds, mattress companies are responding with new beds made from better materials. Today, you can choose from a broad range of mattresses made from all-natural components, including organic wool, cotton, and latex. Here's a summary of the best non-toxic, eco-friendly mattresses available today and how to decide between them.
Why You Should Choose an Organic Mattress
Traditionally, mattresses contain trace amounts of chemicals known as volatile organic compounds (VOCs) that act as flame retardants and coatings on plastic components. While the popular view is that these VOCs are found in too low of concentrations to be concerning, a 2019 study published in Environmental Science and Technology indicates that body heat may transform them into toxic vapors that you breathe in through the night.
That's a reason for concern, as according to the US Environmental Protection Agency, the potential health effects of VOC exposure include headaches and eye, nose, and throat irritation. In extreme cases, they may trigger cancer cell development or organ damage.
8 Top-Rated Organic and Natural Mattress Brands
Each product featured below has been selected by the writer. You can learn more about our
review methodology here
. If you make a purchase using the included links, we may earn a commission.
How We Chose These Products
When comparing the best natural mattress options, we looked at several specific factors to determine which ones stand out. Here are some of the distinguishing features.
Organic Materials
The best non-toxic mattress brands today exclusively use certified organic textiles like cotton and wool.
Certifications
Is it certified GOLS (Global Organic Latex Standard) or GOTS (Global Organic Textile Standard)? As the leading natural certifications for textiles and latex materials, GOLS and GOTS-certified products meet stringent requirements for responsible social and environmental practices.
Delivery
The best nontoxic mattresses are compressed into boxes for shipping and then expand to full size once you unpack them. Environmentally speaking, smaller packages mean less fuel wasted on transportation. Others are sent in pieces or in full form and require a delivery team for installation.
Give Back Programs
The best eco-friendly mattress brands also support nonprofit programs that benefit the environment. We like brands where a percentage of your purchase may go towards a worthwhile cause.
Manufacturing
Many of the best organic mattresses are handcrafted in the United States, which shrinks their environmental footprint by keeping production and transportation within a smaller area.
Return Policy
Standard practice in the mattress industry is to offer sleep trial testing periods. These range from three months to a year or longer.
Direct to Consumer
Direct-to-consumer mattress companies are increasing in popularity. They tend to be less wasteful than traditional retailers because the brand isn't putting resources towards maintaining showrooms.
9 Best Natural and Organic Mattresses of 2021
avocadogreenmattress.com
Materials – 100% GOTS certified cotton and wool, 100% natural latex, steel support coils
Manufacturing – Handmade in USA
Delivery – Mattress arrives compressed in a box
Certifications – GREENGUARD Gold, Rainforest Alliance, eco-INSTITUT®, and Formaldehyde-Free certified, OEKO-TEX® Standard 100 certified wool, GOTS and GOLS certified materials
Sleep Trial/Warranty – 100-night sleep trial, 25-year warranty
This mattress-in-a-box brand doesn't compromise its eco-friendly principles for low cost or convenience. The Avocado Green mattress boasts a gentle latex support system for balanced firmness that's ideal for larger people and those who sleep on their back or side.
Why buy: Avocado is a leading brand for affordable mattresses made from natural materials. The Green mattress makes this list for its affordable price point and five-zone support system with up to 1,400 pocketed steel support coils. Equally impressive, Avocado maintains control over its whole supply chain and employs strict social and environmental standards for every product.
ghostbednatural.com
Materials – Natural wool, GOLS certified Dunlop & Talalay latex, USDA organic and GOTS certified cotton
Manufacturing – Manufactured in the USA
Delivery – Mattress arrives vacuum sealed in a box
Certifications – USDA organic, Control Union certified, OEKO-TEX® certified, GOLS and GOTS certified materials
Sleep Trial/Warranty – 101 night sleep trial, 25-year warranty
The GhostBed Natural mattress offers five layers of natural comfort materials. Each mattress is made from natural wool, genuine Dunlop and Talalay latex, and organic cotton for solid support and air-flow cooling. This is an eco-friendly mattress made for comfort, cooling, and support.
Why buy: The GhostBed Natural mattress is a great option if you tend to get hot when you sleep, as it includes both a naturally cooling latex core and cooling airflow coil technology to help you sleep better. We also love that it is made in the United States with organic and natural materials like sustainably-sourced latex and USDA organic cotton.
plushbeds.com
Materials – GOLS certified latex, GOTS certified cotton and wool
Manufacturing – Handcrafted in California
Delivery – Delivered in two boxes, the customer must assemble
Certifications – GOLS certified latex, GOTS certified cotton and wool, GreenGuard Gold Certified, OEKO-TEX® Standard 100 Certified, eco-INSTITUT® certified, Control Union Certified, Forest Stewardship Council Certified
Sleep Trial/Warranty – 100-night sleep trial, 25-year warranty
Plushbeds mattresses are handcrafted in the US from certified organic materials. Orthopedic specialists recommend them for their buoyant support and pressure point relief, along with an organic latex core you can customize.
Why buy: With Plushbeds' Botanical Bliss mattress, you get a non-toxic, hypoallergenic sleeping surface that keeps you cool through the night. This bed is dust mite resistant to eliminate most home's primary allergy problems and includes an organic cotton cover for comfort.
saatva.com
Materials – Certified organic cotton, all-natural Talalay latex, 100% organic New Zealand wool
Manufacturing – Made in USA within 19 independent factories
Delivery – Purchase comes with free white glove delivery and setup, including old mattress removal
Certifications – OEKO-TEX® Standard 100, eco-INSTITUT®, Rainforest Alliance, and Cradle to Cradle certified
Sleep Trial/ Warranty – 180-day sleep trial, 20-year warranty
The Saatva Zenhaven mattress is naturally hypoallergenic and made using environmentally responsible practices. The manufacturing process is entirely water-based and produces minimal byproducts. Even the certified organic cotton cover is protected by a proprietary nontoxic botanical antimicrobial treatment. Rather than using traditional flame retardants, the mattress contains a protective layer of organic New Zealand wool.
Why buy: As Saatva's premium mattress, the Zenhaven is made for low back support and a cooling, comfortable night's sleep. This 100% Talalay latex mattress contains durable materials for supported rest and boasts a flippable design for two firmness levels. This is the best option for a luxurious yet eco-friendly mattress.
mygreenmattress.com
Materials – GOTS certified cotton, GOLS certified Dunlop latex
Manufacturing – Handcrafted in a certified organic factory in Illinois
Delivery – White glove delivery service available for $199 for setup and old mattress removal.
Certifications – GreenGuard Gold Certified, GOTS Certified cotton, GOLS certified Dunlop latex
Sleep Trial/Warranty – 120-night sleep trial, 20-year warranty
The Natural Escape mattress boasts a responsive zoned pocketed coil spring system covered with GOLS certified Dunlop latex for breathability. With an adaptive support system that conforms to the contours of your spine, the company recommends it for couples with opposite body types or who prefer different sleeping positions from each other. The mattress itself is button tufted to pull the layers together without the use of any potentially toxic adhesives or VOCs.
Why buy: The Natural Escape mattress from My Green Mattress delivers stellar lumbar support and proper spinal alignment—all underneath a comfortable organic cotton cover. It also provides limited motion transfer thanks to an upgraded innerspring system, making it a great option for couples as you won't disturb your partner when you move.
happsy.com
Materials – Organic cotton filling, organic wool, certified latex
Manufacturing – Handmade in USA
Delivery – Ships compressed in a single box
Certifications – GOTS-certified cotton, Certified Made Safe, GOLS-certified latex, Forest Stewardship Council Certified, Rainforest Alliance Certified, GreenGuard Gold Certified, Underwriters Laboratories verified formaldehyde-free, Green America Certified Business
Sleep Trial/Warranty – 120-night sleep trial, 20-year warranty
Happsy's mattresses combine comfort, the latest technology in certified organic mattress design, and premium earth-friendly materials for a bed you can feel good about from every angle. In fact, the included zipper lets you peek inside to see what you're really sleeping on. The mattress utilizes a breathable coil system designed to wick moisture away to keep you cooler at night than sleeping on heat-trapping synthetic foams.
Why buy: Happsy is a small mattress brand focused on making mattresses with a conscience — meaning that all materials are chosen for being easy on the environment. The company forgoes all glues and adhesives in favor of its own pocketed spring design that keeps the mattress supportive, but never "bouncy."
birchliving.com
Materials – Organic cotton, wool, birch wool, natural latex, steel coils
Manufacturing – Handmade in USA
Delivery – Ships compressed in a box
Certifications – GreenGuard Gold Certified, GOTS Certified, OEKO-TEX®Standard 100, Eco INSTITUT® Tested Product, Wool Integrity NZ, Fair Trade Certified Factory
Sleep Trial/Warranty – 100-night sleep trial, 25-year warranty
Birch by Helix makes a range of natural bedding options constructed in ways that support the environment. Each mattress is made from premium materials that together work to relieve your body's pressure points, no matter how you prefer to sleep. The company claims this premium product has natural flexibility that allows it to retain its shape to provide enough softness for coziness while still offering full-body support.
Why buy: We love that all Birch mattress wool comes from New Zealand sheep farms that meet Wool Integrity NZ standards, which ensures the animals are treated ethically at every stage of production. Plus, the cotton within each mattress is Fair Trade certified, making this a responsible sleep option.
ecoterrabeds.com
Materials – 100% natural latex foam rubber, organic wool, organic cotton
Manufacturing – Designed and handcrafted in Los Angeles, CA
Delivery – Free standard delivery across the US, White Glove delivery available for an extra cost
Certifications – OEKO-TEX® Standard 100 certified, GOTS Organic wool, GOTS organic certified cotton
Sleep Trial/Warranty – 90-day sleep trial, 15-year warranty
Eco Terra offers a budget-friendly latex hybrid mattress that includes natural materials, unobtrusive pocket support coils, and a 90-day sleep trial. Eco Terra's latex mattress is available in both a medium and medium-firm firmness level to support a wide range of sleepers. The bed is free of synthetic foams and VOCs, favoring a three-inch-thick layer of Talalay latex instead.
Why buy: Eco Terra offers a more budget-friendly option than other latex hybrid brands, making this mattress an excellent choice for comfortable sleep without compromising on natural materials. One thing to note is that this latex isn't GOLS-certified, though the other materials are GOTS certified.
awarasleep.com
Materials – Dunlap latex, organic New Zealand wool, organic cotton, steel coils
Manufacturing – Made in China
Delivery – Arrives compressed in a box
Certifications – Rainforest Alliance certified latex, certified organic wool, certified organic cotton
Sleep Trial/Warranty – 365-night sleep trial, Forever Warranty (lifetime guarantee against sagging and manufacturing defects)
Awara features premium Sri Lanka latex and wrapped coil springs to provide contour and a touch of bounce for supportive sleep throughout the night. At the core of this mattress are nine-inch pocketed coils that are thicker than standard. This gives the bed a firmer, more responsive feel that minimizes the sense of sinking when you reach the outer edge, so it's suitable for back, side, and stomach sleepers alike.
Why buy: Awara's natural latex mattress stands out for being slightly firmer than some other options. The mattress itself is made from quality materials with GOLS, GOTS, and Rainforest Alliance certification. Awara also partners with Trees for the Future to support forest systems throughout Africa. Every purchase funds the planting of ten trees throughout Kenya, Senegal, Uganda, or Tanzania.
Takeaway

The best night's sleep takes place on a mattress that won't make you or the environment sick. Today, there are more options than ever for finding the best organic and nontoxic mattress for your family. Seek out brands that use certified organic materials and that guarantee each bed is free from VOCs to rest easy every night.
Lydia Noyes is a freelance writer specializing in health and wellness, food and farming, and environmental topics. When not working against a writing deadline, you can find Lydia outdoors where she attempts to bring order to her 33-acre hobby farm filled with fruit trees, heritage breed pigs, too many chickens to count, and an organic garden that somehow gets bigger every year.
Food dyes in products such as breakfast cereals, juice and soft drinks, frozen dairy desserts, candies, and icings were linked to adverse neurobehavioral outcomes in children including inattentiveness, hyperactivity, and restlessness. bhofack2 / Getty Images
By Nate Seltenrich
Synthetic dyes used as colorants in many common foods and drinks can negatively affect attention and activity in children, according to a comprehensive review of existing evidence published this month by the California Office of Environmental Health Hazard Assessment (OEHHA).
Funded by the California legislature in 2018, the new report involved a literature review, scientific symposium for experts, peer review process, and public comment period. Its conclusions about the behavioral effects of food dyes are grounded in the results of 27 clinical trials in children performed on four continents over the last 45 years, as well as animal studies and research into the mechanisms through which dyes exert their behavioral effects.
Food dyes in products such as breakfast cereals, juice and soft drinks, frozen dairy desserts, candies, and icings were linked to adverse neurobehavioral outcomes in children including inattentiveness, hyperactivity, and restlessness. Animal studies also revealed effects on activity, memory, and learning.
The report is the most rigorous assessment of the behavioral effects of food dyes ever conducted, said Lisa Lefferts, a senior scientist with the Washington, D.C.-based nonprofit Center for Science in the Public Interest. (Editor's note: Lefferts previously worked as an editor at EHN).
Lefferts has been tracking the issue for years and through the Center published her own report on the link between synthetic food dyes and behavioral problems in children in 2016. In it she called for the U.S. Food and Drug Administration (FDA) to either revoke approvals for all food dyes or institute a federal labeling rule.
The European Union enacted such a law in 2010 that requires most dyed foods to bear a label warning consumers that food colorings "may have an adverse effect on activity and attention in children." In response, many food manufacturers reformulated their products for the European market to avoid the dyes, and thus the label.
But many left the dyes in their products for the U.S. market, where awareness of the issue has remained low, said Lefferts. "In our experience, most consumers have no idea that something that is allowed in the food supply by the FDA could trigger adverse behaviors," she told EHN.
A California State Senate bill introduced in February and backed by the new report would require a similar warning label on foods sold in the state. But it was abruptly withdrawn from the Senate Health Committee on April 28, the day of its scheduled hearing, by sponsor Senator Bob Wieckowski (D-Fremont).
In a press release, Wieckowski said he pulled the bill "to take additional time to brief other senators and make sure they understand the science in the OEHHA report" given that it had been published only 12 days earlier. The bill, which Lefferts said she sees as a wedge for widespread reformulation of dyed foods in the U.S, is now slated to be heard in January 2022.
Widespread Food Dye Exposure
An example of food dyes. jessica / flickr
The FDA last formally reviewed the issue in 2011, when it concluded that a causal link between children's consumption of synthetic color additives and behavioral effects had not been established. At the time the agency also commissioned an exposure assessment of all seven color additives approved for use in food in the U.S.: FD&C Blue No. 1, Blue No. 2, Green No. 3, Red No. 3, Red No. 40, Yellow No. 5, and Yellow No. 6.
The results of this study, later presented in 2014, revealed that between 2007 and 2010, some dyes were consumed on an almost daily basis by up to 98 percent of 2-to-5-year-olds, 95 percent of teenage boys aged 13-18, and 94 percent of the entire U.S. population aged 2 and up.
"Exposure in children affects attention and behavior across the whole spectrum of the population, and it's a widely distributed exposure," Mark Miller, a public health medical officer with OEHHA and one of 13 authors of the report, told EHN. "Overall it means that the impact is subject to being fairly large."
Mechanistic studies reviewed by Miller and the report's other authors reveal that food dyes may impact behavior through a variety of pathways including neurotransmitters, hormones, and oxidative stress. More research is needed on how dyes are absorbed, distributed, and metabolized in the body, they note.
An FDA spokesperson said that the agency had received and was reviewing the report. "The FDA will continue to engage in the scientific and regulatory review of color additives to evaluate their potential impact on various populations, including children, and act when necessary to ensure that the products marketed to consumers are safe and properly labeled," the statement read.
"Parents who wish to limit synthetic color additives in their children's diet may check the food ingredient list on labels, where they are required to be listed."
Reposted with permission from Environmental Health News.

Spiders remain under-represented across the world's endangered-species conservation plans. karthik photography / Getty Images
By John R. Platt

Spiders need our help, and we may need to overcome our biases and fears to make that happen.
"The feeling that people have towards spiders is not unique," says Marco Isaia, an arachnologist and associate professor at the University of Turin in Italy. "Nightmares, anxieties and fears are very frequent reactions in 'normal' people," he concedes.
Perhaps that's why spiders remain under-represented across the world's endangered-species conservation plans. Average people don't think much about them, relatively few scientists study them, and conservation groups and governments don't act enough to protect them.
That's a major gap in species-protection efforts — one that has wide repercussions. "Efforts in conservation of spiders are particularly meaningful for nature conservation," Isaia points out. Spiders, he says, have enormous ecological value as food for birds and other animals. They're also important to people, both as predators of pest species and as inspiration for medicines and engineering.
And yet they remain neglected.
How bad is the problem? A new paper by Isaia and 18 other experts digs into the conservation status of Europe's 4,154 known spider species and finds that only a few have any protection at the national level. Most have never even been adequately assessed or studied in detail, so we don't know much about their extinction risk or their ecological needs.
Italy, for example, is home to more than 1,700 spider species, but fewer than 450 have had their conservation status assessed and only two have any legal protection in that country.
Greece, meanwhile, has nearly 1,300 spider species within its borders, but scientists have only assessed the conservation needs of 32 of them. None are legally protected.
A jumping spider in Greece. Miltos Gikas / CC BY 2.0
Researchers found the same results — or lack thereof — throughout Europe.

"What surprised us most while assembling the data was the extremely poor level of knowledge about the conservation status, extinction risk and factors threatening the survival of European spider species, despite Europe being one of the most studied regions of the world in terms of biodiversity," says Filippo Milano, the study's lead author and a Ph.D. student in Isaia's research team. "And even when the conservation status of the species was provided, information was often incomplete or out-of-date, resulting in assessments based on poor quality information and high levels of subjectivity."
It's not just individual European nations; the problem is continent-wide. The researchers say just one spider — the endangered Gibraltar funnel-web spider (Macrothele calpeiana) from the Southern Iberian Peninsula — is protected at the European level by the Bern Convention, an international treaty about habitat and species conservation on the continent and some African nations, and European Union Habitats Directive.
Macrothele calpeiana. Gail Hampshire / CC BY 2.0
And of course, this is not unique to Europe; other countries and continents fail to protect arachnids, and for similar reasons.

"Spiders are understudied, underappreciated and under attack by both the climate crisis and humans affecting our environment," says spider expert and science communicator Sebastian Alejandro Echeverri, who was not affiliated with the study. "These are one of the most diverse groups of animals that we don't really think about on a day-to-day basis. There's like 48,000-plus species, but my experience is that most people don't really have a sense of how many are in their area. In the United States, for example, we have just 12 spiders on the endangered species list out of the thousands of species recorded here."
This lack of information or protection at the national level affects international efforts. At the time the research was conducted the IUCN Red List, which includes conservation status assessments for 134,400 species around the world, covered just 301 spider species, eight of which are from Europe. That number has since increased — to all of 318 species from the order Araneae. (And perhaps tellingly, it's worth noting that the Gibraltar funnel-web spider has not currently been assessed for the IUCN Red List.)
The great raft spider (Dolomedes plantarius), listed as vulnerable by the IUCN. Charlie Jackson / CC BY 2.0
The Red List does not grant protections to any species, but it's often used by governments and conservation groups to seek protections on the national or international level.

That dearth of IUCN data seems likely to change, since one of the paper's authors is also the chair of the IUCN Spider and Scorpion Specialist Group, but they have a monumental task ahead of them.
The Web of Borders
As we see with so many other wide-ranging species, a transnational border is often not a spider's friend. The paper identifies several examples of species protected in one country but not its neighbor, despite being found in both places. According to the paper only 17 spider species are protected by conservation legislation in two or more European countries.
"Animals aren't limited by our political lines on a map," notes Echeverri. "You can protect something here, but if that animal's habitat extends past your border and the people next door don't know about it or don't protect its habitat in the same way, it could still be pushed toward extinction even though you're doing your best."
At the same time, cross-border protection can also create problems if legislation is based on out-of-date scientific data. The Gibraltar funnel-web spider — the one species that's listed on the Bern Convention and the EU Habitats Directive — has "protection against all forms of disturbance, capture, keeping, deliberate killing, and damage or destruction of breeding or resting sites," according to the paper. That's essential in its native habitat, but at the same time it's now rapidly spreading through the commercial olive-tree trade and has been spotted in at least four countries outside its range. "As a matter of fact, it seems that the unique spider protected at the European level is considered an alien species in many countries," says Milano.
How Do We Fix This?
Echeverri calls the study "an important call to action." In particular, he points out how it compares different spider assessment and conservation approaches in each country. "This gives people in the IUCN and lawmakers a tool to say, 'hey, this system seems to be working really well, let's take what we can from it that will work great in our country.'"
Isaia notes that they hope this paper spins out a wide-reaching web. "We hope to stimulate environmental government agencies, stakeholders and decision-makers to include spiders in effective conservation strategies and fostering processes that may contribute to the conservation of threatened spider species," he says. Examples, he says, would include "promoting risk assessment procedures for spider species, or including threatened spider species in planning protected areas and biodiversity action plans."
U.S. Fish and Wildlife Service biologist Susan Cameron searches moss mats for the spruce-fir moss spider. G. Peeples / USFWS
But moving forward will require a lot of effort — not to mention some money.
"There's not a lot of funding for naturalists to go out and survey these animals," says Echeverri. "It's this ongoing crisis within science. You don't know a lot about the species, so you don't know who's there. You don't know how many are there. You don't know how they're doing or what habitats they're in, and we need to make our conservation plans based on scientific data. If that data doesn't exist, even if there is a desire to do something for these animals, we can't plan anything because we don't have the fundamentals."
The researchers hope others will take up their mantle to understand and protect spiders. "Highlighting general patterns and identifying the main strengths and weaknesses in biodiversity conservation across Europe is an appropriate starting point to plan achievable solutions focusing on the local context," says Milano. "The same model may be adopted to other geographic regions and may certainly apply to other taxonomic groups."
And maybe, along the way, their work can help inspire people who fear spiders to look at them in a different light — or even to help look for them, like the Map the Spider project that asks citizen scientists to upload locations of the complex webs woven by elusive purse-web spiders.
Who knows, that might even inspire a new generation of arachnologists — a field of scientists who are currently in short supply.
"Focusing on spiders has been a very important choice in my career," Isaia says. "There are those who, like me, see spiders as miracles of the natural evolution. You may study their web, their venom, their bizarre behaviors, the interactions between different species, their role as predators, their amazing taxonomical and functional diversity, their key role in the maintaining ecosystem equilibrium. You may also use them as sources of inspiration in architecture and visual arts. Aren't these good reasons to find them attractive?"
John R. Platt is the editor of The Revelator. An award-winning environmental journalist, his work has appeared in Scientific American, Audubon, Motherboard, and numerous other magazines and publications. His "Extinction Countdown" column has run continuously since 2004 and has covered news and science related to more than 1,000 endangered species. He is a member of the Society of Environmental Journalists and the National Association of Science Writers. John lives on the outskirts of Portland, Ore., where he finds himself surrounded by animals and cartoonists.
Reposted with permission from The Revelator.
A bulldozer moves scrap metal at General Iron Industries in Chicago, Illinois. Raymond Boyd / Michael Ochs Archives / Getty Images
Research Management Group, which acquired the General Iron facility in 2019, is seeking to relocate it from the white and wealthy North Side neighborhood of Lincoln Park to a predominantly Black and Latinx community on the Southeast Side already plagued by numerous polluting industries.
"When you take a company that has a terrible track record from a predominantly white and wealthy community to a community that is majority Latino and Black, then you're sending a strong message that you value certain people over others," Olga Bautista, a member of the Southeast Environmental Task Force, who organized against General Iron's move to the Southeast Side, told WGN.
The delay of the General Iron permit is a major victory for neighborhood and environmental justice groups that fought to protect Southeast Side communities from yet another source of industrial pollution — a campaign that included hunger strikes — but organizers said much more is needed.
"Until we have the right policies in Chicago, we are all getting ready, taking this moment to catch our breaths and getting ready to work with the city to stop any companies trying to move in that don't have our health in mind," Bautista said.
For a deeper dive:

Block Club Chicago, WGN, Chicago Sun-Times, Chicago Tribune, WTTW, WLS-Chicago; Commentary: Crain's Chicago Business, Wesley Epplin, Olga Bautista, and Linda Rae Murray op-ed

For more climate change and clean energy news, you can follow Climate Nexus on Twitter and Facebook, sign up for daily Hot News, and visit their news site, Nexus Media News.
Burning forest in Rondonia in 2020. Fabio Nascimento
Deforestation in the Brazilian Amazon surged during the month of April, ending a streak of three consecutive months where forest clearing had been lower than the prior year. The rise in deforestation came despite a high-profile pledge from Brazilian President Jair Bolsonaro to rein in deforestation in Earth's largest rainforest.
According to preliminary deforestation alert data released Friday by Brazil's national space research institute INPE, deforestation in the Brazilian portion of the Amazon amounted to 581 square kilometers in April, a 43% increase over April 2020 and the highest April tally since 2018.
Soy field in the Rondônia, the Brazilian Amazon. Fabio Nascimento
However, by INPE's count, deforestation is still pacing behind last year's rate: When measured since the start of the "deforestation year" — which begins August 1 — 4,640 square kilometers of rainforest has been lost, a decline of 15% for the nine-month period.
But the trend reported by INPE is not matched by data from Imazon, a Brazilian organization that independently monitors deforestation. Imazon's data shows eight straight months of rising deforestation: Through the end of March, Imazon puts forest loss as 33% above last year's level.
The discrepancies between the systems can generally be chalked up to the different methodologies they use. And both systems generate "preliminary data" which is used primarily for tracking where deforestation is occurring on a near-real-time basis, rather than comprehensively documenting forest loss.
The annual assessment, which uses higher resolution imagery and measures loss between August 1 and July 31, is considered the official baseline. Using that approach, deforestation for the 2019-2020 year amounted to 11,088 square kilometers, the highest on record since 2008.
Deforestation has accelerated sharply since Bolsonaro took office January 1, 2019. Based on deforestation alert data, forest clearing during his administration to date is about 98% higher than the same period of time under his predecessor, and 206% higher than Dilma Rousseff's first 16 months in office.
Reposted with permission from Mongabay.

The Department of Transportation declared a state of emergency for 17 states plus DC on Sunday to help ease fuel shortages. Pramote Polyamate / Getty Images
The largest U.S. fuel pipeline remains shut down following a massive ransomware cyberattack on Friday.
The Colonial Pipeline, described by one analysis as "the jugular of the U.S. pipeline system," carries gasoline, diesel, and jet fuel from Texas to New Jersey and supplies fuel to much of the Southeast.
The attack and shutdown underscore the vulnerability of pipelines to cyber attacks.
The Russian criminal group DarkSide is reportedly behind the attack.
Operators of the Colonial Pipeline said they are in the process of bringing the system back online, but there was no indication of when that would happen from either company officials or outside experts.
Sustained outages could have significant impacts on fuel supplies along the East Coast.
The Department of Transportation declared a state of emergency for 17 states plus DC on Sunday to help ease fuel shortages.
For a deeper dive:

Attack and shutdown: New York Times, Washington Post, AP, NBC, CNN, The Verge, Politico, Axios, Earther, Bloomberg, CBS; Outage duration scenarios: CNBC; Market response: Reuters, NPR; Administration response: Axios, Bloomberg, BBC

For more climate change and clean energy news, you can follow Climate Nexus on Twitter and Facebook, sign up for daily Hot News, and visit their news site, Nexus Media News.
EcoWatch joins Fabien Cousteau to remove marine debris in the Florida Keys and talk about the future of the oceans. Tiffany Duong / Ocean Rebels
Much of what we've been able to learn about the underwater world has built on the legacy of underwater explorer and pioneer Jacques Yves Cousteau. In 1943, Cousteau invented the aqua-lung, which completed his self-contained underwater breathing apparatus (SCUBA). This technology forever changed how humans interact with the blue world and remains the precursor of modern-day scuba diving equipment.
Cousteau's eldest grandson, Fabien, was born to continue his grandfather's legacy. Fabien learned to scuba dive on his fourth birthday and joined his famous grandfather on his legendary ships, the Calypso and Alcyone. Now, the younger Cousteau is following in his grandfather's footsteps and bubbles, taking the ocean exploration and conservation he grew up with and giving it a modern, technology-driven, community-focused revamp.
EcoWatch recently joined Fabien and members of his team at the Fabien Cousteau Ocean Learning Center (FCOLC) on marine debris cleanup dives in the Florida Keys. Funded and organized by the "Goal: Clean Seas Florida Keys" program, the program is a partnership between the Florida Keys National Marine Sanctuary, the National Marine Sanctuary Foundation and Blue Star Diving Operators, who are trained in the best practices for marine debris removal. The community-led collaboration grew out of the devastating aftermath from Hurricane Irma in Sept. 2017, which displaced approximately 154,000 lobster traps, many of which were dragged across sensitive ocean habitats for up to 15 miles. In its first year alone, trained operators helped remove more than 10,000 pounds of marine debris from sanctuary waters. Now in its third year, the program teamed up with locals from the Florida Keys and the FCOLC team to spread ocean awareness and remove traps from local coral reefs.
During a clean-up dive, Fabien Cousteau and Jesus Gudino use lift bags to bring derelict lobster traps up from the seafloor. Tiffany Duong / Ocean Rebels
While helping the environment, EcoWatch took the opportunity to interview aquanaut and ocean conservationist Fabien about all things ocean.
EcoWatch reporter Tiffany Duong (far right) joins Fabien Cousteau and FCOLC members Martín Molina Castellnon and Pamela Fletcher for a marine debris clean-up. Tiffany Duong / Ocean Rebels
Tiffany Duong (EcoWatch): First, how much debris did we take off the reefs today?
Fabien Cousteau: 664.8 pounds — we smashed the old record!
Fabien Cousteau removes rope tangled around a coral reef in the Florida Keys. Tiffany Duong / Ocean Rebels
EW: Why oceans? What's the appeal?
FC: When one has experienced the ocean world, it's impossible to turn your back on it. It's a privilege and a responsibility to share the adventure and the passion with other... And, I love it. I'm addicted to oceans.
EW: What is your favorite thing about the oceans?
FC: The sense of being, the sense of community. The sense of tranquility that it gives. The fact that it gives us everything that we require as well as the things that make us — the intangibles that give us our humanity.
EW: How do you remember your grandfather?

FC: I had the luck of spending the first 30 years of my life with my grandfather around. For years, maybe the first decade and a half, I just saw him as my grandfather. We would see him in family gatherings, whether in the field or at home. He would tell us stories. He would be how I imagine most grandparents are — very interested in their grandchildren and spending time with them. It wasn't until we were in a Japanese restaurant in New York City one day and people kept coming up to our table to interrupt our family time asking for him to sign things that I realized our grandfather wasn't just for us. We were sharing him with the world. And that's when I realized — very naïve of me — what an iconic public figure he was, especially for the ocean world.
Fabien Cousteau is pictured with his pioneering grandfather, Jacques Yves Cousteau. Fabien Cousteau
EW: Why should others care about the oceans?
FC: Without the oceans, we're a brown rock in space like all the others. The oceans set our planet apart and allow us to survive and thrive. We share the planet with all kinds of sentient beings. To envision a better future, we have to live in symbiosis with all of them.
EW: What's the current state of the planet?
FC: We're facing a terminal illness if we don't do something. It's not trite to say that... As a species, we are directly responsible for our very own future. We're the only species that can do that, that can determine its own future. And that's the most fundamentally important thing everyone needs to understand.
Fabien Cousteau is an aquanaut, ocean advocate and conservationist. Carrie Vonderhaar
EW: You're not just taking this sitting down. Tell us about the Fabien Cousteau Ocean Learning Center and what you're trying to do.
FC: The mission is to educate, empower and engage. It's based on a quote my grandpa told me as a kid: People protect what they love, they love what they understand, and they understand what they're taught. The only way we're getting out of this is if we fill the proverbial bucket together one drop at a time — one action at a time. We're all responsible for what we see today, so the solution isn't from one source like myself or an individual doing their best, it's all of us pitching in.
EW: What does that look like for you and FCOLC?
FC: We all need to do our part and invest in ocean protection, conservation and science. Our Nicaragua program is a great example of all three.
(Editorial Note: Per FCLOC Nicaragua Program Manager Pamela Fletcher and Operations Manager Martín Molina Castellnon, the Nicaragua program addressed three phases, and involves mangrove restoration and sea turtle conservation.)
Phase 1 involved the local and indigenous communities in mangrove restoration. As a critical blue carbon sink, mangroves sequester more carbon than any other plant or tree, Fabien noted.
Phase 2 evolved into the current sea turtle conservation project. Nesting beaches of several species are patrolled, and nests are protected from poachers. Eggs are then relocated to guarded hatcheries, and the community and local university students are empowered to create a future in conservation and science.
Phase 3, which has already started, will grow to include the empowerment of local women and girls. In transitioning the conservation program management to them, they take on the responsibility of protecting sea turtles and spreading awareness to their local communities. This builds the foundation for girls to envision a future in conservation and STEM. Girls and women also learn the tools for making conservation a viable business that can sustain them and their families.
Pamela Fletcher: Our biggest success is the shift we're seeing in how [the girls helping with the sea turtle program] value themselves in the community and value protecting these amazing species.
Martín Molina Castellnon: In Nicaragua, these things are all managed by men, and we transitioned them to be women. It's taken off like a rocket. One little girl who's only eight years old has been in the program for two years, and she collects plastics, brings them to school and tells her friends about what's happening in the oceans. She's our future pioneer.
FC: She's a trailblazer.
MMC: Women empowerment has really changed their lives. And, it's made a big difference in the community.
Proteus is a new prototype underwater research station that could revolutionize how research is conducted and what it can uncover. Yves Béhar / Fuseproject
EW: Now, tell me about Proteus.
(Editorial Note: Proteus is a conceptual underwater research station that Fabien hopes will change how underwater research is tackled. It will be the world's largest and most advanced underwater habitat located 60 feet below the surface in Curaçao. The goal is for it to be completely modular and customizable, run by renewable energy and filled with cutting-edge technology.)
FC: This is a very large project. Proteus will be like the International Space Station of the sea. That was by design, and it's meant to give people that image because a lot of science will be coming out of it. Educational components and broadcasting will be for the social good, for the benefit of humanity and the planet. Underwater habitats are the missing tool in underwater exploration. It doesn't take away from ships, ROVs, probes, scuba, etc. — it's something that fills a big gap we currently have.
EW: What gives you hope?
FC: What's exciting to me is that we know so little about the oceans. We've explored only five percent. That's a huge opportunity. But, we also need to understand we're having a huge impact on our oceans, too. We're treating it as a garbage can, but really, it's a closed-loop system that we're banking on. Now, that bank account is going bankrupt, so we need to fill it back up.
EW: Any advice to those reading?
FC: Protect the ocean as if your life depended on it — because it does.
Locals joined Fabien Cousteau and his team from the FCOLC for a marine debris cleanup dive in the Florida Keys. Tiffany Duong / Ocean Rebels
A humpback whale, one of the species affected by the Pacific marine heat wave, breaches in Kenai Fjords National Park in the Gulf of Alaska. Kaitlin Thoreson / National Park Service
By Hannah Thomasy
From 2014 to 2016, the Gulf of Alaska experienced the worst marine heat wave of the decade. From single-celled organisms to top predators, practically no level of the ecosystem was left unscathed. During the Pacific marine heat wave, tens of thousands of dead seabirds washed up on beaches, unusually low numbers of humpback whales arrived in their summer habitats, and toxic algal blooms spread along the West Coast of North America.
Now, a new study in Scientific Reports casts doubt on whether Gulf ecosystems will be able to return to their pre–heat wave conditions. This study—a collaborative effort between researchers at NOAA and several other government and research organizations—combined dozens of data sets to build a detailed picture of how many heat wave–induced changes have persisted. Thanks in part to long-term monitoring efforts by Gulf Watch Alaska, a program established in 2012 to assess the ongoing effects from the 1989 Exxon Valdez oil spill, scientists were able to compare pre–heat wave and present conditions in several different sections of the ecosystem.
"We were able to show these impacts—from the intertidal out to the pelagic [open ocean] ecosystem, and from algae and phytoplankton on up to whales and commercial fisheries, and a lot of different species in between," said Robert Suryan, a NOAA marine biologist and lead author of the study.
Shannon Atkinson, a professor in the College of Fisheries and Ocean Sciences at the University of Alaska Fairbanks who was not involved in this study, said it's very important that we understand the changes taking place in the Gulf of Alaska. "The ecological significance is huge," she said. "We've seen such dramatic changes in the Far North…it really has made Alaska like a ground zero for climate change."
In addition to impacts on the animals that make their homes in the Gulf of Alaska, changes in the Gulf ecosystem could have major implications for the livelihoods of many Alaskans as well. This region supports subsistence fisheries, commercial fisheries, and a major tourism industry.
Changing Ecosystems
For some animals, the heat wave was devastating. Most metrics showed a decline in sea stars, herring, and Pacific cod; their populations today generally remain lower than pre–heat wave measures. Numbers of sea lion pups trended downward, and some areas had fewer nesting seabirds like common murres and kittiwakes.
But, Suryan pointed out, as some species suffered, others thrived. For example, researchers saw a major decrease in the amount of brown algae in the intertidal zone. That's bad news for species like herring, which lay their eggs on the algae. But as algae cover decreased, "that opened up space" for other organisms in the intertidal zone, explained Suryan. "In tidal communities, there's a lot of competition for space, so there was an increase in barnacles and mussels.… So that's a benefit to communities that rely more on those particular species."
Similarly, there have been positive and negative effects on different fisheries in the region. Although the Pacific cod fishery has suffered in the years during and since the heat wave, Suryan said that juvenile sablefish have been surviving and growing at greater rates than usual, so sablefish fisheries will likely do well in the coming years.
As ecosystems change, we as humans need to change how we interact with and manage them, researchers said. "With these types of studies, we're hopeful that we can really benefit the management of natural resources," said Suryan. "[We're] thinking about the communities in the region and the industries in the region—how can we help inform their adaptation to this change?"
An Uncertain Future
This study is just the beginning. Suryan looks forward to more focused research on the mechanisms by which these changes are occurring. Why do some species do better than others? Even within the same species, why do some age groups thrive while others decline? By understanding such mechanisms, he said, we will be better able to predict how the changing climate will affect the future of these important ecosystems.
In addition to measuring the number of animals in the population, Atkinson said that measuring things like reproductive rates and biomarkers of stress can also be valuable indicators of how well a group of animals is faring in a changing environment.
Unfortunately, climate change may not be the only threat these animals face. Atkinson said it's important to determine how animals will respond to cumulative stressors (including climate change, disease, and pollution) to predict how well populations will survive in the coming years.
This story originally appeared in Eos and is republished here as part of Covering Climate Now, a global journalism collaboration strengthening coverage of the climate story.
From Your Site Articles
Related Articles Around the Web
Fire in one part of a community can contaminate the water system used by other residents, as Santa Rosa, California, discovered after the Tubbs Fire.
Justin Sullivan / Getty Images
By Andrew J. Whelton
More than 58,000 fires scorched the United States last year, and 2021 is on track to be even drier. What many people don't realize is that these wildfires can do lasting damage beyond the reach of the flames – they can contaminate entire drinking water systems with carcinogens that last for months after the blaze. That water flows to homes, contaminating the plumbing, too.

Over the past four years, wildfires have contaminated drinking water distribution networks and building plumbing for more than 240,000 people.
Small water systems serving housing developments, mobile home parks, businesses and small towns have been particularly hard-hit. Most didn't realize their water was unsafe until weeks to months after the fire.
The problem starts when wildfire smoke gets into the system or plastic in water systems heats up. Heating can cause plastics to release harmful chemicals, like benzene, which can contaminate drinking water and permeate the system.
As an environmental engineer, I and my colleagues work with communities recovering from wildfires and other natural disasters. Last year, at least seven water systems were found to be contaminated, suggesting drinking water contamination may be a more widespread problem than people realize.
Our new study identifies critical issues that households and businesses should consider after a wildfire. Failing to address them can harm people's health – mental, physical and financial.
Wildfires Make Drinking Water Unsafe
When wildfires damage water distribution pipes, wells and the plumbing in homes and other buildings, they can create immediate health risks. A building's plumbing can become contaminated by smoke getting sucked into water systems, by heat damaging plastic pipes – or contamination penetrating into the plumbing and leaching out slowly over time.
Since 2017, multiple fires have rendered drinking water systems unsafe, including the Echo Mountain, Lionshead and Almeda fires in Oregon, and the CZU Lightning Complex, Camp and Tubbs fires in California. Thousands of private wells have been affected too.
Being exposed to contaminated water can cause immediate harm, such as headaches, nausea, dizziness and vomiting. Short-term exposure to 26 parts per billion or more of benzene, a carcinogen, may cause a decrease in white blood cells that protect the body from infectious disease. Multiple fires have caused drinking water to exceed this level. A variety of other chemicals can exceed safe drinking water exposure limits too in the absence of benzene.
Households Are Not Being Adequately Warned
In a survey of 233 households affected by water contamination, we found people reported high levels of anxiety and stress linked to the water problems. Nearly half had installed in-home water treatment because of uncertainty about the water. Eighty-five percent had looked for other water sources, such as bottled water.
In some cases, we found that advice from government agencies placed households at greater risk of harm. It has sometimes left people exposed to chemicals, caused them to needlessly spend money and given them a false sense of security. Certified in-home water treatment devices, for example, are tested only to bring down 15 parts per billion of benzene to less than 5 parts per billion, the federal standard. These devices are not tested to treat hazardous waste-scale contaminated water that's been found after wildfires.
Following the 2020 CZU Lightning Complex Fire near Santa Cruz, California, a local health department correctly warned private well owners not to use their water and to test it, but a nearby damaged water system and the state did not warn 17,000 people against bathing in the contaminated water. It was only after test results proved the water had been unsafe all along that the system owner and state advised against bathing in it.
In Oregon, some damaged systems encouraged people to boil their drinking water, later finding that the water had benzene in it.
After the 2018 Camp Fire that devastated Paradise, California, the local health department correctly warned the entire county not to use or try to treat the drinking water, which had contamination above EPA's hazardous waste limit. But one water system and the state encouraged 13,000 people to try to treat it themselves.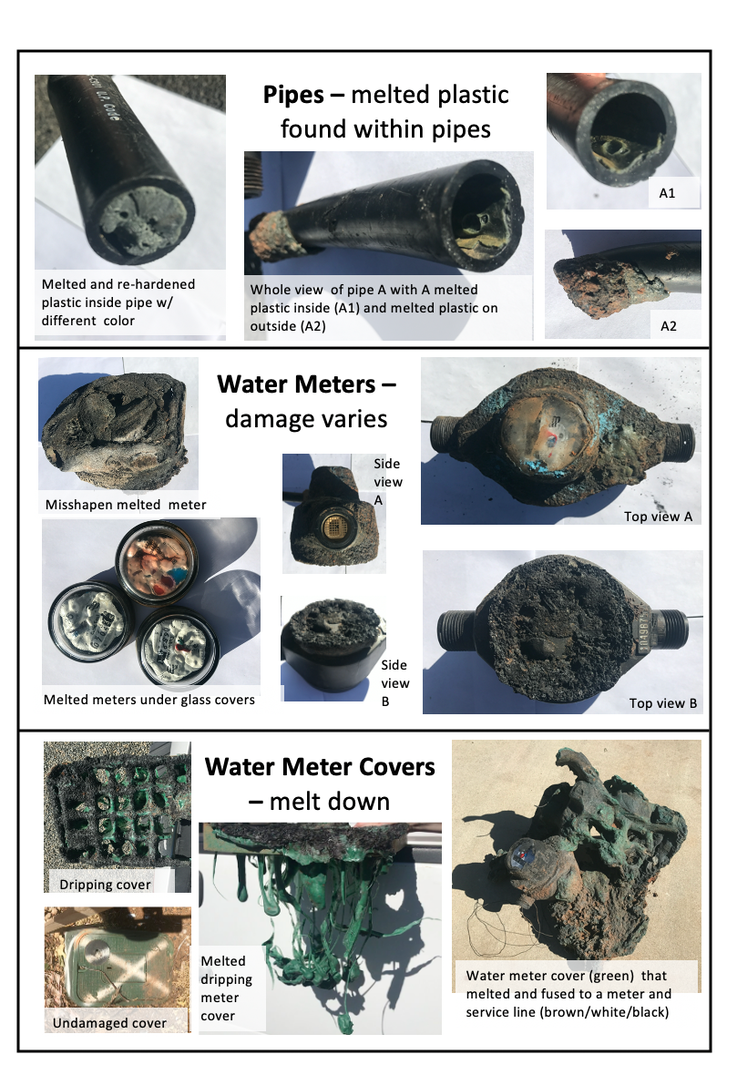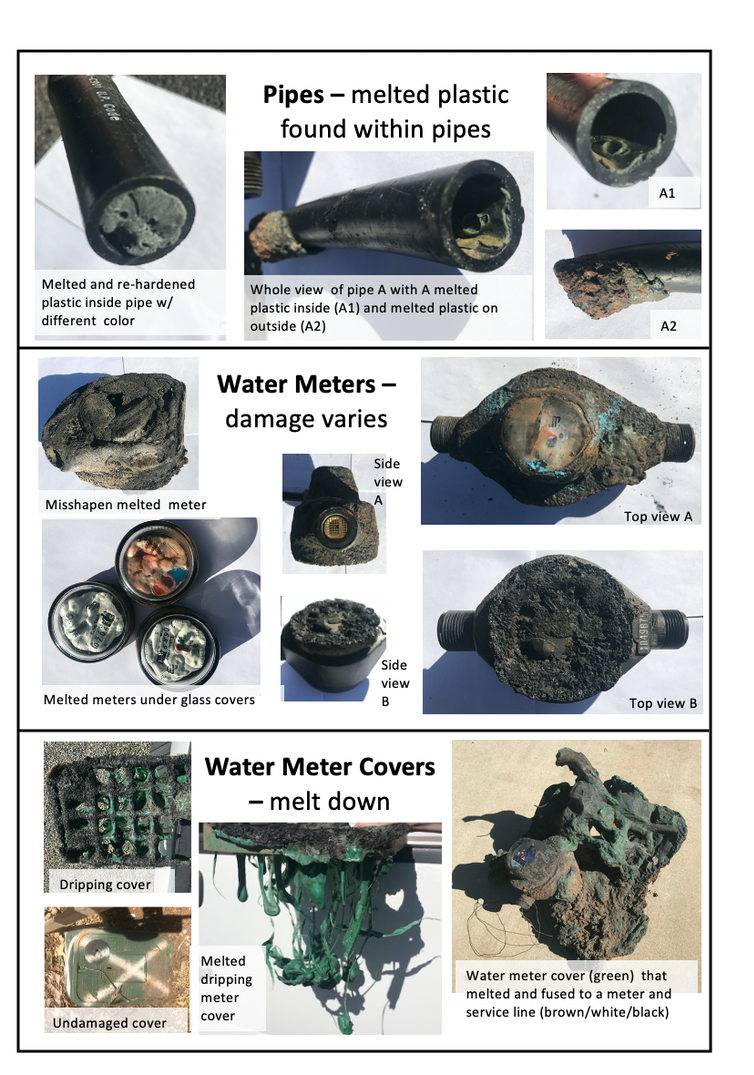 In all of these cases, the U.S. Environmental Protection Agency chose not to compel water utilities to explicitly notify customers about the water contamination and its risk.
Communities have received other bad information:
Commercial labs and government officials recommended flushing faucets for 5 to 15 minutes before collecting a water sample, thereby dumping out the contaminated plumbing water meant for testing.
Homeowners were led to believe a single cold water sample at the kitchen sink would determine if the hot water system and property service line was contaminated. It cannot.
People were led to believe that benzene water testing would determine if any other chemicals were present above safe limits. This is not possible.
What to look for after a nearby fire
Signs of potential contamination after a nearby wildfire could be loss of water pressure, discolored water, heat damage to water systems inside and outside buildings, and broken and leaking pipes, valves and hydrants.
Drinking water should be assumed to be chemically unsafe until proven otherwise.
Once a system is contaminated, cleanup can take months. The water system will have to be flushed and tested regularly to track down contamination. Health departments should also issue guidance on how to test private wells and plumbing.
When testing plumbing, include the property service line as well as the hot and cold water lines. Before collecting a water sample, the water must sit long enough in the plumbing so contamination can be found – 72 hours was the Tubbs Fire and Camp Fire standard. Tests should look for more than benzene.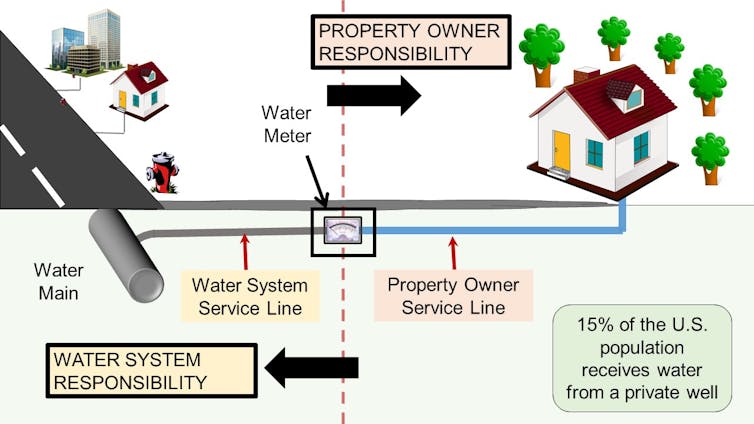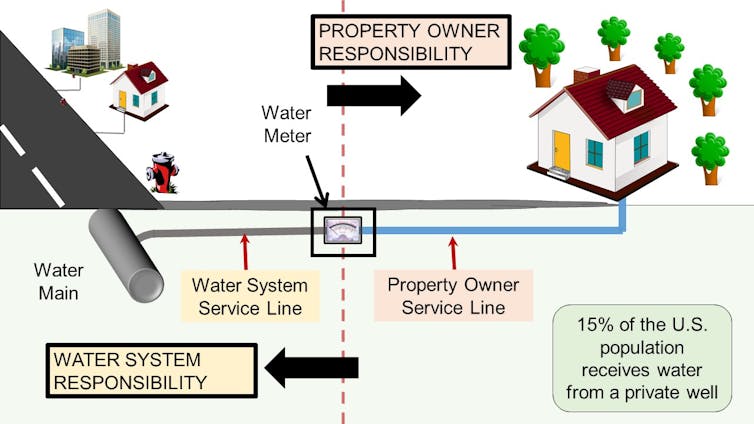 Who can help?
Many of the critical public health risks identified in our new study can be addressed by public health departments with financial support from state and local agencies.
Public health departments often have experience responding to water problems, such as legionella outbreaks, and can provide technical advice about both chemical exposures, building plumbing and private drinking water wells.
Andrew J. Whelton, Associate Professor of Civil, Environmental & Ecological Engineering, Director of the Healthy Plumbing Consortium and Center for Plumbing Safety, Purdue University

Disclosure statement: Andrew J. Whelton received funding from the U.S. National Science Foundation, Paradise Irrigation District, U.S. Environmental Protection Agency, Paradise Rotary Foundation, and Water Research Foundation.
Reposted with permission from The Conversation.
The new greenhouse will accelerate Lufa's mission to grow food. Lufa
By Sean Fleming
The world's largest rooftop greenhouse is in Montreal, Canada.
It measures more than 15,000m2 and produces more than 11,000kg of food per week.
The company behind it had to hire 200 new employees due to pandemic-driven demand.
Can you grow enough produce for an entire city in rooftop greenhouses? Two entrepreneurs in Montreal, Canada, believe it might be possible.
Lauren Rathmell and Mohamed Hage cofounded Lufa in 2009. The company has four urban gardens in the Canadian city, all in rooftop greenhouses. Lufa's most recent sits on top of a former warehouse and measures more than 15,000m2 – larger than the other three greenhouses combined. Its main crops are tomatoes and aubergines, producing more than 11,000kg of food per week. It is, the company says, the largest rooftop greenhouse in the world.
An Ambitious Goal
​Rathmell says the new greenhouse will accelerate Lufa's mission to grow food where people live and help it to meet an "ever-growing demand for fresh, local, and responsible foods".
The company – which says it's not trying to replace local farms and food makers, acknowledging that not everything can be grown on rooftops – follows what it calls 'responsible agriculture' practices. These include capturing and recirculating rainwater, energy-saving glass panels, and an absence of synthetic pesticides. Any waste is composted and reused, and food is sold directly to customers on the day it is harvested. Lufa also has a fleet of electric vehicles to make those deliveries.
"Our objective at Lufa is to get to the point where we're feeding everyone in the city," Hage said in an interview in Fortune. Lufa's fifth greenhouse is due to open later in 2021.
At the moment, Lufa grows food for around 2% of the city's population. While that might sound like a modest proportion, interest in urban agriculture is on the rise. Presently, agriculture in urban areas tends to be more common in developing countries. But the UN Food and Agriculture Organization (FAO) favors an increase in urban agriculture, saying it can have "important benefits for food security."
Urban farming is often more common among poorer members of society. UN FAO
A Growing Global Trend
Lufa produces more than 11,000kg of food per week, including tomatoes and aubergines. Lufa
Urban agriculture has been taking off in other parts of the world in recent years, too – from shipping containers in Brooklyn, New York City, to allotments in unused spaces in Brussels, Belgium.
And at 14,000 m2, there's Nature Urbaine in Paris – which claims to be the world's largest urban rooftop farm. Nature Urbaine rents out growing space to Parisians who want to grow their own crops. Tenant farmers pay around $450 per year per 1m2 sized plot. They get a welcome pack with everything they need to start growing, as well as regular access to the Nature Urbine gardening team who are on hand to offer advice and support.
Lufa's first greenhouse was opened in 2011, in Montreal's Ahuntsic-Cartierville borough, to grow herbs, microgreens, cucumbers and peppers. Two more were added in 2013 and 2017, with the fourth joining last year. It sits on top of a former Sears warehouse in the Saint-Laurent area of the city.
In addition to its own produce, Lufa also sells a selection of other locally made or grown food, including bread, cheese and drinks to its customers. Rising demand for its service, in the wake of the pandemic, led to the company hiring an additional 200 people, and partnering with 35 new farmers and food makers.
Lufa
Reposted with permission from the World Economic Forum.
Environmental activists carry a large snake pipeline as they protest against the Enbridge Line 3 oil pipeline on May 7, 2021 in Washington, DC. Drew Angerer / Getty Images
By Jessica Corbett
From fake oil spills in Washington, D.C. and New York City to a "people mural" in Seattle spelling out "Defund Line 3," climate and Indigenous protesters in 50 U.S. cities and across seven other countries spanning four continents took to the streets on Friday for a day of action pushing 20 banks to ditch the controversial tar sands pipeline.
"Against the backdrop of rising climate chaos, the continued bankrolling of Line 3 and similar oil and gas infrastructure worldwide is fueling gross and systemic violations of human rights and Indigenous peoples' rights at a global scale," said Carroll Muffett, president of the Center for International Environmental Law.
"It's time for the big banks to recognize that they can and will be held accountable for their complicity in those violations," Muffett added. His organization is part of the Stop the Money Pipeline coalition, more than 150 groups that urge asset managers, banks, and insurers to stop funding climate destruction.