This website uses cookies to ensure you get the best experience while browsing it. By clicking 'Got It' you're accepting these terms.
9 Ways to Use the 'Swiss Army Knife' of Essential Oils
Aug. 12, 2014 08:27AM EST
A friend of mine calls lavender the "Swiss Army Knife" of essential oils because you can use it in so many ways. I prefer to think of it as the perfect way to start and end my day. From fresh lavender bouquets to dried lavender petals to essence of lavender oil, Mother Nature has created a seemingly endless way to incorporate this delicate plant into our lives. Here are some of my favorites.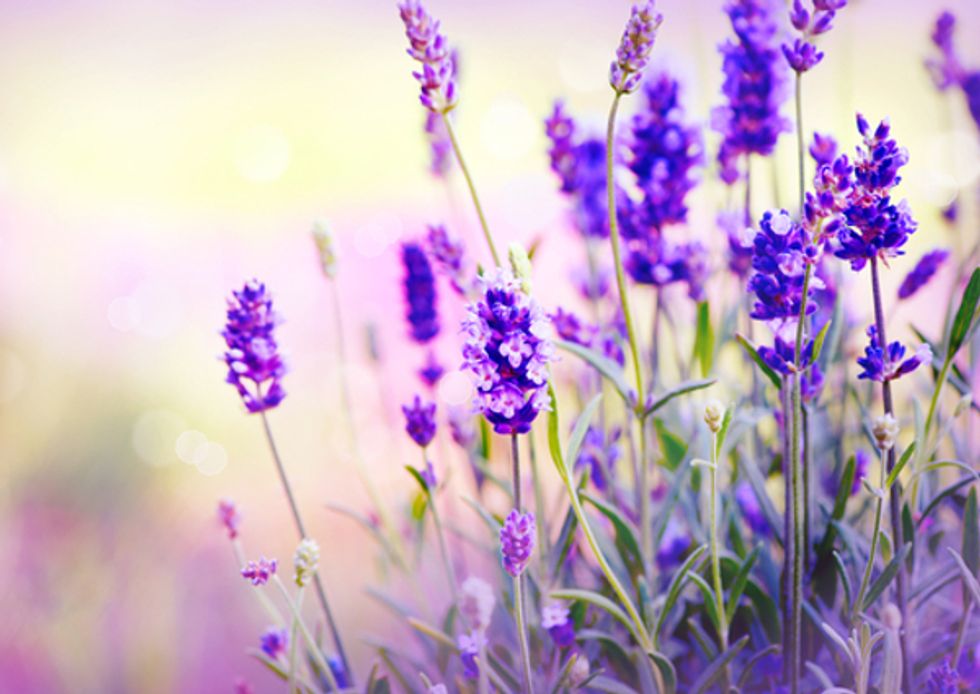 Add lavender oil to ointment you use to relieve aches and pains. Photo courtesy of Shutterstock
1. Mosquito Repellent – Add 10-12 drops of essence of lavender oil to an 8oz spritzer bottle filled with water, and spray.
2. Perfume – Dab a drop of lavender oil behind each ear, on the inside of each wrist and on the nape of your neck. You don't want the scent to be overpowering, just present enough to smell special.
3. Bath Oil – Add several drops of lavender oil to a warm bath. Soak, and relax. I like to add the oil right under the running water to diffuse the scent a bit more. If you don't have oil at hand, you'll easily be able to find lavender-infused soap.
4. Laundry Freshener – Put a few drops of lavender oil on a towel and then toss the towel in with other laundry to dry. What a natural way to skip dryer sheets.
5. Reduce Swelling and Sore Muscles – Add lavender oil to ointment you use to relieve aches and pains. Some moms I know dab a little lavender oil on swollen lips.
6. Deodorant – My favorite deodorants are baking soda-based, then infused with lavender oil.
7. Bouquets – Fill small vases with fresh sprigs of deep purple lavender in bloom to add texture and cheer to any room. Dry bouquets of lavender flowers and leaves, then add them to other dried blooms and thistles for a dried arrangement full of color and texture.
8. Overall Aromatherapy – Dry lavender flowers, then mound them in a small bowl or basket in your bathroom, laundry room or bedroom. Every now and then, crumple the flowers a bit to release their wonderful smell. You can also fill small mesh bags with dried lavender and tuck them in your sock drawers or among your lingerie, or let them dangle off the head rest facing the back seat in your car. Put diffuser sticks in small bottles of lavender oil to let the scent infuse living room, family room or office. Sprinkle a few scant drops on your pillowcase for greater ease in drifting off to sleep. Choose lavender-scented soy candles.
9. Tea and Chocolate – Lavender is showing up in tea, chocolate, cookies, mints and more.
What's your favorite use for lavender?
You Might Also Like
3 Herbal Recipes for Beautiful Hair
Make Your Own Exfoliating Scrubs Instead of Using Products With Plastic Microbeads
EcoWatch Daily Newsletter
We need our government to do everything it can to stop PFAS contamination and exposure from wreaking havoc in communities across the country. LuAnn Hun /
Unsplash
By Genna Reed
The EPA announced last week that it is issuing a preliminary regulatory determination for public comment to set an enforceable drinking water standard to two of the most common and well-studied PFAS, PFOA and PFOS.
This decision is based on three criteria:
PFOA and PFOS have an adverse effect on public health
PFOA and PFOS occur in drinking water often enough and at levels of public health concern;
regulation of PFOA and PFOS is a meaningful opportunity for reducing the health risk to those served by public water systems.
Charging EVs in Stockholm: But where does a dead battery go? Ranjithsiji / Wikimedia Commons
By Kieran Cooke
Driving an electric-powered vehicle (EV) rather than one reliant on fossil fuels is a key way to tackle climate change and improve air quality — but it does leave the old batteries behind as a nasty residue.
U.S. Secretary of the Treasure Steven Mnuchin arrives for a welcome dinner at the Murabba Palace in Riyadh, Saudi Arabia on Feb. 22, 2020 during the G20 finance ministers and central bank governors meeting. FAYEZ NURELDINE / AFP via Getty Images
Finance ministers from the 20 largest economies agreed to add a scant mention of the climate crisis in its final communiqué in Riyadh, Saudi Arabia on Sunday, but they stopped short of calling it a major economic risk, as Reuters reported. It was the first time the G20 has mentioned the climate crisis in its final communiqué since Donald Trump became president in 2017.
Aerial view of Parque da Cachoeira, which suffered the January 2019 dam collapse, in Brumadinho, state of Minas Gerais, Brazil — one of the country's worst industrial accidents that left 270 people dead. Millions of tons of toxic mining waste engulfed houses, farms and waterways, devastating the mineral-rich region. DOUGLAS MAGNO / AFP / Getty Images
Participants of the climate demonstration Fridays for Future walk through Hamburg, Germany on Feb. 21, 2020. Axel Heimken / picture alliance via Getty Images