9 Ways to Cut Out Plastic
Plastic is piling up everywhere. It disintegrates into tiny pieces that wash into rivers, lakes and seas, along with those tiny microbeads that come in many body washes and facial scrubs. There are huge gyres of plastic debris in the oceans with tens of thousands of tons of plastic. Plastic bags end up in the stomachs or birds, fish and other wild creatures, and plastic bottles and food containers end up in landfills where they can remain for hundreds of years.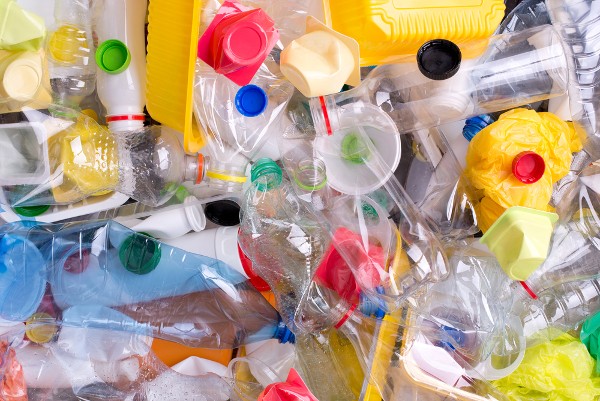 Photo credit: Shutterstock<!--

But more cities and counties including the state of California are banning those single-use plastic bags so many stores give away like they were candy. And more consumers are becoming conscious of what they can do to avoid adding to the problem. You are probably already doing some of these things; think about doing a few more.
1. Even if the store tries to give you those one-use bags, don't take them. In the last few years, reusable tote bags have caught on in a big way. Countless stores now sell them cheaply—usually 99 cents, in case you forgot one of the many you got as a promotional item at an event, meeting or conference. You can find totes that scrunch up into packages half the size of your hand and slip easily into a pocket or purse when they're not in use. But if you do forget your tote and the store doesn't have any for sale, don't let them bag your stuff with only one or two items per bag.
2. Everywhere you go it seems like someone is passing out bottled water, another big waste-maker. Take along a reusable water bottle to that meeting or seminar and avoid picking up yet another bottle of water. And don't buy those cases of individual water bottles for your home. If you like to have spring water or distilled water on hand, many stores sell gallon jugs that can be refilled.
3. Bring a thermos to your favorite coffee shop or that sandwich joint where you like to have lunch, and pass on the styrofoam cup, as well as the one-use lid and the plastic straw. Ask to have the sandwich in paper if possible, or if you're eating in, ask to have it unwrapped.
4. If you find yourself with plastic containers on hand, recycle. Use them for craft projects like you did back in Girl Scouts or make planters for seed-starting or growing herbs or sprouts. If you're not artsy or don't have a green thumb, give them to a local arts organization or scout troop which can put them to use. Everyone's pushing recycled art these days so they'll be glad to have them.
5. At the grocery store, look for foods with a minimum of packaging. As much as possible, avoid prepackaged foods wrapped in layers of plastic. And if you shop regularly at a farmers market or farm stand, bring back whatever you took got your purchases in. These small entrepreneurs can usually reuse those apple and berry baskets, egg crates and other containers.
6. Buy products like cleaning supplies and cat litter in cardboard containers instead of plastic if possible. And speaking of cat litter, those plastic jugs can really pile up—but some pet stores now offer refillable cat litter containers. Considering how many the average cat owner goes through, this is a great way to cut down on plastic waste. Your cat will never know the difference.
7. Throwing a party? Don't buy a lot of plastic cups and silverware and then throw it all away when the guests leave. Use glass and silverware—or if you don't have enough silverware and you're worried guests will break a glass, wash and reuse the plastic. Don't think "disposable."
8. Make sure your cosmetics, including your toothpaste, don't have those microbeads that have found their way into our lakes, rivers and oceans. More and more brands are phasing them out; look for those environmentally friendly brands.
9. Alas, today's electronic devices—and all the plastic casing they contain—are meant to be disposable rather than repairable. Try getting a little longer life from each; don't think you need the latest and most feature-laden gadget. And if something can't be fixed for less than it would cost to buy new—sadly, too often the case—don't just toss it in the trash. Look for a facility that accepts old electronic items for recycling.
YOU MIGHT ALSO LIKE
World's Largest Plastic Bottle Structure Draws Attention to Global Plastic Pollution Crisis
22 Facts About Plastic Pollution (And 10 Things We Can Do About It)
First-of-its-Kind Map Details Extent of Plastic in Five Ocean Gyres
Monsanto, the maker of the glyphosate-based herbicide Roundup, filed a motion June 16 in U.S. District Court, Northern District of California to reconsider the chemical's addition to California's Proposition 65 list of agents known to cause cancer.
The agrochemical giant made this move based on a June 14 Reuters investigation of Dr. Aaron Blair, a lead researcher on the World Health Organization's International Agency for Research on Cancer (IARC) committee, that classified glyphosate as a "2A probable human carcinogen" in March 2015.
Keep reading...
Show less
By Avery Friedman
Algae is often considered a nuisance, but for Sweden, the rapidly growing sea plant is now an asset.
As the Scandinavian country works to cut all of its greenhouse gas emissions by 2045, it's using algae to sop up the carbon emissions from cement.
Keep reading...
Show less
Jun. 24, 2017 01:35PM EST
By Itai Vardi
A recent intensification in protests against Williams Partners' planned Atlantic Sunrise pipeline in Pennsylvania prompted a state senator to propose legislation aimed at limiting demonstrations.
Last month, Pennsylvania Sen. Scott Martin (R-Norman) announced his intention to introduce legislation that would pass the costs of law enforcement responding to protests onto the demonstrators. Martin also helped introduce a different bill that would criminalize protests at natural gas facilities.
Keep reading...
Show less
Jun. 24, 2017 01:29PM EST
Black Shogun / iStock
The Federal Energy Regulatory Commission (FERC) released its Final Environmental Impact Statement Friday for the Mountain Valley Pipeline, a controversial 303-mile pipeline that would carry two billion cubic feet of fracked gas per day from West Virginia through Virginia.
Keep reading...
Show less
Jun. 24, 2017 01:46PM EST
Falcon PEV
The so-called "first and last mile" problem is one of the biggest hurdles with public transportation. How do you encourage more people to take Earth-friendlier commutes when their homes are miles away from the train or bus station?
One solution, as this Estonian electric scooter company proposes, is to simply take your commute with you—literally. Tallinn-based Stigo has developed a compact e-scooter that folds to the size of a rolling suitcase in about two seconds.
Keep reading...
Show less
Jun. 24, 2017 05:12PM EST
Connect4Climate
[Editor's note: I'm still in shock after hearing the news that Lucia Grenna passed away in her sleep last week. When we first met in April of 2014 at a Copenhagen hotel, I was immediately taken by here powerful presence. We spent the next couple days participating in a Sustainia climate change event where Lucia presented her audacious plans to connect people to the climate issue. I had the chance to partner with Lucia on several other projects throughout the years and work with her incredible Connect4Climate team. I was always in awe of her ability to "make the impossible possible." Her spirit will live on forever. — Stefanie Spear]
It is with a heavy heart that Connect4Climate announces the passing of its founder and leading light, Lucia Grenna. Lucia passed peacefully in her sleep on June 15, well before her time. We remember her for her leadership and extraordinary ability to motivate people to take on some of the greatest challenges of our time, not least climate change.
Keep reading...
Show less
Jun. 23, 2017 07:29PM EST
Wikimedia Commons
By Stacy Malkan
Neil deGrasse Tyson has inspired millions of people to care about science and imagine themselves as participants in the scientific process. What a hopeful sign it is to see young girls wearing t-shirts emblazoned with the words, "Forget princess, I want to be an astrophysicist."
Keep reading...
Show less
Jun. 23, 2017 01:57PM EST
www.youtube.com
By Andy Rowell
Any day now we will truly witness climate change in action. Within days at worst, maybe weeks at best, scientists predict that a huge section of the Larsen C ice shelf in Antarctica will break off into the ocean, in what is called a major "carving" event.
Keep reading...
Show less
Jun. 23, 2017 02:27PM EST
www.youtube.com
President Trump visited Cedar Rapids, Iowa on June 21 to speak to a large crowd in the U.S. Cellular Center at a political rally organized by his campaign.
As Trevor Noah noted during The Daily Show episode last night (starts at 2:25), the real reason Trump has these rallies is to "get back in front of his loyal crowds and feed of their energy." Noah believes that "Trump supporters are so on board with their dude he can say anything and they'll come along for the ride."
Keep reading...
Show less