9 Reasons You Should Eat Cabbage
If you want beautiful glowing skin, and an immune system powerful enough to fight off just about anything, don't forget this highly nutritious but common vegetable.
Cabbage is powerful. Ancient healers declared it contained moon power because it grew in the moonlight. Modern nutritional science understands its power comes from its high sulfur and vitamin C content. Either way—it's worth adding this powerfood to your weekly diet.
Here are 9 Health Benefits of Cabbage:
1. Ideal for weight loss.
There are only 33 calories in a cup of cooked cabbage, and it is low in fat and high in fiber. It is definitely a smart carb.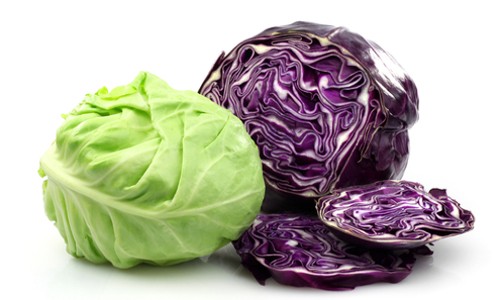 Photo courtesy of Shutterstock
2. It is a brain food.
It is full of vitamin K and anthocyanins that help with mental function and concentration. These nutrients also prevent nerve damage, improving your defense against Alzheimer's disease and dementia. Red cabbage has the highest amount of these power nutrients.
3. High in sulfur, the beautifying mineral.
Cabbage helps dry up oily and acne skin. Internally sulfur is essential for keratin, a protein substance necessary for healthy hair, nails and skin. Check out this homemade cabbage face mask.

4. Helps detoxify the body.
The high content of vitamin C and sulphur in cabbage removes toxins (free radicals and uric acid), which are the main causes of arthritis, skin diseases, rheumatism and gout.

5. Has well-known cancer preventative compounds.
The compounds, lupeol, sinigrin and sulforaphane, stimulate enzyme activity and inhibit the growth of cancer tumors. A study on women showed a reduction in breast cancer when cruciferous vegetables like cabbage were added to their diet.

6. Helps keep blood pressure from getting high.
The high potassium content helps by opening up blood vessels, easing the flow of blood.

7. Cabbage for headaches.
A warm compress made with cabbage leaves can help relieve the pain of a headache. Crush cabbage leaves, place in a cloth and apply on the forehead. Also, drink raw cabbage juice, 1-2 oz. (25-50ml) daily for chronic headaches.
8. Hangover relief.
Hangovers from heavy drinking have been reduced by using cabbage, since Roman times.
9. Anti-inflammatory and blood sugar regulator.
The natural red pigments of red cabbage (betalains) is said to lower blood sugar levels and boost insulin production. Of course it has no white sugars and very few simple sugars. Betalains have powerful anti-inflammatory properties just like beets.
Visit EcoWatch's HEALTH
page for more related news on this topic.

Bill Maher is sick of billionaires' obsession with Mars, more like "Mars-a-Lago," he said.
In a new animation produced by ATTN:, the popular talk show host of Real Time, discusses the perils of our planet, including how "climate change is killing us."
Keep reading...
Show less
Dr. Benjamin D. Santer, research scientist
A group of prominent climate scientists have written a study explicitly refuting statements made by the U.S. Environmental Protection Agency Administrator Scott Pruitt on climate data. During his Senate confirmation hearing, Pruitt claimed in a written response that satellite data shows a "leveling off" of warming over the past two decades.
Keep reading...
Show less
By David Pomerantz
The Nevada Assembly passed a bill Wednesday that would dramatically increase the growth of renewable energy in the state, but Sheldon Adelson, the casino magnate and major donor to Donald Trump, is attempting to prevent the bill from becoming law.
Keep reading...
Show less
Matt Crossick
By Yosola Olorunshola
Whether it's through fashion or protest, Vivienne Westwood is not a woman afraid of making a statement.
On May 23, she rocked up to the residence of the Archbishop of Canterbury in London with a special guest—the Grim Reaper—to issue a strong statement on the Church of England's position on fracking.
Keep reading...
Show less
By Paul Brown
The food industry and big agricultural concerns are driving climate change and at the same time threatening to undermine efforts to feed the world's growing population, according to GRAIN, an organization that supports small farmers.
Particularly singled out for criticism are the large chemical fertilizer producers that have gained access to the United Nations talks on climate change. GRAIN accuses them of behaving like the fossil fuel companies did in the 1990s, pushing false information in the hope of delaying real action on climate change.
Keep reading...
Show less
By Sydney Robinson
President Trump has no doubt been given a long list of extravagant, elaborate gifts in his lifetime, but the gift given to him today by Pope Francis may not make it on his most favorite list.
Keep reading...
Show less
By John Rogers
Maybe it's because I first started working on clean energy while serving in the Peace Corps he founded, or maybe it's my years of working on these issues from his home state. But I can't help thinking about the 100th anniversary of John F. Kennedy's birth, and connecting his stirring rhetoric to the energy challenges of our times.
Here's what our 35th president might have said about the challenges of energy transition and the opportunities in clean energy:
"Change is the law of life. And those who look only to the past or present are certain to miss the future."
Keep reading...
Show less
May. 24, 2017 01:47PM EST
Keep reading...
Show less


Get EcoWatch in your inbox