This website uses cookies to ensure you get the best experience while browsing it. By clicking 'Got It' you're accepting these terms.


The best of EcoWatch, right in your inbox. Sign up for our email newsletter!
9 Reasons to Optimize Your Vitamin D Levels For a Longer and Healthier Life
Jan. 12, 2015 01:28PM EST
Health + Wellness
By Kris Gunnars
Vitamin D is more than just a vitamin. It functions as a steroid hormone in the body. If you get little sun throughout the year, stay inside a lot or use sunscreen, then Vitamin D supplementation is something to consider. A deficiency is extremely common in western countries and may have disastrous consequences over the long term.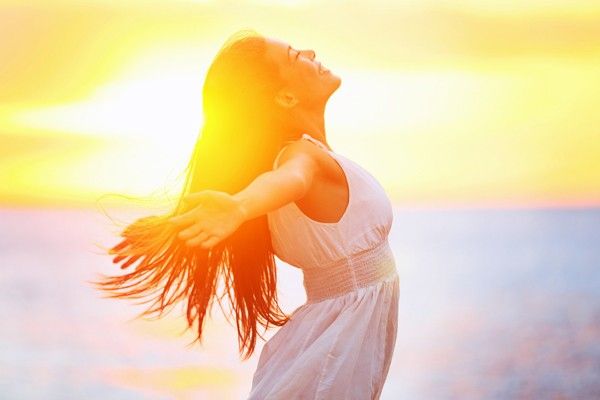 Photo credit: Shutterstock
Here are nine reasons to get your Vitamin D levels checked and start supplementing if need be:
1. It's Hard to Get Enough From The Diet
When rays from the sun land on the skin, Vitamin D3 is produced from cholesterol. Historically, this used to be the main source of Vitamin D for humans. Today, however … as people use more and more sunscreen and avoid the sun, or live where there is no useful sun, a deficiency is extremely common.
There are two main forms of dietary Vitamin D:
Vitamin D3—Cholecalciferol—the animal form.
Vitamin D2—Ergocalciferol—the plant form.
The animal form (D3) increases blood levels much more effectively than D2. Unfortunately, there is only one decent source of D3 in the diet. A tablespoon of cod fish liver oil supplies 1350 International Units (IU), about double the Recommended Daily Allowance (RDA).
Other half-decent sources include fatty fish and foods that have Vitamin D added (such as fortified milk), but you would have to eat a lot of these foods to cover your needs. Of course, if you have the option (I don't because I live in Iceland), then getting some more sun while making sure to never, ever burn is probably the healthiest and most natural choice.
2. May Reduce Risk of Death
Two separate meta-analysis of randomized controlled trials have revealed that supplementing with Vitamin D may reduce total mortality by about six to seven percent. This basically means that if you're getting enough Vitamin D from sun or diet, then you're slightly less likely to die over a certain period of time.
3. May Reduce Cancer of All Causes
There are many different kinds of cancer, which is characterized by uncontrolled growth of cells in the body. Vitamin D is a steroid hormone which can act as a transcription factor, traveling into the nuclei of cells to turn genes on or off. There is a fair amount of evidence to suggest that a deficiency is associated with increased risk of several types of cancer.
In a four year randomized controlled trial in 1,179 healthy post-menopausal women, 1,100 IU of Vitamin D3 (along with calcium) reduced the risk of developing cancer of all causes by 60 percent. A pretty significant finding, given that cancer is one of the nastiest and most common causes of death. We'll need some more clinical trials to confirm this though. However, there are also multiple epidemiological studies (which are observational, so they don't prove anything) that show an inverse relationship for Vitamin D levels and cancer.
4. Cardiovascular Disease
Cardiovascular disease is the number one killer worldwide … the most common cause of premature death. Several epidemiological studies (again, don't prove anything) suggest that low Vitamin D levels may lead to elevated risk factors and increased risk of heart attacks, but controlled trials have so far been inconclusive.
5. Reduces Incidence of Type I Diabetes in Children
Type I diabetes is an autoimmune disorder caused by the immune system attacking the insulin-generating beta cells of the pancreas. This disease is usually diagnosed at a young age and used to be fatal before the discovery of insulin.
A cohort of 10,921 infants, followed since the day of birth, revealed that those who supplemented with 2,000 IU per day of Vitamin D had a 78 percent lower risk of developing Type I Diabetes.
A meta-analysis of epidemiological studies has confirmed this finding, showing a reduction in risk of 39 percent and the potential for a dose-response relationship. Additionally, there's a lot of data linking Vitamin D supplementation to a reduced risk of type II diabetes in adults (17).
6. Reduces Falls and Fractures in The Elderly
The elderly are at particularly high risk of deficiency, partly because they don't get as much sun. In randomized controlled trials of elderly individuals, supplementing with Vitamin D has lowered risk of both falls and fractures. The dose required is 800 IU (at least)—400 IU had no effect.
7. May be Protective Against Flu And Asthma Attacks
In schoolchildren, a randomized controlled trial revealed that supplementing with Vitamin D reduced risk of Influenza A infection by 42 percent and also significantly reduced the occurrence of asthma attacks.
Low blood levels of Vitamin D do appear to be associated with increased respiratory infections, suggesting that it has an important role to play in immune defense.
8. The RDA May be Too Low
Many experts believe that the RDA is way too low, especially for people who aren't exposed to the sun a lot. Previously, Vitamin D deficiency was mainly believed to cause rickets in children. Today, Vitamin D status has now been implicated in a host of other diseases, some of which kill millions of people every year.
It is beyond the scope of this article to explore all of them, but it seems pretty straightforward that optimizing your Vitamin D levels can help you live a longer and healthier life. Be aware that in most of the studies above, the dosages used were quite small. It is a definite possibility that the results would be much stronger using higher doses.
9. Get Your Vitamin D Levels Checked
If you don't get a lot of sun and think you might be deficient, then you need to see a doctor and have your levels of 25-Hydroxy-Vitamin D measured (the storage form of the vitamin). According to the Vitamin D Council, a blood level of 50-80 ng/ml (125-200 nmol/L) is your best bet for optimal health and disease prevention.
If you're deficient and increasing sun exposure is not an option, then you should start supplementing with Vitamin D3. Choose a brand that has oil-filled caps, because it's a fat-soluble vitamin. The required dosage depends on the individual and needs to be optimized over time. A risk of toxicity is extremely low. You would need to take a ridiculous amount of the Vitamin for extended periods of time for that to happen.
If you do decide to get your Vitamin D from the sun, then just make sure to never, ever burn. I take a tablespoon of cod fish liver oil every day, then supplement with 6,000 IU of Vitamin D3 throughout the winter. This brings my daily total to about 7,000 IU per day. You may need more, or less, or you may need none at all. Only your doctor and a blood test can give you the answer.
This article was reposted with permission from our media associate Authority Nutrition.
YOU MIGHT ALSO LIKE
Preventing Diabetes: Yet Another Reason to Go Vegetarian
Why Microgreens Should Be Part of Your Daily Superfood Diet
EcoWatch Daily Newsletter
Tim P. Whitby / 21st Century Fox / Getty Images
The beauty products we put on our skin can have important consequences for our health. Just this March, the U.S. Food and Drug Administration (FDA) warned that some Claire's cosmetics had tested positive for asbestos. But the FDA could only issue a warning, not a recall, because current law does not empower the agency to do so.
Michelle Pfeiffer wants to change that.
The actress and Environmental Working Group (EWG) board member was spotted on Capitol Hill Thursday lobbying lawmakers on behalf of a bill that would increase oversight of the cosmetics industry, The Washington Post reported.
By Collin Rees
We know that people power can stop dangerous fossil fuel projects like the proposed Line 3 tar sands oil pipeline in Minnesota, because we've proved it over and over again — and recently we've had two more big wins.

Scientists released a study showing that a million species are at risk for extinction, but it was largely ignored by the corporate news media. Danny Perez Photography / Flickr / CC
By Julia Conley
Scientists at the United Nations' intergovernmental body focusing on biodiversity sounded alarms earlier this month with its report on the looming potential extinction of one million species — but few heard their calls, according to a German newspaper report.
DoneGood
By Cullen Schwarz
Ethical shopping is a somewhat new phenomenon. We're far more familiar with the "tried and tested" methods of doing good, like donating our money or time.
Pixabay
Summer is fast approaching, which means it's time to stock up on sunscreen to ward off the harmful effects of sun exposure. Not all sunscreens are created equally, however.
Mark Wallheiser / Getty Images
The climate crisis is a major concern for American voters with nearly 40 percent reporting the issue will help determine how they cast their ballots in the upcoming 2020 presidential election, according to a report compiled by the Yale Program on Climate Change Communication.
Of more than 1,000 registered voters surveyed on global warming, climate and energy policies, as well as personal and collective action, 38 percent said that a candidate's position on climate change is "very important" when it comes to determining who will win their vote. Overall, democratic candidates are under more pressure to provide green solutions as part of their campaign promises with 64 percent of Democrat voters saying they prioritize the issue compared with just 34 percent of Independents and 12 percent of Republicans.
Flooding in Winfield, Missouri this month. Jonathan Rehg / Getty Images
President Donald Trump has agreed to sign a $19.1 billion disaster relief bill that will help Americans still recovering from the flooding, hurricanes and wildfires that have devastated parts of the country in the past two years. Senate Republicans said they struck a deal with the president to approve the measure, despite the fact that it did not include the funding he wanted for the U.S.-Mexican border, CNN reported.
"The U.S. Senate has just approved a 19 Billion Dollar Disaster Relief Bill, with my total approval. Great!" the president tweeted Thursday.
Reed Hoffmann / Getty Images
Violent tornadoes tore through Missouri Wednesday night, killing three and causing "extensive damage" to the state's capital of Jefferson City, The New York Times reported.
"There was a lot of devastation throughout the state," Governor Mike Parson said at a Thursday morning press conference, as NPR reported. "We were very fortunate last night that we didn't have more injuries than what we had, and we didn't have more fatalities across the state. But three is too many."