This website uses cookies to ensure you get the best experience while browsing it. By clicking 'Got It' you're accepting these terms.
9 Out of 10 Americans Want GMO Labeling: Congress Should Vote 'No' on DARK Act
Jul. 23, 2015 09:25AM EST
As the fight over the DARK Act heats up in the House this week, new survey data underscore what polls by Washington Post, New York Times and Consumer Reports have been showing for years: 9 of every 10 Americans want genetically engineered foods, or "GMOs," to be labeled.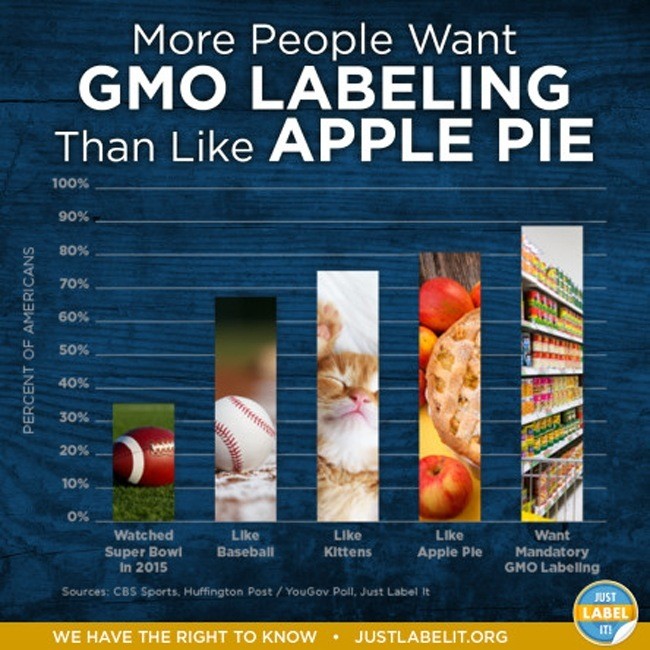 It's hard to think of anything that 90 percent of Americans can agree on—and that's regardless of age, income, education, race or even party affiliation. In fact, more people want GMO labeling than watched the Super Bowl or enjoy baseball, kittens or even apple pie!
Check it out!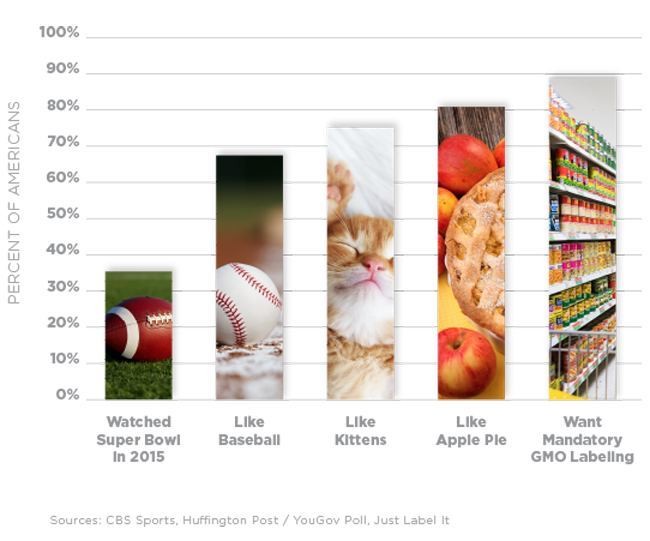 Even though people overwhelmingly support GMO labeling, the House of Representatives is scheduled to vote this week on a bill that would block states' ability to require it.
And the bill—H.R. 1599, which we've dubbed the DARK Act, for "Deny Americans the Right to Know"—goes beyond blocking state GMO labeling laws, like those on the books in Vermont, Connecticut and Maine. It would further add to consumer confusion by allowing food producers to put the nebulous label "natural" on food products that contain GMOs.
Americans want and deserve the same right to know as citizens in 64 other nations that require GMO labeling. It's time for members of Congress to listen to consumers across the country who want to know more—not less—about their food.
YOU MIGHT ALSO LIKE
Republicans Stomp on GMO Labeling, DARK Act Heads to House Floor
Call Congress Today: Ask Your Rep. to Vote 'No' on the DARK Act
Plus, learn if there's one that's best for your health.
Catherine Falls Commercial / Moment / Getty Images
An invasive Amynthas worm, also known as a crazy snake worm, Asian jumping worm and Alabama jumper Tom Potterfield / Flickr
By Jason Bittel
My wife and I built a house two years ago on a few acres of woodland outside of Pittsburgh. The backyard is full of maples, poplars, briars and common spicebush. Two-lined salamanders and grumpy-looking crayfish wade among the rocks in the small stream that runs down the edge of the property. Deer, raccoon and opossum tracks appear regularly in the snow and mud. Sometimes, my trail-cam even catches a pair of gray foxes as they slink through the night.
AleksandarNakic / Getty Images
By Kate Murphy
No matter the time of year, there's always a point in each season when my skin decides to cause me issues. While these skin issues can vary, I find the most common issues to be dryness, acne and redness.

David Woodfall / The Image Bank / Getty Images
By Sam Nickerson
The U.S. Environmental Protection Agency (EPA) in April 2018 proposed relaxing standards related to how it assesses the effects of exposure to low levels of toxic chemicals on public health.
Now, correspondence obtained by the LA Times revealed just how deeply involved industry lobbyists and a controversial, industry-funded toxicologist were in drafting the federal agency's proposal to scrap its current, protective approach to regulating toxin exposure.
Steve Irwin poses with a three foot long alligator at the San Francisco Zoo on June 26, 2002. Justin Sullivan / Getty Images
February 22 is the birthday of conservationist and beloved TV personality "Crocodile Hunter" Steve Irwin, who would have been 57 years old today.
Irwin's life was tragically cut short when the barb from a stingray went through his chest while he was filming in 2006, but his legacy of loving and protecting wildlife lives on, most recently in a Google Doodle today honoring his birthday.