9 Celebrities #DemandClimateAction at Emmy's as Temperatures Reached 100ºF
Sep. 21, 2015 09:42AM EST
Climate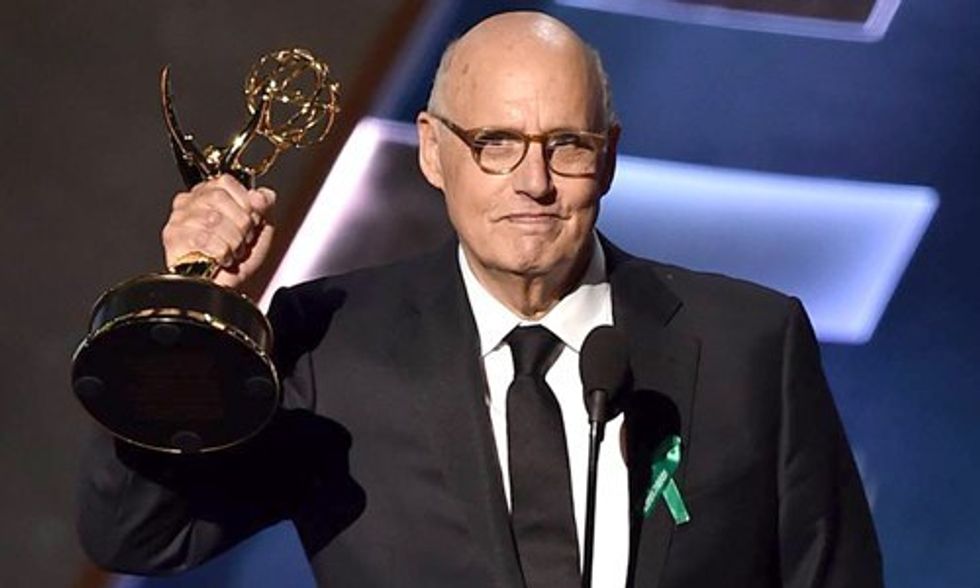 If you were watching the Emmy's last night, you might have been wondering why some actors were wearing those little green ribbons on their lapel.
What is the green ribbon about? #Emmys

— thesoapgoddess (@thesoapgoddess)1442796284.0
The green ribbon on the actors at the #Emmys is for what reason? Curious...

— Chappy (@Chappy)1442796244.0
The ribbon was part of the Natural Resource Defense Council's (NRDC) campaign of support for President Obama's climate plan. NRDC is circulating a petition online to demand global leaders take strong action on climate change. The petition will be delivered at the UN Paris climate talks later this year.
Transparent's @JeffreyTambor and his wife Molly on the Emmy's Red Carpet! #emmys http://t.co/tWmjc2P9ei

— Microsoft Theater (@Microsoft Theater)1442798118.0
The celebrities were using the high-profile event to raise awareness about the need to take strong action on climate change. Actors such as Jeffrey Tambor, who won the Emmy for Outstanding Actor in a Comedy for Transparent, donned the ribbon. As did his co-star Gabby Hoffman. Julia Louis-Dreyfus, who won the Emmy for Outstanding Actress in a Comedy for Veep also showed support along with Louis CK, Don Cheadle and Mandy Patinkin.
Girlfriend & hubby head to #Emmys2015 wearing the green ribbon! #demandclimateaction http://t.co/V47jgTl1rp

— Laurie David (@Laurie David)1442784293.0
Laurie David, her husband and her friend all wore the green ribbon as well. David produced An Inconvenient Truth and, most recently, teamed up with Katie Couric to executive produce Fed Up, a film about the causes of obesity in the U.S.
The stars could not have picked a better time to show their support for climate action because the temperature in Los Angeles on Sunday reached 100 degrees Fahrenheit—making it the hottest Emmy's ever. As celebrities used fans to cool themselves off, they just could not get over how hot is was. "I'm too hot to talk," Ricky Gervais told Ryan Seacrest via New York Daily News. "I got out the car and it was like stepping into an oven."
When u almost pass out on LIVE TV!😂 @GiulianaRancic @helloross @mrbradgoreski its ok I know u would have caught me http://t.co/Tc6ZJ7tafD

— Olivia Culpo (@Olivia Culpo)1442784312.0
Miss Universe 2012 winner Olivia Culpo almost fainted on the red carpet because of the heat.
Mario Lopez was so hot he sweated through at least one shirt:
YOU MIGHT ALSO LIKE
100% Renewable Energy Is Possible by 2050, Says Greenpeace Report
Angry Birds Takes on Climate Change
EcoWatch Daily Newsletter
Related Articles from EcoWatch
Recent Stories from EcoWatch