This website uses cookies to ensure you get the best experience while browsing it. By clicking 'Got It' you're accepting these terms.
9 Biggest Lies SeaWorld Wants You to Believe
Nov. 07, 2014 02:14PM EST
SeaWorld worked long and hard to create the illusion of being a conservation organization that housed happy, healthy marine animals. Luckily, Blackfish—the groundbreaking documentary about the "abusement" park—shattered many of the lies that SeaWorld has been spewing for years. While there's no hiding from the truth now, SeaWorld is still hoping that people will buy into the myths it's fabricated.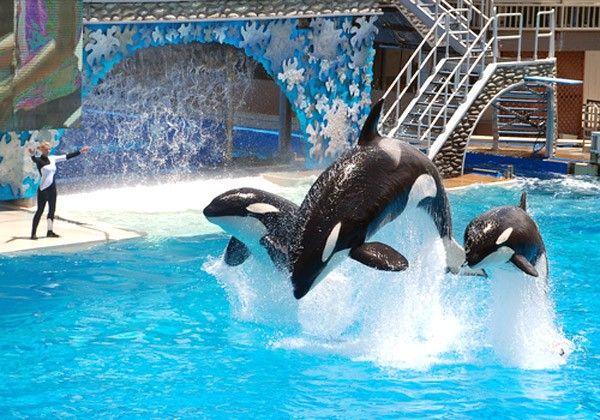 Photo credit: Shutterstock
Here are some of the most shocking lies that SeaWorld expected you to believe. Are you smart enough to see through them?
1. Collapsed dorsal fins are normal.
All the captive male orcas at SeaWorld have a collapsed dorsal fin, and the company has said that this is a common and naturally occurring problem. But the truth is that this only rarely happens to wild orcas (only 1 percent), and when it does, it's a sign that they're injured or sick.
2. SeaWorld respects the bond between a mother and child.
In the wild, orcas stay in their family pods their whole lives. The company has said that it doesn't separate mothers from their calves—but SeaWorld declares that calves are full grown at 4 years of age and moves them to a different location, away from their mothers, at this time. SeaWorld claims that this maintains a "healthy social structure," while it's actually the complete opposite of how orcas live in the wild.
3. SeaWorld cares about a "healthy social structure."
SeaWorld insists that it promotes healthy social structures among the orcas it holds captive. In reality, the orcas are kept close together in cramped tanks, which causes stress and anxiety, which often lead to aggression and fights. When a fight or an attack occurs in the wild, orcas are able to flee—in captivity, they have nowhere to escape to.
4. The orcas at SeaWorld are mentally stimulated.
The orcas at SeaWorld would have to swim about 1,500 laps a day in their cramped pools to equal the approximate 100 miles they'd swim every day in their ocean home. Their desperation and boredom lead them to display psychotic behavior such as gnawing on the concrete sides of their tanks, which breaks their teeth.
5. SeaWorld prioritizes wildlife rescue, rehabilitation, and conservation.
SeaWorld tries very hard to appear as though it's concerned with wildlife rescue, rehabilitation, and conservation. However, over the past decade SeaWorld has contributed less than 1 percent of its profits to conservation efforts.
6. Captive orcas' life spans are equivalent to those in the wild.
Granny, a wild orca who was spotted off the coast of Canada in May 2014, is 103 years old. Other wild orcas have been known to live as long as 90 years—only five of the captive orcas at SeaWorld are more than 30 years of age. Most of them die in their teens, with the median age being 9 years old, and not a single captive orca has ever died of old age.
7. It's safe for trainers to be in the water with orcas.
An orca at SeaWorld named Tilikum was forced to perform in circus-style shows, despite having already been involved in the deaths of two people. Dawn Brancheau, a trainer at SeaWorld, became the third person to die—a death that could have been prevented—when she was killed by Tilikum on February 24, 2010.
8. SeaWorld's stock is fine.
After Blackfish unveiled the ugly truth behind the "abusemen"t park, stock in the company took a huge hit, plummeting by 35 percent. SeaWorld also saw a 13 percent drop in attendance, and its market value dropped $1.7 billion. Despite SeaWorld's claims that its attendance was down only because of bad weather and "a shift in the Easter holiday,"  it's clear that many people no longer want anything to do with the torture that SeaWorld calls "entertainment."
9. Increasing the size of the tanks will make a difference.
After its stock plummeted and its attendance dropped, SeaWorld released a media statement saying that it was going to expand the orcas' tanks—despite the fact that it had yet to apply for the permits required to build the new tanks. The expansion plan, which is now expected to conclude in 2018, includes tanks with a maximum depth of 50 feet and a length of 350 feet.  In the wild, orcas dive up to 1,000 feet and swim up to 100 miles a day. This expansion will affect only the paying guests—it'll make virtually no difference to the orcas who are trapped at SeaWorld. The company's plans are nothing more than an effort to distract us from something that we all know to be true: A bigger prison is still a prison.
YOU MIGHT ALSO LIKE
DiCaprio Donates $2 Million to Protect the Oceans
Green Sea Turtle Tumors Linked to Nitrogen Runoff From Farming
35,000 Walruses Invade Alaska Beach As Climate Change Melts Sea Ice
EcoWatch Daily Newsletter
Waterloo Bridge during the Extinction Rebellion protest in London. Martin Hearn / Flickr / CC BY 2.0
Money talks. And today it had something to say about the impending global climate crisis.
Sam Cooper
By Sam Cooper
Thomas Edison once said, "I'd put my money on the sun and solar energy. What a source of power!"
Simple swaps that cut down on kitchen trash.
Sponsored
By Kayla Robbins
Along with the bathroom, the kitchen is one of the most daunting areas to try and make zero waste.
A NOAA research vessel at a Taylor Energy production site in the Gulf of Mexico in September 2018. NOAA
The federal government is looking into the details from the longest running oil spill in U.S. history, and it's looking far worse than the oil rig owner let on, as The New York Times reported.
Golde Wallingford submitted this photo of "Pure Joy" to EcoWatch's first photo contest. Golde Wallingford
EcoWatch is pleased to announce our third photo contest!

Damage at the Malheur National Wildlife Refuge from the 2016 occupation. USFWS
By Tara Lohan
When armed militants with a grudge against the federal government seized the Malheur National Wildlife Refuge in rural Oregon back in the winter of 2016, I remember avoiding the news coverage. Part of me wanted to know what was happening, but each report I read — as the occupation stretched from days to weeks and the destruction grew — made me so angry it was hard to keep reading.
Computer model projection of temperature anomalies across Europe on June 27. Temperature scale in °C. Tropicaltidbits.com
A searing heat wave has begun to spread across Europe, with Germany, France and Belgium experiencing extreme temperatures that are set to continue in the coming days.
Skull morphology of hybrid "narluga" whale. Nature / Mikkel Høegh Post
In the 1980s, a Greenlandic subsistence hunter shot and killed a whale with bizarre features unlike any he had ever seen before. He knew something was unique about it, so he left its abnormally large skull on top of his toolshed where it rested until a visiting professor happened upon it a few years later.