This website uses cookies to ensure you get the best experience while browsing it. By clicking 'Got It' you're accepting these terms.
9 Big Market Breakthroughs of 2014
Jan. 06, 2015 12:40PM EST
Business
I hope you didn't leave 2014 without realizing there have been notable—often underreported—big capital market breakthroughs on climate change, water protection and other sustainability fronts. Stock exchanges requiring company disclosure on sustainability risks or bonds backed by electricity payments from solar rooftop panels may not at first glance seem compelling, but these are the mechanisms that move markets and help build a more sustainable future.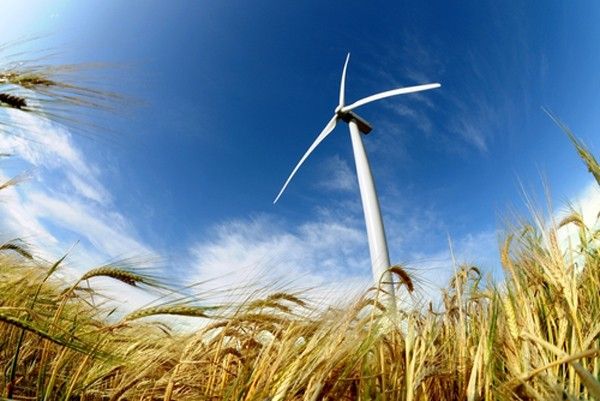 Producing energy at a cost equal to conventional fossil fuel sources is the Holy Grail for wind and solar energy producers, and that day is arriving. Photo credit: Shutterstock
Now as we head into 2015, it's worth taking a moment to shine a light on key areas of progress.
1. Electric utility business models are changing before our eyes by eschewing new centralized power plants in favor of energy efficiency and decentralized distributed energy, which are less expensive for consumers and more resilient to extreme weather. Case in point: Consolidated Edison's ambitious $100–$150 million investment in energy efficiency and distributed energy—rooftop solar, battery technologies and smartphone-assisted energy conservation—to avoid building a new $1.1 billion substation.
2. Energy storage is a critical cog in large-scale deployment of renewable energy. That's why it's a big deal that Southern California Edison announced contracts last month for more than 260 megawatts of energy storage, five times more than what the state's utilities commission required. Among the companies selected: Ice Energy, which installs rooftop devices called Ice Bears that freeze water in 450-gallon pots. The devices run at night when temperatures are lower so making ice is easier; during peak hours, the ice is used for space cooling.
3. After many months of warnings, the financial industry is waking up to the oil industry's potentially wasteful spending on development of new fossil fuel reserves when global oil demand is weakening and carbon-reducing trends are taking stronger hold. In a stunning recent analysis, Goldman Sachs found nearly $1 trillion of oil projects at risk due to shrinking demand and plummeting oil prices. Among the potential "zombie projects": expensive Arctic oil, deepwater drilling and Canada's oil sands.
4. Nearly a dozen stock exchanges, including Singapore and Taiwan, are requiring disclosure from listed companies about what they are considering and doing to manage sustainability risks such as climate change and water scarcity. This is a big deal because it's a basic management dictum that if you're not disclosing a particular risk, you'll never be able to manage it. Nearly 7,000 companies already produce annual sustainability reports through GRI, but this can help capture the 70,000 plus companies that don't yet. NASDAQ, a key partner in a Ceres-led effort to unify investors and global exchanges on this issue, is considering a similar move.
5. San Francisco's water utility is giving new meaning to "love that dirty water" by allowing building owners and developers to produce and exchange onsite water with each other—a radical departure from traditional monopolistic water utility models. It's paying up to $500,000 to developers who can produce water onsite—including gray water, rainwater or stormwater—for use by other entities in the city. The utility's own headquarters is living proof of the benefits of onsite water systems: It uses 60 percent less water than comparable-size buildings with an additional construction cost of less than 1 percent.
6. U.S. farmers are among the most productive in the world, but that productivity comes at a huge cost: Their practices are not sustainable, especially in regard to pollution and water use. That's why it's encouraging to see Field to Market, a public/private partnership that includes Unilever, General Mills and Procter & Gamble, announce an ambitious effort to accelerate sustainable growing practices on 20 percent of the nation's farmland—50 million acres—by 2020. The colossal corn sector—the U.S.'s biggest commodity crop by far—will be a top priority.
7. Standard & Poor's and Moody's are making big changes in how they scrutinize water systems that borrow money—via bonds—for major water infrastructure projects. If the changes are finalized next year, these critical credit-rating agencies will include climate risks in evaluating water utility bonds. The changes—which Ceres has been advocating since publishing a report on water bond risks several years ago—send an important signal that water systems may get higher credit ratings if they invest in systems more resilient to drought and flooding, and lower ratings if they are especially vulnerable to extreme weather. A higher credit rating can mean lower interest rates, which translates to more affordable consumer water bills.
8. Producing energy at a cost equal to conventional fossil fuel sources is the Holy Grail for wind and solar energy producers, and that day is arriving. Austin Energy signed a deal last spring for 20 years of output from a solar farm at about 5 cents per kilowatt-hour, which is 1 to 2 pennies less than utility-scale coal or natural gas power. Meanwhile, American Electric Power has signed long-term commitments for 2,500 megawatt of wind power, most of it in Texas and other parts of "wind alley" in the Midwest.
9. Bonds are lifeblood for any company that wants to raise capital so it can grow. Solar company execs have talked for years about selling bonds backed by solar electricity contracts, but it's been hard to pull off. That all changed when solar installer SolarCity got the go-ahead from Standard & Poor's to issue first-ever bonds backed by electricity payments from its solar rooftop panels. The company has since issued more than $300 million of bonds, including $201.5 million sold in July with interest rates ranging from 4 to 5.45 percent.
These capital market breakthroughs are in line with what Ceres has been working on since launching 25 years ago and will help catalyze sustainability across entire industries and the broader economy.
Looking into 2015, I have some wishes: a U.S. stock exchange adopting a sustainability listing standard; the green bond market eclipsing $100 billion a year; and the U.S. Environmental Protection Agency finalizing its carbon-reducing rule for existing U.S. power plants.
YOU MIGHT ALSO LIKE
UK Wind Power Smashes Records As Scotland Eyes Fossil-Free Future
Nukes Fade As Wind and Solar Soar
EcoWatch Daily Newsletter
Justin Trudeau delivers remarks during an election rally in Markham, Ontario, Canada, on Sept. 15. Creative Touch Imaging Ltd. / NurPhoto via Getty Images
By Chloe Farand for Climate Home News
Canadians are voting on Monday in an election observers say will define the country's climate future.
Activists Greta Thunberg (2ndL), Iris Duquesne(C), and Alexandria Villaseñor (3rd R) attend a press conference where 16 children present their official human rights complaint on the climate crisis to the UN Committee on the Rights of the Child at the UNICEF Building on Sept. 23 in NYC. KENA BETANCUR / AFP / Getty Images
Cleanup costs for abandoned oil and gas wells once the producers have moved on could fall heavily on the public.
Susan Vineyard / iStock / Getty Images Plus
By Justin Mikulka
Increasingly, U.S. shale firms appear unable to pay back investors for the money borrowed to fuel the last decade of the fracking boom. In a similar vein, those companies also seem poised to stiff the public on cleanup costs for abandoned oil and gas wells once the producers have moved on.
Blue tarps given out by FEMA cover several roofs two years after Hurricane Maria affected the island in San Juan, Puerto Rico, Sept. 18. RICARDO ARDUENGO / AFP / Getty Images
Top officials at the Department of Housing and Urban Development confirmed to lawmakers last week that they knowingly — and illegally — stalled hurricane aid to Puerto Rico.
Actress Jane Fonda (C) and actor Sam Waterston (L) participate in a protest in front of the U.S. Capitol during a "Fire Drill Fridays" climate change protest and rally on Capitol Hill, Oct. 18. Mark Wilson / Getty Images News
Visitors look at the Aletsch glacier above Bettmeralp, in the Swiss Alps, on Oct. 1. The mighty Aletsch — the largest glacier in the Alps — could completely disappear by the end of this century if nothing is done to rein in climate change, a study showed on Sept. 12. FABRICE COFFRINI / AFP via Getty Images
Switzerland's two Green parties made historic gains in the country's parliamentary elections Sunday, according to projections based on preliminary results reported by The New York Times.
A mural in Richwood, West Virginia, a once booming Appalachia coal town, honors the community's history. Jeff Greenberg / Universal Images Group / Getty Images
By Jeff Turrentine
The coal industry is dying. But we can't allow the communities that have been dependent on coal to die along with it.
ThitareeSarmkasat / iStock / Getty Images
Every fruit lover has their go-to favorites. Bananas, apples, and melons are popular choices worldwide and can be purchased almost anywhere.