87,000 NASA Images Show a Greening Arctic
The northern edge of North America is getting steadily greener. In the most detailed study so far of plant growth across Alaska and Canada, scientists say that about a third of the land cover now looks less like tundra, and more like a warmer ecosystem.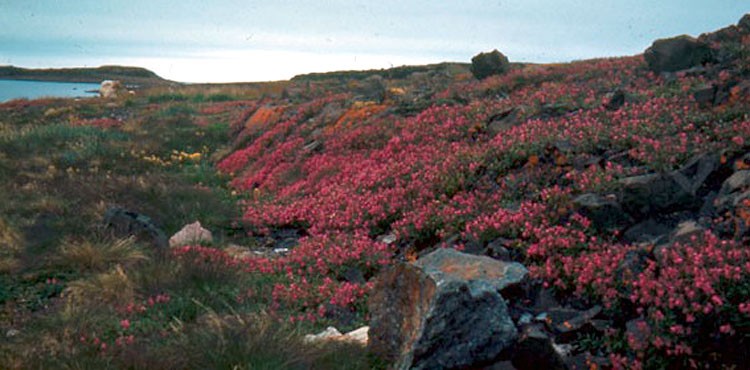 The researchers report in the Journal of Remote Sensing that examination of 87,000 images captured by the NASA Landsat satellite reveals that Alaska, Quebec and other regions became greener between 1984 and 2012.
Landsat, a project also backed by the U.S. Geological Survey (USGS), provides the longest space-based record of land vegetation in existence.
Growing in Size
"The greening trend was unmistakable," the scientists reported. In Canada, northern forests tended to become greener, although if anything they declined in Alaska. Overall, 29.4 percent of the region became greener, and only 2.9 percent declined.
The Arctic is the fastest-warming region of the northern hemisphere, with longer growing seasons and thawing permafrost. The scientists saw grassy tundra convert to shrubland, and shrubs grow in size and density, and such changes will inevitably start to play into water, energy and carbon cycles.
In a separate study, the USGS reports that roughly 53 percent of America's carbon—material that could stay in the permafrost or, in a warming world, escape into the atmosphere to accelerate climate change even further—is stored in the forests, wetlands and permafrost of Alaska.
The finding, which is explained in detail in a new study, means that Alaska's carbon potential is greater than that of all the other 49 states put together. And it's a cause for worry.
Virginia Burkett, USGS associate director of climate and land use change, said: "Carbon stored in high latitude ecosystems is considered more vulnerable than carbon sequestered in ecosystems in the temperate zone, because average temperatures are predicted to increase faster in the boreal and Arctic regions during the remainder of the century.
"This new assessment specifically reveals how soil carbon losses in Alaska are amplified by wildfires, which have increased in size and frequency with the warming Arctic climate."
More Damaging
Concern about the future of Alaska is not new. Researchers have observed that the region's glaciers have begun to retreat and forest fires have become more damaging. Average air temperatures over land in the Arctic have increased by 3°C since the beginning of the 20th century.
Overall, the report confirms that Alaska is still a "sink" for atmospheric carbon, absorbing about 3.7 million tonnes a year from the atmosphere, and the greening of the region may increase this capacity.
But somewhere between 37 and 77 million tonnes of the stuff resides in the soils and the permafrost, and the permafrost in particular is predicted to shrink by 25 percent by 2100.
Watch here:
YOU MIGHT ALSO LIKE
Stephen Hawking: One Thing Threatens Us More Than Donald Trump … Climate Change
35% of Northern and Central Great Barrier Reef Is Dead or Dying
As California Goes, So Goes the Planet
New York State Assembly Passes Nation's Most Ambitious Climate Bill
Glyphosate, the main ingredient in Monsanto's widely used herbicide Roundup, will be added July 7 to California's list of chemicals known to the state to cause cancer, according to a Reuters report Tuesday. This news comes after the company's unsuccessful attempt to block the listing in trial court and requests for stay were denied by a state appellate court and California's Supreme Court.
California's Office of Environmental Health Hazard Assessment (OEHHA) announced the designation on Monday under the Safe Drinking Water and Toxic Enforcement Act of 1986, or Proposition 65.
Keep reading...
Show less
www.facebook.com
Keep reading...
Show less
Researchers from the Marine Animal Response Society examine one of the dead right whales. Marine Animal Response Society
Canadian government officials and marine biologists are investigating the mysterious deaths of six North American right whales. The endangered animals all turned up dead between June 6 and June 23 in the Gulf of St. Lawrence, off Canada's southeastern coast.
North Atlantic right whales are the rarest of all large whale species and among the rarest of all marine mammal species, with only about 450 right whales in the North Atlantic.
Keep reading...
Show less
Scott Pruitt testifies during his Senate confirmation hearing for EPA administrator, January 2017.
The U.S. Environmental Protection Agency's (EPA) chief of staff pressured the leader of its Board of Scientific Counselors to change her congressional testimony to downplay the impact of the agency's mass dismissal of scientists from the board, the New York Times reports.
Keep reading...
Show less
By Jason Mark
Sequoiadendron giganteum. That's the scientific name for the giant sequoia: the mammoth trees found in California's Sierra Nevada that are the largest organisms on Earth, and among the longest-lived. Biologists estimate that about half of all sequoias live in Giant Sequoia National Monument, a 328,000-acre preserve in the Southern Sierra Nevada established by President Clinton in 2000.
Now that national monument is in jeopardy.
Keep reading...
Show less
By Andy Rowell
Donald Trump this week is launching an "energy week," pushing the argument that the U.S. will become a net exporter of oil and gas.
The president and his cronies are talking about a new era of "U.S. energy dominance," which could stretch for decades to come. However, no one believes the president anymore.
Keep reading...
Show less
UN
By Colleen Curry
The United Nations has designated 23 new sites around the world to its World Network of Biosphere reserves—stunning natural landscapes that balance environmental and human concerns and strive for sustainability.
The forests, beaches and waterways were added to the list this year at the International Coordinating Council of the Man and the Biosphere Programme meeting in Paris earlier this month.
Keep reading...
Show less
Jun. 26, 2017 01:48PM EST
www.elysee.fr
By Andy Rowell
There is a growing feeling within European capitals that a quiet, but deeply positive, revolution is happening under Emmanuel Macron in France.
Macron's opinion poll rating is high, especially boosted in how the young French president has reacted to Donald Trump on the international stage.
Keep reading...
Show less
Jun. 26, 2017 12:32PM EST
www.facebook.com
Keep reading...
Show less