This website uses cookies to ensure you get the best experience while browsing it. By clicking 'Got It' you're accepting these terms.
87,000 NASA Images Show a Greening Arctic
Jun. 05, 2016 11:24AM EST
Climate
The northern edge of North America is getting steadily greener. In the most detailed study so far of plant growth across Alaska and Canada, scientists say that about a third of the land cover now looks less like tundra, and more like a warmer ecosystem.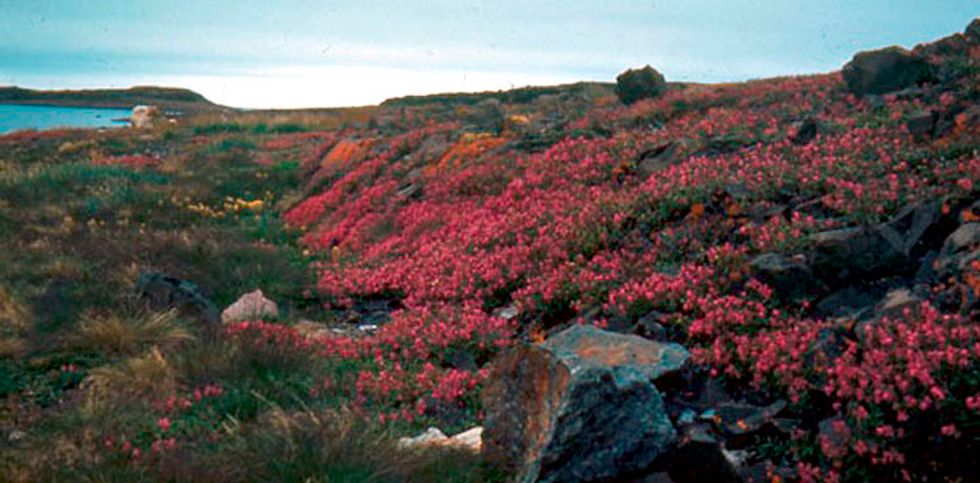 The researchers report in the Journal of Remote Sensing that examination of 87,000 images captured by the NASA Landsat satellite reveals that Alaska, Quebec and other regions became greener between 1984 and 2012.
Landsat, a project also backed by the U.S. Geological Survey (USGS), provides the longest space-based record of land vegetation in existence.
Growing in Size
"The greening trend was unmistakable," the scientists reported. In Canada, northern forests tended to become greener, although if anything they declined in Alaska. Overall, 29.4 percent of the region became greener, and only 2.9 percent declined.
The Arctic is the fastest-warming region of the northern hemisphere, with longer growing seasons and thawing permafrost. The scientists saw grassy tundra convert to shrubland, and shrubs grow in size and density, and such changes will inevitably start to play into water, energy and carbon cycles.
In a separate study, the USGS reports that roughly 53 percent of America's carbon—material that could stay in the permafrost or, in a warming world, escape into the atmosphere to accelerate climate change even further—is stored in the forests, wetlands and permafrost of Alaska.
The finding, which is explained in detail in a new study, means that Alaska's carbon potential is greater than that of all the other 49 states put together. And it's a cause for worry.
Virginia Burkett, USGS associate director of climate and land use change, said: "Carbon stored in high latitude ecosystems is considered more vulnerable than carbon sequestered in ecosystems in the temperate zone, because average temperatures are predicted to increase faster in the boreal and Arctic regions during the remainder of the century.
"This new assessment specifically reveals how soil carbon losses in Alaska are amplified by wildfires, which have increased in size and frequency with the warming Arctic climate."
More Damaging
Concern about the future of Alaska is not new. Researchers have observed that the region's glaciers have begun to retreat and forest fires have become more damaging. Average air temperatures over land in the Arctic have increased by 3°C since the beginning of the 20th century.
Overall, the report confirms that Alaska is still a "sink" for atmospheric carbon, absorbing about 3.7 million tonnes a year from the atmosphere, and the greening of the region may increase this capacity.
But somewhere between 37 and 77 million tonnes of the stuff resides in the soils and the permafrost, and the permafrost in particular is predicted to shrink by 25 percent by 2100.
Watch here:
YOU MIGHT ALSO LIKE
Stephen Hawking: One Thing Threatens Us More Than Donald Trump … Climate Change
35% of Northern and Central Great Barrier Reef Is Dead or Dying
As California Goes, So Goes the Planet
New York State Assembly Passes Nation's Most Ambitious Climate Bill
EcoWatch Daily Newsletter
One of the 25 new Long Beach Transit hybrid gasoline-electric buses on April 23, 2009. Jeff Gritchen / Digital First Media / Orange County Register / Getty Images
In Long Beach, California, some electric buses can charge along their route without cords or wires.
When a bus reaches the Pine Avenue station, it parks over a special charging pad. While passengers get on and off, the charger transfers energy to a receiver on the bottom of the bus.
Semi trucks travel along I94 on June 21 near Lake forest, Illinois. Scott Olson / Getty Images
The Trump administration pushed through an exemption to clean air rules, effectively freeing heavy polluting, super-cargo trucks from following clean air rules. It rushed the rule without conducting a federally mandated study on how it would impact public health, especially children, said the Environmental Protection Agency (EPA) Inspector General Charles J. Sheehan in a report released yesterday, as the AP reported.

A time-restricted eating plan provides a new way to fight obesity and metabolic diseases that affect millions of people worldwide. RossHelen / iStock / Getty Images Plus
By Satchin Panda and Pam Taub
People with obesity, high blood sugar, high blood pressure or high cholesterol are often advised to eat less and move more, but our new research suggests there is now another simple tool to fight off these diseases: restricting your eating time to a daily 10-hour window.
Kunhui Chih / iStock / Getty Images Plus
A man and his dog walk past an H&M store in Stockholm, Sweden on March 11, 2014. Melanie Stetson Freeman / The Christian Science Monitor via Getty Images
By Ashutosh Pandey
H&M's flagship store at the Sergels Torg square in Stockholm is back in business after a months-long refurbishment. But it's not exactly business as usual here.