850 Tons of Treated Fukushima Water Dumped Into the Pacific
Sep. 15, 2015 10:20AM EST
Energy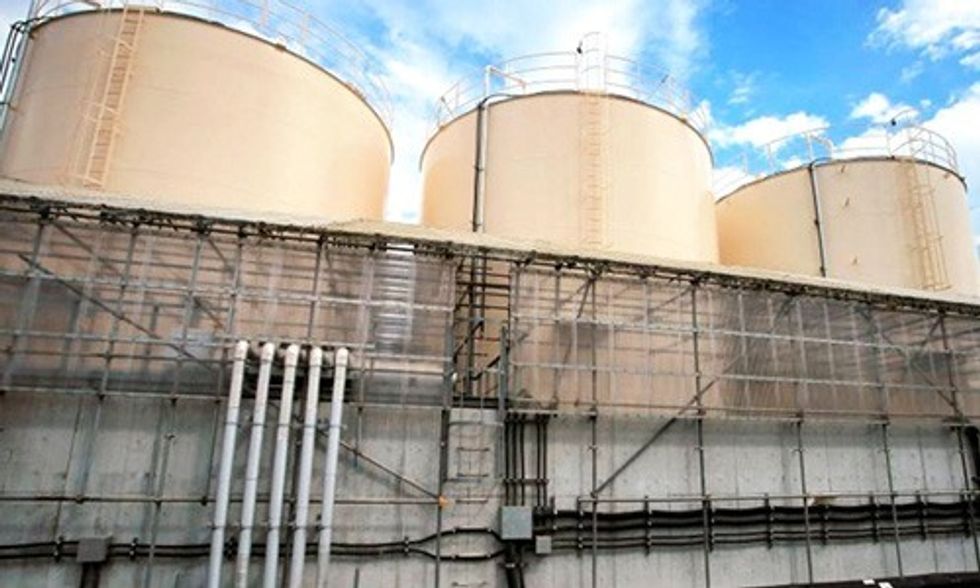 Despite the objections of environmentalists and after overcoming local opposition from fishermen, the Tokyo Electric Power Co. (TEPCO) pumped more than 850 tons of groundwater from below the Fukushima nuclear power plant into the Pacific Ocean on Monday.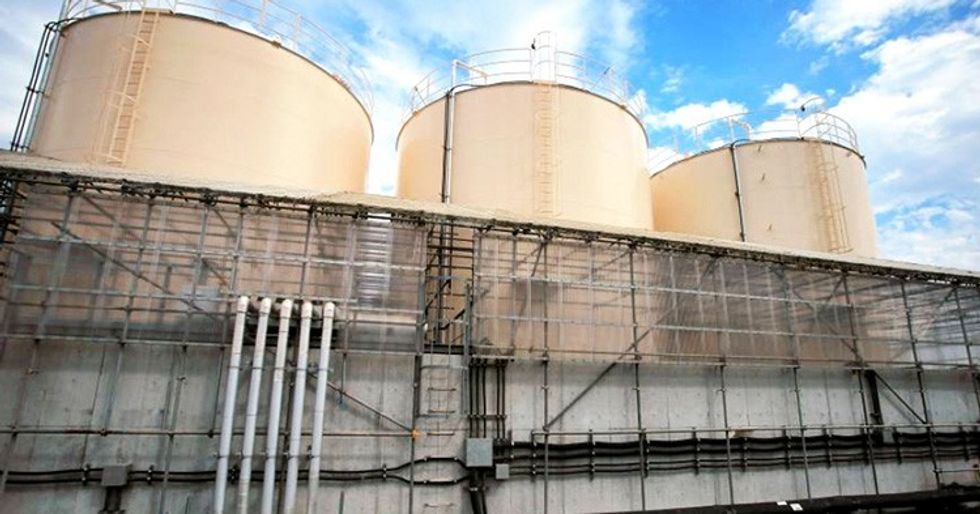 Filtered groundwater stored in these tanks at the Fukushima No. 1 nuclear plant was discharged into the Pacific Ocean Monday. Photo credit: KYODO
More than four years after a tsunami destroyed the plant and triggered a meltdown, the cleanup effort remains frought with numerous difficulties, including the nearly impossible task of dealing with the millions of gallons of contaminated and radioactive water—both treated and untreated—that have accumulated in thousands of tanks constructed in the shadow of the destroyed power station. On a daily basis, approximately 300 tons of groundwater are pumped to the surface to undergo treatment before being placed into storage.
According to Asahi Shimbun:
The discharge marks the first release under the utility's "subdrain plan," an additional measure conceived to help diminish the build-up of contaminated groundwater at the crippled facility.

TEPCO began discharging water after a third-party panel confirmed that the radioactive content was below the standard set by the utility.

The plan utilizes subdrains, which are essentially wells set up around the main buildings of the power plant to collect groundwater flowing into the complex. Once the groundwater has been pumped from those wells, it undergoes decontamination in a special facility for release into the ocean after being checked for radioactive content.
And Agence France-Presse adds:
The move is a milestone for the company, which said its Advanced Liquid Processing System, which removes highly radioactive substances like strontium and caesium, meant the ground water was now safe to release into the natural environment.

Fishermen had argued that the discharge even of the groundwater would heighten contamination concerns and hurt their already battered reputation.

They had fought to stop the water being released into the sea, even after it is filtered, but eventually bowed to pressure from TEPCO, which is struggling to find space to store the tainted supplies.

But it has yet to find a solution to deal with another highly radioactive 680,000 tons of water that was used to cool the reactors during the meltdown, which is still stored on site.

Fishermen are opposed to the fluid being released into the sea, even after it is filtered.
YOU MIGHT ALSO LIKE
Why the UK Government Is Building 11 New Nuclear Plants Despite Mounting Criticism
How Worried Should We Be About Nuclear Fallout From Fukushima?
Hawaii on Verge of Worst Coral Bleaching in History as Water Temperatures Soar
EcoWatch Daily Newsletter
Recent Stories from EcoWatch