8 Ways We Are Killing the Planet and Don't Even Realize It
You know an invention has its drawbacks when even the guy who invented it says he's sorry he did so.
That would be John Sylvan, inventor of the easy-to-use Keurig coffee maker—an invention deemed "the most wasteful form of coffee" on the planet.
Sylan says he regrets the creation largely due to its severe ecological impact. The Keurig uses disposable plastic coffee pods, called "K-Cups," which are not easily recyclable or biodegradable.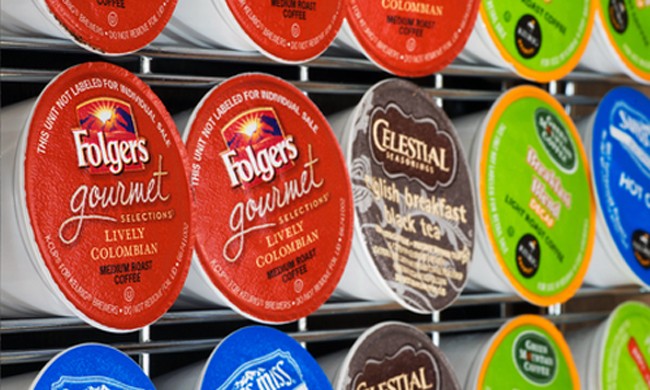 In 2013, Green Mountain Coffee produced enough coffee pods to wrap around the equator 10.5 times. Rob Hainer / Shutterstock.com
"I don't have one," Sylvan said of the Keurig. "They're kind of expensive to use. Plus it's not like drip coffee is tough to make."
Convenience-obsessed America is the world's largest coffee consumer. Nearly 85 percent of adults in America drink coffee. According to the National Coffee Association, nearly 1 in 5 adults drink single-cup-brewed coffee in a single day.
Last year, Keurig Green Mountain sold a whopping 9.8 billion K-Cups—enough to circle the Earth more than a dozen times. Keurig says it wants all K-Cups to be recyclable by 2020, but by then it could be too late.
Egg Studios CEO Mike Hachey created the viral video "Kill the K-Cup" last month, which highlights the fact that 13 billion K-Cups went into landfills last year.
"Do you feel OK contributing to that?" Hachey asks.
K-Cups are not the only culprits affecting the environment. America represents only 5 percent of the world's population, but generates nearly a quarter of the world's trash.
Many everyday items that we take for granted have a significant impact on Mother Earth. Here are a few humble household supplies that hurt the environment more than you'd expect:
1. Anti-bacterial soap
These small quanitities then end up in streams and other bodies of water. They can disrupt algae's ability to perform photosynthesis and build up in fatty tissues of animals higher up in the food chain.
2. Lawn mowers
"Lawn and garden equipment really does add to air pollution," Cathy Milbourn, spokeswoman for the U.S. Environmental Protection Agency (EPA), told ABC last year. "People can reduce the impact it has by using [lawn equipment] in the early morning or in the late afternoon. Or perhaps not at all."
3. Tea bags
According to a report by Which? Gardening, teabags produced by some of the top tea manufacturers—including Twinnings, Tetley and PG Tips—are only about 75 percent biodegradable.
While most teabags are made with paper fiber, they also include plastic polypropylene—an ingredient that makes teabags heat-resistant but is not fully biodegradable.
Whitney Kakos, the sustainability manager for Teadirect, says the use of polypropylene is an "industry-wide practice." There are also the luxurious silken (basically plastic) tea bags. Supposedly of higher quality and visually appealing, these bags are actually harmful to consumers and contribute to landfill waste.
4. Plastic bottles
The national recycle rate for PETs, or bottles made with polyethylene terephthalate, is only 23 percent—which means 80 percent of plastic water bottles end up in landfills. And even if we were on our environmentally best behavior, not all plastic bottles placed in designated containers are recycled because only certain types of plastic can be recycled in limited municipalities.
5. Microbeads
According to a recent study by the Australian Research Council Centre of Excellence for Coral Reef Studies at James Cook University, these tiny pieces of plastic find their way down our drains through filtration systems to the ocean. Soaking up toxins like a sponge, they then contribute to the plastic pollution of water bodies, potentially starve coral reefs of proper food and negatively affect other marine organisms.
6. Disposable razors
Add that to the higher environmental cost of production using raw materials and the water used while actually shaving and you've got one of the most wasteful bathroom products around.
7. Paper cups
Every year, Americans toss out more than 80 billion single-use cups, thanks to our morning coffee runs. These cups are also coated with low-density, heat-resistant polyethylene that is not biodegradable. In addition to these cups' heading for a landfill and taking more than 20 years to decompose, the very process of making them is extremely harmful to the environment. Production consumes forests and large volumes of water, and expels dirty water.
8. Wooden chopsticks from restaurants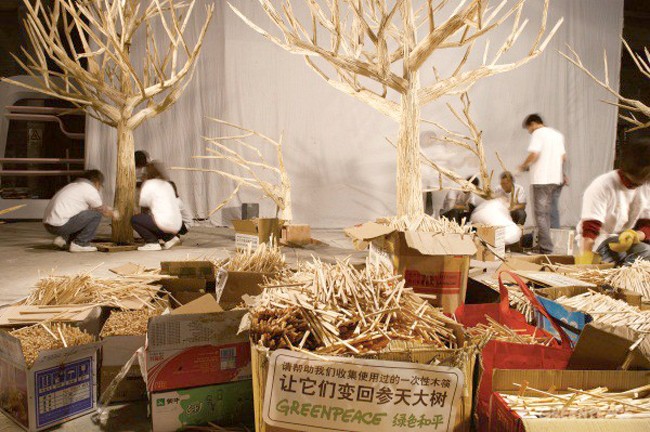 But despite taxes levied in 2006 and warnings of government regulations to monitor production in 2010, disposable chopstick use, production and discard is on the rise and continues to devastate forests in China at an alarming rate.
YOU MIGHT ALSO LIKE
6 Common Food Additives Used in the U.S. That Are Banned in Other Countries
Alarming Report Links Hormone-Disrupting Chemicals to Autism, ADHD, lower IQ and Obesity
By Melissa Hellmann
When her eldest son was in elementary school in the Oakland Unified School District, Ruth Woodruff became alarmed by the meals he was being served at school. A lot of it was frozen, processed foods, packed with preservatives. At home, she was feeding her children locally sourced, organic foods.
Keep reading...
Show less
Laurie Woolever
By James O'Hare
There are 20 million people in the world facing famine in South Sudan, Somalia, Nigeria and Yemen. In developed nations, too, people go hungry. Venezuela, for instance, is enduring food insecurity on a national level as a result of economic crisis and political corruption. In the U.S., the land of supposed excess, 12.7 percent of households were food insecure in 2015, meaning they didn't know where their next meal would come from.
Keep reading...
Show less
May. 28, 2017 01:22PM EST
Melwater, Greenland ice sheet. Diane Tuft
Artists are taking the climate crisis into frame and the results are emotional, beautiful and stirring.
So you've seen the best climate change cartoons and shared them with your friends. You've showed your family the infographics on climate change and health, infographics on how the grid works and infographics about clean, renewable energy. You've even forwarded these official National Oceanic and Atmospheric Administration graphs that explain the 10 clear indicators of climate change to your colleagues at the office.
Keep reading...
Show less
May. 27, 2017 01:11PM EST
As the Trump administration moves full speed ahead on boosting the oil and fossil fuel industry, opposition to increased pipeline construction is cropping up in different communities around the country.
Keep reading...
Show less
May. 27, 2017 01:02PM EST
Minke whale stranding near Havergate Island in Suffolk. MCGA.
By Simon Evans
Last Saturday, two dead whales washed up on the coast of Suffolk, in eastern England, and a third was spotted floating at sea.
What happened next illustrates how news can spread and evolve into misinformation, when reported by journalists rushing to publish before confirming basic facts or sourcing their own quotes.
Keep reading...
Show less
May. 27, 2017 01:22PM EST
By Monica Amarelo and Paul Pestano
Sun safety is a crucial part of any outdoor activity for kids, and sunscreen can help protect children's skin from harmful ultraviolet rays. Kids often get sunburned when they're outside unprotected for longer than expected. Parents need to plan ahead and keep sun protection handy in their cars or bags.
Keep reading...
Show less
May. 27, 2017 01:02PM EST
By Joe McCarthy
A lot of people take part in community clean-up efforts—spending a Saturday morning picking up litter in a park, mowing an overgrown field or painting a fence.
Keep reading...
Show less
May. 26, 2017 03:22PM EST
Rink Glacier in western Greenland, with a meltwater lake visible center. NASA/OIB
Scientists have had their eyes on Greenland as its iconic glaciers have begun disappearing due to a warming climate. But, what they didn't expect to see was a whole new type of melting.
Keep reading...
Show less


Get EcoWatch in your inbox