This website uses cookies to ensure you get the best experience while browsing it. By clicking 'Got It' you're accepting these terms.
8 Ways to Spring Into Better Gas Mileage
Apr. 14, 2014 10:08AM EST
Finally, spring. Daffodils! Budding trees! Short sleeves! Rising gas prices!
Wait, what was that last one?
In case you hadn't noticed, the average price of gas jumped from $3.49 to $3.62 in the last month, and prices are expected to hover around $3.57 a gallon throughout the summer, just one penny below last year's average.
Luckily, there are many things you can do to use less gas and keep rising prices from eating away at your budget, starting with properly maintaining your car. And after the brutal winter we had, you car may need it more than ever.
"Many motorists don't realize that fuel consumption is directly related to auto care and has a significant impact on how much gas you use," said Rich White, executive director of the Car Care Council, which organizes National Car Care Month every April. The organization has just published a free 60-page car care guide, which includes some great maintenance tips for maximizing fuel economy. Here are their recommendations:
1. Get a Tune-Up
Regular tune-ups, maintenance and having clean air filters will help you burn less gas, pollute less and prevent car trouble down the line. A proper tune-up can boost gas mileage by 4 percent. Changing a dirty filter can improve efficiency by 10 percent and using the oil specified for your car saves up to 2 percent. If a tune-up turns up a faulty oxygen sensor, you'll save up to 40 percent by replacing it.
2. Check Your Tires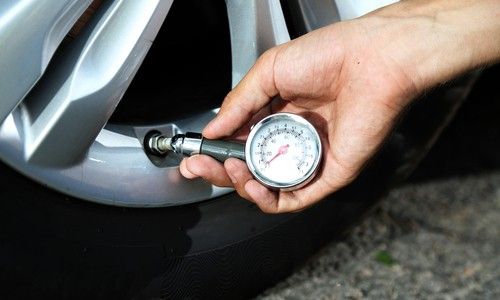 Photo courtesy of Shutterstock
Tires that are not properly inflated add rolling resistance that makes the engine work harder to move the vehicle. Tires can lose pressure due to seasonal temperature changes so pressure should be checked at least monthly, including the spare. (Check your manual for optimal pressure.) Do this regularly, and you'll save 3.3 percent.
3. Get an A/C Inspection
The A/C system should be inspected annually, during which a technician checks pressures to test operation, refrigerant charge and outlet temperatures.
4. Watch Gas Caps and Fill-Ups
Approximately 17 percent of the vehicles on the road have loose, damaged or missing gas caps, causing 147 million gallons of gas to vaporize every year. Get yours checked, and when you fill up, avoid the urge to top off. It can release harmful vapors into the environment.
5. Questions to Ask Your Mechanic
Here's what you need to ask your mechanic to make sure you're getting maximum fuel economy:
• My car is getting lower gas mileage than normal. Does this mean there's a problem?
• How often should my car have a tune-up?
• What components will you be inspecting and/or replacing as part of my tune-up?
• Are my tires properly inflated and is there enough tread for safe/effective performance?
On the Road
Besides keeping your tires properly inflated, there are several things you can do to maximize fuel economy between tune-ups:
6. Drive Green
Driving technique has a lot to do with your fuel economy. Avoid sudden starts and stops and go the speed limit. Jerky and aggressive driving decreases your miles per gallon (MPG) and increases wear and tear on your vehicle. Turn your car off instead of idling when you'll be parked safely for more than 10 seconds. Also, drive wise and minimize unnecessary miles by doing errands in one trip, getting good directions and calling ahead.
7. Lighten the Load
Get your stuff out of your car and junk out of the trunk. This does not mean that you should not keep important emergency items such as a spare tire, flares and a first-aid kit. However, items that are not needed weigh the vehicle down—causing an increase in gas usage and unneeded wear and tear on a vehicle.
8. Keep Your Cool
Use the windows to help keep the car cool as much as possible when not on the highway. Park in the shade and use a reflective windshield shade when parked—it will take less gas to cool it off when you get back in.
April is National Car Care Month, and free vehicle inspections are happening all around the country. Find a free car care clinic or vehicle inspection event near you on the Car Care Council's Event Finder to learn more about taking care of your car.
——–
YOU MIGHT ALSO LIKE
Green Car Guide: Understanding the History and Future of Hybrids and EVs
Revamped Federal Loan Program Will Produce Cleaner Cars and Create Green Jobs
Top 10 Fuel Efficient Vehicles for 2014
——–
EcoWatch Daily Newsletter
Waterloo Bridge during the Extinction Rebellion protest in London. Martin Hearn / Flickr / CC BY 2.0
Money talks. And today it had something to say about the impending global climate crisis.
Sam Cooper
By Sam Cooper
Thomas Edison once said, "I'd put my money on the sun and solar energy. What a source of power!"
Simple swaps that cut down on kitchen trash.
Sponsored
By Kayla Robbins
Along with the bathroom, the kitchen is one of the most daunting areas to try and make zero waste.
A NOAA research vessel at a Taylor Energy production site in the Gulf of Mexico in September 2018. NOAA
The federal government is looking into the details from the longest running oil spill in U.S. history, and it's looking far worse than the oil rig owner let on, as The New York Times reported.
Golde Wallingford submitted this photo of "Pure Joy" to EcoWatch's first photo contest. Golde Wallingford
EcoWatch is pleased to announce our third photo contest!

Damage at the Malheur National Wildlife Refuge from the 2016 occupation. USFWS
By Tara Lohan
When armed militants with a grudge against the federal government seized the Malheur National Wildlife Refuge in rural Oregon back in the winter of 2016, I remember avoiding the news coverage. Part of me wanted to know what was happening, but each report I read — as the occupation stretched from days to weeks and the destruction grew — made me so angry it was hard to keep reading.
Computer model projection of temperature anomalies across Europe on June 27. Temperature scale in °C. Tropicaltidbits.com
A searing heat wave has begun to spread across Europe, with Germany, France and Belgium experiencing extreme temperatures that are set to continue in the coming days.
Skull morphology of hybrid "narluga" whale. Nature / Mikkel Høegh Post
In the 1980s, a Greenlandic subsistence hunter shot and killed a whale with bizarre features unlike any he had ever seen before. He knew something was unique about it, so he left its abnormally large skull on top of his toolshed where it rested until a visiting professor happened upon it a few years later.