This website uses cookies to ensure you get the best experience while browsing it. By clicking 'Got It' you're accepting these terms.
8 Ways To Keep Your Pet Safe and Healthy This Winter
Jan. 21, 2015 03:36PM EST
It's cold outside, baby. You know it and your pet knows it. In fact, your cat is probably ensconced on a heating vent or radiator or sprawled in front of that space heater—and be careful when you go to flop down on that cozy couch because it already be occupied!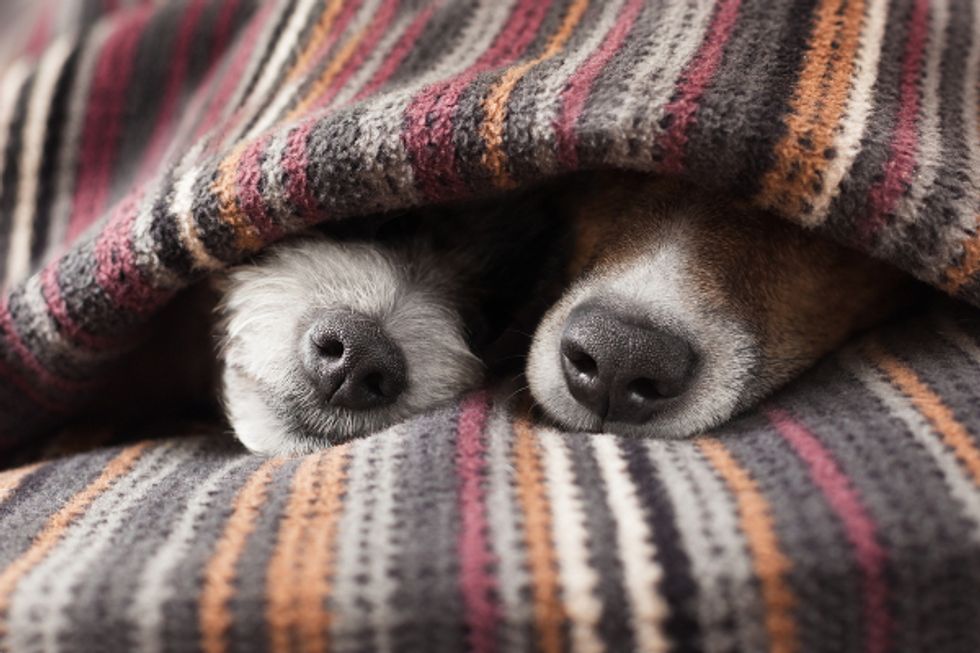 Photo credit: Shutterstock
OK, so you don't have to worry about the cat, assuming he's an indoor cat, which he should be. His needs won't change much from season to season.
Your dog is a different matter. Most dogs have to go outside several times a day, and the exercise can be even more beneficial in the winter when metabolism tends to slow down. But just as you bundle up for those walks, pay attention to your dog's comfort too.
1. The idea of a dog wardrobe may seem silly, and you are justified in laughing at those little motorcycle jackets, dresses and Halloween costumes you've seen for dogs at the pet store. (The Superman cape serves no practical purpose!) But for some dogs, sweaters and buckle-on blankets make good sense. Obviously if she's a shaggy, winter-worthy breed like a husky or malamute, she won't need a jacket to spend some time outside. But if you have a small dog or a short-coated breed, even a brief walk outside in chilly or windy weather can make her miserable. Take the time to give her some cover, especially if it's raining or snowing.
2. Don't forget the feet! Yes, those doggie galoshes can seem even sillier than the costumes, but imagine how you'd feel if you had to walk on the icy ground in your bare feet. Not only that but the de-icing chemicals found in streets, driveways and sidewalks can be an irritant to your pet's paws. If your dog is resistant to wearing anything on her paws, make sure to wipe them with a soft damp rag or towel as soon as you get back inside.
3. If your living situation means your dog has to live outside or spend any major portion of the day there, it should go without saying that she has secure, accessible shelter out of the wind and elements and that the shelter is raised up so she doesn't have to sit or lie on cold, damp ground. The floor should also be covered with wood shavings or straw to absorb the damp. Make sure she has plenty of food and water—and check the water often to make sure it's not frozen.
4. Be a good pet neighbor. If you spot a dog tied up outside exposed to the elements with no shelter, take some notes, take pictures and keep an eye on the situation. Don't automatically assume an animal is being abused, but if it's more than a one-time thing and you're very sure the animal is uncomfortable or suffering, report it to your local animal control officer. You wouldn't want an animal to freeze to death if there was something you could have done.
5. Your house cat may be sleeping away the winter in the warmest spot in your house, but remember the feral cats that may be living in your neighborhood and help keep them safe. Provide the same sort of safe, dry shelter you would for a dog, and make sure it has a covering on the door so snow doesn't blow in. Leave food and water in a protected spot from the wind.
6. Be especially careful around your car. If you change your antifreeze make sure you don't spill it. The taste is appealing to animals—and fatally toxic. And on that cold winter morning, before you start your car, bang on the hood. Stray cats often take refuge near a car engine for warmth.
7. Winter dryness can wreak havoc on the skin and it can be tough on your pet's coat as well. Watch out for flakiness and dullness, especially in dogs. While supplements and bathing with a gentle, natural, non-detergent shampoo can work wonders, you probably have the perfect nontoxic remedy right in your kitchen already. Give her an oatmeal bath or rub her coat with a bit of olive oil. We're told that bathing your cat too often can exacerbate dry winter skin, but we're guessing that's not an issue in too many feline-loving households!
8. As always, make sure your pet has a high-quality diet—the number one requirement for its good health all year round.
YOU MIGHT ALSO LIKE
7 Natural Ways to De-Flea Your Dog
6 Superfoods to Keep You Healthy All Winter Long
Want to Help a Hurt or Stranded Animal? There's an App for That
EcoWatch Daily Newsletter
polaristest / Flickr / CC BY-NC-ND 2.0
By Melissa Kravitz Hoeffner
Over six gallons of water are required to produce one gallon of wine. "Irrigation, sprays, and frost protection all [used in winemaking] require a lot of water," explained winemaker and sommelier Keith Wallace, who's also a professor and the founder of the Wine School of Philadelphia, the largest independent wine school in the U.S. And water waste is just the start of the climate-ruining inefficiencies commonplace in the wine industry. Sustainably speaking, climate change could be problematic for your favorite glass of wine.
Pixabay
Spinach is a true nutritional powerhouse, as it's rich in vitamins, minerals, and antioxidants.
Pexels
By Jeff Turrentine
From day to day, our public health infrastructure — the people and systems we've put in place to keep populations, as opposed to individuals, healthy — largely goes unnoticed. That's because when it's working well, its success takes the form of utter normalcy.
By Eoin Higgins
A viral video showing cell phone data collected by location accuracy company X-Mode from spring break partiers potentially spreading the coronavirus around the U.S. has brought up questions of digital privacy even as it shows convincingly the importance of staying home to defeat the disease.
Aerial shot top view Garbage trucks unload garbage to a recycle in the vicinity of the city of Bangkok, Thailand. bugto / Moment / Getty Images
German researchers have identified a strain of bacterium that not only breaks down toxic plastic, but also uses it as food to fuel the process, according to The Guardian.