This website uses cookies to ensure you get the best experience while browsing it. By clicking 'Got It' you're accepting these terms.
8 Ways To Keep Your Pet Safe and Healthy This Winter
Jan. 21, 2015 03:36PM EST
It's cold outside, baby. You know it and your pet knows it. In fact, your cat is probably ensconced on a heating vent or radiator or sprawled in front of that space heater—and be careful when you go to flop down on that cozy couch because it already be occupied!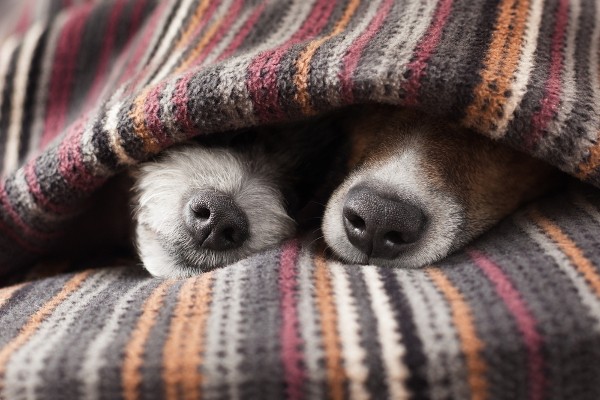 Photo credit: Shutterstock
OK, so you don't have to worry about the cat, assuming he's an indoor cat, which he should be. His needs won't change much from season to season.
Your dog is a different matter. Most dogs have to go outside several times a day, and the exercise can be even more beneficial in the winter when metabolism tends to slow down. But just as you bundle up for those walks, pay attention to your dog's comfort too.
1. The idea of a dog wardrobe may seem silly, and you are justified in laughing at those little motorcycle jackets, dresses and Halloween costumes you've seen for dogs at the pet store. (The Superman cape serves no practical purpose!) But for some dogs, sweaters and buckle-on blankets make good sense. Obviously if she's a shaggy, winter-worthy breed like a husky or malamute, she won't need a jacket to spend some time outside. But if you have a small dog or a short-coated breed, even a brief walk outside in chilly or windy weather can make her miserable. Take the time to give her some cover, especially if it's raining or snowing.
2. Don't forget the feet! Yes, those doggie galoshes can seem even sillier than the costumes, but imagine how you'd feel if you had to walk on the icy ground in your bare feet. Not only that but the de-icing chemicals found in streets, driveways and sidewalks can be an irritant to your pet's paws. If your dog is resistant to wearing anything on her paws, make sure to wipe them with a soft damp rag or towel as soon as you get back inside.
3. If your living situation means your dog has to live outside or spend any major portion of the day there, it should go without saying that she has secure, accessible shelter out of the wind and elements and that the shelter is raised up so she doesn't have to sit or lie on cold, damp ground. The floor should also be covered with wood shavings or straw to absorb the damp. Make sure she has plenty of food and water—and check the water often to make sure it's not frozen.
4. Be a good pet neighbor. If you spot a dog tied up outside exposed to the elements with no shelter, take some notes, take pictures and keep an eye on the situation. Don't automatically assume an animal is being abused, but if it's more than a one-time thing and you're very sure the animal is uncomfortable or suffering, report it to your local animal control officer. You wouldn't want an animal to freeze to death if there was something you could have done.
5. Your house cat may be sleeping away the winter in the warmest spot in your house, but remember the feral cats that may be living in your neighborhood and help keep them safe. Provide the same sort of safe, dry shelter you would for a dog, and make sure it has a covering on the door so snow doesn't blow in. Leave food and water in a protected spot from the wind.
6. Be especially careful around your car. If you change your antifreeze make sure you don't spill it. The taste is appealing to animals—and fatally toxic. And on that cold winter morning, before you start your car, bang on the hood. Stray cats often take refuge near a car engine for warmth.
7. Winter dryness can wreak havoc on the skin and it can be tough on your pet's coat as well. Watch out for flakiness and dullness, especially in dogs. While supplements and bathing with a gentle, natural, non-detergent shampoo can work wonders, you probably have the perfect nontoxic remedy right in your kitchen already. Give her an oatmeal bath or rub her coat with a bit of olive oil. We're told that bathing your cat too often can exacerbate dry winter skin, but we're guessing that's not an issue in too many feline-loving households!
8. As always, make sure your pet has a high-quality diet—the number one requirement for its good health all year round.
YOU MIGHT ALSO LIKE
7 Natural Ways to De-Flea Your Dog
6 Superfoods to Keep You Healthy All Winter Long
Want to Help a Hurt or Stranded Animal? There's an App for That
Plus, learn if there's one that's best for your health.
Catherine Falls Commercial / Moment / Getty Images
An invasive Amynthas worm, also known as a crazy snake worm, Asian jumping worm and Alabama jumper Tom Potterfield / Flickr
By Jason Bittel
My wife and I built a house two years ago on a few acres of woodland outside of Pittsburgh. The backyard is full of maples, poplars, briars and common spicebush. Two-lined salamanders and grumpy-looking crayfish wade among the rocks in the small stream that runs down the edge of the property. Deer, raccoon and opossum tracks appear regularly in the snow and mud. Sometimes, my trail-cam even catches a pair of gray foxes as they slink through the night.
AleksandarNakic / Getty Images
By Kate Murphy
No matter the time of year, there's always a point in each season when my skin decides to cause me issues. While these skin issues can vary, I find the most common issues to be dryness, acne and redness.

David Woodfall / The Image Bank / Getty Images
By Sam Nickerson
The U.S. Environmental Protection Agency (EPA) in April 2018 proposed relaxing standards related to how it assesses the effects of exposure to low levels of toxic chemicals on public health.
Now, correspondence obtained by the LA Times revealed just how deeply involved industry lobbyists and a controversial, industry-funded toxicologist were in drafting the federal agency's proposal to scrap its current, protective approach to regulating toxin exposure.
Steve Irwin poses with a three foot long alligator at the San Francisco Zoo on June 26, 2002. Justin Sullivan / Getty Images
February 22 is the birthday of conservationist and beloved TV personality "Crocodile Hunter" Steve Irwin, who would have been 57 years old today.
Irwin's life was tragically cut short when the barb from a stingray went through his chest while he was filming in 2006, but his legacy of loving and protecting wildlife lives on, most recently in a Google Doodle today honoring his birthday.