This website uses cookies to ensure you get the best experience while browsing it. By clicking 'Got It' you're accepting these terms.
8 Ways to Keep Your Pet Flea Free
Jul. 27, 2015 01:16PM EST
We'll do anything to prevent our poor pets from getting fleas. But we shouldn't have to expose them to toxic chemicals to keep the fleas away. The insecticides used in common flea-control products can be poisonous to pets, causing vomiting, permanent nerve damage, and even cancer. (Permethrin ingredients in certain dog products are often fatal to cats, too.) The good news is that you can still prevent fleas while avoiding these harsh chemicals.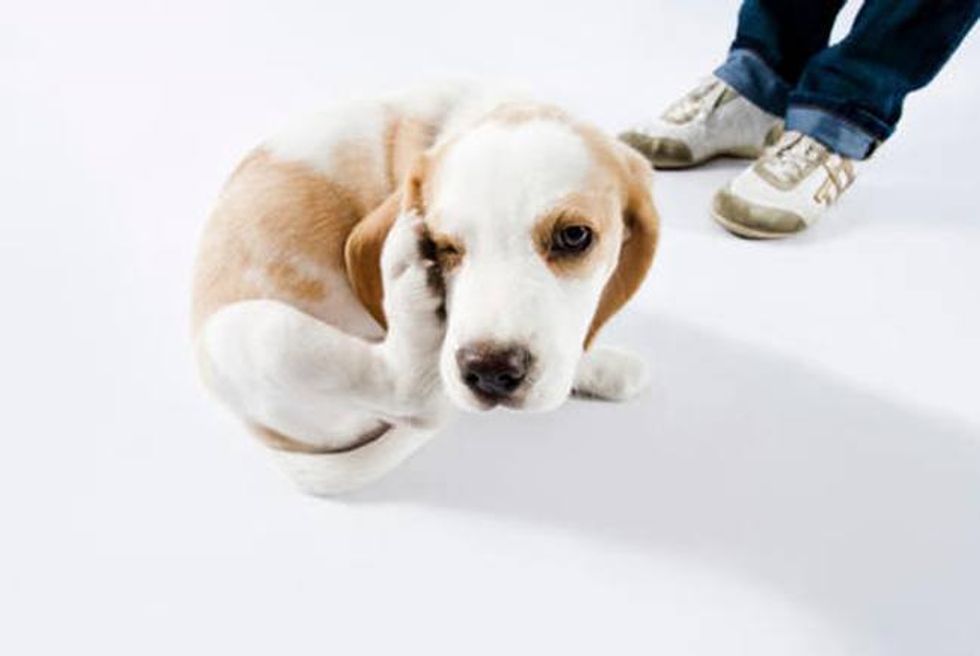 Richard H. Pitcairn, DVM, PhD, says, "Your important ally in the battle against fleas is cleanliness, both for your pet and for your home, particularly in your pet's sleeping areas." This is critical, since he says regular cleaning interrupts the life cycle of the fleas and greatly cuts down on the number of adult fleas that end up on your pet.
Here are some of Dr. Pitcairn's top tips for keeping your pet safe and naturally flea free:
1. Know when flea season will strike. Flea season hits in the summertime. Dr. Pitcairn advises that, while a normal flea life cycle can take up to 20 weeks, it only takes an average of two weeks during the hot summer months. This means that fleas breed and grow to adulthood at a more rapid rate.
2. Steam-clean your carpets. At the onset of flea season, have your carpets steam-cleaned. It may be expensive, but Dr. Pitcairn admits that it is extremely effective and might be worth the cost.
3. Vacuum at least once a week. Since the flea life cycle occurs in around 2 weeks during the summer, make sure you vacuum at least once a week. This will suck up live fleas and also their larvae and pupae before they can attack your pet.
4. Put a natural flea collar in your vacuum. If you don't plan on throwing out the contents of your vacuum right away, make sure you put a natural flea collar (or part of one) in your vacuum bag or bag-less container. Natural flea collars contain herbal oils to repel insects. Some can even be "recharged" and used again and again. (Note: If there are feline members of your household, make sure the collar is one made for cats, as some essential oils are toxic to cats).
5. Launder pet bedding at least once a week. Wash your pet's bedding in hot, soapy water at least one a week. Just like vacuuming once a week, this will interrupt the fleas' life cycle and prevent them from spreading.
6. Encourage ants. Or, as Dr. Pitcairn says, "Don't discourage them." Ants actually love to eat flea eggs and larvae, so try to avoid using pesticides that kill ants.
7. Mow and water your lawn regularly. Keeping your grass short allows sunlight to penetrate and warm the soil, which kills flea larvae. Watering your lawn helps to drown developing flea larvae before they can hatch into adulthood.
8. Add brewer's yeast and garlic to your pet's diet. Studies and anecdotal evidence support the claims that brewer's yeast and garlic have natural flea-repelling abilities. You can add them to your pet's diet and/or actually rub them directly into your pet's skin (just be prepared for the smell!).
YOU MIGHT ALSO LIKE
7 Nutrients You Can't Get From Plant-Based Foods
EcoWatch Daily Newsletter
The CDC has emphasized that washing hands with soap and water is one of the most effective ways to prevent the spread of COVID-19. Guido Mieth / Moment / Getty Images
The Centers for Disease Control has emphasized that washing hands with soap and water is one of the most effective measures we can take in preventing the spread of COVID-19. However, millions of Americans in some of the most vulnerable communities face the prospect of having their water shut off during the lockdowns, according to The Guardian.
A California newt (Taricha torosa) from Napa County, California, USA. Connor Long /
CC BY-SA 3.0
Aerial photos of the Sierra Nevada — the long mountain range stretching down the spine of California — showed rust-colored swathes following the state's record-breaking five-year drought that ended in 2016. The 100 million dead trees were one of the most visible examples of the ecological toll the drought had wrought.
Now, a few years later, we're starting to learn about how smaller, less noticeable species were affected.
Disinfectants and cleaners claiming to sanitize against the novel coronavirus have started to flood the market.
Natthawat / Moment / Getty Images
Disinfectants and cleaners claiming to sanitize against the novel coronavirus have started to flood the market, raising concerns for the U.S. Environmental Protection Agency (EPA), which threatened legal recourse against retailers selling unregistered products, according to The New York Times.
A customer packs groceries in reusable bags at a NYC supermarket on March 1, 2020. Eduardo Munoz Alvarez/Getty Images
The global coronavirus pandemic has thrown our daily routine into disarray. Billions are housebound, social contact is off-limits and an invisible virus makes up look at the outside world with suspicion. No surprise, then, that sustainability and the climate movement aren't exactly a priority for many these days.
Ingredients are displayed for the Old School Pinto Beans from the Decolonize Your Diet cookbook by Luz Calvo and Catriona Rueda Esquibel. Melissa Renwick / Toronto Star via Getty Images
By Molly Matthews Multedo
Livestock farming contributes to global warming, so eating less meat can be better for the climate.