This website uses cookies to ensure you get the best experience while browsing it. By clicking 'Got It' you're accepting these terms.


The best of EcoWatch, right in your inbox. Sign up for our email newsletter!
8 Ways to Keep Your Pet Flea Free
Jul. 27, 2015 12:16PM EST
We'll do anything to prevent our poor pets from getting fleas. But we shouldn't have to expose them to toxic chemicals to keep the fleas away. The insecticides used in common flea-control products can be poisonous to pets, causing vomiting, permanent nerve damage, and even cancer. (Permethrin ingredients in certain dog products are often fatal to cats, too.) The good news is that you can still prevent fleas while avoiding these harsh chemicals.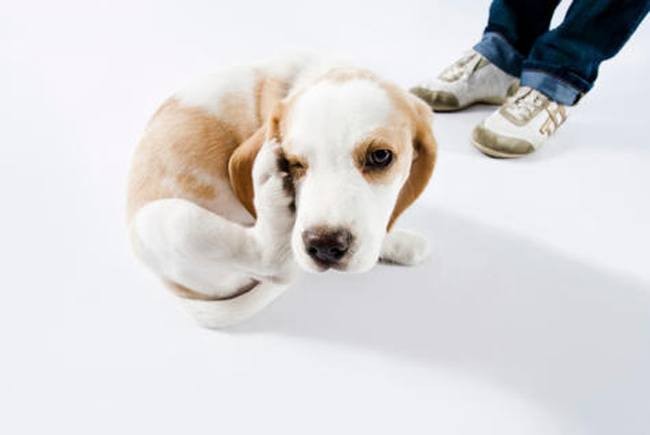 Richard H. Pitcairn, DVM, PhD, says, "Your important ally in the battle against fleas is cleanliness, both for your pet and for your home, particularly in your pet's sleeping areas." This is critical, since he says regular cleaning interrupts the life cycle of the fleas and greatly cuts down on the number of adult fleas that end up on your pet.
Here are some of Dr. Pitcairn's top tips for keeping your pet safe and naturally flea free:
1. Know when flea season will strike. Flea season hits in the summertime. Dr. Pitcairn advises that, while a normal flea life cycle can take up to 20 weeks, it only takes an average of two weeks during the hot summer months. This means that fleas breed and grow to adulthood at a more rapid rate.
2. Steam-clean your carpets. At the onset of flea season, have your carpets steam-cleaned. It may be expensive, but Dr. Pitcairn admits that it is extremely effective and might be worth the cost.
3. Vacuum at least once a week. Since the flea life cycle occurs in around 2 weeks during the summer, make sure you vacuum at least once a week. This will suck up live fleas and also their larvae and pupae before they can attack your pet.
4. Put a natural flea collar in your vacuum. If you don't plan on throwing out the contents of your vacuum right away, make sure you put a natural flea collar (or part of one) in your vacuum bag or bag-less container. Natural flea collars contain herbal oils to repel insects. Some can even be "recharged" and used again and again. (Note: If there are feline members of your household, make sure the collar is one made for cats, as some essential oils are toxic to cats).
5. Launder pet bedding at least once a week. Wash your pet's bedding in hot, soapy water at least one a week. Just like vacuuming once a week, this will interrupt the fleas' life cycle and prevent them from spreading.
6. Encourage ants. Or, as Dr. Pitcairn says, "Don't discourage them." Ants actually love to eat flea eggs and larvae, so try to avoid using pesticides that kill ants.
7. Mow and water your lawn regularly. Keeping your grass short allows sunlight to penetrate and warm the soil, which kills flea larvae. Watering your lawn helps to drown developing flea larvae before they can hatch into adulthood.
8. Add brewer's yeast and garlic to your pet's diet. Studies and anecdotal evidence support the claims that brewer's yeast and garlic have natural flea-repelling abilities. You can add them to your pet's diet and/or actually rub them directly into your pet's skin (just be prepared for the smell!).
YOU MIGHT ALSO LIKE
7 Nutrients You Can't Get From Plant-Based Foods
EcoWatch Daily Newsletter
In tea, food, or just on your windowsill, embrace the fragrance and fantastic healing potential of herbs.
By Ana Santos Rutschman
The world of food and drug regulation was rocked earlier this month by the news of a change in leadership at the Food and Drug Administration. Commissioner Scott Gottlieb resigned and will step down in early April. His temporary replacement is Dr. Ned Sharpless, director of the National Cancer Institute.
MartinPrescott / iStock / Getty Images
On Wednesday the U.S. Environmental Protection Agency (EPA) announced the first 20 chemicals it plans to prioritize as "high priority" for assessment under the Toxic Substances Control Act. Given the EPA's record of malfeasance on chemicals policy over the past two years, it is clear that these are chemicals that EPA is prioritizing to ensure that they are not properly evaluated or regulated.
Strawberries top the Environmental Working Group's "Dirty Dozen" list of U.S. produce most contaminated with pesticides. DANIEL LEAL-OLIVAS / AFP / Getty Images
Which conventionally-grown fruits and vegetables in the U.S. are most contaminated with pesticides? That's the question that the Environmental Working Group answers every year with its "Dirty Dozen" list of produce with the highest concentration of pesticides after being washed or peeled.
A drilling rig in a Wyoming natural gas field. William Campbell / Corbis via Getty Images
A U.S. federal judge temporarily blocked oil and gas drilling on 300,000 acres of federal leases in Wyoming Tuesday, arguing that the Bureau of Land Management (BLM) "did not sufficiently consider climate change" when auctioning off the land, The Washington Post reported.
Mizina / iStock / Getty Images
Oats are widely regarded as one of the healthiest grains you can eat, as they're packed with many important vitamins, minerals, and fiber.
JPMorgan Chase building in New York City. Ben Sutherland / CC BY 2.0
By Sharon Kelly
A report published Wednesday names the banks that have played the biggest recent role in funding fossil fuel projects, finding that since 2016, immediately following the Paris agreement's adoption, 33 global banks have poured $1.9 trillion into financing climate-changing projects worldwide.
Sriram Madhusoodanan of Corporate Accountability speaking on conflict of interest demand of the People's Demands at a defining action launching the Demands at COP24. Corporate Accountability
By Patti Lynn
2018 was a groundbreaking year in the public conversation about climate change. Last February, The New York Times reported that a record percentage of Americans now believe that climate change is caused by humans, and there was a 20 percentage point rise in "the number of Americans who say they worry 'a great deal' about climate change."