This website uses cookies to ensure you get the best experience while browsing it. By clicking 'Got It' you're accepting these terms.
You've probably read about the abundant helpful uses of coconut oil that range from nutritional benefits to household remedies and body care. But, did you know that coconut oil can also benefit your pets?
When I was trying to put extra weight on my labs, Sanchez and Gina, I frequently fed them a tablespoon of coconut oil. They loved licking it right off a spoon. But, that's only where the benefits start. It turns out that coconut oil can be used for shampoo, toothpaste, paw protection and more.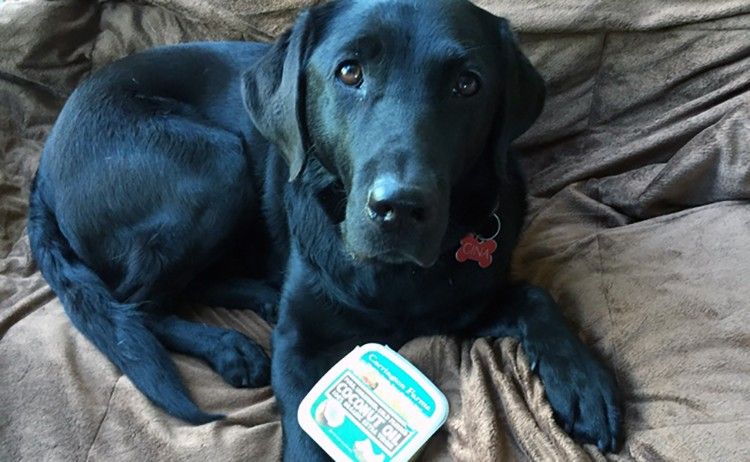 1. Fur Conditioner
In addition to coconut oil being a deep hair conditioner for people, it can do the same for pets, due to it's natural disinfecting and healing properties. Coconut-Oil-Tips.com says, "medium chain triglycerides are effective antifungal, antibacterial and antiviral compounds."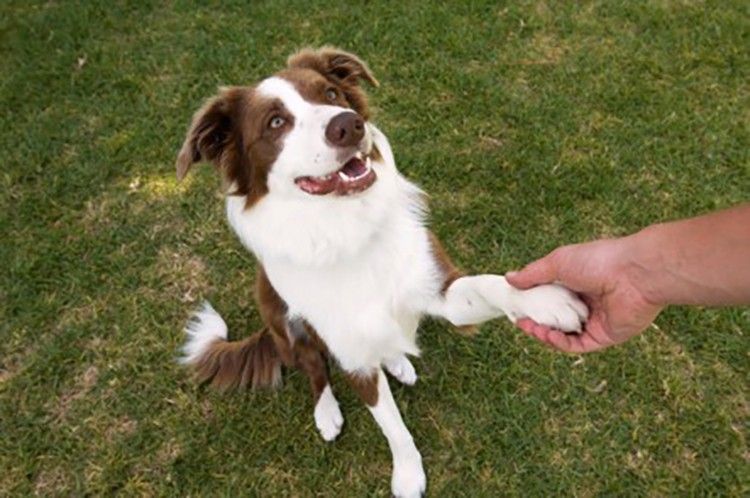 2. Paw Protection
Gina, my Lab pictured in the main photo, started limping last week. Luckily, she's running at full speed today due to some coconut oil I used to nurse the sore on her paw. And no worries about toxic chemicals if she chooses to lick it off.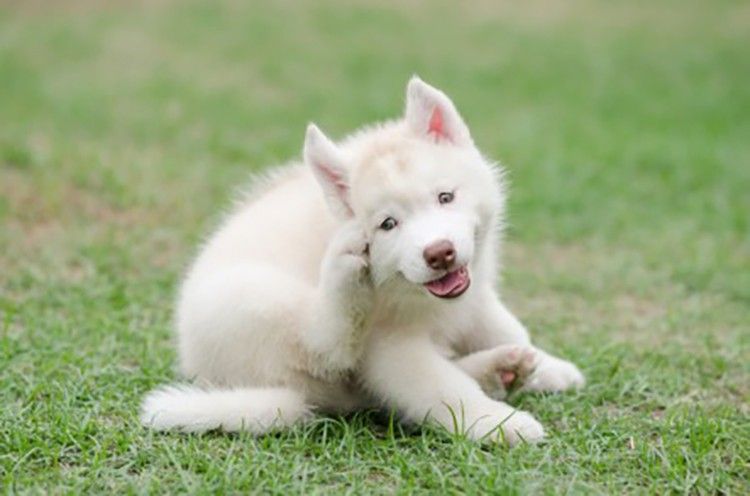 3. Flea Repellent
I live in California with my pups. The flea problem seems worse than ever this year. Traditional flea treatment can often be toxic and it's effect frequently diminishes over time. No worries about either of those problems with coconut oil. Simply mix 1 part coconut oil with 2 parts water. Boil and then pour into a transporting to a spritzer bottle to lightly spray your pup.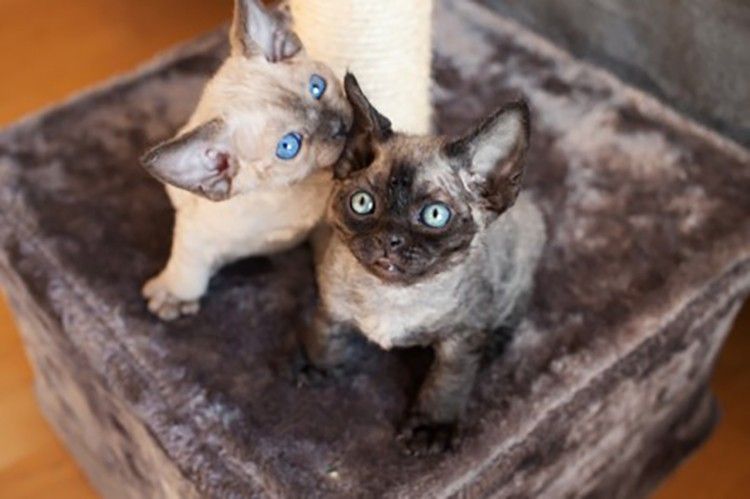 4. Ear Mite Remedy
Does your pet have itchy ears? How simple does it get? Coconut oil has been used as a natural treatment of ear mites in kittens and other pets.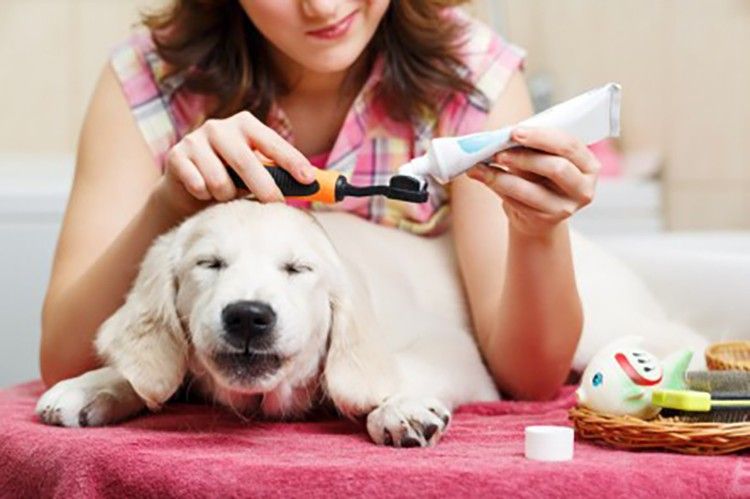 5. Pet Toothpaste
Sanchez recently had three teeth extracted. His entire energy has picked up since the removal of his molars. As pleased as I am about the results, he's 13 and I'm determined that he won't have to have another oral surgery. So, I recently increased the frequency of his teeth brushing. I just put some coconut oil on a doggie toothbrush and brush away. The best part is that he now loves having his teeth brushed because the flavor is so yummy.
6. Dog Shampoo
A lot of commercial dog shampoos now include coconut oil. But, you can also make your own. FirstHomeLoveLife.com has an easy recipe here. While the coconut oil helps moisturize your pup's skin, it can also make it greasy until it gets fully absorbed into the fur and skin. You'll only need a little bit, depending on your dog's size. It should have the consistency of thick milk or a light cream.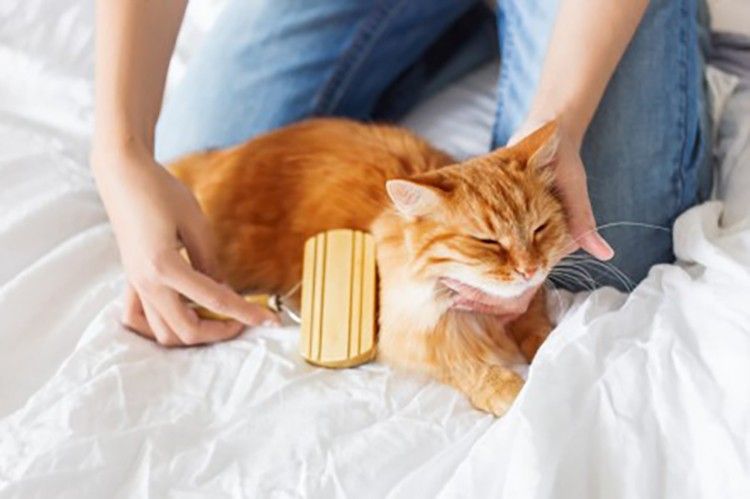 7. Prevent Hairballs
Adding a bit of coconut oil to your kitty's diet will not only prevent the hairballs, but it can also help her digestive tract. Coconut-oil-tips.com suggests working up to a teaspoon per day per 10 pounds, so that Kitty's stomach bacteria stays in balance.
8. Soothes Hotspots and Dry Skin
Whether Buster has a dry nose or a hot spot, coconut oil used topically moisturizes the skin for a variety of pet skin ailments. It can even help disinfect minor injuries. And, again, no problem when Kitty or Buster wants to lick it off.
Dosage for Dogs and Cats:
1 tsp per 10 lbs or 1 Tbsp per 30 lbs
Best Choice of Coconut Oil:
Unrefined virgin coconut oil
YOU MIGHT ALSO LIKE
31 Incredible Ways to Use Coconut Oil
Grow Your Own Food Right in Your Kitchen With This DIY Aquaponics Kit
EcoWatch Daily Newsletter
Protestors and police stand on ether side of railway tracks. dpa / picture-alliance
Police have cleared 250 climate activists who stayed overnight at the Garzweiler brown coal mine in western Germany, officials said Sunday.
Cecilie_Arcurs / E+ / Getty Images
By Megan Jones and Jennifer Solomon
The #MeToo movement has caused profound shake-ups at organizations across the U.S. in the last two years. So far, however, it has left many unresolved questions about how workplaces can be more inclusive and equitable for women and other diverse groups.

Cigarette butts are the most-littered item found at beach clean ups. John R. Platt
By Tara Lohan
By now it's no secret that plastic waste in our oceans is a global epidemic. When some of it washes ashore — plastic bottles, plastic bags, food wrappers — we get a stark reminder. And lately one part of this problem has been most glaring to volunteers who comb beaches picking up trash: cigarette butts.

Andrea Rodgers, second from the right, takes notes during a hearing in the Juliana v. U.S. case before the 9th Circuit Court of Appeals in Portland, Oregon on June 4. Colleague Elizabeth Brown sits to her left, while colleague Julia Olson sits on her right, with co-council Philip Gregory on Julia's right. Robin Loznak / Our Children's Trust
By Fran Korten
On June 4, Andrea Rodgers was in the front row of attorneys sitting before a three-judge panel of the 9th Circuit Court. The court session, held in Portland, Oregon, was to determine whether the climate change lawsuit (Juliana v. United States) brought by 21 young plaintiffs should be dismissed, as requested by the U.S. government, or go on to trial.
Seventy Extinction Rebellion protesters were arrested outside The New York Times building Saturday.
SCOOTERCASTER / YouTube screenshot
Explosions and a blaze at the Philadelphia Energy Solutions Refining Complex on June 21.
VOA News / YouTube screenshot
A fire broke out at a Philadelphia oil refinery Friday morning, starting with an explosion so massive it was felt as far away as South Jersey and Delaware County, Pennsylvania, CNN reported.
Asian elephants in Bandipur National Park, India. Mike Prince / CC BY 2.0
By John R. Platt
Some of the tiniest creatures in Myanmar benefit from living near the largest species in the area.