This website uses cookies to ensure you get the best experience while browsing it. By clicking 'Got It' you're accepting these terms.
8 Things You Should Know About the Bird Flu Epidemic
Jun. 11, 2015 08:47AM EST
Food
The U.S. is in the midst of the worst outbreak of the highly pathogenic avian influenza—otherwise known as HPAI or bird flu—on record. Since it was first detected in December 2014, the deadly H5 strains have caused the mass culling of millions of birds, devastating poultry and egg farmers all over the country. Here are eight things you should know about the outbreak and how it might affect you.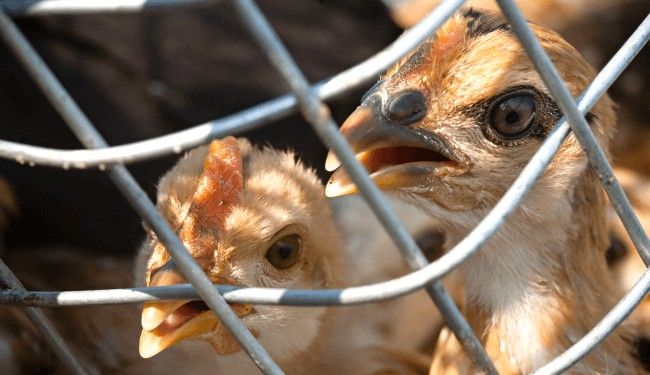 Photo Credit: Shutterstock
1. How many birds have been killed?
To date, more than 47 million birds have been killed, a shocking 80 percent of which are egg-laying hens. It has also been detected in commercial and backyard turkeys, chickens and other types of poultry and, most recently, wild geese. The numbers have escalated to an unimaginable degree—it was only two months ago when there were fewer than 1 million reported cases, the Washington Post pointed out. You can check the latest numbers on this web page from the U.S. Department of Agriculture (USDA).
2. How many states is it in?
So far, the bird flu has struck 21 states in 298 sites, particularly in the Midwest due to its abundance of commercial farms. Egg-producers in Iowa, the top egg-producing state, have been hit the hardest. Iowa's Gov. Terry Branstad declared a state of emergency on May 1 due to the rising toll of the outbreak. Minnesota and Wisconsin have also declared states of emergency.
3. Where did it come from?
The USDA told TIME that some of the strains currently seen in the U.S. outbreaks originated in Asia, spread via migratory fowl and then mixed with other bird flu strains in North America. What remains a mystery, however, is how the viruses are "getting into large production facilities, where birds are kept indoors under rigorous biosecurity protocols," Mother Jones noted.
Contaminated water or feed is also a suspect, as well as the practice of keeping "tens, or even hundreds, of thousands of animals together in cramped, waste-covered quarters, [who are] fed an unnatural and unhealthy diet, and unable to spend time outdoors or engage in any of their natural behaviors," as Dr. Joseph Mercola pointed out on his popular natural health site.
4. How serious is it?
The USDA told TIME while the high number of birds slaughtered during this outbreak seems very high, it's still "considered a small percentage of the overall U.S. poultry population." According to the agency, in 2014 the U.S. poultry industry produced 8.54 billion broilers, 99.8 billion eggs and 238 million turkeys.
5. If I keep birds, how can I tell if mine are infected?
According to TIME, turkeys and chickens will stop eating or drinking, and appear lethargic (they will die shortly after that). They also might look like they are stargazing or twisting their neck. For egg-laying hens, they may lay fewer eggs. Housebound birds are not particularly at risk for contracting avian flu, but pet owners should not allow them contact with wild birds.
6. Will it increase poultry or egg prices?
No (or at least not yet) for poultry prices, but definitely yes for eggs. According to Harvest Public Media, bakers and restaurants are especially feeling the pinch, as liquid egg prices have shot up 240 percent in some badly affected areas since early May. This means the bird flu could increase the price of anything made with eggs such as baked goods, pasta and other food items. In some grocery stores, the price of a carton of eggs has tripled to up to $3, the publication reported. Some grocery chains in Texas are even rationing eggs. The U.S. has even started importing eggs from The Netherlands to ease shortages.
Netherlands to save US after bird flu outbreak by importing egg products http://t.co/O2qUWLjjlg

— The Guardian (@guardian) June 8, 2015
Dozens of countries have imposed total or partial bans on U.S. poultry and egg imports since the outbreak, including China and South Korea, which accounted for $428.5 million in export sales of U.S. poultry meat and products alone, according to Reuters.
7. What about specialty eggs?
There hasn't been an increase in prices for cage-free and organic eggs because these specialty-egg chicken houses haven't been hit as hard, as egg industry analyst Brian Moscogiuri Urner Barry told the Associated Press.
8. Can I catch the bird flu?
No. There have been no cases of human transmission but the U.S. Centers for Disease Control and Prevention (CDC) recently released an official advisory to warn health workers and clinicians of the potential for human infection. Currently there is no human vaccination for H5 strains but efforts are underway to develop the vaccine in case the need arises.
YOU MIGHT ALSO LIKE
How Monsanto Gained Huge Control of the World's Food Supply
7 Ways Your Grocery List Can Be a Ballot for Positive Change
Find Out Which Brands Still Use Toxic BPA-Lined Cans (And Which Don't)
EcoWatch Daily Newsletter
A glacier is seen in the Kenai Mountains on Sept. 6, near Primrose, Alaska. Scientists from the U.S. Geological Survey have been studying the glaciers in the area since 1966 and their studies show that the warming climate has resulted in sustained glacial mass loss as melting outpaced the accumulation of new snow and ice. Joe Raedle / Getty Images
By Mark Mancini
On Aug. 18, Iceland held a funeral for the first glacier lost to climate change. The deceased party was Okjökull, a historic body of ice that covered 14.6 square miles (38 square kilometers) in the Icelandic Highlands at the turn of the 20th century. But its glory days are long gone. In 2014, having dwindled to less than 1/15 its former size, Okjökull lost its status as an official glacier.
Members of Chicago Democratic Socialists of America table at the Logan Square Farmers Market on Aug. 18. Alex Schwartz
By Alex Schwartz
Among the many vendors at the Logan Square Farmers Market on Aug. 18 sat three young people peddling neither organic vegetables, gourmet cheese nor handmade crafts. Instead, they offered liberation from capitalism.
Hackney primary school students went to the Town Hall on May 24 in London after school to protest about the climate emergency. Jenny Matthews / In Pictures / Getty Images
Bird watching in the U.S. may be a lot harder than it once was, since bird populations are dropping off in droves, according to a new study.
Amazon CEO Jeff Bezos announces the co-founding of The Climate Pledge at the National Press Club on Sept. 19 in Washington, DC. Paul Morigi / Getty Images for Amazon
The day before over 1,500 Amazon.com employees planned a walkout to participate in today's global climate strike, CEO Jeff Bezos unveiled a sweeping plan for the retail and media giant to be carbon neutral by 2040, 10 years ahead of the Paris agreement schedule.
For the past seven years, the Anishinaabe people have been facing the largest tar sands pipeline project in North America. We still are. In these dying moments of the fossil fuel industry, Water Protectors stand, prepared for yet another battle for the water, wild rice and future of all. We face Enbridge, the largest pipeline company in North America, and the third largest corporation in Canada. We face it unafraid and eyes wide open, for indeed we see the future.
The climate crisis often intensifies systems of oppression. Rieko Honma / Stone / Getty Images Plus
By Mara Dolan
We see the effects of the climate crisis all around us in hurricanes, droughts, wildfires, and rising sea levels, but our proximity to these things, and how deeply our lives are changed by them, are not the same for everyone. Frontline groups have been leading the fight for environmental and climate justice for centuries and understand the critical connections between the climate crisis and racial justice, economic justice, migrant justice, and gender justice. Our personal experiences with climate change are shaped by our experiences with race, gender, and class, as the climate crisis often intensifies these systems of oppression.