This website uses cookies to ensure you get the best experience while browsing it. By clicking 'Got It' you're accepting these terms.


The best of EcoWatch, right in your inbox. Sign up for our email newsletter!
8 Takeaways From Nestle's Secret Report Warning the World Is Running Out of Water
May. 05, 2016 08:43AM EST
By Nathan Halverson, The Center for Investigative Reporting
If the rest of the world ate like Americans, the planet would have run out of freshwater 15 years ago, according to the world's largest food company.
In private, Nestle executives told U.S. officials that the world is on a collision course with doom because Americans eat too much meat and now, other countries are following suit, according to a secret U.S. report—Tour D'Horizon with Nestle: Forget the Global Financial Crisis, the World is Running Out of Fresh Water.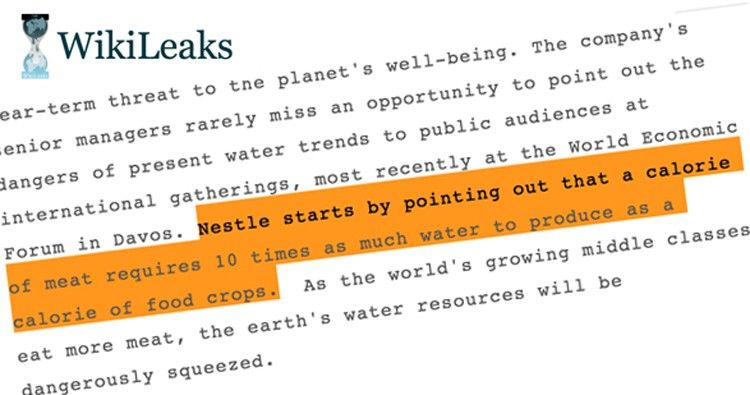 Producing a pound of meat requires a tremendous amount of water because farmers use tons of crops such as corn and soy to feed each animal, which require tens of thousands of gallons of water to grow. It is far more efficient when people eat the corn or soy directly.
The planet is a on a "potentially catastrophic" course as billions of people in countries such as India and China begin eating more beef, chicken and pork like their counterparts in Western countries, according to the 2009 report released by WikiLeaks and first reported by Reveal at The Center for Investigative Reporting in a cache of water-related classified documents. The Chinese now eat about half as much meat as Americans, Australians and Europeans, a figure that continues to rapidly rise as more Chinese are lifted out of poverty and into the middle class.
And Nestle—which makes Gerber baby food, Nescafe, Hot Pockets, DiGiorno pizza, Lean Cuisine, Stouffer's, Nestea, Dreyer's and Haagen-Dazs ice cream—is deeply concerned.
Here are eight takeaways, with key quotes from the secret report:
1. Global water shortages are just around the corner.
"Nestle thinks one-third of the world's population will be affected by fresh water scarcity by 2025, with the situation only becoming more dire thereafter and potentially catastrophic by 2050."
2. Major regions, including in the U.S., are being drained of their underground aquifers.
"Problems with be severest in the Middle East, northern India, northern China and the western United States."
3. Excessive meat-eating is driving water depletion.
"Nestle starts by pointing out that a calorie of meat requires 10 times as much water to produce as a calorie of food crops. As the world's growing middle classes eat more meat, the earth's water resources will be dangerously squeezed."
4. There's plenty of water to feed everyone a diet that's not so meatcentric.
"Nestle reckons that the earth's maximum sustainable freshwater withdrawals are about 12,500 cubic kilometers per year. In 2008, global freshwater withdrawals reached 6,000 cubic kilometers or almost half of the potentially available supply. This was sufficient to provide an average 2,500 calories per day to the world's 6.7 billion people, with little per capita meat consumption."
5. The American diet is eating the world dry.
"The current U.S. diet provides about 3,600 calories per day with substantial meat consumption. If the whole world were to move to this standard, global fresh water resources would be exhausted at a population level of 6 billion, which the world reached in the year 2000."
6. This is an even bigger problem now that other countries are eating like America and the global population's set to grow by two billion by 2050.
"There is not nearly enough fresh water available to provide this standard to a global population expected to exceed 9 billion by mid-century."
7. So what's Nestle's prediction for the future? Think "Mad Max" …
"It is clear that current developed country meat-based diets and patterns of water usage do not provide a blueprint for the planet's future. Based on present trends, Nestle believes that the world will face a cereals shortfall of as much as 30 percent by 2025. (Nestle) stated it will take a combination of strategies to avert a crisis."
8. Why is this the first time you're hearing this from the world's largest food company?
"Sensitive to its public image, Nestle has maintained a low profile in discussing solutions and tries not to preach … the firm scrupulously avoids confrontation and polemics, preferring to influence its audience discretely by example."
Nathan Halverson is an Emmy Award-winning reporter and producer for Reveal, covering business and finance with a current emphasis on the global food system. Follow him on Twitter: @eWords.
YOU MIGHT ALSO LIKE
Should You Be Concerned About the Overuse of Antibiotics in Farm Animals?
Quaker Oats Accused of Being 'Deceptive and Misleading' After Glyphosate Detected in Oatmeal
Should You Worry About Arsenic in Baby Cereal and Drinking Water?
EcoWatch Daily Newsletter
Pexels
Get ready to toast bees, butterflies and hummingbirds. National Pollinator Week is June 17-23 and it's a perfect time to celebrate the birds, bugs and lizards that are so essential to the crops we grow, the flowers we smell, and the plants that produce the air we breathe.
Alexander Spatari / Moment / Getty Images
It seems like every day a new diet is declared the healthiest — paleo, ketogenic, Atkins, to name a few — while government agencies regularly release their own recommended dietary guidelines. But there may not be an ideal one-size-fits-all diet, according to a new study.
The U.S Forest Service unveiled a new plan to skirt a major environmental law that requires extensive review for new logging, road building, and mining projects on its nearly 200 million acres of public land. The proposal set off alarm bells for environmental groups, according to Reuters.
Homes in Washington, DC's Brookland neighborhood were condemned to clear room for a highway in the 1960s. The community fought back. Brig Cabe / DC Public Library
By Teju Adisa-Farrar & Raul Garcia
In the summer of 1969 a banner hung over a set of condemned homes in what was then the predominantly black and brown Brookland neighborhood in Washington, DC. It read, "White man's roads through black men's homes."
Earlier in the year, the District attempted to condemn the houses to make space for a proposed freeway. The plans proposed a 10-lane freeway, a behemoth of a project that would divide the nation's capital end-to-end and sever iconic Black neighborhoods like Shaw and the U Street Corridor from the rest of the city.
Demonstrators outside a Republican presidential debate in Detroit in 2016. Chip Somodevilla / Getty Images
Michigan prosecutors dropped all criminal charges against government officials involved in the Flint water crisis Thursday, citing concerns about the investigation they had inherited from the Office of Special Counsel (OSC) appointed by former Attorney General Bill Schuette, CNN reported.
Samara Heisz / iStock / Getty Images
New York state has joined California, West Virginia, Arizona, Mississippi and Maine in ending religious exemptions for parents who prefer not to vaccinate their children, The New York Times reported.