This website uses cookies to ensure you get the best experience while browsing it. By clicking 'Got It' you're accepting these terms.
8 Takeaways From Nestle's Secret Report Warning the World Is Running Out of Water
May. 05, 2016 08:43AM EST
By Nathan Halverson, The Center for Investigative Reporting
If the rest of the world ate like Americans, the planet would have run out of freshwater 15 years ago, according to the world's largest food company.
In private, Nestle executives told U.S. officials that the world is on a collision course with doom because Americans eat too much meat and now, other countries are following suit, according to a secret U.S. report—Tour D'Horizon with Nestle: Forget the Global Financial Crisis, the World is Running Out of Fresh Water.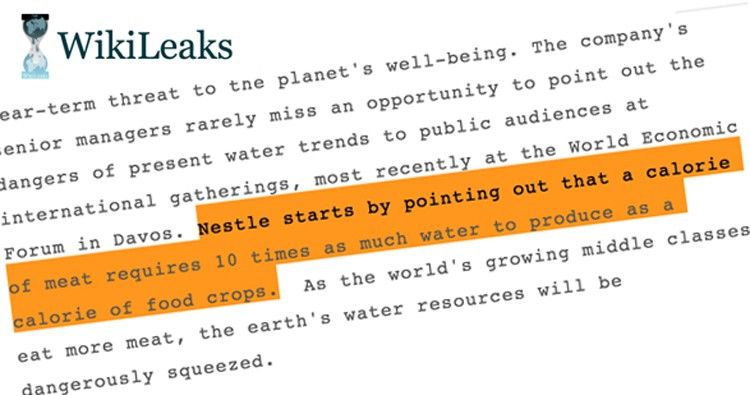 Producing a pound of meat requires a tremendous amount of water because farmers use tons of crops such as corn and soy to feed each animal, which require tens of thousands of gallons of water to grow. It is far more efficient when people eat the corn or soy directly.
The planet is a on a "potentially catastrophic" course as billions of people in countries such as India and China begin eating more beef, chicken and pork like their counterparts in Western countries, according to the 2009 report released by WikiLeaks and first reported by Reveal at The Center for Investigative Reporting in a cache of water-related classified documents. The Chinese now eat about half as much meat as Americans, Australians and Europeans, a figure that continues to rapidly rise as more Chinese are lifted out of poverty and into the middle class.
And Nestle—which makes Gerber baby food, Nescafe, Hot Pockets, DiGiorno pizza, Lean Cuisine, Stouffer's, Nestea, Dreyer's and Haagen-Dazs ice cream—is deeply concerned.
Here are eight takeaways, with key quotes from the secret report:
1. Global water shortages are just around the corner.
"Nestle thinks one-third of the world's population will be affected by fresh water scarcity by 2025, with the situation only becoming more dire thereafter and potentially catastrophic by 2050."
2. Major regions, including in the U.S., are being drained of their underground aquifers.
"Problems with be severest in the Middle East, northern India, northern China and the western United States."
3. Excessive meat-eating is driving water depletion.
"Nestle starts by pointing out that a calorie of meat requires 10 times as much water to produce as a calorie of food crops. As the world's growing middle classes eat more meat, the earth's water resources will be dangerously squeezed."
4. There's plenty of water to feed everyone a diet that's not so meatcentric.
"Nestle reckons that the earth's maximum sustainable freshwater withdrawals are about 12,500 cubic kilometers per year. In 2008, global freshwater withdrawals reached 6,000 cubic kilometers or almost half of the potentially available supply. This was sufficient to provide an average 2,500 calories per day to the world's 6.7 billion people, with little per capita meat consumption."
5. The American diet is eating the world dry.
"The current U.S. diet provides about 3,600 calories per day with substantial meat consumption. If the whole world were to move to this standard, global fresh water resources would be exhausted at a population level of 6 billion, which the world reached in the year 2000."
6. This is an even bigger problem now that other countries are eating like America and the global population's set to grow by two billion by 2050.
"There is not nearly enough fresh water available to provide this standard to a global population expected to exceed 9 billion by mid-century."
7. So what's Nestle's prediction for the future? Think "Mad Max" …
"It is clear that current developed country meat-based diets and patterns of water usage do not provide a blueprint for the planet's future. Based on present trends, Nestle believes that the world will face a cereals shortfall of as much as 30 percent by 2025. (Nestle) stated it will take a combination of strategies to avert a crisis."
8. Why is this the first time you're hearing this from the world's largest food company?
"Sensitive to its public image, Nestle has maintained a low profile in discussing solutions and tries not to preach … the firm scrupulously avoids confrontation and polemics, preferring to influence its audience discretely by example."
Nathan Halverson is an Emmy Award-winning reporter and producer for Reveal, covering business and finance with a current emphasis on the global food system. Follow him on Twitter: @eWords.
YOU MIGHT ALSO LIKE
Should You Be Concerned About the Overuse of Antibiotics in Farm Animals?
Quaker Oats Accused of Being 'Deceptive and Misleading' After Glyphosate Detected in Oatmeal
Should You Worry About Arsenic in Baby Cereal and Drinking Water?
EcoWatch Daily Newsletter
Sen. Michael Bennet (D-CO) speaks during the North American Building Trades Unions Conference at the Washington Hilton April 10, 2019 in Washington, DC. Zach Gibson / Getty Images
Colorado senator and 2020 hopeful Michael Bennet introduced his plan to combat climate change Monday, in the first major policy rollout of his campaign. Bennet's plan calls for the establishment of a "Climate Bank," using $1 trillion in federal spending to "catalyze" $10 trillion in private spending for the U.S. to transition entirely to net-zero emissions by 2050.
When Trump's Environmental Protection Agency (EPA) announced its replacement for the Obama-era Clean Power Plan in August 2018, its own estimates said the reduced regulations could lead to 1,400 early deaths a year from air pollution by 2030.
Now, the EPA wants to change the way it calculates the risks posed by particulate matter pollution, using a model that would lower the death toll from the new plan, The New York Times reported Monday. Five current or former EPA officials familiar with the plan told The Times that the new method would assume there is no significant health gain by lowering air pollution levels below the legal limit. However, many public health experts say that there is no safe level of particulate matter exposure, which has long been linked to heart and lung disease.
A crate carrying one of the 33 lions rescued from circuses in Peru and Columbia is lifted onto the back of a lorry before being transported to a private reserve on April 30, 2016 in Johannesburg, South Africa. Dan Kitwood / Getty Images
By Andrea Germanos
Animal welfare advocates are praising soon-to-be introduced legislation in the U.S. that would ban the use of wild animals in traveling circuses.
A tornado Monday in Union City, Oklahoma.
TicToc by Bloomberg / YouTube screenshot
A woman walks in front of her water-logged home in Sriwulan village, Sayung sub-district of Demak regency, Central Java, Indonesia on Feb. 2, 2018. Siswono Toyudho / Anadolu Agency /Getty Images
Matt Cardy / Stringer / Getty Images
The Guardian is changing the way it writes about environmental issues.
Blueberry yogurt bark. SEE D JAN / iStock / Getty Images Plus
Having nutritious snacks to eat during the workday can help you stay energized and productive.

A 2017 flood in Elk Grove, California. Florence Low / California Department of Water Resources
By Tara Lohan
It's been the wettest 12 months on record in the continental United States. Parts of the High Plains and Midwest are still reeling from deadly, destructive and expensive spring floods — some of which have lasted for three months.
Mounting bills from natural disasters like these have prompted renewed calls to reform the National Flood Insurance Program, which is managed by Federal Emergency Management Agency and is now $20 billion in debt.