This website uses cookies to ensure you get the best experience while browsing it. By clicking 'Got It' you're accepting these terms.
8 Takeaways From Nestle's Secret Report Warning the World Is Running Out of Water
May. 05, 2016 08:43AM EST
By Nathan Halverson, The Center for Investigative Reporting
If the rest of the world ate like Americans, the planet would have run out of freshwater 15 years ago, according to the world's largest food company.
In private, Nestle executives told U.S. officials that the world is on a collision course with doom because Americans eat too much meat and now, other countries are following suit, according to a secret U.S. report—Tour D'Horizon with Nestle: Forget the Global Financial Crisis, the World is Running Out of Fresh Water.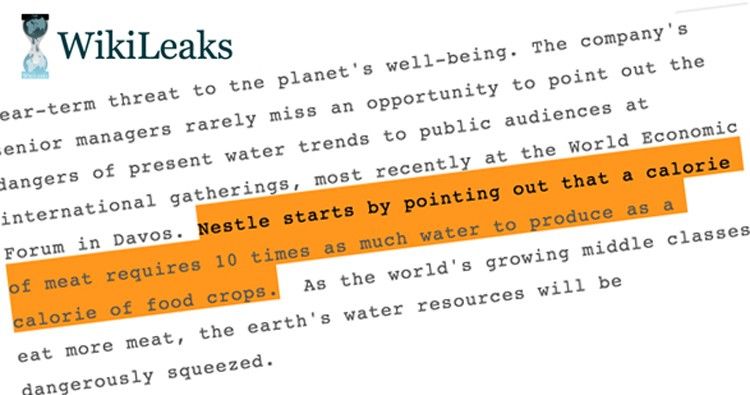 Producing a pound of meat requires a tremendous amount of water because farmers use tons of crops such as corn and soy to feed each animal, which require tens of thousands of gallons of water to grow. It is far more efficient when people eat the corn or soy directly.
The planet is a on a "potentially catastrophic" course as billions of people in countries such as India and China begin eating more beef, chicken and pork like their counterparts in Western countries, according to the 2009 report released by WikiLeaks and first reported by Reveal at The Center for Investigative Reporting in a cache of water-related classified documents. The Chinese now eat about half as much meat as Americans, Australians and Europeans, a figure that continues to rapidly rise as more Chinese are lifted out of poverty and into the middle class.
And Nestle—which makes Gerber baby food, Nescafe, Hot Pockets, DiGiorno pizza, Lean Cuisine, Stouffer's, Nestea, Dreyer's and Haagen-Dazs ice cream—is deeply concerned.
Here are eight takeaways, with key quotes from the secret report:
1. Global water shortages are just around the corner.
"Nestle thinks one-third of the world's population will be affected by fresh water scarcity by 2025, with the situation only becoming more dire thereafter and potentially catastrophic by 2050."
2. Major regions, including in the U.S., are being drained of their underground aquifers.
"Problems with be severest in the Middle East, northern India, northern China and the western United States."
3. Excessive meat-eating is driving water depletion.
"Nestle starts by pointing out that a calorie of meat requires 10 times as much water to produce as a calorie of food crops. As the world's growing middle classes eat more meat, the earth's water resources will be dangerously squeezed."
4. There's plenty of water to feed everyone a diet that's not so meatcentric.
"Nestle reckons that the earth's maximum sustainable freshwater withdrawals are about 12,500 cubic kilometers per year. In 2008, global freshwater withdrawals reached 6,000 cubic kilometers or almost half of the potentially available supply. This was sufficient to provide an average 2,500 calories per day to the world's 6.7 billion people, with little per capita meat consumption."
5. The American diet is eating the world dry.
"The current U.S. diet provides about 3,600 calories per day with substantial meat consumption. If the whole world were to move to this standard, global fresh water resources would be exhausted at a population level of 6 billion, which the world reached in the year 2000."
6. This is an even bigger problem now that other countries are eating like America and the global population's set to grow by two billion by 2050.
"There is not nearly enough fresh water available to provide this standard to a global population expected to exceed 9 billion by mid-century."
7. So what's Nestle's prediction for the future? Think "Mad Max" …
"It is clear that current developed country meat-based diets and patterns of water usage do not provide a blueprint for the planet's future. Based on present trends, Nestle believes that the world will face a cereals shortfall of as much as 30 percent by 2025. (Nestle) stated it will take a combination of strategies to avert a crisis."
8. Why is this the first time you're hearing this from the world's largest food company?
"Sensitive to its public image, Nestle has maintained a low profile in discussing solutions and tries not to preach … the firm scrupulously avoids confrontation and polemics, preferring to influence its audience discretely by example."
Nathan Halverson is an Emmy Award-winning reporter and producer for Reveal, covering business and finance with a current emphasis on the global food system. Follow him on Twitter: @eWords.
YOU MIGHT ALSO LIKE
Should You Be Concerned About the Overuse of Antibiotics in Farm Animals?
Quaker Oats Accused of Being 'Deceptive and Misleading' After Glyphosate Detected in Oatmeal
Should You Worry About Arsenic in Baby Cereal and Drinking Water?
EcoWatch Daily Newsletter
Ryan Hagerty / USFWS
It's become a familiar story with the Trump administration: Scientists write a report that shows the administration's policies will cause environmental damage, then the administration buries the report and fires the scientists.
A coalition of some of the largest environmental groups in the country joined forces to file a lawsuit in federal court challenging the Trump administration's maneuver to weaken the Endangered Species Act.
beyond foto / Getty Images
By Kimberly Holland
Children who eat a lot of gluten in their earliest years may have an increased risk of developing celiac disease and gluten intolerance, according to a new study published in JAMATrusted Source.
Joe Raedle / Getty Images
By Jake Johnson
Calling the global climate crisis both the greatest threat facing the U.S. and the greatest opportunity for transformative change, Sen. Bernie Sanders unveiled today a comprehensive Green New Deal proposal that would transition the U.S. economy to 100 percent renewable energy and create 20 million well-paying union jobs over a decade.
The Parties to CITES agreed to list giraffes on Appendix II of the Convention on International Trade in Endangered Species (CITES) today at the World Wildlife Conference or CoP18 in Geneva. Such protections will ensure that all giraffe parts trade were legally acquired and not sourced from the poached giraffes trade and will require countries to make non-detriment findings before allowing giraffe exports. The listing will also enable the collection of international trade data for giraffes that might justify greater protections at both CITES and other venues in the future.

The WHO stressed that more research is needed on the potential health risks of microplastic ingestion. luchschen / iStock / Getty Images Plus
The UN's health agency on Thursday said that microplastics contained in drinking water posed a "low" risk at their current levels.
However, the World Health Organization (WHO) — in its first report on the potential health risks of microplastic ingestion — also stressed more research was needed to reassure consumers.
Brazil's right-wing President Jair Bolsonaro is giving President Trump a run for his money in the alternative facts department.
Washington Gov. Jay Inslee, who made solving the climate crisis the center of his presidential campaign, is dropping out of the 2020 Democratic primary race.