This website uses cookies to ensure you get the best experience while browsing it. By clicking 'Got It' you're accepting these terms.
8 Steps to a More Eco-Friendly Kitchen
Jul. 02, 2014 12:24PM EST
By Cliff Weathers
While you may hear a lot about buying locally grown and organic foods, eco-friendly food preparation, green detergents and non-toxic cleaning products, not much is written about greening the kitchen itself. And yet, as a society we consider the kitchen to be sacred, and collectively we spend more money remodeling this room than any other in the house.
Fortunately, making green choices for your kitchen is as good for the pocket as it is for the planet. And while it may be argued that keeping the kitchen you have might be your greenest option, here are some things to consider whether you're buying new appliances, remodeling or simply trying to reduce the carbon footprint in your cookery.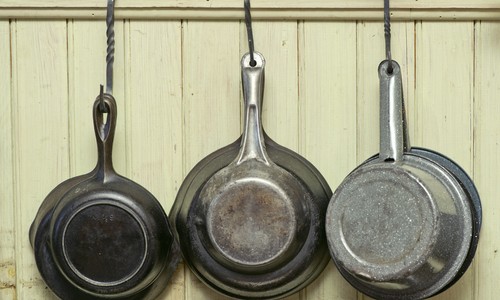 Iron skillets and antique pans. Photo courtesy of Shutterstock
1. Buy eco-friendly countertops.
If you need to replace your countertops, look into renewable sources such as bamboo and hemp, which should cost between $90-$130 a square foot. Another interesting—and visually striking—eco-friendly countertop material is Icestone, which is made from recycled glass and colored concrete. It costs about $75 a square foot. By comparison, marble and granite countertops, two high-end countertop choices popular with consumers, cost between $125-$250. Cheap laminate countertops cost some $20-$50 per square foot.
You may also want to consider using wooden planks or countertops salvaged from old homes. Nonprofit organizations—mostly found in urban areas—dismantle abandoned homes, recycle the materials and resell them for low prices at "rehab stores." Habitat for Humanity, a nonprofit that builds and rehabilitates affordable homes, has hundreds of such stores across the country, which they call ReStores.
2. Use reclaimed cabinets.
When redesigning your kitchen, look at salvaging used cabinets or using furniture elements such as antique Hoosier cabinets for your storage needs. Appropriate hanging and sink cabinets, however, might not be so easy to find as it could be hard to locate ones that fit your needs or your kitchen's dimensions. Check out home rehab stores for used cabinets. Antique shops, freecycling organizations, Craigslist and estate sales are good places to find freestanding cabinets and hutches.
New or used, you get what you pay for when it comes to wood products. Cabinetry and furniture made from cheap pine or particle board won't hold up nearly as well as oak, maple, walnut and cherry. While looking at cabinets, pay close attention to joint construction. Anything constructed with staples or nails, or visible glue indicates cheap construction. Look for dowels, screws, dovetail joints, and reinforcement blocks at corners.
3. Buy the right cookware.
While it may be tempting to buy inexpensive, non-stick cookware (like Teflon) there are many legitimate health concerns regarding such cooking surfaces. Moreover, most of the cheap cookware you find at department stores is really not built to last, and will end up in a landfill much sooner than later.
Instead, consider cookware that has stood the test of time. Iron and stainless steel cookware are practically indestructible, and you can save a lot of money buying them used.
Cast iron cookware, when properly seasoned (lightly oiled and baked), can be pretty close to non-stick and iron also holds heat quite well, meaning you could use less energy to cook your food.
Stainless steel is also a good bet, but buying this type of cookware can be a little trickier. It is also pricier than cast iron. The best stainless steel cookware has slick cooking surfaces, even more so than seasoned iron. When shopping, consider only stainless steel cookware that has riveted handles and an aluminum or copper core to help with even heat distribution.
Enamel cookware encases the iron base metal with a coating of porcelain (which is powdered glass melted and baked on top of the metal). While enamel cookware is typically easy to care for, it will likely be your most expensive option. It also doesn't have the non-stick qualities of bare iron or stainless steel cookware so it's not very good for cooking eggs. However, enameled cookware is considered better for acidic dishes, soups, and sauces, as there's no metal surfaces to chemically react with the food. Another advantage of enamel is that it won't hold flavors, like fish, the way that cast iron does.
Unfortunately, some enamel cookware out there is cheap and the porcelain chips easily, and some imported enameled cookware has been known to have lead or other toxic compounds in the pan or coating. So, it's probably best to look for well-respected brand names like Le Creuset, Le Chasseur and Staub when buying new or used enamel cookware.
4. Buy used dishware and utensils.
There's nothing wrong with buying utensils and dishes used, especially if you can find them in matching sets. Thrift stores and estate sales are often the best places to look. Be careful to examine any utensils and dishes for cracks, chips, and missing enamel. China and glassware may also have invisible stresses that could become cracks.
Stainless steel flatware is a more attractive option than silverware, especially if the silverware has lost its plate. While the base metal for silverware is often copper or brass, a tin-alloy base used in some silverware may pose health risks. Also, be sure any plastic dishes or utensils you buy do not contain chemicals such as melamine resin and Bisphenol-A, which may pose health risks.
EcoWatch Daily Newsletter
Many common snack foods have been expertly engineered to keep us addicted. Karen M. Romanko / Photolibrary / Getty Images
By Melissa Kravitz
Can't stop eating that bag of chips until you're licking the salt nestled in the corners of the empty package from your fingers? You're not alone. And it's not entirely your fault that the intended final handful of chips was not, indeed, your last for that snacking session. Many common snack foods have been expertly engineered to keep us addicted, almost constantly craving more of whatever falsely satisfying manufactured treat is in front of us.
Hannes Kutza / EyeEm / Getty Images
By Kim Knowlton
A new paper just out in The Lancet Planetary Health provides the first global indication that recent temperature increases, propelled by climate change, are in fact contributing significantly to longer and more intense pollen seasons.
Jordan Siemens / Taxi / Getty Images
EcoWatch is pleased to announce its second photo contest! Earth Day is happening on April 22nd, and this year's theme is "Protect Our Species." With that in mind, we want EcoWatchers to show us your photographs of creatures that inhabit Earth. Send us your best photos of species you value.
A new study based on data from the Energy Information Agency found that coal plants are now far more expensive to run than wind and solar power projects.
reynermedia /
CC BY 2.0
By Julia Conley
In propping up the coal industry, the Trump administration is not only contributing to dangerous pollution, fossil fuel emissions and the climate crisis, it is also now clinging to a far more expensive energy production model than renewable energy offers.

That's according to a new report from renewable energy analysis firm Energy Innovation, showing that about three-quarters of power produced by the nation's remaining coal plants is more expensive for American households than renewables including wind, solar and hydro power.
Cars piled up in the Iranian city of Shiraz after flash flooding swept through the city. AMIN BERENJKAR / AFP / Getty Images
At least 19 people have died and more than 100 have been injured in flash flooding in the south of Iran, the country's semi-official Tasnim News Agency said. The city of Shiraz in Fars province was the worst hit by the flooding, which occurred after a month's worth of rain fell in a few hours, CNN meteorologist Taylor Ward said.
Two Sherpa descending from Everest Base Camp, Himalayas, Khumbu, Nepal. Joel Addams / Aurora Photos / Getty Images
Climate change is having a grizzly effect on Mount Everest as melting snow and glaciers reveal some of the bodies of climbers who died trying to scale the world's highest peak.
Navajo Generating Station, Arizona. Wolfgang Moroder / Wikimedia / CC BY-SA 3.0
The Navajo Nation has decided to stop pursuing the acquisition of a beleaguered coal-fired power plant in Arizona, locking in the plant to be taken offline and its associated coal mine to close later this year.
A Navajo Nation Council committee voted 11-9 last week to stop pursuing the purchase of the 2,250-megawatt Navajo Generating Station, which with the Kayenta coal mine provides more than 800 jobs to primarily Navajo and Hopi workers as well as tribal royalties.
A coalition of utilities that own the plant said in 2017 it would cease operations due to increased economic pressure, and the plant's future has proved a flash point for national and regional energy policy and raised larger questions on how Native communities will handle ties to fossil fuel industries as the economy changes.
For a deeper dive:
Arizona Republic, Indian Country Today, AP, WOKV, Farmington Daily Times
For more climate change and clean energy news, you can follow Climate Nexus on Twitter and Facebook, and sign up for daily Hot News.
Related Articles Around the Web