This website uses cookies to ensure you get the best experience while browsing it. By clicking 'Got It' you're accepting these terms.
8 States Dealing With Huge Increases in Fracking Earthquakes
Apr. 24, 2015 11:15AM EST
A new report, released Thursday from the U.S. Geological Survey (USGS), identified eight states in the eastern and central U.S. where fracking operations have led to dramatic increases in earthquakes, primarily from the injection of the wastewater byproduct of drilling operations into underground wells. This process can activate faults that in some cases were previously unknown.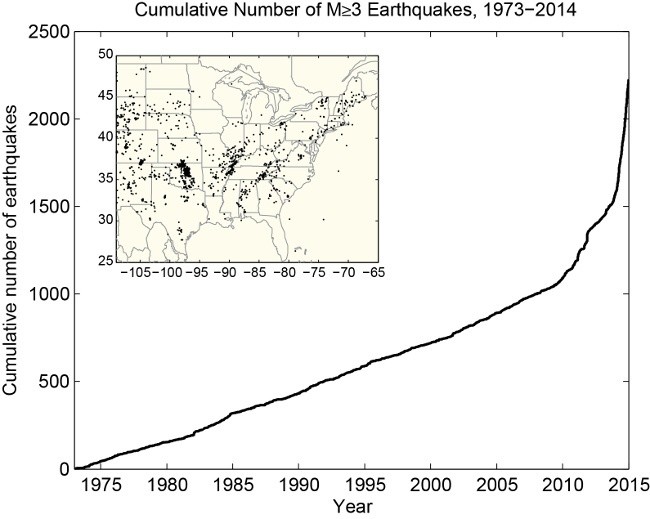 "Earthquake activity has sharply increased since 2009 in the central and eastern United States. The increase has been linked to industrial operations that dispose of wastewater by injecting it into deep wells," the report says bluntly, in a rebuke to the earthquake deniers in the oil and gas industry, such as fracking founder Harold Hamm, who pressured Oklahoma officials to stay silent about the connection.
While Oklahoma, Texas and Ohio have gotten much of the attention for increases in seismicity in areas where earthquakes were once rare, they aren't the only states in danger of more and larger earthquakes. The USGS report also pointed to Alabama, Arkansas, Colorado, Kansas and New Mexico and identified 17 zones within the eight states in particular danger from an increased number of what it calls "induced" quakes.
The report, Incorporating Induced Seismicity in the 2014 United States National Seismic Hazard Model, analyzed these seismic activity increases and developed the models to project how hazardous earthquakes could be in these in these zones, taking into account their rates, locations, maximum magnitude and ground motions.
"This new report describes for the first time how injection-induced earthquakes can be incorporated into U.S. seismic hazard maps," said Mark Petersen, chief of the USGS National Seismic Hazard Modeling Project. "These earthquakes are occurring at a higher rate than ever before and pose a much greater risk to people living nearby. The USGS is developing methods that overcome the challenges in assessing seismic hazards in these regions in order to support decisions that help keep communities safe from ground shaking."
The USGS has previously released National Seismic Hazard maps, used for insurance purposes, building codes and emergency response plans, outlining the hazards of naturally occurring earthquakes. They projected the likelihood of a quake over 50 years, the average lifespan of a building.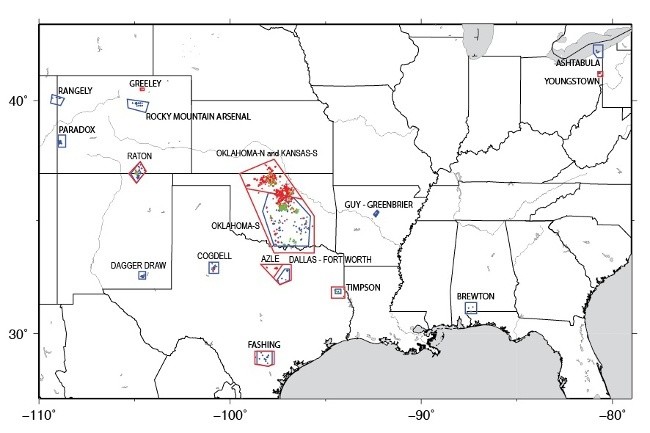 "However, these new induced seismicity products display intensity of potential ground shaking from induced earthquakes in a one-year period," said the study. "This shorter timeframe is appropriate because the induced activity can vary rapidly with time and is subject to commercial and policy decisions that could change at any point."
That's a reference to the varying state regulations about allowing injection or accepting wastewater byproducts from other states. For instance, because of lax regulation in Ohio, the state receives millions of gallons of wastewater from heavily fracked Pennsylvania where injection wells are subject to stricter rules.
The report also states, "Many questions have been raised about whether hydraulic fracturing—commonly referred to as 'fracking'—is responsible for the recent increase of earthquakes. USGS's studies suggest that the actual hydraulic fracturing process is only occasionally the direct cause of felt earthquakes." But it says, "Large volumes of wastewater can result from a variety of processes, such as a byproduct from energy production. Wastewater injection increases the underground pore pressure, which may lubricate nearby faults thereby making earthquakes more likely to occur."
YOU MIGHT ALSO LIKE
Confirmed: Oklahoma Earthquakes Caused By Fracking
Scientists Say Small Fracking Earthquakes Could Lead to Major Ones
Staggering Rise in Fracking Earthquakes Triggers Kansas to Take Action
EcoWatch Daily Newsletter
Offutt Air Force Base after flooding on March 17. U.S. Air Force / TSgt. Rachelle Blake
A regenerating stand of rainforest in northern Costa Rica. Matthew Fagan / CC BY-ND
By Matthew Fagan, Leighton Reid and Margaret Buck Holland
Tropical forests globally are being lost at a rate of 61,000 square miles a year. And despite conservation efforts, the global rate of loss is accelerating. In 2016 it reached a 15-year high, with 114,000 square miles cleared.
At the same time, many countries are pledging to restore large swaths of forests. The Bonn Challenge, a global initiative launched in 2011, calls for national commitments to restore 580,000 square miles of the world's deforested and degraded land by 2020. In 2014 the New York Declaration on Forests increased this goal to 1.35 million square miles, an area about twice the size of Alaska, by 2030.
Compassion Over Killing
By Cheryl Leahy
Do you think almond milk comes from a cow named Almond? Or that almonds lactate? The dairy industry thinks you do, and that's what it's telling the Food and Drug Administration (FDA).
For years, the dairy industry has been flexing its lobbying muscle, pressuring states and the federal government to restrict plant-based companies from using terms like "milk" on their labels, citing consumer confusion.
By Jeremy Deaton
A driver planning to make the trek from Denver to Salt Lake City can look forward to an eight-hour trip across some of the most beautiful parts of the country, long stretches with nary a town in sight. The fastest route would take her along I-80 through southern Wyoming. For 300 miles between Laramie and Evanston, she would see, according to a rough estimate, no fewer than 40 gas stations where she could fuel up her car. But if she were driving an electric vehicle, she would see just four charging stations where she could recharge her battery.
d3sign / Moment / Getty Images
Common sense should not be taken for granted when people are discussing nutrition.
A fire erupted Sunday at a petrochemical plant in Deer Park, Texas.
NowThis News / YouTube screenshot
By Andrea Germanos
A petrochemical plant near Houston continued to burn for a second day on Monday, raising questions about the quality and safety of the air.

The Deer Park facility is owned by Intercontinental Terminals Company (ITC), which said the fire broke out at roughly 10:30 a.m. Sunday. Seven tanks are involved, the company said, and they contain naptha, xylene, "gas blend stocks" and "base oil."
"It's going to have to burn out at the tank," Ray Russell, communications officer for Channel Industries Mutual Aid, which is aiding the response effort, said at a news conference. It could take "probably two days" for that to happen, he added.
The hillsides dyed orange with poppies may look like something out of a dream, but for the Southern California town of Lake Elsinore, that dream quickly turned into a nightmare.
The town of 66,000 people was inundated with around 50,000 tourists coming to snap pictures of the golden poppies growing in Walker Canyon as part of a superbloom of wildfires caused by an unusually wet winter, BBC News reported. The visitors trampled flowers and caused hours of traffic, The Guardian reported.
The Humane Society of the United States uncovered a one-year pesticide test on 36 beagles contracted by Dow AgroSciences at a Michigan lab.
The Humane Society of the United States / YouTube screenshot
A controversial pesticide test that would have resulted in the deaths of 36 beagles has been stopped, the Humane Society of the United States (HSUS) and the company behind the test announced Monday. The announcement comes less than a week after HSUS made the test public when it released the results of an investigation into animal testing at Charles River Laboratories in Michigan.
"We have immediately ended the study that was the subject of attention last week and will make every effort to rehome the animals that were part of the study," Corteva Agriscience, the agriculture division of DowDupont, said in a statement announcing its decision.