This website uses cookies to ensure you get the best experience while browsing it. By clicking 'Got It' you're accepting these terms.
8 States Dealing With Huge Increases in Fracking Earthquakes
Apr. 24, 2015 11:15AM EST
Energy
A new report, released Thursday from the U.S. Geological Survey (USGS), identified eight states in the eastern and central U.S. where fracking operations have led to dramatic increases in earthquakes, primarily from the injection of the wastewater byproduct of drilling operations into underground wells. This process can activate faults that in some cases were previously unknown.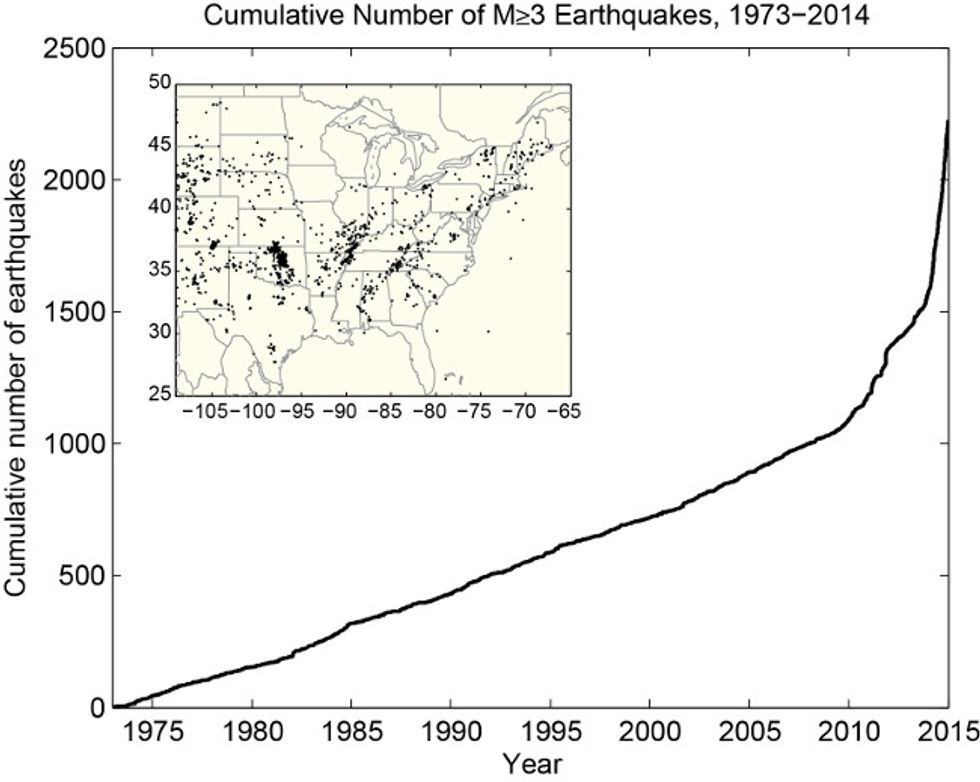 "Earthquake activity has sharply increased since 2009 in the central and eastern United States. The increase has been linked to industrial operations that dispose of wastewater by injecting it into deep wells," the report says bluntly, in a rebuke to the earthquake deniers in the oil and gas industry, such as fracking founder Harold Hamm, who pressured Oklahoma officials to stay silent about the connection.
While Oklahoma, Texas and Ohio have gotten much of the attention for increases in seismicity in areas where earthquakes were once rare, they aren't the only states in danger of more and larger earthquakes. The USGS report also pointed to Alabama, Arkansas, Colorado, Kansas and New Mexico and identified 17 zones within the eight states in particular danger from an increased number of what it calls "induced" quakes.
The report, Incorporating Induced Seismicity in the 2014 United States National Seismic Hazard Model, analyzed these seismic activity increases and developed the models to project how hazardous earthquakes could be in these in these zones, taking into account their rates, locations, maximum magnitude and ground motions.
"This new report describes for the first time how injection-induced earthquakes can be incorporated into U.S. seismic hazard maps," said Mark Petersen, chief of the USGS National Seismic Hazard Modeling Project. "These earthquakes are occurring at a higher rate than ever before and pose a much greater risk to people living nearby. The USGS is developing methods that overcome the challenges in assessing seismic hazards in these regions in order to support decisions that help keep communities safe from ground shaking."
The USGS has previously released National Seismic Hazard maps, used for insurance purposes, building codes and emergency response plans, outlining the hazards of naturally occurring earthquakes. They projected the likelihood of a quake over 50 years, the average lifespan of a building.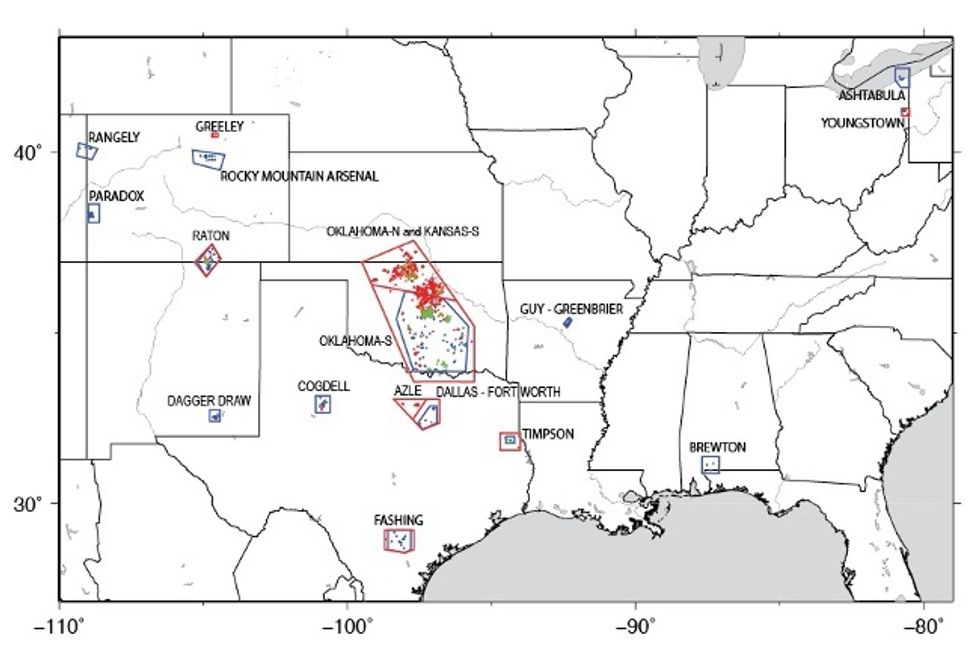 "However, these new induced seismicity products display intensity of potential ground shaking from induced earthquakes in a one-year period," said the study. "This shorter timeframe is appropriate because the induced activity can vary rapidly with time and is subject to commercial and policy decisions that could change at any point."
That's a reference to the varying state regulations about allowing injection or accepting wastewater byproducts from other states. For instance, because of lax regulation in Ohio, the state receives millions of gallons of wastewater from heavily fracked Pennsylvania where injection wells are subject to stricter rules.
The report also states, "Many questions have been raised about whether hydraulic fracturing—commonly referred to as 'fracking'—is responsible for the recent increase of earthquakes. USGS's studies suggest that the actual hydraulic fracturing process is only occasionally the direct cause of felt earthquakes." But it says, "Large volumes of wastewater can result from a variety of processes, such as a byproduct from energy production. Wastewater injection increases the underground pore pressure, which may lubricate nearby faults thereby making earthquakes more likely to occur."
YOU MIGHT ALSO LIKE
Confirmed: Oklahoma Earthquakes Caused By Fracking
Scientists Say Small Fracking Earthquakes Could Lead to Major Ones
Staggering Rise in Fracking Earthquakes Triggers Kansas to Take Action
EcoWatch Daily Newsletter
A harbour seal on an ice floe in Glacier Bay, Alaska. A new study shows that the climate crisis has warmed waters, changing ecosystems and crippling sea ice growth. Janette Hill / robertharding / Getty Images Plus
Doctors report that only 1 in 4 children are getting the recommended 60 minutes of physical activity per day. Ronnie Kaufman / DigitalVision / Getty Images
By Dan Gray
Pediatricians are being urged to start writing "exercise prescriptions" for the children they see in their office.
A First Nations protester walks in front of a train blockade in Tyendinaga, near Belleville, Ontario, Canada on Feb. 21, 2020. LARS HAGBERG / AFP via Getty Images
An indigenous rail blockade that snarled train travel in Canada for more than two weeks came to an end Monday when police moved in to clear protesters acting in solidarity with another indigenous community in British Columbia (B.C.), which is fighting to keep a natural gas pipeline off its land.
A rainbow snake, a rare reptile spotted in a Florida county for the first time in more than 50 years, seen here on July 5, 2013.
Kevin Enge / FWC Fish and Wildlife Research Institute / Flickr
A Florida hiker recently stumbled across a slithering surprise — a rare snake that hadn't been spotted in the area for more than 50 years.
We need our government to do everything it can to stop PFAS contamination and exposure from wreaking havoc in communities across the country. LuAnn Hun /
Unsplash
By Genna Reed
The EPA announced last week that it is issuing a preliminary regulatory determination for public comment to set an enforceable drinking water standard to two of the most common and well-studied PFAS, PFOA and PFOS.
This decision is based on three criteria:
PFOA and PFOS have an adverse effect on public health
PFOA and PFOS occur in drinking water often enough and at levels of public health concern;
regulation of PFOA and PFOS is a meaningful opportunity for reducing the health risk to those served by public water systems.