This website uses cookies to ensure you get the best experience while browsing it. By clicking 'Got It' you're accepting these terms.


The best of EcoWatch, right in your inbox. Sign up for our email newsletter!
8 Shocking Facts About Water Consumption
Dec. 15, 2014 02:45PM EST
Water is a finite resource. And its preciousness has been driven home by water wars in California, where record drought has agricultural users, fracking interests and home consumers vying for the same supply; in the southwest where the water levels in the rivers, aquifers and reservoirs that provide waters to major communities like Phoenix and Las Vegas are dropping; and in the battles being fought over withdrawing water from the Great Lakes. Reducing our water footprint is essential to conserving this life-giving substance.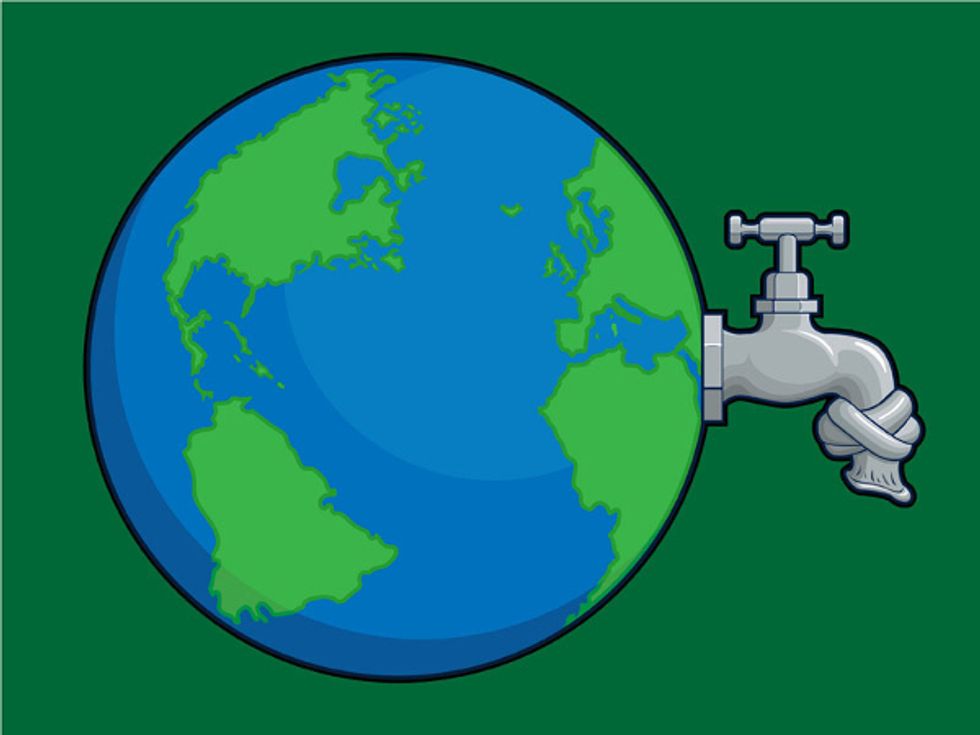 Photo credit: Shutterstock
We actually have two water footprints: direct and indirect. Many of us are familiar with direct water-use footprint, and mat already be taking steps to reduce it: taking shorter showers, not letting the water run while we're brushing our teeth, doing fewer loads of laundry, flushing the toilet less often or even installing low-flush toilets.
We probably don't think of our indirect water footprint often if at all, which involved the water used to make the products and services we use. Author Stephen Leahy, an Ontario-based environmental journalist, wrote about some of them in his book Your Water Footprint: The Spublished earlier this year.
"A 'water footprint' is the amount of fresh water used to produce the goods and services we consume, including growing, harvesting, packaging and shipping," he says. "From the foods we eat to the clothes we wear to the books we read and the music we listen to, all of it costs more than what we pay at the checkout."
Here are some things you can do to reduce your indirect water footprint.
1. Leahy reveals that 95 percent of our water footprint is hidden in our meals. While a pound of lettuce costs about 15 gallons of freshwater and a slice of bread only 10 gallons, chocolate can cost an astronomical 2,847 gallons a pound and beef can run us 2,500 gallons. Given that raising livestock is particularly water-intensive, eating vegetarian is one good way to reduce your water footprint. Better yet, go vegan: all animal products, including cheese, eggs, butter and milk take a lot of water to produce. Chicken has a much lower water footprint than beef though, so even giving up red meat can help.
2. Think about what you drink. Tell people you're passing on the soft drink and going for a beer because its water footprint is lower. And it is. A beer takes about 20 gallons of water to create, while soft drinks can be close to 50, depending on packaging and what sugars are used. And drink tea instead of coffee. Coffee consumes about 37 gallons of water in the production process, tea takes only 9 gallons.
3. The clothes we wear also consume vast amounts of freshwater to produce with cotton T-shirts and denim jeans exceptionally high in water use. One pound of cotton requires 700 gallons of water. Shop secondhand, thrift and vintage stores, or buy well-made clothes intended to last.
4. Actually, buying to last is a good way to reduce water consumption in general. Virtually all manufactured products consume a lot of water in the process. To manufacture a smartphone requires 240 gallons of water. Do you really need to trade in your phone every time a new model comes out?
5. Take public transportation (or better yet walk.) Not only do cars consume tens of thousands of gallons of water during manufacturing, but the gas required to run them uses more than a gallon of water for each gallon of gas.
6. Don't install or use a garbage disposal. It's water intensive. Compost instead.
7. Cut your plastic use! Making one pound of plastic requires 24 gallons of water. Use less and recycle what you can. Look for items with less packaging.
8. If you have a garden, install rain barrels to conserve water instead using that hose. Rain barrels hook up to your downspouts and collect rain water to reuse. You can make one from a 55-gallon drums (more recycling) and a easy-to-find little hardware. There's a big movement among artists to paint rain barrels so that you can also have a distinctive and colorful work of art outside your house.
"The saying that 'nothing is free' applies more to water than anything else we consume, considering just three percent of the world's water is drinkable and that we are using more of it than ever before," says Leahy. "Many experts predict dire water shortages if we continue on our current path. Factor in climate change, population growth and pollution and we have an unsustainable situation."
There's lots more information about your water footprint and what you can do to reduce it at WaterFootprint.org. They even have a calculator so you can figure out your own water footprint.
YOU MIGHT ALSO LIKE
How Drought-Stricken California Can Do More With Less Water
Top 10 U.S. Cities Running Out of Water
EcoWatch Daily Newsletter
A school in Queensland, Australia sent a note home to parents asking them to send their children with extra water bottles since its water supply has run dry, according to the Australian Broadcasting Corporation (ABC).
European Commission President Ursula von der Leyen delivers a press statement on the European Green Deal at the EU headquarters in Brussels, Belgium on Dec. 11, 2019. Xinhua / Zheng Huansong via Getty Images
The European Commission introduced a plan to overhaul the bloc's economy to more sustainable, climate-conscious policies and infrastructure, with the goal of being carbon-neutral by 2050, according to CNBC.
Young activists shout slogans on stage after Greta Thunberg (not in the picture) took part in the plenary session during the COP25 Climate Conference on Dec. 11 in Madrid, Spain. Pablo Blazquez Dominguez / Getty Images
By Andrea Germanos
Young activists took over and occupied the main stage at the COP25 climate conference in Madrid, Spain Wednesday and demanded world leaders commit to far more ambitious action to address the ecological emergency.
A NASA image showing the ozone hole at its maximum extent for 2015. NASA Goddard Space Flight Center
The Montreal Protocol, a 1987 international treaty prohibiting the production of chlorofluorocarbons (CFCs) to save the ozone layer, was the first successful multilateral agreement to successfully slow the rate of global warming, according to new research. Now, experts argue that similar measures may lend hope to the climate crisis.
Police in Wales are in the midst of an unusual investigation: the sudden death of more than 200 starlings.