8 Reasons to Be Optimistic About the Climate Movement in 2015
Feb. 16, 2015 03:52PM EST
Climate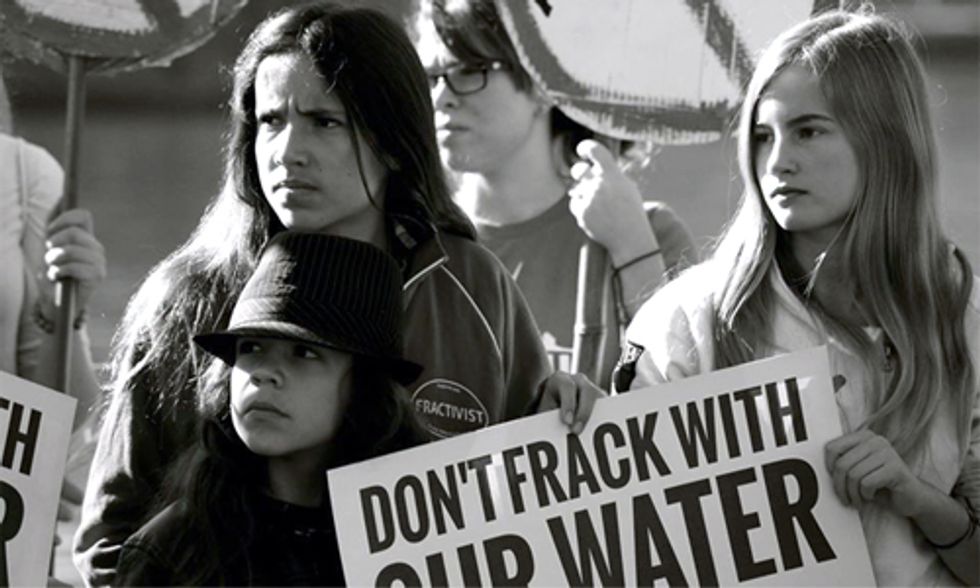 Xiuhtezcatl Martinez is a 14-year-old Indigenous Eco Hip-hop Activist that has been speaking out to protect the Earth since he was six years old. Since then he has spoken at more than 100 schools, conferences, at the United Nations on numerous occasions and other high profile events to educate and inspire his generation into positive, concerted action to protect their future.
I have a feeling 2015 is going to be huge for the climate movement. Here are my top eight reasons to get excited about what we are building together.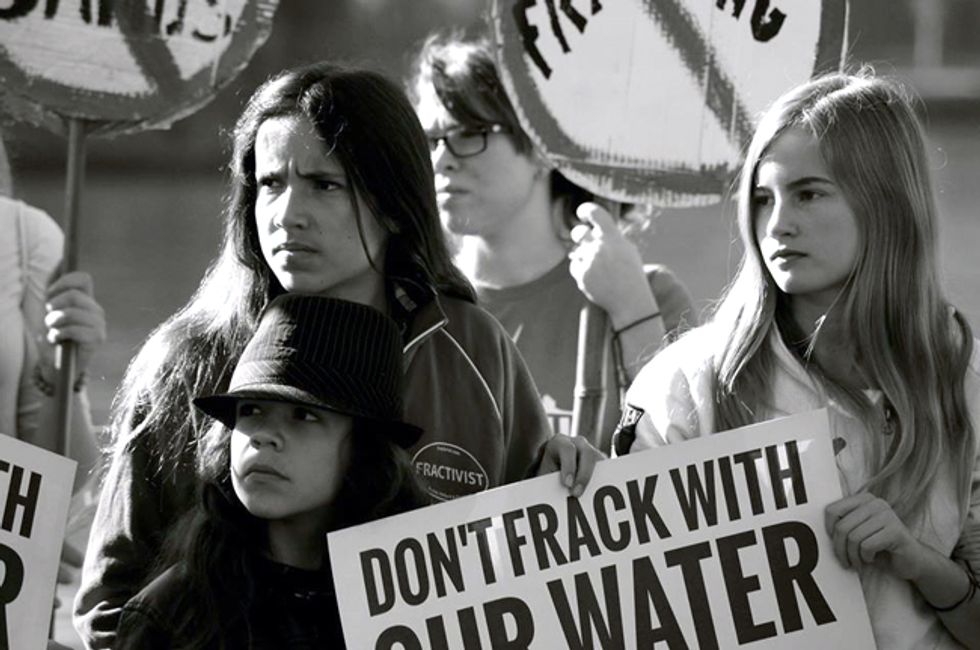 1. Frontline Communities are Leading
The People's Climate March in New York City last September was among the most diverse actions I've ever been to. An estimated 400,000 people joined the march and frontline communities were front and center. People of color have long occupied the frontlines in confronting climate change, but now it seems climate justice advocates are receiving long overdo recognition as movement leaders. Low income youth of color will be the most affected by the changing climate, so it's about time our climate movement embraces more frontline voices. We still have long way to go in the struggle for climate justice, but I believe in 2015 we'll see another big leap forward in the support of frontline leadership.
2. Pope Francis will issue an edict on climate change
The world has 1.2 billion Catholics, about four times as many people as the population of the entire U.S., so the leader of the Catholic Church taking on climate change is a big deal. The impact on Catholics is just a fraction of the potential from the Pope's climate actions. The Pope also plans to call a world summit of religious leaders to discuss the issue, framing climate change as a moral issue. As one of the billions of young people tired of citizens continually become frustrated with politicians playing games with our future, this act of leadership from the Catholic Church could not have come soon enough.
3. Success of divestment movement
The student-led movement, to cleanse universities and other institutions of its fossil fuel investments, is taking the country by storm. With more than 400 campus campaigns, 181 divested institutions/campuses representing some $50 billion, 2014 was a huge year for divest from fossil fuel movement. All the success is leading to thousands of conversations about the morality of investing in fossil fuels. Perhaps that's why the fossil fuel industry has started pushing back so hard. Real change can often occur when a critical mass starts questioning 'is this right?' But, all of this feels like just the beginning. On Feb. 13 and 14 more than 450 events were organized in more than 60 countries in honor of Global Divestment Day. Big Oil an Gas can run, but they can't hide.
4. New York Banned fracking
Since the film Gasland was released in 2010, the oil an gas drilling method hydraulic fracturing (fracking) has been associated with flaming faucets, but just as scary is what you can't see. A recent study published in National Geographic found levels of the carcinogen benzene up to 12,000 times the safe exposure limit. When fracking was proposed in New York State an amazing grassroots movement was formed to protect public health from these dangers. The call for a ban on fracking was heard from farmers, doctors, scientists, teachers, students and small business owners, everyday people who wanted to protect the health of their families and their businesses. After more than five years, the people succeeded. Governor Cuomo cited health reasons for the ban, but there is also a huge climate impact. The ban on fracking will keep at least 273 million tons of carbon dioxide from being emitted equivalent to 57 million passenger cars on the road. This shows us that if we work together to build our movement we can accomplish anything.
5. The Year We Stop the Keystone XL Pipeline
While the Keystone XL pipeline passed both chambers of Congress, the Obama administration has publicly stated that the President will veto the bill. Obama himself said that the pipeline would only serve our national interest if the pipeline "does not significantly exacerbate the climate problem." Any question in his mind should be erased after the U.S. Environmental Protection Agency released comments estimating that the pipeline could release an additional 1.37 billion tons of greenhouse gasses into the atmosphere. However, the movement to oppose this dangerous pipeline is what pushed Obama to fully evaluate the disastrous impacts, and it's that movement that gives me hope. It's the Idle No More indigenous movement that has been engaging in tar sands resistance from Alberta, Canada down through the Great Plains and the thousands of people arrested or demonstrated from DC to Nebraska. Indigenous people and youth have the most at stake and are at the front lines of this pipeline fight, and it violates our basic human rights to clean water, air, land and health. This movement is strong and it's growing and I know we will step up now that it's crunch time. Our futures are on the line, so we are drawing the line! #NoKXL
6. Kids Putting Climate Change on Trial
Youth from all 50 states have joined Our Children's Trust in state and federal lawsuits to cap emissions and enact climate recovery plans. The lawsuits are based on the Public Trust doctrine, which protects common resources like the atmosphere and water resources. In Colorado myself and six other Earth Guardians are suing the Colorado Oil and Gas Conservation Commission for not upholding their mission to protect public health and safety. It's one of many similar state cases that will be heard in court in 2015. There is something so powerful about taking the government to court to demand a safe, healthy future and it will be inspiring to see how these cases play out in 2015 as our voices are heard.
7. Building toward Paris
The UN Climate Change Conference in Paris this December may be our best opportunity to solve the climate crisis before it's too late. In Lima last year, countries agreed to non-binding targets with the understanding of reaching a possible comprehensive agreement on mitigating climate change during the Paris. However, it is not just world leaders who need to stand up: it's we the people. We need to show that we are committed to climate solutions and are willing to work toward them. That is why my 11 year-old little brother Itzcuauhtli went on a 45-day silent strike and created a Silence Into Action pledge to be a climate leader. We will deliver these pledges to world leaders in Paris. Youth organizers are aiming to collect one million signatures. Sign here and spread the word.
8. RYSE
It's not just our signatures; it's our actions that will make the difference. All over the world communities are having the discussion about what they can do reduce their greenhouse gas emissions. Burlington, Vermont recently transitioned to 100 percent renewable electricity and if they can do it, it can be done anywhere. I am working with an amazing council of young solutionaries from across the nation to help make this shift happen. Our project is called RYSE (Rising Youth for a Sustainable Earth) and it is building the youth-led, movement toward climate solutions. In communities across the U.S., RYSE will be hosting climate solution activation sessions and implementing projects to reduce greenhouse gas emissions. Join the Earth Guardians in creating this change. You can support the project by clicking here.
YOU MIGHT ALSO LIKE
Global Divestment Day: A Huge Success
First Country in the World Dumps Fossil Fuels As Divestment Movement Heats Up
EcoWatch Daily Newsletter