This website uses cookies to ensure you get the best experience while browsing it. By clicking 'Got It' you're accepting these terms.


The best of EcoWatch, right in your inbox. Sign up for our email newsletter!
8 Reasons to Be Hopeful About Our Climate Future
Sep. 10, 2015 12:14PM EST
Climate
2015 may be on track to become the warmest year on record, but the people's climate movement has been heating up just as fast. At the end of this year, world leaders will gather in Paris for a major international climate conference—and people around are taking action to show these leaders it's time for serious change.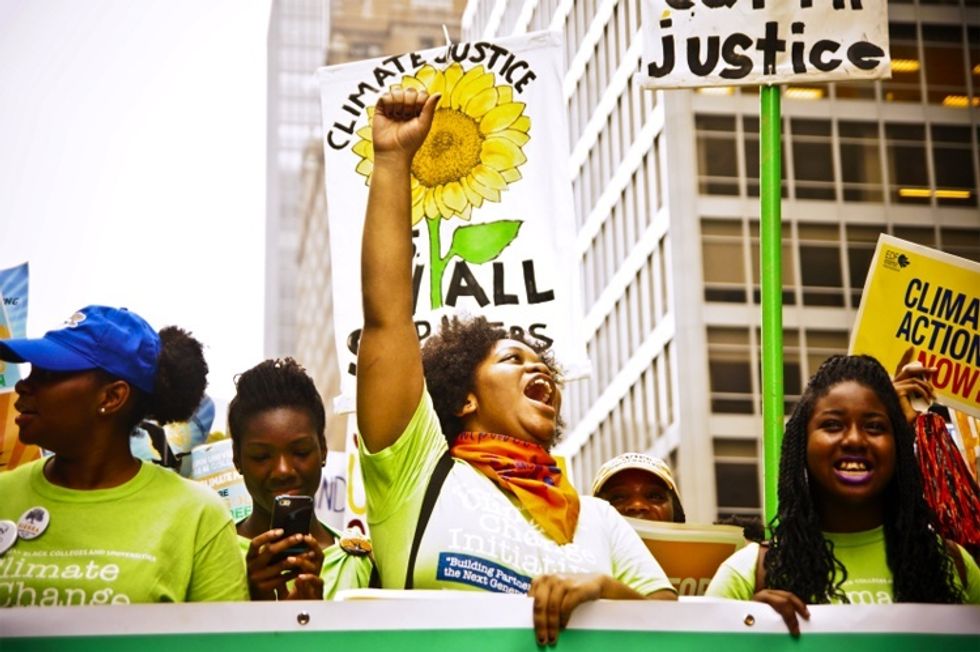 With more than 2,000 events on six continents, the 2014 People's Climate March marked the largest rally for climate action in history. Photo credit: Light Brigading / Creative Commons
Here are just some of the ways the people's climate movement has been showing its game face and winning victories over the past 12 months.
1. Where It All Began: The Largest Climate Protest the World Has Ever Seen
Last September, 400,000 people gathered in New York City and around the globe for the first ever People's Climate March. While the march was certainly not the beginning of the climate movement, it was the first time that it became known as a people's movement, led by the frontline communities most directly impacted. Global climate change disproportionately affects communities of color. In the U.S., 68 percent of African Americans live within thirty miles of a coal plant, where they are exposed to myriad negative health effects.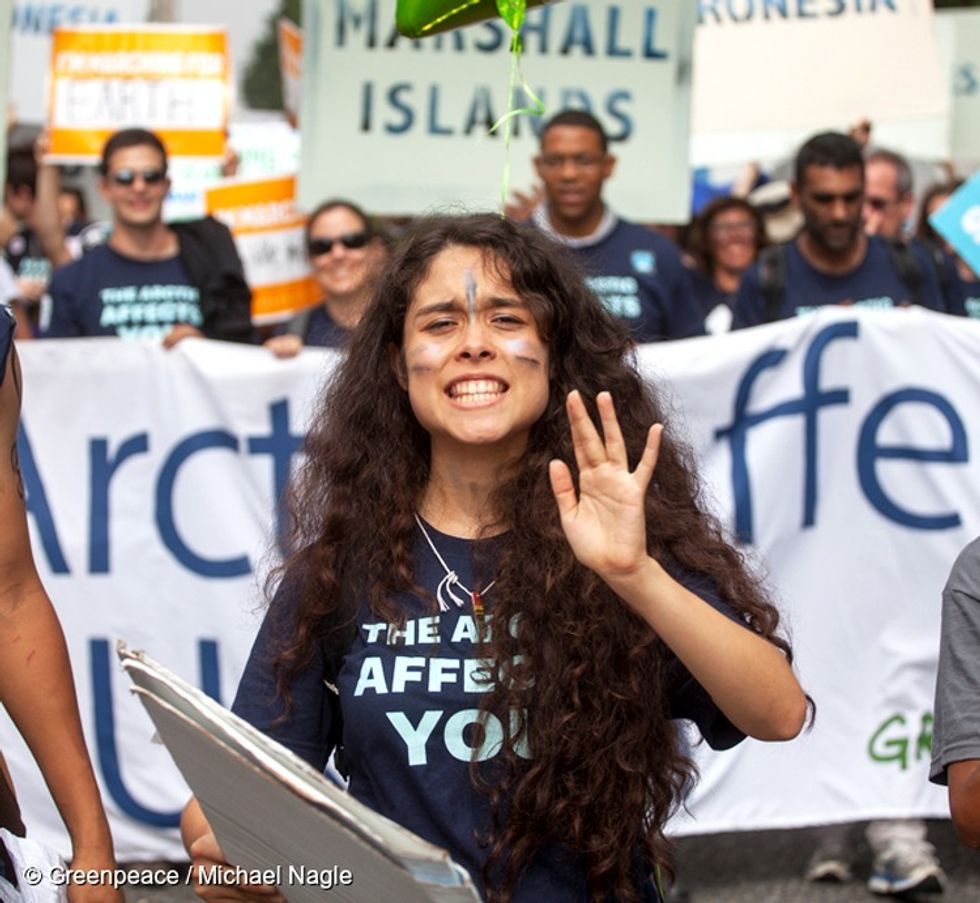 A Greenpeace activist leads a delegation advocating protection for the Arctic at the 2014 People's Climate March. Photo credit: Greenpeace / Michael Nagle
Rebranding the fight as a people's movement has prompted environmentalists to start talking less about polar bears and more about the people who are affected by climate change every day.
2. Under Pressure From the Public, President Obama Vetoes the Keystone XL Pipeline Bill
Years ago, it seemed like few had even heard of the Keystone XL Pipeline. But these days, most can tell you that it continues to be one of the top environmental issues. And this past February, President Obama sided with the scores of Americans who oppose it by vetoing a bill that would have begun its construction.
While the President has yet to fully reject the Keystone XL Pipeline, this veto was a big step in the right direction—and showed the power of people to influence our leaders. A Keystone rejection may not be far away, either; reports indicate that TransCanada, the pipeline company behind the project, is bracing for Obama's final word on KXL.
3. People Power Is Fueling Local Climate Victories
Without a doubt, organizing has led to some major climate wins for cities, counties and states. One great example is New York's historic ban on fracking. After years of being confronted by "fractivists" at his public events and receiving hundreds of thousands of public comments, Governor Cuomo finally succumbed to public pressure and issued a statewide ban. Not long after New York, Maryland followed suit by passing a 2.5 year fracking moratorium.
And the clean energy victories keep coming!
Once known as "king coal," the dying coal industry has taken a huge hit this year, thanks in large part to local organizing efforts to shut down coal plants. And just last week, Hawaii's governor decided to make the switch to 100 percent renewable energy. 
4. Arctic Drilling Activists Reach New Heights
This year, the movement to stop Arctic drilling got courageous—and colorful. First, six activists occupied Shell's drilling rig, the Polar Pioneer, for several days as it crossed the Pacific Ocean. The rig was headed to Seattle for maintenance and it was met by a giant "unwelcome party" when it arrived.
Rallies continued on land and on water as the ship was in port. Finally, as the rig attempted to leave port for the Arctic at the break of dawn, dozens of "kayaktivists" got in the water and attempted to stop the rig using only their boats and their bodies.
Then in late July, Shell had to return a damaged vessel to port in Portland, Oregon. But it was met by an obstruction when it tried to leave: activists had suspended themselves from the St. Johns Bridge, making it impossible for the vessel to safely pass. The protest stalled the vessel for roughly 40 hours and delayed Shell's time-sensitive Arctic drilling plans as the world watched.
5. Pope Francis' Encyclical Highlights Climate Change as a Moral Issue
Arguably one of the most influential people in the world, Pope Francis is changing the conversation on climate. With an estimated 1.2 billion Roman Catholics in the world, his reach is vast—and in the last year, he has spoken out about climate change more than ever.
In June, the Pope released his Laudato Si, insisting that climate change is caused by humans and drawing attention to how it disproportionately affects the poor. The release of this encyclical reframed the international conversation on climate as a moral one and received support from hundreds of American ministers.
ICYMI: Pope's encyclical expresses moral obligation to fight #climatechange. http://t.co/Bw734xkK3H #popeforplanet pic.twitter.com/q4X651LvnG

— Greenpeace USA (@greenpeaceusa) June 20, 2015
The Pope's leadership on this issue is already having a vast impact and it's only growing. Next month, the Pope will visit Washington, DC to address Congress, which has thus far done very little to address or even acknowledge our warming world.
6. Renewable Energy Becomes More Affordable Than Ever
In the last month, wind power hit an all-time price low and solar power became cheaper than natural gas. With clean energy becoming more affordable, utilities, businesses and families across the U.S. are making the switch to save their pocketbooks, as well as the climate.
Another great development for renewables came earlier this year, when Tesla released its 450 volt Powerwall, making it easier than ever for homeowners to store energy that they harnessed from the sun. This innovation has been widely described as a game changer for the solar industry.
7. President Obama's EPA Rolls Out the Clean Power Plan
In his biggest move yet for the climate, President Obama issued the Clean Power Plan, which will lead to significant reductions in emissions from power plants. The plan on its own is not nearly enough, but it is a big step in the right direction for our climate.
President Obama has spoken out often about the urgent need to address climate change—saying that "our planet is changing in ways that will have profound impacts on all of humankind." And his Clean Power Plan is the largest step he's made to back up those words. But he's also contradicted himself by opening up the Arctic to offshore drilling. In order to secure his legacy on climate change, Obama will need to commit to keeping dirty fossil fuels, like coal and Arctic oil, in the ground.
8. The Next Big Moment in the People's Climate Movement
This past year has reinforced that when people speak up on climate, leaders listen. With the Paris talks just two months away, environmentalists have another great opportunity to make our voices heard. 
That's why this October, people around the world will take part in a giant day of action on climate change. But it won't have an effect unless hundreds of thousands of people get involved. Organize an event in your community, or find one in your area! 
YOU MIGHT ALSO LIKE
Watch Livestream: Bill McKibben and Naomi Klein Headline 'Off and On' Climate Event
Paul McCartney, Jon Bon Jovi, Sheryl Crow and More Call for Action on Climate Change in 'Love Song to the Earth'
Bonn Climate Talks Fail to Deliver Common Grounds Undermining Hopes of Meaningful Deal in Paris
EcoWatch Daily Newsletter
Pixabay
Purple cabbage, also referred to as red cabbage, belongs to the Brassica genus of plants. This group includes nutrient-dense vegetables, such as broccoli, Brussels sprouts, and kale.
Pexels
By Lauren Wolahan
For the first time ever, the UN is building out a roadmap for curbing carbon pollution from agriculture. To take part in that process, a coalition of U.S. farmers traveled to the UN climate conference in Madrid, Spain this month to make the case for the role that large-scale farming operations, long criticized for their outsized emissions, can play in addressing climate change.
Pexels
In recent years, acai bowls have become one of the most hyped-up health foods on the market.
They're prepared from puréed acai berries — which are fruits grown in Central and South America — and served as a smoothie in a bowl or glass, topped with fruit, nuts, seeds, or granola.
Investing in grid infrastructure would enable utilities to incorporate modern technology, making the grid more resilient and flexible. STRATMAN2 / FLICKR
By Elliott Negin
The Royal Swedish Academy of Sciences' recent decision to award the 2019 Nobel Prize in Chemistry to scientists who developed rechargeable lithium-ion batteries reminded the world just how transformative they have been. Without them, we wouldn't have smartphones or electric cars. But it's their potential to store electricity generated by the sun and the wind at their peak that promises to be even more revolutionary, reducing our dependence on fossil fuels and protecting the planet from the worst consequences of climate change.
Two Javan rhinos deep in the forests of Ujung Kulon National Park, the species' last habitat on Earth. Sugeng Hendratno / WWF
The global population of the critically endangered Javan rhinoceros has increased to 72 after four new calves were spotted in the past several months.