Food
Apr. 14, 2015 07:47AM EST
8 Health Benefits of Antioxidant-Rich Aloe Vera
By Joe Leech
Aloe vera is a popular medicinal plant that has been used for thousands of years.
Here are eight health benefits of aloe vera that are supported by science.
It is best known for treating skin injuries, such as burns and sores, but may also have several other therapeutic properties.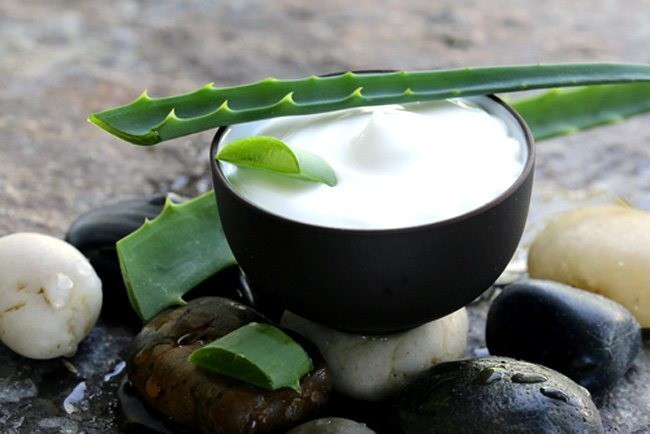 Photo credit: Shutterstock
1. Aloe Vera Contains Bioactive Compounds That Can Improve Health
Aloe vera is a thick, short-stemmed plant that stores water in its leaves.
It is widely used in the cosmetic, pharmaceutical and food industries, and has an estimated annual market value of $13 billion globally (1).
Aloe vera is well recognized by its thick, pointed and fleshy green leaves, which can grow to about 12-19 inches in length.
Each leaf is full of a slimy tissue that stores water, which makes the leaves thick. This slimy, water-filled tissue is the "gel" we associate with aloe vera products.
The gel contains most of the bioactive compounds in the plant, including vitamins, minerals, amino acids and antioxidants.
Bottom Line: Aloe vera is a popular medicinal plant that is used in the cosmetic, pharmaceutical and food industries. Its leaves are full of a "gel" that contains numerous beneficial compounds.
2. Aloe Vera Has Potent Antioxidant and Antibacterial Properties
Antioxidants are important for health.
Aloe vera gel contains powerful antioxidants, which belong to a large family of substances known as polyphenols (2).
These polyphenols, along with several other compounds in aloe vera, can help inhibit the growth of certain bacteria that can cause infections in humans (2).
Bottom Line: Aloe vera contains various powerful antioxidant compounds. Some of these compounds can help inhibit the growth of harmful bacteria.
3. Aloe Vera Accelerates The Healing of Burns
Aloe vera is most commonly used as a topical medication, rubbed onto the skin rather than eaten.
It has long been known as a treatment for sores, particularly burns, including sunburns.
In fact, the Food and Drug Administration first approved aloe vera ointment as an over-the-counter medication for skin burns back in 1959.
Studies suggest that it is an effective topical treatment for first- and second-degree burns.
A review of four experimental studies found that aloe vera could reduce the healing time of burns by around nine days compared to conventional medication (3).
The evidence for aloe vera helping to heal other types of wounds is inconclusive (4).
Bottom Line: Applying aloe vera to burn wounds appears to accelerate the healing process. The evidence is inconclusive for other wound types.
4. Pure Aloe Vera Juice Reduces Dental Plaque as Effectively as Mouthwash
Tooth decay and diseases of the gum are very common health problems.
One of the best ways to prevent this from happening is to reduce the buildup of plaque (bacterial biofilms) on the teeth.
In a mouth rinse study of 300 healthy people, 100 percent pure aloe vera juice was compared to the standard mouthwash ingredient chlorhexidine.
After four days of use, the aloe vera mouth rinse was found to be just as effective as chlorhexidine in reducing dental plaque (5).
Another study found similar benefits of aloe vera mouth rinse when used over a 15- to 30-day period (6).
Aloe vera does this by killing the plaque-producing bacterium Streptococcus mutans in the mouth, as well as the yeast Candida albicans (7).
Bottom Line: When used as a mouth rinse, pure Aloe vera juice is just as effective at reducing dental plaque buildup as regular mouthwash.
5. Aloe Vera Can be Used to Treat Mouth Ulcers (Canker Sores)
Many people have experienced mouth ulcers, or canker sores, at some point in their lives.
They usually form underneath the lip, inside the mouth, and last for about 7-10 days.
Studies have convincingly shown that aloe vera treatment can accelerate the healing of mouth ulcers.
In a seven-day study of 180 people with recurrent mouth ulcers, an aloe vera patch applied to the area was effective in reducing the size of the ulcers (8).
However, it did not outperform the conventional ulcer treatment, which is corticosteroids.
In another study, aloe vera gel not only accelerated the healing of mouth ulcers, it also reduced the pain associated with them (9).
Bottom Line: Application of aloe vera, either as a patch or gel, has been shown to aid in the recovery of mouth ulcers (canker sores).
6. Aloe Vera Can Help Treat Constipation
Aloe vera has often be used to treat constipation.
This time it is not the gel, but the latex, that provides the benefits.
The latex is a sticky yellow residue found just under the skin of the leaf.
The key compound responsible for this effect is called aloin, or barbaloin, which has well-established laxative effects (10, 11, 12).
However, some concerns have been raised about safety issues with frequent use. For this reason, aloe latex has not been available in the U.S. as an over-the-counter medication since 2002.
Contrary to popular belief, aloe vera does not appear to be effective against other digestive disorders, such as irritable bowel syndrome (IBS) and inflammatory bowel disease (IBD) (13, 14, 15).
Bottom Line: Aloe vera latex has strong laxative effects, making it useful to treat constipation. It does not appear to be beneficial for other diseases of the digestive tract.
7. Aloe Vera May Improve Skin Elasticity and Help Prevent Wrinkles
There is some preliminary evidence that topical aloe vera gel can slow aging of the skin.
In one study of 30 women over the age of 45, topical application of the gel was shown to increase collagen production and improve skin elasticity over a 90-day period (16).
Another study found that aloe vera reduced erythema (redness of the skin), but was also found to dehydrate skin cells (17).
There is very little evidence that aloe vera can treat skin conditions like psoriasis and radiation dermatitis (18).
Bottom Line: Early evidence suggests that Aloe vera may have anti-aging effects on the skin, but more research is needed.
8. Aloe Vera May Lower Blood Sugar Levels in Diabetics
Aloe vera has sometimes been used as a traditional diabetes remedy (19, 20).
It is said to enhance insulin sensitivity and help improve blood sugar management.
Several animal and human studies in type 2 diabetics have actually found promising results from consuming aloe vera extract (21, 22, 23).
However, the quality of these studies was fairly poor, so it is definitely premature to recommend aloe vera for this purpose.
Additionally, there have been some cases of liver damage reported with long-term ingestion of aloe vera supplements (24).
9. Anything Else?
Aloe vera definitely has some unique therapeutic properties, especially when applied as an ointment for the skin and gums.
This article was reposted from our media associate Authority Nutrition.
YOU MIGHT ALSO LIKE
Find Out Which Companies Responsibly Source Palm Oil (You Might Be Surprised)
Are You Eating Hormone Disruptors in Your Favorite Snacks?
Jul. 21, 2017 01:50PM EST
Will Rose / Greenpeace
Eleven peaceful activists from the Greenpeace ship Arctic Sunrise have taken to the water in inflatable boats with handheld banners to oppose the Statoil Songa Enabler oil rig, 275 km North off the Norwegian coast, in the Arctic Barents sea.
The banners say: "People Vs. Arctic Oil" and are directed at Statoil and the Norwegian government, which has opened a new, aggressive search for oil in the waters of the Barents Sea.
Keep reading...
Show less
Jul. 21, 2017 10:34AM EST
Dominion Pipeline Monitoring Coalition
The Federal Energy Regulatory Commission (FERC) paved the way Friday for the 600-mile, 42-inch fracked gas Atlantic Coast Pipeline to proceed when it issued the final environmental impact statement (FEIS). A joint project of utility giants Duke Energy and Dominion Energy, the Atlantic Coast Pipeline would move fracked gas from West Virginia into Virginia and North Carolina.
In April, the Sierra Club submitted more than 500 pages of legal and technical comments on FERC's draft EIS, which were joined by more than 18,000 individual comments detailing opposition to the project. The pipeline has been met with widespread opposition, with more than 1,000 people participating in public hearings across the three affected states. The Sierra Club recently requested that FERC issue a new environmental review document analyzing information that came in after or late in, the public comment process.
Keep reading...
Show less
Jul. 21, 2017 08:25AM EST
Greenpeace / PolluterWatch
By Jessica Corbett
"It's time Rex Tillerson step down or be removed," said Gigi Kellett of Corporate Accountability International, following an announcement on Thursday that ExxonMobil will pay $2 million for violating U.S. sanctions against Russian officials while the now-secretary of state was the company's CEO.
"ExxonMobil demonstrated reckless disregard for U.S. sanction requirements," according to enforcement filing released by the Treasury Department's Office of Foreign Assets Control (OFAC), which issued the penalty. Though the fine is reportedly the maximum penalty allowed, it's pittance to one of the world's most profitable and powerful corporations, which last year reported a profit of $7.8 billion.
Keep reading...
Show less
Jul. 21, 2017 11:15AM EST
New analysis from Amory B. Lovins debunks the notion that highly unprofitable, economically distressed nuclear plants should be further subsi­dized to meet financial, security, reliability and climate goals. The analysis, which will appear shortly in The Electricity Journal, shows that closing costly-to-run nuclear plants and reinvesting their saved operating costs in energy efficiency provides cheaper elec­tricity, increases grid reliability and security, reduces more carbon, and preserves (not distorts) market integrity—all without subsidies.

Keep reading...
Show less
Jul. 21, 2017 08:44AM EST
Oil Change International / Twitter
By Christian Detisch and Seth Gladstone
In the wake of Senate Republicans' ever-deepening debacle over their flailing attempts to strip health insurance from 22 million people, Majority Leader Mitch McConnell is desperate to do something—anything—to show that he can get legislation passed. To this end, he's bypassing the standard committee review process to push a complex 850+ page energy bill straight to the full Senate floor. Perhaps not surprisingly, this legislation, the Energy and Natural Resources Act of 2017, would be a disaster for public health and our climate.
Keep reading...
Show less
Jul. 21, 2017 08:11AM EST
Rooftop solar panels on a beach house in southern Florida. TAI VIINIKKA / CC BY-NC-ND 2.0
A new law passed this week in South Miami will require all new homes built in the city to install solar panels. The measure, which was inspired by a proposal from a teenage climate activist, will go into effect in September.
The text of the ordinance details the climate impacts facing South Miami.
Keep reading...
Show less
Jul. 21, 2017 10:27AM EST
www.youtube.com
Keep reading...
Show less
Jul. 21, 2017 08:49AM EST
iStock
By Katherine Paul and Ronnie Cummins
A recent series of articles by a Washington Post reporter could have some consumers questioning the value of the U.S. Department of Agriculture's (USDA) organic seal. But are a few bad eggs representative of an entire industry?
Consumers are all for cracking down on the fraudulent few who, with the help of Big Food, big retail chains and questionable certifiers give organics a bad name. But they also want stronger standards, and better enforcement—not a plan to weaken standards to accommodate "Factory Farm Organic."
Keep reading...
Show less