8 Health Benefits From Drinking Kombucha Tea
Kombucha is a fermented tea that has been consumed for thousands of years.
Not only does it have the same health benefits as tea, but it's also rich in beneficial probiotics.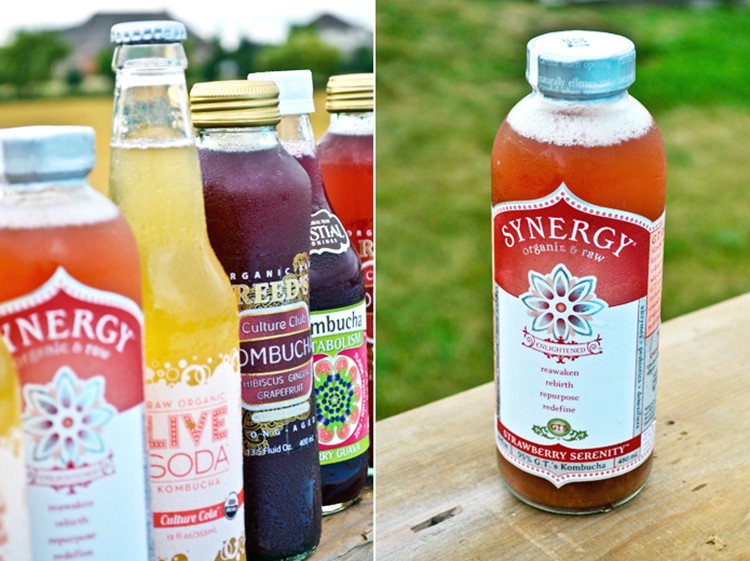 Kombucha also contains antioxidants, can kill harmful bacteria and may help fight several diseases.
Here are the top eight health benefits of kombucha, based on scientific evidence.
1. Kombucha is a Rich Source of Probiotics
Kombucha is thought to originate in China or Japan.
It's made by adding specific strains of bacteria, yeast and sugar to black or green tea and then allowing it to ferment for a week or more (1).
During this process, the bacteria and yeast form a mushroom-like blob on the surface, which is why kombucha is also known as "mushroom tea."
This blob is actually a living symbiotic colony of bacteria and yeast or a SCOBY and can be used to ferment new kombucha.
This is what kombucha looks like: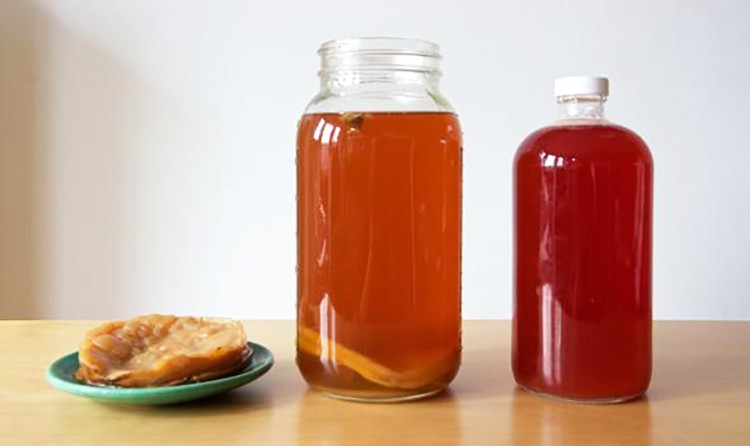 The fermentation process produces vinegar and several other acidic compounds, trace levels of alcohol and gases that make it carbonated (2).
A large amount of probiotic bacteria is also produced during fermentation (3).
Probiotics provide your gut with healthy bacteria. These bacteria can improve many aspects of health, including digestion, inflammation and even weight loss.
For this reason, adding probiotics foods like kombucha to your diet can improve your health in many ways.
Bottom Line: Kombucha is a type of tea that has been fermented. This makes it a good source of probiotics, which have many health benefits.
2. Kombucha Contains the Benefits of Green Tea
Green tea is one of the healthiest beverages on the planet.
This is because green tea contains many bioactive compounds, such as polyphenols, which function as powerful antioxidants in the body (4).
Kombucha made from green tea has many of the same chemical properties and therefore many of the same benefits.
Studies show that drinking green tea regularly can increase the amount of calories you burn, reduce belly fat, improve cholesterol levels, help with blood sugar control and more (5, 6, 7, 8).
Studies also show that green tea drinkers have a reduced risks of prostate, breast and colon cancers (9, 10, 11).
Bottom Line: Kombucha made from green tea has many of the same health benefits and may help with weight loss, blood sugar control and more.
3. Kombucha Contains Antioxidants
Antioxidants are substances that fight free radicals, reactive molecules that can damage your cells (12, 13).
Antioxidants from foods and beverages are much better for your health than antioxidant supplements (14).
Kombucha, especially when made with green tea, appears to have powerful antioxidant effects on the liver.
Rat studies consistently find that drinking kombucha regularly reduces liver toxicity caused by toxic chemicals, in some cases by at least 70 percent (15, 16, 17, 18).
Unfortunately, there are no human studies on this topic, but it does seem like a promising area of research for people with liver disease.
Bottom Line: Kombucha is rich in antioxidants and has been shown to protect the liver from toxicity, at least in rats.
4. Kombucha Can Kill Bacteria
One of the main substances produced during the fermentation of Kombucha is acetic acid, which is also abundant in vinegar.
Like the polyphenols in tea, acetic acid is able to kill many potentially harmful microorganisms (19).
Kombucha made from black or green tea appears to have strong antibacterial properties, particularly against infection-causing bacteria and Candida yeasts (20).
One study of chickens found that kombucha had antimicrobial effects and similar growth-promoting effects as antibiotics (21).
The researchers even suggested that kombucha tea could be used as an alternative to the antibiotic growth-promoters typically fed to these chickens.
Bottom Line: Kombucha is rich in tea polyphenols and acetic acid, which have both been shown to kill harmful bacteria.
5. Kombucha May Reduce Heart Disease Risk
Heart disease is the world's leading cause of death (22).
Rat studies find that kombucha can greatly improve two markers of these diseases, LDL and HDL cholesterol, in as little as 30 days (23, 24).
Even more importantly, tea (especially green tea) protects LDL cholesterol particles from oxidation, which is thought to contribute to heart disease (25, 26, 27).
In fact, green tea drinkers have up to a 31 percent lower risk of developing heart disease, a benefit that should also be seen from drinking kombucha (28, 29, 30).
Bottom Line: Kombucha has been shown to improve LDL and HDL cholesterol levels in rats. It may also protect against heart disease.
6. Kombucha May Help Manage Type 2 Diabetes
Type 2 diabetes affects more than 300 million people worldwide. It is characterized by high blood sugar levels and insulin resistance.
A study in diabetic rats found that kombucha slowed down the digestion of carbs, which reduced blood sugar levels. It also improved liver and kidney function (23).
Kombucha made from green tea is likely to be even more beneficial, as green tea itself has been shown to reduce blood sugar levels (31).
In fact, a review study of almost 300,000 individuals found that green tea drinkers had an 18 percent lower risk of becoming diabetic (32).
Bottom Line: Kombucha improved several markers of diabetes in rats, including blood sugar levels.
7. Kombucha May Help Protect Against Cancer
Cancer is one of the world's leading causes of death. It is characterized by cell mutation and uncontrolled growth.
In test-tube studies, kombucha helped prevent the growth and spread of cancerous cells, due to its high concentration of tea polyphenols and antioxidants (33, 34).
How the anti-cancer properties of tea polyphenols work is not well-understood.
However, it's thought that the polyphenols block gene mutation and the growth of cancer cells, while also promoting cancer cell death (35).
For this reason, it is not surprising to see that tea drinkers are much less likely to develop various types of cancer (36, 37, 38).
Bottom Line: Test-tube studies have found that kombucha has significant anti-cancer properties, much like green tea.
8. Kombucha Is Healthy When Made Properly
Kombucha is a probiotic-rich tea with many health benefits.
You can purchase it in the store or make it yourself at home. However, be very careful to prepare it properly.
Contaminated or over-fermented kombucha can cause (and has caused) serious health problems and even death. Homemade kombucha may also contain up to 3 percent alcohol (2, 39, 40, 41).
The safer option is to buy kombucha at a store or online. Commercial products are good and considered alcohol-free, as they must contain less than 0.5 percent alcohol (42).
If you're interested in trying kombucha, then Amazon.com has a decent selection available (see here).
However, check the ingredients and try to avoid brands that are high in added sugar.
This article was reposted from our media associate Authority Nutrition.
YOU MIGHT ALSO LIKE
13 Vegan Chia Seed Recipes Guaranteed to Superfood Your Diet
Dr. Mark Hyman: Is Weight Gain Dictated by Genes?
9 Diet and Lifestyle Changes That Can Keep Your Hormones in Balance and Help You Lose Weight
As the Trump administration moves full speed ahead on boosting the oil and fossil fuel industry, opposition to increased pipeline construction is cropping up in different communities around the country.
Keep reading...
Show less
Minke whale stranding near Havergate Island in Suffolk. MCGA.
By Simon Evans
Last Saturday, two dead whales washed up on the coast of Suffolk, in eastern England, and a third was spotted floating at sea.
What happened next illustrates how news can spread and evolve into misinformation, when reported by journalists rushing to publish before confirming basic facts or sourcing their own quotes.
Keep reading...
Show less
By Monica Amarelo and Paul Pestano
Sun safety is a crucial part of any outdoor activity for kids, and sunscreen can help protect children's skin from harmful ultraviolet rays. Kids often get sunburned when they're outside unprotected for longer than expected. Parents need to plan ahead and keep sun protection handy in their cars or bags.
Keep reading...
Show less
By Joe McCarthy
A lot of people take part in community clean-up efforts—spending a Saturday morning picking up litter in a park, mowing an overgrown field or painting a fence.
Keep reading...
Show less
May. 26, 2017 03:22PM EST
Rink Glacier in western Greenland, with a meltwater lake visible center. NASA/OIB
Scientists have had their eyes on Greenland as its iconic glaciers have begun disappearing due to a warming climate. But, what they didn't expect to see was a whole new type of melting.
Keep reading...
Show less
May. 26, 2017 03:40PM EST
A coalition of conservation groups and others announced Thursday that a historic number of comments and petitions of support have been submitted to the U.S. Department of the Interior in support of Bears Ears National Monument. Despite the entirely inadequate 15-day comment period ending on May 26, more than 685,000 comments in support of Bears Ears National Monument have been collected.
Keep reading...
Show less
May. 26, 2017 02:50PM EST
Mountain View Fire
By Lena Moffitt
An oil tanker in Mead, Colorado exploded, killing one and injuring three on Thursday. Authorities are continuing to investigate the cause of the explosion.
Keep reading...
Show less
May. 26, 2017 01:27PM EST
Banner created by Alliance for Climate Education
Keep reading...
Show less


Get EcoWatch in your inbox