This website uses cookies to ensure you get the best experience while browsing it. By clicking 'Got It' you're accepting these terms.
8 Health Benefits From Drinking Kombucha Tea
Mar. 14, 2016 12:37PM EST
Popular
Kombucha is a fermented tea that has been consumed for thousands of years.
Not only does it have the same health benefits as tea, but it's also rich in beneficial probiotics.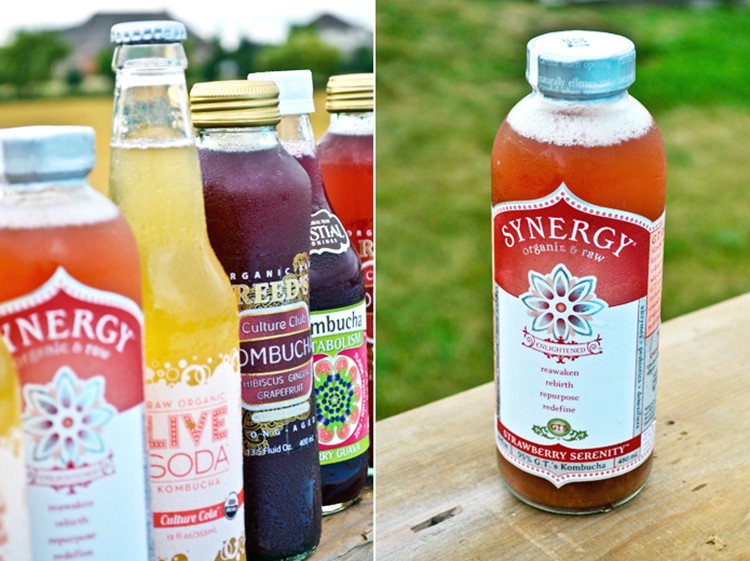 Kombucha also contains antioxidants, can kill harmful bacteria and may help fight several diseases.
Here are the top eight health benefits of kombucha, based on scientific evidence.
1. Kombucha is a Rich Source of Probiotics
Kombucha is thought to originate in China or Japan.
It's made by adding specific strains of bacteria, yeast and sugar to black or green tea and then allowing it to ferment for a week or more (1).
During this process, the bacteria and yeast form a mushroom-like blob on the surface, which is why kombucha is also known as "mushroom tea."
This blob is actually a living symbiotic colony of bacteria and yeast or a SCOBY and can be used to ferment new kombucha.
This is what kombucha looks like: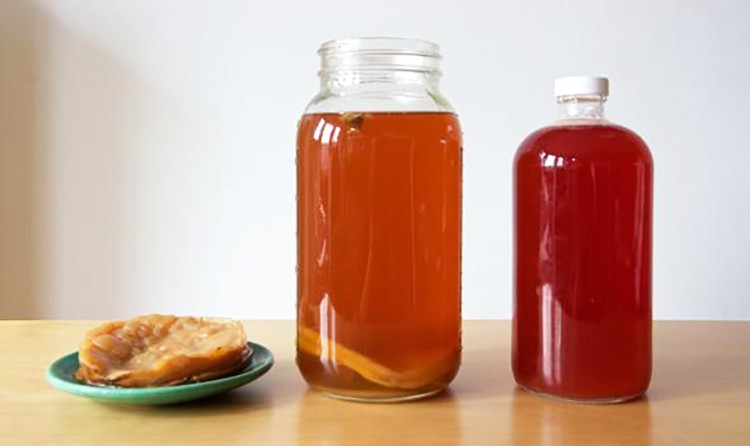 The fermentation process produces vinegar and several other acidic compounds, trace levels of alcohol and gases that make it carbonated (2).
A large amount of probiotic bacteria is also produced during fermentation (3).
Probiotics provide your gut with healthy bacteria. These bacteria can improve many aspects of health, including digestion, inflammation and even weight loss.
For this reason, adding probiotics foods like kombucha to your diet can improve your health in many ways.
Bottom Line: Kombucha is a type of tea that has been fermented. This makes it a good source of probiotics, which have many health benefits.
2. Kombucha Contains the Benefits of Green Tea
Green tea is one of the healthiest beverages on the planet.
This is because green tea contains many bioactive compounds, such as polyphenols, which function as powerful antioxidants in the body (4).
Kombucha made from green tea has many of the same chemical properties and therefore many of the same benefits.
Studies show that drinking green tea regularly can increase the amount of calories you burn, reduce belly fat, improve cholesterol levels, help with blood sugar control and more (5, 6, 7, 8).
Studies also show that green tea drinkers have a reduced risks of prostate, breast and colon cancers (9, 10, 11).
Bottom Line: Kombucha made from green tea has many of the same health benefits and may help with weight loss, blood sugar control and more.
3. Kombucha Contains Antioxidants
Antioxidants are substances that fight free radicals, reactive molecules that can damage your cells (12, 13).
Antioxidants from foods and beverages are much better for your health than antioxidant supplements (14).
Kombucha, especially when made with green tea, appears to have powerful antioxidant effects on the liver.
Rat studies consistently find that drinking kombucha regularly reduces liver toxicity caused by toxic chemicals, in some cases by at least 70 percent (15, 16, 17, 18).
Unfortunately, there are no human studies on this topic, but it does seem like a promising area of research for people with liver disease.
Bottom Line: Kombucha is rich in antioxidants and has been shown to protect the liver from toxicity, at least in rats.
4. Kombucha Can Kill Bacteria
One of the main substances produced during the fermentation of Kombucha is acetic acid, which is also abundant in vinegar.
Like the polyphenols in tea, acetic acid is able to kill many potentially harmful microorganisms (19).
Kombucha made from black or green tea appears to have strong antibacterial properties, particularly against infection-causing bacteria and Candida yeasts (20).
One study of chickens found that kombucha had antimicrobial effects and similar growth-promoting effects as antibiotics (21).
The researchers even suggested that kombucha tea could be used as an alternative to the antibiotic growth-promoters typically fed to these chickens.
Bottom Line: Kombucha is rich in tea polyphenols and acetic acid, which have both been shown to kill harmful bacteria.
5. Kombucha May Reduce Heart Disease Risk
Heart disease is the world's leading cause of death (22).
Rat studies find that kombucha can greatly improve two markers of these diseases, LDL and HDL cholesterol, in as little as 30 days (23, 24).
Even more importantly, tea (especially green tea) protects LDL cholesterol particles from oxidation, which is thought to contribute to heart disease (25, 26, 27).
In fact, green tea drinkers have up to a 31 percent lower risk of developing heart disease, a benefit that should also be seen from drinking kombucha (28, 29, 30).
Bottom Line: Kombucha has been shown to improve LDL and HDL cholesterol levels in rats. It may also protect against heart disease.
6. Kombucha May Help Manage Type 2 Diabetes
Type 2 diabetes affects more than 300 million people worldwide. It is characterized by high blood sugar levels and insulin resistance.
A study in diabetic rats found that kombucha slowed down the digestion of carbs, which reduced blood sugar levels. It also improved liver and kidney function (23).
Kombucha made from green tea is likely to be even more beneficial, as green tea itself has been shown to reduce blood sugar levels (31).
In fact, a review study of almost 300,000 individuals found that green tea drinkers had an 18 percent lower risk of becoming diabetic (32).
Bottom Line: Kombucha improved several markers of diabetes in rats, including blood sugar levels.
7. Kombucha May Help Protect Against Cancer
Cancer is one of the world's leading causes of death. It is characterized by cell mutation and uncontrolled growth.
In test-tube studies, kombucha helped prevent the growth and spread of cancerous cells, due to its high concentration of tea polyphenols and antioxidants (33, 34).
How the anti-cancer properties of tea polyphenols work is not well-understood.
However, it's thought that the polyphenols block gene mutation and the growth of cancer cells, while also promoting cancer cell death (35).
For this reason, it is not surprising to see that tea drinkers are much less likely to develop various types of cancer (36, 37, 38).
Bottom Line: Test-tube studies have found that kombucha has significant anti-cancer properties, much like green tea.
8. Kombucha Is Healthy When Made Properly
Kombucha is a probiotic-rich tea with many health benefits.
You can purchase it in the store or make it yourself at home. However, be very careful to prepare it properly.
Contaminated or over-fermented kombucha can cause (and has caused) serious health problems and even death. Homemade kombucha may also contain up to 3 percent alcohol (2, 39, 40, 41).
The safer option is to buy kombucha at a store or online. Commercial products are good and considered alcohol-free, as they must contain less than 0.5 percent alcohol (42).
If you're interested in trying kombucha, then Amazon.com has a decent selection available (see here).
However, check the ingredients and try to avoid brands that are high in added sugar.
This article was reposted from our media associate Authority Nutrition.
YOU MIGHT ALSO LIKE
13 Vegan Chia Seed Recipes Guaranteed to Superfood Your Diet
Dr. Mark Hyman: Is Weight Gain Dictated by Genes?
9 Diet and Lifestyle Changes That Can Keep Your Hormones in Balance and Help You Lose Weight
EcoWatch Daily Newsletter
Two Sherpa descending from Everest Base Camp, Himalayas, Khumbu, Nepal. Joel Addams / Aurora Photos / Getty Images
Climate change is having a grizzly effect on Mount Everest as melting snow and glaciers reveal some of the bodies of climbers who died trying to scale the world's highest peak.
Navajo Generating Station, Arizona. Wolfgang Moroder / Wikimedia / CC BY-SA 3.0
The Navajo Nation have decided to stop pursuing the acquisition of a beleaguered coal-fired power plant in Arizona, locking in the plant to be taken offline and its associated coal mine to close later this year.
A Navajo Nation Council committee voted 11-9 last week to stop pursuing the purchase of the 2,250-megawatt Navajo Generating Station, which with the Kayenta coal mine provides more than 800 jobs to primarily Navajo and Hopi workers as well as tribal royalties.
A coalition of utilities that own the plant said in 2017 it would cease operations due to increased economic pressure, and the plant's future has proved a flash point for national and regional energy policy and raised larger questions on how Native communities will handle ties to fossil fuel industries as the economy changes.
For a deeper dive:
Arizona Republic, Indian Country Today, AP, WOKV, Farmington Daily Times
For more climate change and clean energy news, you can follow Climate Nexus on Twitter and Facebook, and sign up for daily Hot News.
Related Articles Around the Web
Sir David Attenborough opens Woodberry Wetlands on April 30, 2016 in London, United Kingdom. Danny Martindale / WireImage
An extended version of the Fuxing bullet train at the China National Railway Test Center on Oct. 15, 2018 in Beijing, China. VCG / VCG via Getty Images
By Jeff Turrentine
Is it just us?
Other countries don't seem to have a problem getting their high-speed rail systems on track. This superfast, fuel-efficient form of mass transit is wildly popular throughout Asia and the European Union. Japan's sleek Shinkansen line, the busiest high-speed rail system in the world, carries an estimated 420,000 riders every weekday. In China, the new Fuxing Hao bullet train now hurries more than 100 million passengers a year between Beijing and Shanghai at a top speed of 218 miles an hour, allowing its riders to make the trip of 775 miles — roughly the distance from New York City to Chicago — in about four and a half hours. Spain, Germany and France together have more than 4,500 miles of track dedicated to high-speed rail, over which more than 150 million passengers travel annually.
Ocean Heroes Bootcamp
By Coda Christopherson (11) and Lea Eiders (15)
Growing up in a plastic-free home, I was sheltered from the plastic waste crisis. I (Coda) went to a very progressive school that had vegan lunch items, farm animals and ran on solar power. My mom produces zero-waste events and my dad is a sailor, so we're very passionate about the ocean. When I was nine years old, we moved back to Manhattan Beach, California and I started 3rd grade in a public school. This was the first time I really understood that plastic-free living is not the norm; single-use plastics were everywhere, especially in the cafeteria. Once I recognized this problem, I knew I had to make a difference.
A major California avocado producer issued a voluntary recall of the popular fruit over concerns they could be contaminated with Listeria monocytogenes, USA Today reported.
Henry Avocado issued the recall Saturday after a routine government inspection at its California packing facility turned up positive test results for the bacteria on "environmental samples," the company said in a statement. No illnesses have been reported.
Acting Secretary David Bernhardt visited Watson Hopper Inc., a manufacturer of rigs and oil drilling equipment in Hobbs, New Mexico on Feb. 6, 2019.
Tami A. Heilemann / DOI
Oil executives gathered for a conference laughed about their "unprecedented" access to Trump administration officials, according to a recording obtained by Reveal from the Center for Investigative Reporting.
In the recording, taken at a June 2017 meeting of the Independent Petroleum Association of America (IPAA) at a Ritz-Carlton in Southern California, members expressed excitement about one official in particular: David Bernhardt, who had been nominated that April to be deputy secretary at the Department of Interior (DOI). Bernhardt would be confirmed the following month.
"We know him very well, and we have direct access to him, have conversations with him about issues ranging from federal land access to endangered species, to a lot of issues," IPAA political director Dan Naatz said in the recording.