8 Foods That California's Drought Will Make More Costly
Most people expected food prices to rise over time as California's drought worsened earlier this year, but some goods will be impacted more than others.
Research from Timothy Richards, a professor of the W. P. Carey School of Business at Arizona State University, shows that vegetables like lettuce and avocados are likely to experience the most dramatic prices bumps.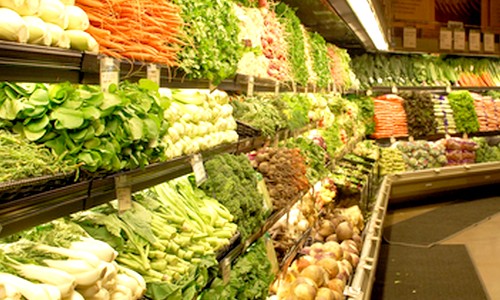 "We can expect to see the biggest percentage jumps in prices for avocados and lettuce—28 percent and 34 percent, respectively," Richards said. "People are the least price-sensitive when it comes to those items, and they're more willing to pay what it takes to get them."
Time will tell if people feel the same way about the other items on Richards' research list. He lists them along with the anticipated price increases:
Avocados are likely to go up 17 to 35 cents to as much as $1.60 each.
Berries could rise 21 to 43 cents to as much as $3.46 per clamshell container.
Broccoli likely to go up 20 to 40 cents to a possible $2.18 per pound.
Grapes might rise 26 to 50 cents to a possible $2.93 per pound.
Lettuce likely to rise 31 to 62 cents to as much as $2.44 per head.
Packaged salad could cost 17 to 34 cents more, to a possible $3.03 per bag.
Peppers likely to go up 18 to 35 cents to a possible $2.48 per pound.
Tomatoes are likely to rise 22 to 45 cents to a possible $2.84 per pound.
Richards says industry estimates range from a half-million to 1 million acres of agricultural land likely to be affected by the drought. He believes 10 to 20 percent of the supply of certain crops could be lost, and California is the biggest national supplier of several of those crops.
The state is the only major domestic source of avocados.
Richards added that the drought and price increases could be an issue for those who favor domestic produce.
"Because prices are going to go up so much, retailers will start looking elsewhere for produce," he said. "This means we'll see a lot more imports from places like Chile and Mexico, which may be an issue for certain grocery customers who want domestic fruit and vegetables."
Sherry Frey, vice president of Nielsen Perishables Group, says she expects the impact to be felt by consumers and retailers alike.
 "We've identified certain consumers who will be more heavily affected by the price increases—for example, younger consumers of avocados," Frey said. "In addition, there is a larger department and store impact retailers will need to manage.
"While some consumers will pay the increased prices, others will substitute or leave the category completely. And, for a category like avocados, there are non-produce snacking categories, such as chips, crackers and ethnic grocery items, that will be negatively impacted."
——–
YOU ALSO MIGHT LIKE
Hundreds of California Businesses Band Together in Face of Devastating Drought
Is California Headed For a Century-Long Drought?
The California Drought: Who Gets Water and Who's Hung Out to Dry?
——–
A coalition of conservation groups and others announced Thursday that a historic number of comments and petitions of support have been submitted to the U.S. Department of the Interior in support of Bears Ears National Monument. Despite the entirely inadequate 15-day comment period ending on May 26, more than 685,000 comments in support of Bears Ears National Monument have been collected.
Keep reading...
Show less
Rink Glacier in western Greenland, with a meltwater lake visible center. NASA/OIB
Scientists have had their eyes on Greenland as its iconic glaciers have begun disappearing due to a warming climate. But, what they didn't expect to see was a whole new type of melting.
Keep reading...
Show less
Mountain View Fire
By Lena Moffitt
An oil tanker in Mead, Colorado exploded, killing one and injuring three on Thursday. Authorities are continuing to investigate the cause of the explosion.
Keep reading...
Show less
Banner created by Alliance for Climate Education
Keep reading...
Show less
Twenty-two GOP senators sent a letter Thursday urging Donald Trump to pull out of the Paris agreement. They argued remaining in the deal could "upend" the administration's ability "to fulfill its goal of rescinding the Clean Power Plan."
Keep reading...
Show less
By Cheryl Johncox
The Federal Energy Regulatory Commission (FERC) rejected on Thursday Energy Transfer Partners' request to resume horizontal directional drilling at two sites for its Rover fracked gas pipeline. This rejection comes after numerous leaks into Ohio's wetlands, and Clean Air and Clean Water act violations. FERC has halted the process at only eight locations of the 32 where drilling is taking place under Ohio's wetlands and streams.
Keep reading...
Show less
By Nadia Prupis
A majority of people in eight countries say they are ready to change their lifestyles if it would prevent climate catastrophe, a survey on global threats released Wednesday found.
Keep reading...
Show less
May. 25, 2017 01:55PM EST
Bill Maher is sick of billionaires' obsession with Mars, more like "Mars-a-Lago," he said.
In a new animation produced by ATTN:, the popular talk show host of Real Time, discusses the perils of our planet, including how "climate change is killing us."
Keep reading...
Show less