This website uses cookies to ensure you get the best experience while browsing it. By clicking 'Got It' you're accepting these terms.
8 Climate-Friendly Superfoods That Will Be All the Rage in 2016
Jan. 07, 2016 12:06PM EST
Food
Superfoods are gaining popularity—and for good reason. They directly support the immune system, reduce inflammation, support mental health, pack a nutritional punch, and boost energy, stamina and longevity.
Here are eight superfoods to watch in 2016 that are not only good for you, but also good for the planet:
1. Crickets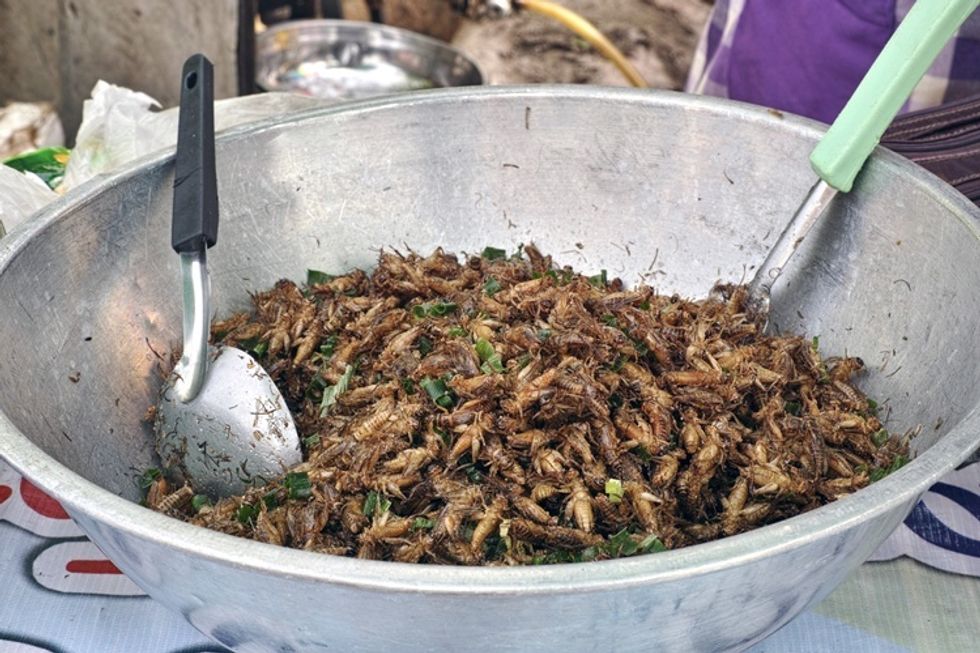 Photo credit: Shutterstock
Crickets are loaded with protein. They also "thrive in hotter climates and survive off decaying waste and very little water and space," Mother Jones reported. For this reason, crickets and other insects have been hailed as the "next climate-friendly superfood." They can be ground into baking flour or protein powder, and added to cookies, brownies or milkshakes.
While eating crickets—or any type of insect for that matter—hasn't completely caught on in the U.S., it's making progress. Last year, fast food chain Wayback Burgers put out a fake press release as an April Fool's joke about insect-filled milkshakes, but the idea was so popular that they rolled out their Oreo Mud Pie Cricket Protein Milkshake.
2. Pulses
They're the dried seeds of lentils, beans and chickpeas—and the UN has declared 2016 to be their year. They already make up 75 percent of the average diet in developing countries, but only 25 percent in developed ones, according to the UN.
That could all change, though. Pulses contain 20 to 25 percent protein by weight, approaching the protein levels of meat, which average 30 to 40 percent. They also require far less water than meat to produce.
3. Amaranth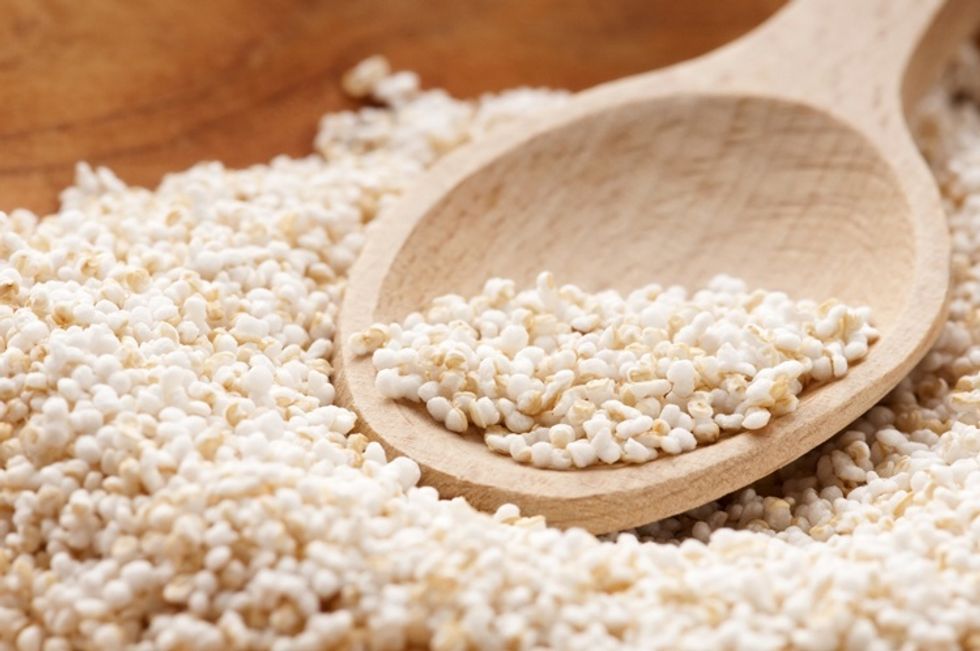 Photo credit: Shutterstock
"Amaranth is the new quinoa," trend expert Daniel Levine told The Huffington Post. It's a grain-like seed that cooks quickly and can be added to salads, soups and stews. It's a complete source of protein just like quinoa, and it is loaded with fiber, B vitamins and several important minerals. Additionally, it's been shown to reduce inflammation, and lower cholesterol levels and blood pressure.
4. Kefir
Kefir is the trendiest fermented food right now (sorry, kombucha and kimchi). It's high in nutrients and probiotics, and is incredibly beneficial for digestion and gut health. Many people consider it to be a healthier and more powerful version of yogurt.
To make it, "grains" (yeast and lactic acid bacteria cultures) are added to cow or goat milk. The concoction ferments over a 24-hour period and then the grains are removed from the liquid.
5. Teff
Sometimes written as tef or t'ef, this pseudo-grain (it's technically a seed) has a high nutritional profile and a taste similar to that of amaranth or quinoa. This ancient grain has survived for centuries without much hybridization or processing. Like most other ancient grains, it's high in fiber, calcium and iron.
Traditionally cultivated in Ethiopia and Eritrea, teff can be grown in a variety of conditions. Teff "thrives in both waterlogged soils and during droughts, making it a dependable staple wherever it's grown. No matter what the weather, teff crops will likely survive, as they are also relatively free of plant diseases compared to other cereal crops," Whole Grains Council said.
"Teff can grow where many other crops won't thrive, and in fact can be produced from sea level to as high as 3,000 meters of altitude, with maximum yield at about 1,800-2,100 meters high," the council said. "This versatility could explain why teff is now being cultivated in areas as diverse as dry and mountainous Idaho and the low and wet Netherlands."
6. Moringa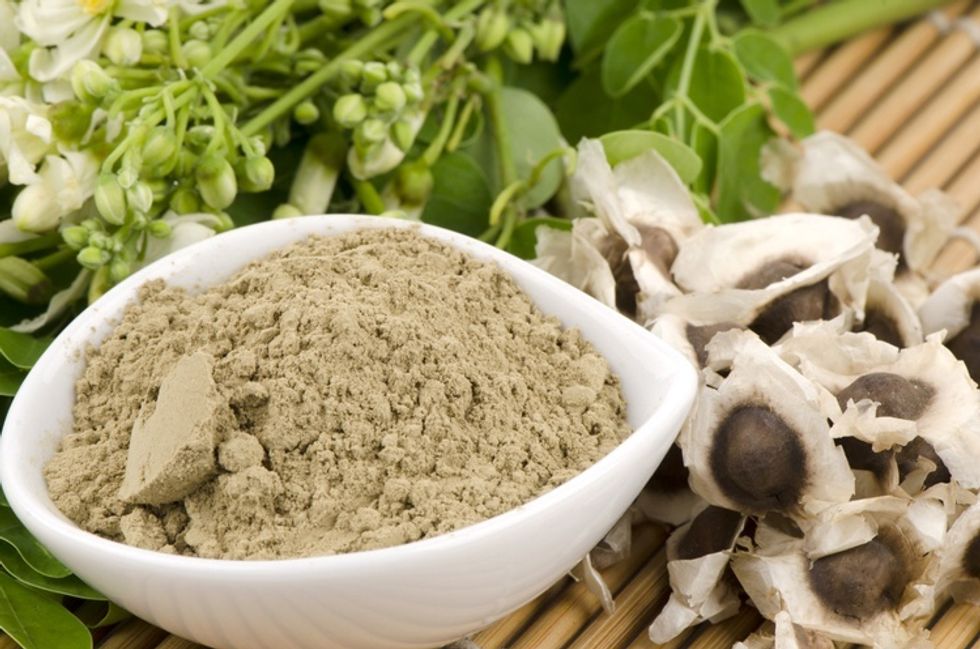 Photo credit: Shutterstock
It's often called the "the miracle tree" or the "tree of life," according to TIME. It's commonly found in Asian and African countries, and almost every part of it—pods, leaves, seeds and roots—is edible. It's a good source of Vitamin B6, Vitamin C and iron. Not only does it pack a nutritional punch, it's also a fast-growing, drought-tolerant plant that is a promising biofuel and medicinal source.
7. Kelp
Kelp grows super fast (up to two feet per day), and requires neither freshwater nor fertilizer. "And rather than contributing to our carbon footprint, as many fertilizers and food sources do, seaweed cleanses the ocean of excess nitrogen and carbon dioxide," Mother Jones reported. One kelp farmer on the Long Island Sound even claims he's restoring the ocean while producing a sustainable food and fuel source.
8. Waste-Based Food
This isn't as weird as it sounds. In order to reduce food waste, restaurants are finding creative ways to use the edible parts of plants and animals that are often thrown out. Last year, award-winning chef Dan Barber held a two-week pop-up at Blue Hill, his restaurant in New York City, where he cooked with spent grain, cocoa beans, pasta scraps and vegetable pulp.
YOU MIGHT ALSO LIKE
Michael Pollan: What You Should Eat to Be Healthy
10 Foods That Could Disappear Because of Climate Change
EcoWatch Daily Newsletter
Pexels
By Charli Shield
At unsettling times like the coronavirus outbreak, it might feel like things are very much out of your control. Most routines have been thrown into disarray and the future, as far as the experts tell us, is far from certain.
Pie Ranch in San Mateo, California, is a highly diverse farm that has both organic and food justice certification. Katie Greaney
By Elizabeth Henderson
Farmworkers, farmers and their organizations around the country have been singing the same tune for years on the urgent need for immigration reform. That harmony turns to discord as soon as you get down to details on how to get it done, what to include and what compromises you are willing to make. Case in point: the Farm Workforce Modernization Act (H.R. 5038), which passed in the House of Representatives on Dec. 11, 2019, by a vote of 260-165. The Senate received the bill the next day and referred it to the Committee on the Judiciary, where it remains. Two hundred and fifty agriculture and labor groups signed on to the United Farm Workers' (UFW) call for support for H.R. 5038. UFW President Arturo Rodriguez rejoiced:
A woman walks to her train in Grand Central Terminal as New York City attempts to slow down the spread of coronavirus through social distancing on March 27. John Lamparski / Getty Images
By Julia Conley
A council representing more than 800,000 doctors across the U.S. signed a letter Friday imploring President Donald Trump to reverse his call for businesses to reopen by April 12, warning that the president's flouting of the guidance of public health experts could jeopardize the health of millions of Americans and throw hospitals into even more chaos as they fight the coronavirus pandemic.
polaristest / Flickr / CC BY-NC-ND 2.0
By Melissa Kravitz Hoeffner
Over six gallons of water are required to produce one gallon of wine. "Irrigation, sprays, and frost protection all [used in winemaking] require a lot of water," explained winemaker and sommelier Keith Wallace, who's also a professor and the founder of the Wine School of Philadelphia, the largest independent wine school in the U.S. And water waste is just the start of the climate-ruining inefficiencies commonplace in the wine industry. Sustainably speaking, climate change could be problematic for your favorite glass of wine.
Pixabay
Spinach is a true nutritional powerhouse, as it's rich in vitamins, minerals, and antioxidants.