This website uses cookies to ensure you get the best experience while browsing it. By clicking 'Got It' you're accepting these terms.
8 Businesses Granted $12 Million to Help 150 Million Americans Go Solar
Nov. 06, 2013 04:33PM EST
Business
Eight companies, universities and nonprofits have been challenged—and awarded grants—to make it easier for nearly 150 million Americans to go solar.
The U.S. Department of Energy (DOE) announced $12 million in grants today to the organizations as part of the second round of the Rooftop Solar Challenge. The recipients are: Broward County in Florida, California Center for Sustainable Energy, City University of New York, Clean Energy States Alliance, Iowa Economic Development Authority, Mid-America Regional Council (MARC), Optony Inc. and the Washington State Department of Commerce. 
The Rooftop Solar Challenge, in its second year, aims to "reduce the cost of rooftop solar energy systems through improved permitting, financing, zoning, net metering, and interconnection processes for residential and small commercial photovoltaic (PV) installations," according to the DOE. Each awardee has proven the ability to cut the red tape in getting more commercial and residential solar systems in their region. Now, the challenge is for each winner to help eight "teams" across the country that have the potential for greater solar expansion.
"Today, solar modules cost about one percent of what they did 35 years ago, and permitting and interconnection are an increasingly large portion of overall solar system costs," DOE secretary Ernest Moniz said. "Through the Rooftop Solar Challenge, the Energy Department is helping to make the deployment of solar power in communities across the country faster, easier and cheaper–saving money and time for local governments, homeowners and businesses."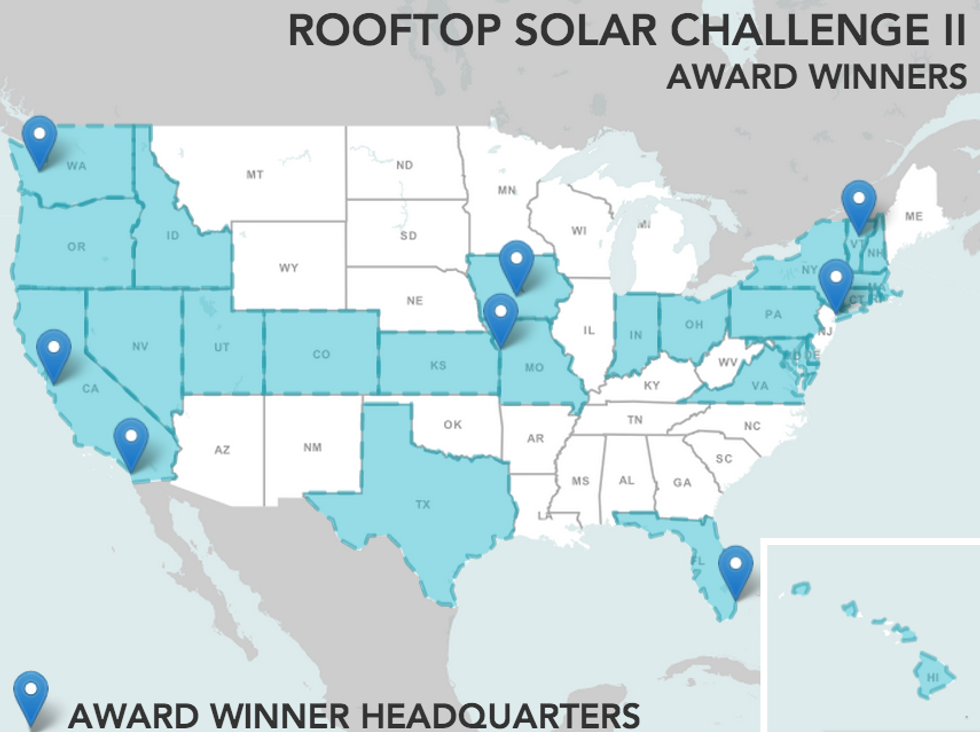 The eight teams announced today will help further expand the reach of innovative strategies that are making it easier, faster and cheaper for more homeowners and businesses to finance and install solar systems, according to the DOE. These awardees will develop and replicate creative solutions that help standardize complicated permitting and interconnection processes that often vary from jurisdiction to jurisdiction; facilitate easy, cheaper bulk purchasing; and support user-friendly, fast online applications.
Here are three of the eight grant awardees that can impact the most people, according to the DOE:
Optony, Inc.
Population Impact: 60 million
Amount: $1,199,598
Location: California, Nevada, Utah, Idaho, Colorado, Hawaii, Texas, Florida, Iowa, Missouri, Washington, D.C., Virginia, Maryland, Delaware, Pennsylvania and New York
Partners: Solar Electric Power Association, Strategic Energy Innovations, US Photovoltaic Manufacturers Consortium, Rocky Mountain Institute, Metropolitan Washington Council of Governments, Northern Virginia Regional Commission and Central New York Regional Planning and Development Board
Highlights: The American Solar Transformation Initiative will use an innovative online Solar Roadmap platform and hands-on engagement to assist more than 400 jurisdictions where solar potential is abundant, but resources and information are scarce. The project will improve permitting processes, establish solar friendly planning and zoning guidelines, streamline the interconnection process, expand financing options, and ultimately develop strong solar markets across the country.
California Center for Sustainable Energy
Population Impact: 37 million
Amount: $1,299,522
Location: California
Partners: California Governor's Office of Planning and Research, Energy Policy Initiatives Center at University of San Diego, Contra Costa Economic Development Authority, Optony, Energy Solutions, Southern California Regional Energy Network and local jurisdictions
Highlights: The Golden State Solar Impact project will transform California's solar market by making permitting and interconnection processes more uniform, rapid and transparent across the state. The project will implement a standardized permitting process and develop tools such as a statewide interconnection and data portal to dramatically reduce soft costs in California.
Clean Energy States Alliance
Population Impact: 13 million
Amount: $1,500,000
Location: New Hampshire, Massachusetts, Connecticut and Vermont
Partners: Clean Energy Finance and Investment Authority (CEFIA), Massachusetts Department of Energy Resources (MA-DOER), New Hampshire Office of Energy and Planning (NH-OEP), Rhode Island Office of Energy Resources (RI-OER), Vermont Public Service Department (VT-PSD), and local jurisdictions
Highlights: The New England Solar Cost-Reduction Partnership will build a thriving regional solar market by: increasing coordination across Connecticut, Massachusetts, New Hampshire, Rhode Island, and Vermont; refining and deploying innovations developed in Connecticut and Massachusetts during Rooftop Solar Challenge I; and more widely implementing best practices across the region, including online permitting and group purchasing programs.
The DOE awarded the representatives of 22 regional teams during the first round of the Challenge in 2012 to reduce the soft costs of solar installation. The agency said those efforts helped cut permitting time by 40 percent while reducing fees by more than 10 percent making it faster and easier for more than 47 million Americans to install solar systems. The representatives created group purchasing programs to drive down costs and streamlined the permit process by instituting online systems in communities that lacked them.

EcoWatch Daily Newsletter
Investing in grid infrastructure would enable utilities to incorporate modern technology, making the grid more resilient and flexible. STRATMAN2 / FLICKR
By Elliott Negin
The Royal Swedish Academy of Sciences' recent decision to award the 2019 Nobel Prize in Chemistry to scientists who developed rechargeable lithium-ion batteries reminded the world just how transformative they have been. Without them, we wouldn't have smartphones or electric cars. But it's their potential to store electricity generated by the sun and the wind at their peak that promises to be even more revolutionary, reducing our dependence on fossil fuels and protecting the planet from the worst consequences of climate change.
Two Javan rhinos deep in the forests of Ujung Kulon National Park, the species' last habitat on Earth. Sugeng Hendratno / WWF
The global population of the critically endangered Javan rhinoceros has increased to 72 after four new calves were spotted in the past several months.
A tiger looks out from its cage at a new resort and zoo in the eastern Lao town of Tha Bak on Dec. 5, 2018. Karl Ammann believes the "zoo" is really a front for selling tigers. Terrence McCoy / The Washington Post / Getty Images
Are tigers extinct in Laos?
That's the conclusion of a detailed new study that found no evidence wild tigers still exist in the country.
A group of scientists is warning that livestock production must not expand after 2030 for the world to stave off ecological disaster.
The largest wetland in Africa is in the South Sudan. George Steinmetz / Corbis Documentary / Getty Images Plus
Methane emissions are a far more powerful greenhouse gas than carbon dioxide – about 28 times more powerful. And they have been rising steadily since 2007. Now, a new study has pinpointed the African tropics as a hot spot responsible for one-third of the global methane surge, as Newsweek reported.