This website uses cookies to ensure you get the best experience while browsing it. By clicking 'Got It' you're accepting these terms.
8 Battleground States in the GMO Food Labeling Fight
Jan. 29, 2016 11:36AM EST
As the food fight over the labeling of genetically modified organisms (GMOs) stalls in Congress, state-level GMO mandates are gaining steam. At least 30 states have introduced some type of legislation in recent years, including three states—Connecticut, Maine and Vermont—that have actually passed GMO labeling mandates.
With the food transparency movement escalating nationwide, there are at least eight states to keep on our radar, according to Politico's Morning Agriculture blog.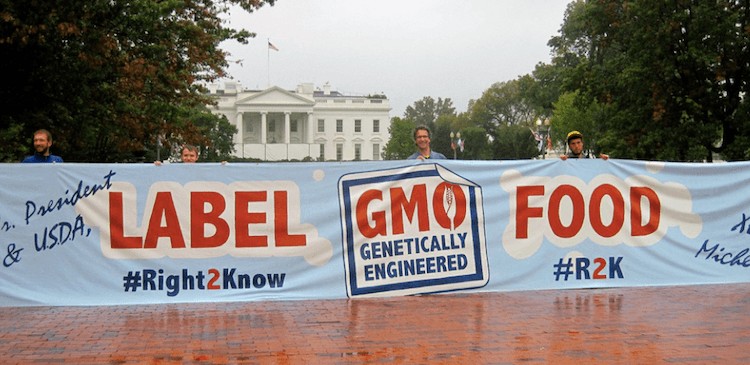 64 other countries
around the world and 
89 percent
of Americans voters are in support of it. Photo credit:
Flickr
1. New York
Legislators have introduced nearly 70 bills since 2011 related to GMOs. The bills cover everything from the labeling of vaccines containing GMOs to prohibiting the sale of GMO salmon to the labeling food and seeds.
2. Maine
Last week, lawmakers debated a bill that would free the state from its 2014 law that requires four contiguous states—Vermont, Massachusetts, New Hampshire and Connecticut—to also enact label laws before triggering their own.
"We want to remove the contingencies to free Maine to act on its own," the bill's sponsor, Rep. Michelle Dunphy (D-Old Town) told the Bangor Daily News. "Consumers have the right to choose. I don't feel it will have a huge impact on how people shop."
The bill was tabled and will resurface in a work session later this legislative session.
3. Massachusetts
A bill was introduced last September that would require that all foods sold in the state containing GMOs be clearly labeled. According to MA Right to Know, 155 out of 200 state legislators, ­including 126 from the House of Representatives and 29 from the Senate have signed on as co-sponsors to the labeling bill in 2015. The bill is currently sitting with the Joint Committee on Environment, Natural Resources and Agriculture.
4. Rhode Island
Lawmakers are considering at least three bills that would require GMO foods to be labeled. Politico reports that the first bill requires all food businesses with more than $500,000 of gross sales to post signs informing consumers of GMO food products unless it is already labeled. The second measure requires milk and milk products from genetically engineered animals or that contain a GMO ingredient to carry a label. The third measure would require all GMO products be labeled by Jan. 1, 2017.
5. Florida
Following years of grassroots campaigning, state Senator Maria Sachs and state Rep. Michelle Rehwinkel Vasilinda have introduced three GMO labeling bills in Florida: Senate bills SB 1700 and SB 1708, and House bill HB 1369, Natural Society reported. The bills require labeling of GMO foods and raw agricultural commodities, and require the state to provide lists of raw agricultural commodities at high risk or potentially at risk for cultivation in a genetically engineered form. The two have campaigned heavily for GMO labeling for the past three years. Here's a video of Senator Sachs at an anti-Monsanto rally in Miami in March 2013.
6. Alaska
The state already requires the labeling of GMO salmon, and now the state is weighing a measure that would ban the sale of any GMO fish or fish product in the state and another resolution that would disapprove of the U.S. Food and Drug Administration's (FDA) approval of AquAdvantage salmon, Politico reported. U.S. Senator Lisa Murkowski has long been vehemently opposed the FDA's controversial decision and recently threatened to block the appointment of the next FDA commissioner, Dr. Robert Califf, because of it.
7. Missouri
Two bills related to labeling genetically engineered foods have been introduced in the Missouri legislature. The first requires the labeling of GMO foods. The second calls for the use of science-based data to assess and regulate of modern agricultural technologies. Right to Know Missouri cited a poll taken in Missouri that indicated 91.1 percent of people supported enacting a GMO labeling law.
8. New Jersey
The bill to label genetically engineered foods would require products to be labeled six months following enactment of the measure. The state Senate is set to consider this legislation.
In 2014, Connecticut and Maine became the first two states to require GMO labels but their rules will only kick in after other states enact similar laws. Vermont, however, set a precedent with the passage of the first-ever no strings attached labeling mandate that's set to go into effect this July—that is, unless Big Food stops it.
As EcoWatch exclusively reported in October, the Grocery Manufacturers Association—which represents more than 300 food and beverage titans such as ConAgra, Nestlé, Coca-Cola, Pepsi, Kellogg and Hershey—has spent millions and lobbied heavily to nullify or preempt state labeling laws. A spokesperson told us that the association "supports a uniform national standard for GMO labeling ... not a patchwork of different state labeling mandates that are confusing and costly to consumers."
In a blow to the industry, however, Congress voted in December to not include a policy rider in the federal omnibus spending bill that would have blocked states from implementing mandatory GMO labeling laws.
Following the decision, Sec. of Agriculture Tom Vilsack held a closed-door meeting earlier this month with food industry honchos and GMO labeling advocates to hammer out a compromise.
Few details have emerged from the meeting but it appears that Big Food's proposal of a "Smart Label," which consists of a scannable QR code, has been shunned by opponents.
Politico reported Thursday that Tara Cook-Littman, founder of GMO-Free Connecticut, says she and four other advocates "stood strong and united for mandatory, on package GMO labeling."
"We are thankful to Secretary Vilsack for the time he spent with us, but in the end, there was not enough common ground to emerge from that room with a GMO Labeling proposal agreed upon by leaders from both camps," Cook-Littman wrote in a blog post on the website of Citizens for GMO Labeling.
YOU MIGHT ALSO LIKE
Exclusive Video: How Obama Won the Iowa Caucus and What Hillary and Bernie Can Learn From Him
Monsanto Slammed for Violating European Patent Law for GMO Melon
Monsanto Files Lawsuit to Stop California From Listing Glyphosate as Known Carcinogen
Monsanto's Genetically Engineered Roundup Ready Alfalfa Has Gone Wild
Prince William and British naturalist David Attenborough attend converse during the World Economic Forum annual meeting, on January 22 in Davos, Switzerland. Fabrice Cofferini /AFP / Getty Images
Britain's Prince William interviewed famed broadcaster David Attenborough on Tuesday at the World Economic Forum's annual meeting in Switzerland.
During the sit-down, the 92-year-old naturalist advised the world leaders and business elite gathered in Davos this week that we must respect and protect the natural world, adding that the future of its survival—as well as humanity's survival—is in our hands.
Electric vehicle sales took off in 2018, with a record two million units sold around the world, according to a new Deloitte analysis.
What's more, the accounting firm predicts that another 21 million electric cars will be on the road globally over the next decade due to growing market demand for clean transportation, government subsidies, as well as bans on fossil fuel cars.
Teenager Alex Weber and friends collected nearly 40,000 golf balls hit into the ocean from a handful of California golf courses.
Alex Weber /
CC BY-ND
Southwest Greenland had the most consistent ice loss from 2003 to 2012. Eqalugaarsuit, Ostgronland, Greenland on Aug. 1, 2018.
Rob Oo / CC BY 2.0
Greenland is melting about four times faster than it was in 2003, a new study published Monday in the Proceedings of the National Academy of Sciences found, a discovery with frightening implications for the pace and extent of future sea level rise.
"We're going to see faster and faster sea level rise for the foreseeable future," study lead author and Ohio State University geodynamics professor Dr. Michael Bevis said in a press release. "Once you hit that tipping point, the only question is: How severe does it get?"
Finally, some good news about the otherwise terrible partial government shutdown. A federal judge ruled that the Trump administration cannot issue permits to conduct seismic testing during the government impasse.
The Justice Department sought to delay—or stay—a motion filed by a range of coastal cities, businesses and conservation organizations that are suing the Trump administration over offshore oil drilling, Reuters reported. The department argued that it did not have the resources it needed to work on the case due to the shutdown.
Most people have heard of the Amazon, South America's famed rainforest and hub of biological diversity. Less well known, though no less critical, is the Pantanal, the world's largest tropical wetland.
Like the Amazon, the Pantanal is ecologically important and imperiled. Located primarily in Brazil, it also stretches into neighboring Bolivia and Paraguay. Covering an area larger than England at more than 70,000 square miles, the massive wetland provides irreplaceable ecosystem services that include the regulation of floodwaters, nutrient renewal, river flow for navigability, groundwater recharge and carbon sequestration. The wetland also supports the economies of the four South American states it covers.
Demonstrators participate in a protest march over agricultural policy on Jan. 19 in Berlin, Germany. Carsten Koall / Getty Images Europe
By Andrea Germanos
Organizers said 35,000 people marched through the streets of the German capital on Saturday to say they're "fed up" with industrial agriculture and call for a transformation to a system that instead supports the welfare of the environment, animals and rural farmers.

The fire that erupted after a pipeline explosion in Mexico Friday. FRANCISCO VILLEDA / AFP / Getty Images
By Patrick Rogers
If you have ever considered making the switch to an environmentally friendly electric vehicle, don't drag your feet. Though EV prices are falling, and states are unveiling more and more public charging stations and plug-in-ready parking spots, the federal government is doing everything it can to slam the brakes on our progress away from gas-burning internal combustion engines. President Trump, likely pressured by his allies in the fossil fuel industry, has threatened to end the federal tax credits that have already helped put hundreds of thousands of EVs on the road—a move bound to harm not only our environment but our economy, too. After all, the manufacturing and sale of EVs, hybrids, and plug-in hybrids supported 197,000 jobs in 2017, according to the most recent U.S. Energy and Employment Report.