This website uses cookies to ensure you get the best experience while browsing it. By clicking 'Got It' you're accepting these terms.
710 Miles of Critical Habitat Protected for Two Endangered Fish
Feb. 22, 2012 10:00AM EST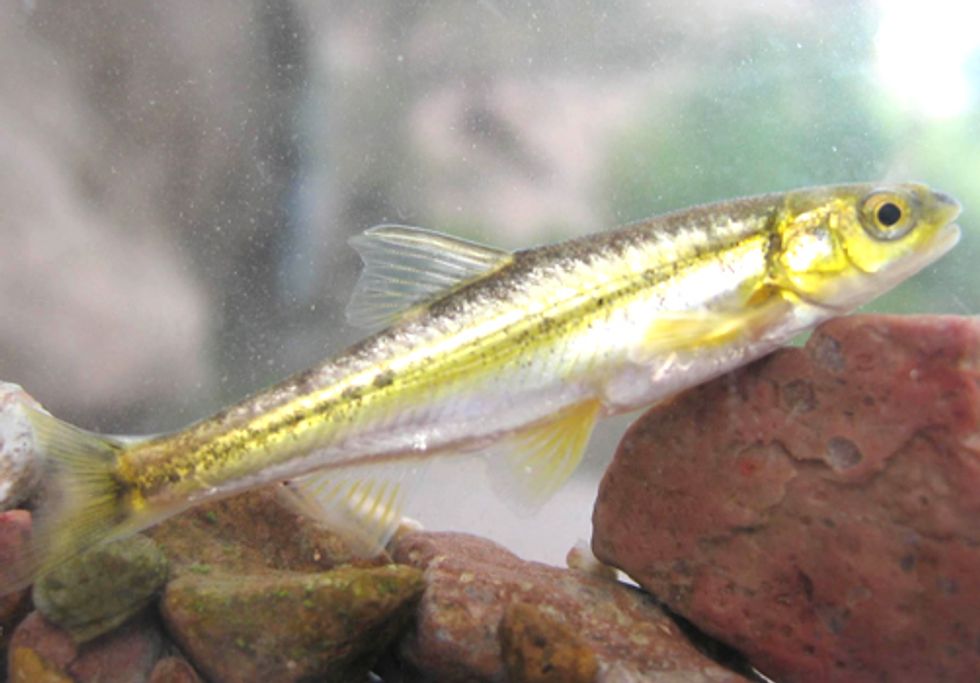 In response to a lawsuit brought by the Center for Biological Diversity, the U.S. Fish and Wildlife Service on Feb. 22 finalized designation of 710 river miles of protected critical habitat for the spikedace and loach minnow—two southwestern fish that have been eliminated from more than 80 percent of their historic ranges in Arizona and New Mexico. The agency also uplisted the two fish from "threatened" to "endangered"—a government acknowledgment that they both need, and will receive, more federal protection. The fish, whose populations are declining, are being driven toward extinction by habitat loss and the spread of invasive species.
"Federal recognition of the precarious status of these two fish species should raise a general alarm—we need to take emergency action to protect Southwest rivers and streams," said Noah Greenwald, endangered species director at the Center. "These two fishes aren't an isolated example; there's an extinction crisis across the board in southwestern rivers. Habitat destruction and invasive species are putting nearly all the native fish, frog and other aquatic species at risk."
The Center petitioned to have the spikedace and loach minnow uplisted to endangered in 1993. At that time, the Fish and Wildlife Service found the species "warranted" a change in status, but deemed the change "precluded" by listing of other species. Following litigation by Catron County and the New Mexico Cattle Growers' Association against previous designations of critical habitat, the Bush administration protected just 522 river miles in 2005. The Center challenged this designation, resulting in the Feb. 22 designation of 710 river miles, including portions of the Verde, Blue, Black, San Francisco and Gila rivers and Eagle, Bonita, Aravaipa and Tonto creeks.
"Saving endangered species means protecting the places they live," said Greenwald. "Critical habitat will let these two small fish survive, yes, but it'll also benefit the people of the Southwest, who will still have the chance to see living rivers."
A number of areas were excluded from the critical habitat despite being essential to the fishes' survival, including portions of the San Pedro, Verde, White and San Francisco rivers and Eagle Creek, based on argued conflicts with national security on Fort Huachuca and management by tribes and the mining company Freeport-McMoRan.
"Even though they're not officially part of the fishes' critical habitat, we're really hoping these rivers will be maintained and recovered—both for spikedace and loach minnows and also for the many other rare species that depend on these waters for survival," said Greenwald.
For more information, click here.
EcoWatch Daily Newsletter
No longer will the options when we die be a choice between just burial or cremation. Soon it will be possible to compost your remains and leave your loved ones with rich soil, thanks to a new funeral service opening in Seattle in 2021 that will convert humans into soil in just 30 days, as The Independent reported.
You can reduce the footprint of a medium-sized live tree by donating it to elephants at a local zoo, like this African elephant pictured above. eans / iStock / Getty Images
The holiday season is supposed to be about giving and sharing, but often it is actually about throwing away. The U.S. generates 25 percent more garbage between Thanksgiving and New Year's than it does during the rest of the year. That's around one million extra tons per week, according to National Environmental Education Foundation (NEEF) figures reported by The Associated Press.
The Opera House is seen with smoke haze which enveloped Sydney Harbor on Dec. 10 in Sydney, Australia. Smoke haze hangs over the city as the New South Wales fire danger risk is raised from 'very high' to 'severe'. James D. Morgan / Getty Images
The brushfires raging through New South Wales have shrouded Australia's largest city in a blanket of smoke that pushed the air quality index 12 times worse than the hazardous threshold, according to the Australia Broadcast Corporation (ABC).
People walk across the bridge near Little Raven Court in downtown Denver. Younger Americans increasingly prefer to live in walkable neighborhoods. Helen H. Richardson / The Denver Post via Getty Images
By David B. Goldstein
Energy efficiency is the cornerstone of any country's plan to fight the climate crisis. It is the cheapest option available, and one that as often as not comes along with other benefits, such as job creation, comfort and compatibility with other key solutions such as renewable energy. This has been recognized by the International Energy Agency (IEA) for at least a decade.
Activists from Extinction Rebellion New York City engaged in nonviolent direct action to confront climate change outside City Hall on April 17, 2019. Erik McGregor / Pacific Press / LightRocket via Getty Images
By Andrea Germanos

Over 500 groups on Monday rolled out an an action plan for the next president's first days of office to address the climate emergency and set the nation on a transformative path towards zero emissions and a just transition in their first days in office.