This website uses cookies to ensure you get the best experience while browsing it. By clicking 'Got It' you're accepting these terms.
700 Walrus Seen Near Shell Oil Rigs in Arctic as Obama Visits Alaska
Aug. 31, 2015 09:39AM EST
Climate
Thousands of Pacific walrus are coming ashore on the northwest Arctic coast of Alaska, repeating a migratory change for the walrus which U.S. Geological Survey (USGS) scientists have called a clear effect of loss of Arctic Ocean sea ice on which the animals rely. As the walrus swim south from the preferred but now ice-free feeding ground, Hanna Shoal in the Chukchi Sea, many are passing close enough to the flotilla of Shell Oil ships on its drill site to be seen from the ships.

Kotzebue, AK, on edge of Arctic tundra wilderness, being visited by President Obama, this week. Photo credit: Gary Braasch / World View of Global Warming
James MacCracken, supervisory wildlife biologist, U.S. Fish and Wildlife Service said in an Aug. 28 press conference call, "We are getting reports from Shell daily" of walrus near the ships and rigs and the talley so far is "700 walrus" seen by observers. When asked if all operations around the walrus by Shell are within the guidelines set by Interior Department regulation, MacCracken said, "Yes." This is the first confirmation that protected sea mammals are swimming through the Burger oil leases which Shell just got permission to deep drill. Observers, paid by Shell, are required by Shell's permit to perform drilling and other activities which might disturb or injure sea mammals. More information to come on this.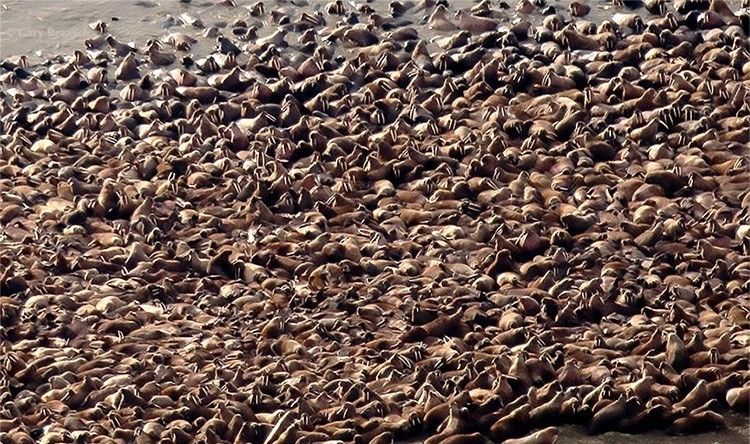 First aerial views of thousands of Pacific walrus hauling out Aug. 23 on Alaska Arctic shore. Small detail of telephoto image of 2015 haul out. Photo credit: Gary Braasch / World View of Global Warming
The press conference was also the first direct acknowledgement by the U.S. agencies in charge of studying and protecting the mammals that a new haul out had begun—nearly a week after the event actually started and only three days before President Obama begins his tour of Alaska focusing on rapid climate change. Gary Braasch made the first photos of the haul out at about 7 p.m. on Aug. 23, after seeing on USGS maps of locations of geotagged walrus that several were stationary in the Point Lay area.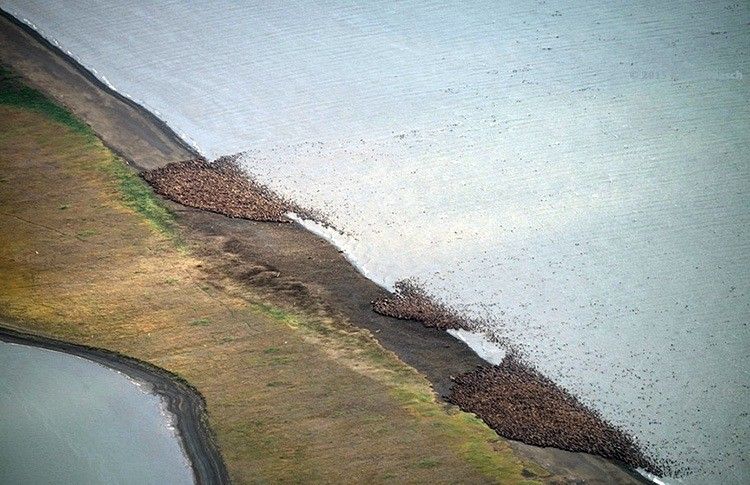 Thousands of Pacific walrus coming ashore in northwest Alaska as sea ice melts recedes from habitat. Photo credit: Gary Braasch / World View of Global Warming
Fish and Wildlife Service officials confirmed at the press conference that they had no photos of their own so far of the haul out and Point Lay village President Leo Ferreira III said no one had been to the beach yet by boat, as of Friday. The walrus are subject to spooking and stampede by disturbance, which can trample and kill babies and young. In past years more than 100 have been found dead at other haul outs, apparently from stampedes. Marine Mammal Protection Act limits on approaching sea mammals are strict for this reason and the village is cooperating fully with this protection, Ferreira said at the press conference.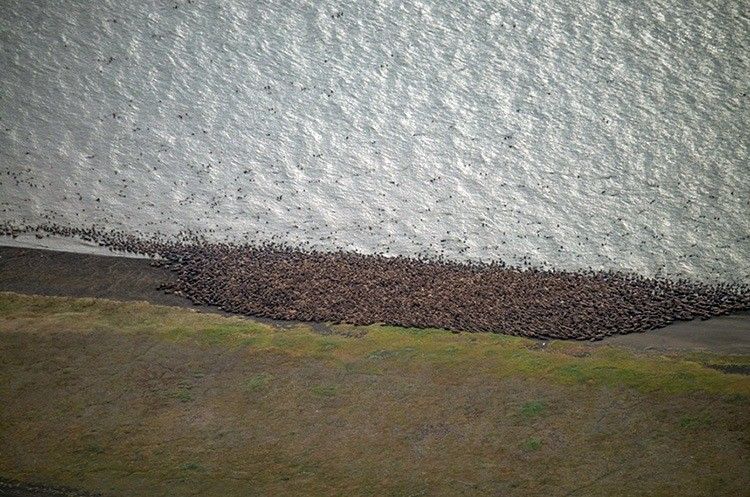 Part of thousands of Pacific walrus coming ashore, Aug. 23, northwest Alaska Arctic Ocean beach. Photo credit: Gary Braasch / World View of Global Warming
Years of observations by scientists, mariners and natives document that until the sea ice began shrinking drastically in 2007, ice remained over shallow Chukchi sea areas where walrus spent the summers offshore. Walrus (Odobenus rosmarus divergens) have often left the water to rest on shore in many places across the Arctic shores of Russia and Alaska, but according to scientists it has most often been the males coming on land.
The recent huge mixed aggregations of the sea mammals, which grow up to 12-feet long and may weigh up to two tons with females about half that weight, pose danger to the young and smaller animals from crushing and the spread of disease. This danger is increased with longer times on land—which is why this year's early haul out is significant, since in other haul out years the animals have stayed until late September. The herd then moves toward Russia.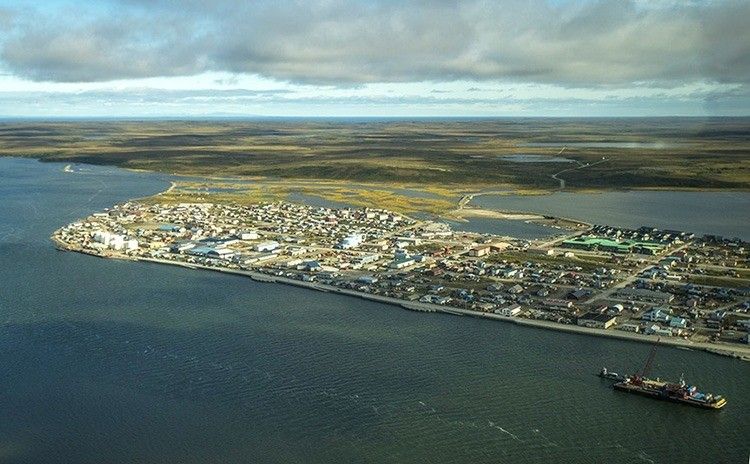 Kotzebue, founded by natives on edge of tundra wilderness, modernizing with hospital, seawall. Photo credit: Gary Braasch / World View of Global Warming
The huge sea mammals and young began coming up on this barrier island along Kasegaluk Lagoon about Aug.20, according to local natives. This is one of the earliest known summer haul outs of the walrus along the Alaska coast of the Chukchi Sea, according to wildlife biologists. Walrus coming up on Arctic beaches rather than staying on sea ice has occurred increasingly as Arctic sea ice melts faster and retreats far to the north of walrus feeding areas.
According to USGS scientists, walrus, especially females with young, prefer to haul out and rest on remnant sea ice over shallow feeding areas about 100 miles off Alaska in the Chukchi Sea. That ice has disappeared in seven of the past nine years, forcing the animals and their young to swim southeast toward the beaches of Northwest Alaska or to the Arctic Russian coast, to haul out. In some years, more than 30,000 animals have been on Alaska beaches, with some loss of life due to crowding and crushing and disease.
YOU MIGHT ALSO LIKE
Obama Heads to Alaska as Climate Groups Cry 'Hypocrisy' Over Decision to Drill in the Arctic
Thousands of Walruses Stranded Ashore in Alaska Once Again Due to Rapidly Melting Sea Ice
EcoWatch Daily Newsletter
Pixabay
By Lisa Wartenberg, MFA, RD, LD
Pears are sweet, bell-shaped fruits that have been enjoyed since ancient times. They can be eaten crisp or soft.
Photon-Photos / iStock / Getty Images Plus
The desert of Australia's Northern Territory has the iconic Ayers Rock, but not much else. Soon, it may be known as home to the world's largest solar farm, according to the Guardian.
Golde Wallingford submitted this photo of "Pure Joy" to EcoWatch's first photo contest. Golde Wallingford
EcoWatch is pleased to announce our third photo contest!

A Boeing 737-800 BCF (Boeing Converted Freighter) is marked "Prime Air" as part of Amazon Prime's freight aircraft during the 53rd International Paris Air Show at Le Bourget Airport near Paris, France on June 22. Mustafa Yalcin / Anadolu Agency / Getty Images
It's Prime Day! The day when thousands of increasingly absurd items are discounted so deeply that you suddenly need items you never knew existed. Yes, I do need a hotdog shaped toaster next to me while I watch this Fast & Furious seven movie box set! And I need it in my house today!
By Peter Sinclair
The weather in many areas across the U.S. has been – and certainly throughout America's heartland was for much of the past winter and spring – frightful.
There's a short window between when a tick bites and when it passes on bacteria or virus.
MSU Ag Communications, Courtesy Dr. Tina Nations, CC BY-ND
By Jerome Goddard
When it comes to problems caused by ticks, Lyme disease hogs a lot of the limelight. But various tick species carry and transmit a collection of other pathogens, some of which cause serious, even fatal, conditions.

tomosang / Moment / Getty Images
By Jessica A. Knoblauch
Say goodbye to one of the dreamiest things about childhood. In the Midwest, fireflies are dying off.
A new Climate Emergency Fund contains more than $625,000 which will go to grassroots climate action groups like Extinction Rebellion and students who have organized weekly climate strikes all over the world. @ExtinctionR / Twitter
By Julia Conley
Heeding the call of grassroots campaigners, several wealthy philanthropists announced Friday a new fund that will raise money for climate action groups around the world.