This website uses cookies to ensure you get the best experience while browsing it. By clicking 'Got It' you're accepting these terms.
7 Ways to Take Action on Idling
Nov. 03, 2014 08:32AM EST
In the U.S., nearly 4 million gallons of fuel (enough to fill five Olympic-size swimming pools!) is wasted every day as a result of vehicle idling. All this unnecessary idling pollutes our communities, wastes money and contributes to our reliance on foreign oil.
But most people don't mean to be so wasteful—they just don't really even think about it. Or, they may be following the outdated notion that restarting your car wastes more gas than letting it run for a few minutes. Once you point out the facts to someone, they're usually more than willing to change their behavior. With that in mind, we've put together some steps you can take to raise awareness about this important issue. Help us make turning off your engine rather than idling as commonplace as wearing your seat belt!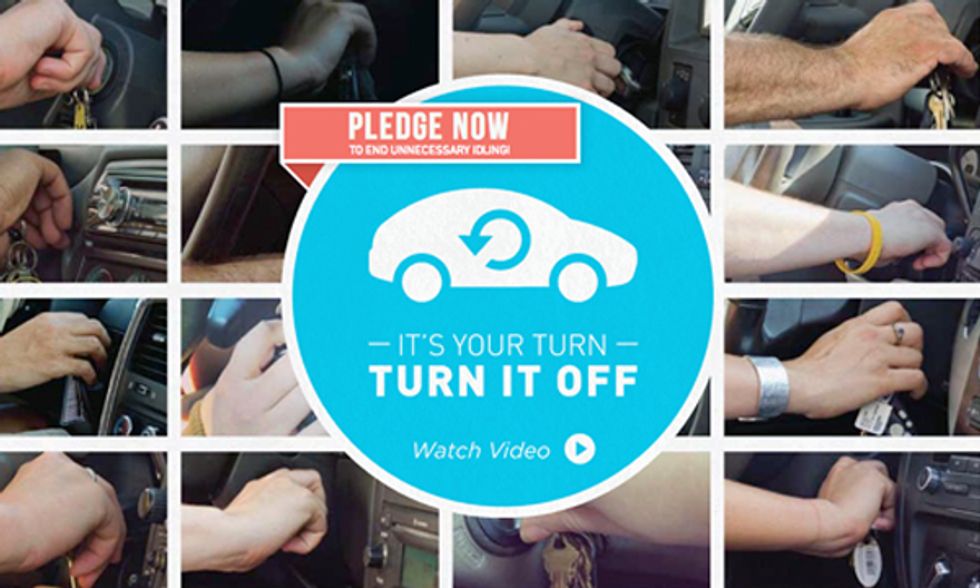 1. Take the "I Turn It Off" Pledge
"I pledge to idle for no longer than 10 seconds when I'm not in traffic."
Visit iturnitoff.com to join the growing number of individuals and organizations committed to "Turning It Off." Turning off your engine when idling for more than 10 seconds when not in traffic is the easiest way for you to get involved and make a difference. Once you get into the habit it will become second nature. You'll save gas and cash, you'll lengthen the life of your engine, and you'll contribute to a cleaner, healthier planet.
2. Learn More
Extensive information about anti-idling is available online. Visit our I Turn It Off Campaign website to get started. Read inspiring stories on our blog about what others are doing to tackle unnecessary idling in their communities.
3. Spread the Word
Share what you've learned about vehicle idling by asking your friends, family, classmates and colleagues to take the pledge and join you in making a difference. Order an I Turn It Off bumper sticker for your car. Consider writing an editorial in your local newspaper. Share the facts on social media with these Facebook and Twitter updates:
Did you know that 10 seconds of #idling wastes more fuel than restarting your engine? Learn more and take the pledge to stop idling.
Find out how much money you can save by cutting down on #idling.
4. Start a Campaign in Your Community
Launch an I Turn It Off anti-idling campaign in your city or town, at your school, work, or place of worship, and encourage others to get on board for a safer and healthier community for all! Download posters, postcards and flyers in our idling toolkit at iturnitoff.com.
5. Organize a Screening of IdleThreat: Man on Emissions
Idle Threat: Man on Emissions is the story of George Pakenham, a New Yorker who got fed up with people idling in his neighborhood. He took action by asking them to stop and advocating for anti-idling enforcement in New York. Watching this entertaining film is a powerful learning experience and can be a great springboard for collective discussion and action. The film can be purchased for community screenings of varying sizes through The Video Project.
6. Engage with Local Government
Begin by researching anti-idling laws, ordinances and policies in your town, city and/or state. If these are in place, are they being enforced? Are there opportunities that you see for improvement? Develop a set of recommendations and identify the appropriate person(s) to meet with in your community. Identify potential allies such as like-minded local environmental or health organizations.
7. Tell Your Legislators That Idling Is an Important Issue
Currently, 28 states have anti-idling laws in place. While this is a great start, all states should have laws against this harmful practice. A national law would likely be best, as inconsistency in rules makes compliance difficult for drivers, particularly long-distance drivers like truckers. Also, in recent years several car manufacturers have started offering automatic start-stop anti-idling technology in their vehicles as an add-on. Like higher MPG legislation, this technology could be mandated, which would significantly cut down on unnecessary idling times.
BONUS! If you're passionate about this issue, please donate to help us raise even more awareness about vehicle idling. Your donation will help support efforts like our new Idle-Free Fleet program, which educates and trains universities, municipalities and businesses about how to reduce idling in their vehicle fleets.
YOU MIGHT ALSO LIKE
10 Reasons to Turn Off an Idling Car
How to Compost in Your Apartment
EcoWatch Daily Newsletter
The Ernest N. Morial Convention Center in New Orleans, Louisiana has been converted to a 1,000-bed field hospital for coronavirus patients to alleviate stress on local hospitals. Chris Graythen / Getty Images
An area in Louisiana whose predominantly black and brown residents are hard-hit by health problems from industry overdevelopment is experiencing one of the highest death rates from coronavirus of any county in the United States.
A woman lies in bed with the flu. marka/Universal Images Group via Getty Images
A central player in the fight against the novel coronavirus is our immune system. It protects us against the invader and can even be helpful for its therapy. But sometimes it can turn against us.
Several flower species, including the orchid, can recover quickly from severe injury, scientists have found. cunfek / iStock / Getty Images Plus
Calling someone a delicate flower may not sting like it used to, according to new research. Scientists have found that many delicate flowers are actually remarkably hearty and able to bounce back from severe injury.
A Boeing 727 flies over approach lights with a trail of black-smoke from the engines on April 9, 2018. aviation-images.com / Universal Images Group via Getty Images
With global air travel at a near standstill, the airline industry is looking to rewrite the rules it agreed to tackle global emissions. The Guardian reports that the airline is billing it as a matter of survival, while environmental activists are accusing the industry of trying to dodge their obligations.
A National Guard member works on election day at a polling location on April 7, 2020 in Madison, Wisconsin. Andy Manis / Getty Images.
ByJulia Baumel
The outbreak of COVID-19 across the U.S. has touched every facet of our society, and our democracy has been no exception.