This website uses cookies to ensure you get the best experience while browsing it. By clicking 'Got It' you're accepting these terms.


The best of EcoWatch, right in your inbox. Sign up for our email newsletter!
"No matter what I do, I can't seem to lose weight," writes this week's house call, who is also an Eat Fat, Get Thin challenge participant. "I think I'm cursed with a slow metabolism."
I hear this often among patients and the good news is that no, you're not cursed and yes, you can fix your metabolism.
It's important to remember that you are unique: Everyone was born with a different biochemical make-up. You have trillions of little energy factories called mitochondria that provide the fuel to run everything in your body. If you can remember high school biochemistry class, you know mitochondria convert the oxygen you breathe and the food you eat into energy for your body to use.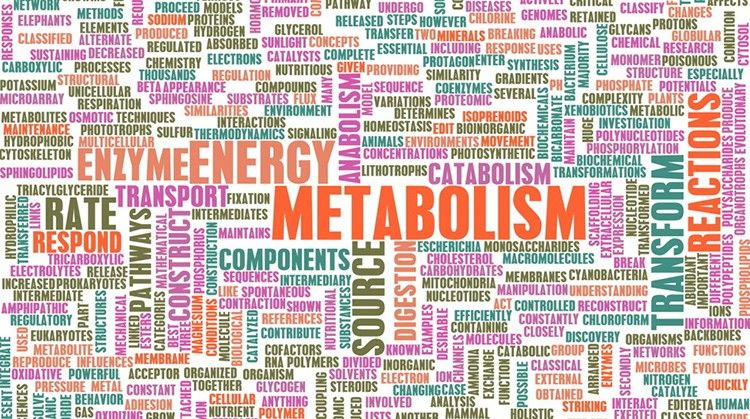 Think of mitochondria as little combustion engines. When scientists talk about metabolism, they often refer to mitochondria. Effective mitochondria mean your body efficiently burns calories and you have a fast metabolism. Ineffective mitochondria don't burn calories and slow down your metabolism.
The Causes of a Slow Metabolism
Some of this is genetically determined. Research shows if you have a parent or sibling who has type 2 diabetes, your mitochondria are likely to be 50 percent less effective at burning calories than the average person, even if you are thin.
This predisposition means you're more likely to gain weight and eventually develop diabetes or what I collectively call diabesity, further adversely impacting your mitochondria.
Likewise, aging itself and other chronic diseases like heart disease and dementia create mitochondrial dysfunction.
However, the biggest hit comes from your diet. More than flavors and calories, food becomes information that tells your cells and mitochondria what to do. When you eat lots of sugar and processed, inflammatory foods including refined oils or simply consume too much food period, you overload your energy factories and damage production.
Likewise, starvation mode means your body clings to fat. After all, your body's number one priority is keeping you alive, not necessarily fitting into that bathing suit when summer arrives. In fact, your body is extremely well adapted at holding on to fat.
Yo-yo dieting, under-eating, calorie-restrictive dieting or other extreme measures force your body's metabolism to slow way down and store fat for that "rainy day" that never comes.
To optimize mitochondria, then, you want to eat the right kinds of foods and eat enough of those foods.
Lifestyle factors can also impact your mitochondria. Environmental toxins like pesticides, mercury and radiation, as well as hidden infections and stress can harm your energy system.
Your gut microbiome can even be a problem if unhealthy, inflammatory bugs outnumber the good bugs. These bad bugs release toxins called lipopolysaccharides. You absorb these toxins, creating inflammation and damaging your mitochondria. Anything that causes inflammation and oxidative stress damages your mitochondria.
Fortunately, you have the power to increase the number and function of your mitochondria. You can't turn back the clock, but you can take these seven steps to keep your mitochondria healthy and optimize your metabolism.
1. Eat plenty of healthy fats. Healthy fats like avocados, nuts and seeds, along with wild, fatty fish are your mitochondria's preferred fuel. My favorite "gasoline" for your mitochondria is medium-chain triglycerides or MCT oil, which is found in coconut oil. I provide an extensive plan to utilize these and other healthy fats in my new book Eat Fat, Get Thin.
2. Go for color. While nutritionists often disagree, one thing nearly everyone concurs with is that we need to eat plenty of fresh vegetables and other plant foods. Colorful, antioxidant-rich plant foods become essential for healthy mitochondria and reducing oxidative stress.
3. Avoid sugar and flour. High-glycemic, high-carb foods put tremendous stress on your mitochondria. In fact, quick absorbed carbs are the biggest driver that damages your entire system. My 10-Day Detox Diet Program includes low-sugar, delicious foods that kick-start weight loss and overall health.
4. Stop obsessing over numbers. Quality over quantity becomes key for optimizing mitochondria. That said, if you'd like to know how much you should be eating, calculate your resting metabolic rate (RMR) or the total number of calories your body needs to survive at complete rest. If you eat fewer calories than your RMR, your body thinks it is starving. Calculating your RMR is easy. If you are average size, take your weight in pounds and multiply by 10. If you are very muscular and lean, multiply your weight by 13. If you are very overweight, multiply it by 8. Eating less than your RMR means your body goes into starvation mode.
5. Move more and faster. Research shows high intensity interval training (where you go all out for 30 to 60 seconds, slowing down for a couple of minutes and repeating) coupled with strength training is an excellent way to make new, improved mitochondria. Strength training builds muscle and creates more mitochondria, while interval training improves mitochondrial function and how quickly they burn oxygen and calories. You can learn more about an effective exercise plan here.
6. Take energy-boosting nutrients. These include coenzyme Q10 (CoQ10), alpha-lipoic acid, N-acetyl-cysteine, carnitine, B-complex vitamins and omega-3 fats. You can find these and other supplements that help speed up your metabolism and lower inflammation in my store.
7. Get great sleep. Studies show insufficient sleep exacerbates inflammation, increases heart disease risk and hinders our immune, brain and cellular performance. To remedy that, get eight hours of solid, consistent sleep nightly. You can improve sleep with these eight simple hacks for a better night's sleep.
Simply put, you have tremendous power over your metabolism and your health. Mind your mitochondria and you'll increase your metabolism to become fit and healthy. Even if you're predisposed to certain genes, you can control them with healthy eating and lifestyle choices. You are never stuck.
Join our 10-Day Detox June Challenge to jumpstart your weight loss and kick off your summer free of sugar addiction.
YOU MIGHT ALSO LIKE
5 Superfoods You're Probably Not Eating, But Should Be
The Science Behind the Health Benefits of Coconut Oil
14 Reasons Why You Should Eat Kiwi
EcoWatch Daily Newsletter
Tim P. Whitby / 21st Century Fox / Getty Images
The beauty products we put on our skin can have important consequences for our health. Just this March, the U.S. Food and Drug Administration (FDA) warned that some Claire's cosmetics had tested positive for asbestos. But the FDA could only issue a warning, not a recall, because current law does not empower the agency to do so.
Michelle Pfeiffer wants to change that.
The actress and Environmental Working Group (EWG) board member was spotted on Capitol Hill Thursday lobbying lawmakers on behalf of a bill that would increase oversight of the cosmetics industry, The Washington Post reported.
By Collin Rees
We know that people power can stop dangerous fossil fuel projects like the proposed Line 3 tar sands oil pipeline in Minnesota, because we've proved it over and over again — and recently we've had two more big wins.

Scientists released a study showing that a million species are at risk for extinction, but it was largely ignored by the corporate news media. Danny Perez Photography / Flickr / CC
By Julia Conley
Scientists at the United Nations' intergovernmental body focusing on biodiversity sounded alarms earlier this month with its report on the looming potential extinction of one million species — but few heard their calls, according to a German newspaper report.
DoneGood
By Cullen Schwarz
Ethical shopping is a somewhat new phenomenon. We're far more familiar with the "tried and tested" methods of doing good, like donating our money or time.
Pixabay
Summer is fast approaching, which means it's time to stock up on sunscreen to ward off the harmful effects of sun exposure. Not all sunscreens are created equally, however.
Mark Wallheiser / Getty Images
The climate crisis is a major concern for American voters with nearly 40 percent reporting the issue will help determine how they cast their ballots in the upcoming 2020 presidential election, according to a report compiled by the Yale Program on Climate Change Communication.
Of more than 1,000 registered voters surveyed on global warming, climate and energy policies, as well as personal and collective action, 38 percent said that a candidate's position on climate change is "very important" when it comes to determining who will win their vote. Overall, democratic candidates are under more pressure to provide green solutions as part of their campaign promises with 64 percent of Democrat voters saying they prioritize the issue compared with just 34 percent of Independents and 12 percent of Republicans.
Flooding in Winfield, Missouri this month. Jonathan Rehg / Getty Images
President Donald Trump has agreed to sign a $19.1 billion disaster relief bill that will help Americans still recovering from the flooding, hurricanes and wildfires that have devastated parts of the country in the past two years. Senate Republicans said they struck a deal with the president to approve the measure, despite the fact that it did not include the funding he wanted for the U.S.-Mexican border, CNN reported.
"The U.S. Senate has just approved a 19 Billion Dollar Disaster Relief Bill, with my total approval. Great!" the president tweeted Thursday.
Reed Hoffmann / Getty Images
Violent tornadoes tore through Missouri Wednesday night, killing three and causing "extensive damage" to the state's capital of Jefferson City, The New York Times reported.
"There was a lot of devastation throughout the state," Governor Mike Parson said at a Thursday morning press conference, as NPR reported. "We were very fortunate last night that we didn't have more injuries than what we had, and we didn't have more fatalities across the state. But three is too many."