This website uses cookies to ensure you get the best experience while browsing it. By clicking 'Got It' you're accepting these terms.
7 Tips For a Non-Toxic Pregnancy
Dec. 13, 2013 01:49PM EST
On MomsRising's weekly tweet chat, called #EcoTipTue, the featured guest this week was Sara Alcid of Reproductive Health Technologies Project. The organization advocates for chemical policy reform so the burden of protection doesn't have to be on pregnant women.
Alcid shared these tips for pregnant women, their partners and caregivers to avoid toxic chemicals during these important months: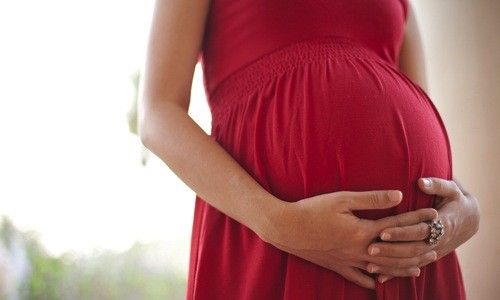 Shutterstock
 1. Start early. Exposure to toxics before pregnancy can impact fetal health. If you plan to have children the time is now to limit your exposure so you can protect your reproductive health options.
2. Eat organic food as much as possible to avoid pesticide residue. If this is not possible, eat only the Clean 15 and avoid the Dirty Dozen.
3. Don't microwave plastic or put it in the dishwasher. Hormone-disrupting chemicals leach out of plastic at elevated temperatures. Endocrine disrupters swamp a developing fetus, with potentially long term implications. They have been linked to reproductive problems, early puberty, cancer and obesity.
4. Avoid using conventional feminine care products. They contain harmful chemicals and the vagina absorbs many more chemicals than other tissue. Find out the most toxic products and ingredients to avoid and reduce use as much as possible. Look for unscented and unbleached products from companies that list all their ingredients.
5. Remove your shoes (and kindly ask your guests to as well) before entering your home to avoid tracking in oils and chemicals from the street. This is an easy, painless step that can reduce exposures.
6. Use fewer personal products (such as cosmetics, lotions, hair and nail products). Many ingredients have been linked to health problems and add to the chemical cocktail of exposure. Personal care products are unregulated. Companies can use whatever chemicals they want in products until they are proved harmful or the public pressure gets too great. That's why we need chemical policy reform! Products need to be proven safe BEFORE they hit the market. For the personal care products you do use, try to make sure they have no synthetic fragrances, parabens, phthalates, or triclosan. Find out how your favorite products rate. Buy and use safer products.
7. Avoid conventional household cleaners that contain toxic ingredients such as drain, toilet and oven cleaners. According to Planned Parenthood, "Some cleaning products can disrupt your hormones, which can change the start of puberty in young teens. If you're a woman, disrupted hormones may make it harder to get pregnant, change your menstrual cycle and increase your risk of miscarriage and breast cancer. If you're a man, disrupted hormones may lower your sperm count and increase your risk of testicular cancer." Many reasons to avoid these toxic cleaners! Find safer ones such as Seventh Generation or make your own. 
To see the rest of the list, visit Moms Rising.
Visit EcoWatch's HEALTH page for more related news on this topic.

EcoWatch Daily Newsletter
A. Battenburg / Technical University of Munich
By Sarah Kennedy
Algae in a pond may look flimsy. But scientists are using algae to develop industrial-strength material that's as hard as steel but only a fraction of the weight.
Variety of fermented food korean traditional kimchi cabbage and radish salad. white and red sauerkraut in ceramic plates over grey spotted background. Natasha Breen / REDA&CO / Universal Images Group / Getty Image
Even if you've never taken probiotics, you've probably heard of them.
These supplements provide numerous benefits because they contain live microorganisms, such as bacteria or yeast, which support the healthy bacteria in your gut (1, 2, 3, 4).
Pexels
Singapore will become the first country in the world to place a ban on advertisements for carbonated drinks and juices with high sugar contents, its health ministry announced last week. The law is intended to curb sugar consumption since the country has some of the world's highest diabetes rates per capita, as Reuters reported.
A typical adult takes around 20,000 breaths per day. If you live in a megacity like Beijing, with many of those lungfuls you're likely to inhale a noxious mixture of chemicals and pollutants.
Fred Stone holds his brown swiss cow Lida Rose at his Arundel dairy farm on March 18 after a press conference where he spoke about PFAS chemical contamination in his fields. Gregory Rec / Portland Portland Press Herald via Getty Images
By Susan Cosier
First there was Fred Stone, the third-generation dairy farmer in Maine who discovered that the milk from his cows contained harmful chemicals. Then came Art Schaap, a second-generation dairy farmer in New Mexico, who had to dump 15,000 gallons of contaminated milk a day.
Protesters attend the 32nd annual Fur-Free Friday demonstration on Nov. 23, 2018 in Beverly Hills, California. Ella DeGea / Getty Images
California Governor Gavin Newsom signed into law a bill that that bans the sale and manufacture of fur products in the state. The fur ban, which he signed into law on Saturday, prohibits Californians from selling or making clothing, shoes or handbags with fur starting in 2023, according to the AP.
By Simon Evans
During the three months of July, August and September, renewables generated an estimated total of 29.5 terawatt hours (TWh), compared with just 29.1TWh from fossil fuels, the analysis shows.
A demonstrator waves an Ecuadorian flag during protests against the end of subsidies to gasoline and diesel on Oct. 9 in Quito, Ecuador. Jorge Ivan Castaneira Jaramillo / Getty Images