This website uses cookies to ensure you get the best experience while browsing it. By clicking 'Got It' you're accepting these terms.
7 Things You Should Know About Coffee
Jul. 08, 2015 08:04AM EST
Food
How well do you know your morning brew? In truth, many of us are probably more focused on not falling asleep when we chug our average three cups of coffee a day rather than learning about the grind or the roast. But if you're one of the millions of people who drink coffee every day—and you care about how much caffeine you're consuming—you might want to know the following coffee facts.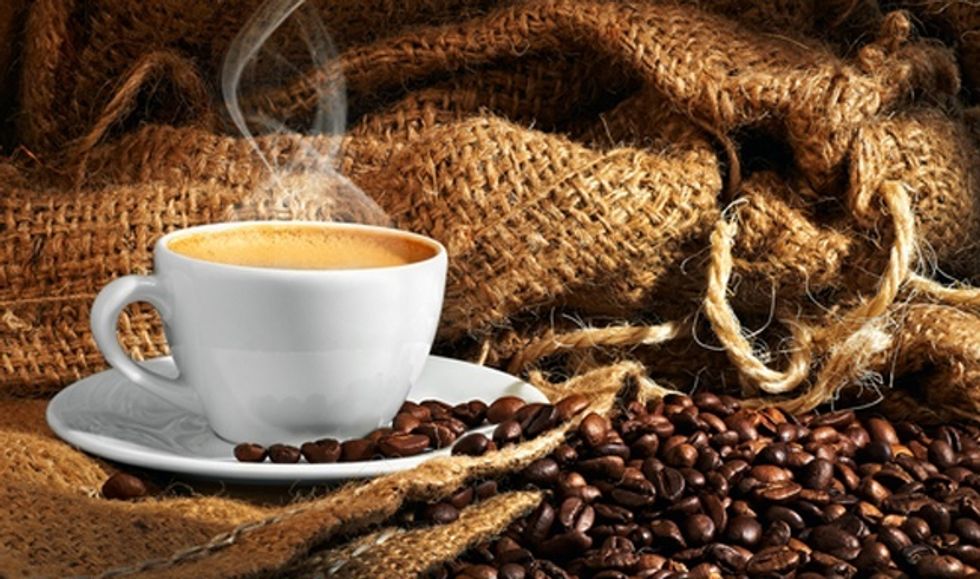 Photo credit: Shutterstock
1. Dark roasts are actually lighter on caffeine.
That dark French or Italian roast may taste stronger, but that doesn't mean it's packing a stronger caffeine punch. In fact, light roasts contain the most caffeine—because the process of roasting beans burns off caffeine, according to NPR. (Dark roasts are easier on the stomach, though).
2. Not all brands are created equal.
There's a huge range of milligrams of caffeine per ounce in some of your favorite chains to grab a cup of coffee. A cup of coffee from Starbucks, for example, has more than twice the caffeine per ounce as a cup from McDonald's—20.6 mg compared to 9.1 mg.
3. The grind matters.
Want a bigger jolt? Use a "burr" instead of "blade" grinder—it'll create a rougher grind, which means more tiny surfaces on each grain of coffee and more caffeine coming out of each bean into your cup.
4. Everyone metabolizes it differently.
Caffeine is flushed out of everyone's body at different rates. Women usually process it faster than men, smokers process it twice as fast as non-smokers, and women who take birth control pills metabolize it at about a third that rate that women not on birth control pills do.
5. It doesn't dehydrate you.
You've probably heard that you should be drinking extra water to counteract the dehydrating effects of caffeine, right? Turns out coffee hydrates you just as well as water, especially when you're a regular coffee drinker, according to a University of Birmingham study. Lead researcher Sophie Killer explains that regular caffeine intake makes you more tolerant to the potential diuretic effects. "Your body becomes more able to regulate the fluid intake and is less susceptible to any increases in urine output that somebody who's caffeine-naïve might experience," she says.
6. You're better off with regular coffee than an energy drink.
Need a midday boost? Stick with coffee instead of Red Bull if you're looking for the most caffeine bang for your buck—coffee tends to have more caffeine per serving than energy drinks (about 80mg of caffeine in a 8.4-ounce can of Red Bull, compared to 95 to 200mg in a cup of coffee), minus the sugar and artificial ingredients. 
7. Half of us would choose it over sex and cocktails.
Nookie in the morning and martinis in the evening? No thanks—53 percent of participants in a recent study say they'd choose coffee over morning sex, and almost 80 percent would choose coffee instead of alcohol. In other news, 100 percent of us reading this are probably wondering if we've been doing date night all wrong.
YOU MIGHT ALSO LIKE
5 Reasons You Should Eat Probiotic-Rich Fermented Foods
10 Foods Banned in Other Parts of the World, But Not in America
EcoWatch Daily Newsletter
A wild Woodland Bison walks in the Arctic wilderness. RyersonClark / iStock / Getty Images Plus
Insects play a vital role in ecosystems and humans are particularly dependent on them for food.
Dmitry Grigoriev / Unsplash
By Ajit Niranjan
Seven 'no-regret' actions could rescue insects on the road to extinction, a new roadmap for conservation says, helping ecosystems even where a lack of research means scientists cannot prove benefits to individual species.
Visitors to the Hollywood & Highland mall in Hollywood wear face masks on Jan. 27 . Five people in the U.S. have tested positive for the deadly strain of Coronavirus, one each in Washington, Illinois and Arizona, and two in Southern California, according to the U.S. Centers for Disease Control and Prevention. ROBYN BECK / AFP / Getty Images
Workers evacuate the Lonja del Comercio (Commerce Market) in Havana, Cuba after an earthquake rattled the island Tuesday. ADALBERTO ROQUE / AFP via Getty Images
A 7.7 magnitude earthquake shook the Caribbean Tuesday, rattling people from Miami to Mexico.
New Jersey will be the first state in the U.S. to require builders to take the climate crisis into consideration before seeking permission for a project.