7 Tar Sands Blockaders Arrested After Locking to Keystone XL Pipeline Truck in Livingston, TX
Aug. 28, 2012 04:54PM EST
Energy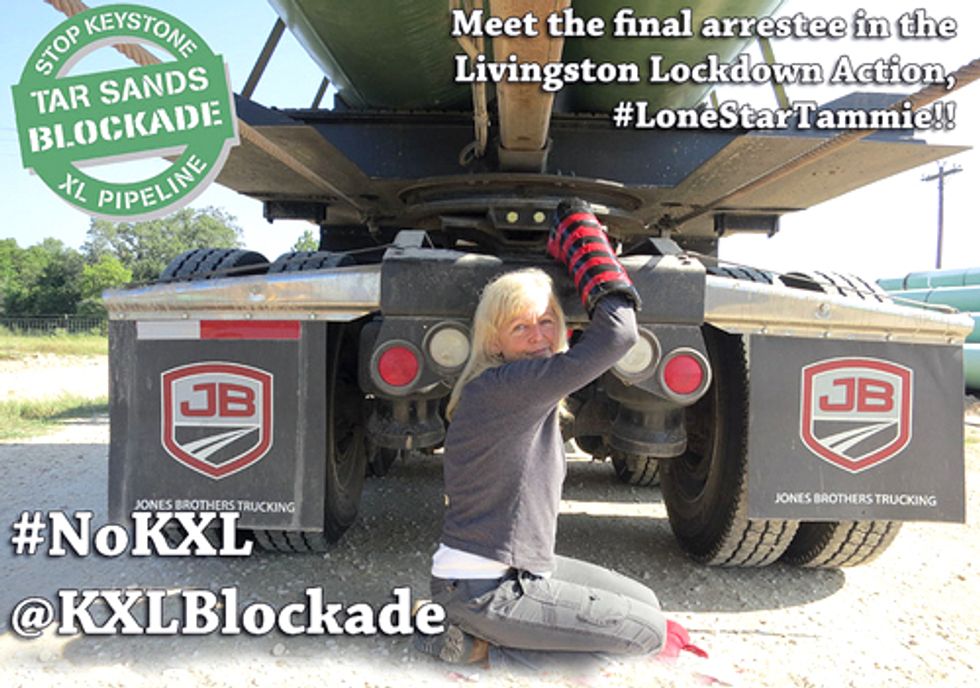 This morning four landowner advocates and climate justice organizers locked themselves to the underside of a massive truck carrying 36″ pipe intended for Keystone XL construction. Seven blockaders were onsite risking arrest. At 11:30 a.m. state troopers arrived on the scene and by 1:20 p.m., the seven activists were arrested.
Blockaders from the Red River valley to the Gulf Coast are united to realize their collective vision of a world without toxic tar sands pipelines being forced through the homes of families who don't want them. Today's message was clear: the people are rising up to defend their homes.
This act of peaceful civil disobedience comes in the wake of a recent court decision condoning TransCanada's use of eminent domain for private gain. Last week Lamar County Judge Bill Harris ruled in a shockingly abbreviated fifteen-word summary judgment that Texas farmer Julia Trigg Crawford cannot challenge TransCanada's claim that it is entitled to a piece of her home. The underwhelming ruling was emailed to Crawford's attorney late in the evening on Aug. 15 from the judge's iPhone.
The arrogant disregard levied at landowners like Crawford for simply not consenting to have a tar sands pipeline permanently bisect their homes is what motivated Houston businessman Ray Torgerson to take action today. "The fact that this corporation can check a box on a form and steal someone's land is insulting," said Torgerson. "We are here to defend our homes and stand with landowners like Julia."
Further emblematic of the disrespect small town families like the Crawfords have faced throughout Keystone XL legal proceedings, Ms. Crawford received first notice of the ruling from a reporter seeking comment who had been blind carbon copied on the County Judge's email ruling.
"It was heartbreaking to hear a generational family farm like the Crawford's can be taken away by a multinational corporation," exclaims blockader Audrey Steiner, a linguistic anthropologist from Austin. "I'm here to change the direction our country is taking."
Crawford's challenge to TransCanada's "common carrier" status was supported by a recent Texas Supreme Court case Texas Rice Land Partners v. Denbury Green Pipeline, but Judge Harris clearly ignored what should have been a precedent-setting ruling.
As appeals wind through the legal system, pipeline construction continues.
The concerns of the blockaders today go well beyond TransCanada's appalling contempt for property rights. As Tammie Carson, a lifelong Texan living in Arlington explains, "I'm doing this for my grandchildren. I'm outraged that multinational corporations like TransCanada are wrecking our climate. The planet isn't theirs to destroy, and I'm willing to take a risk to protect my grandchildren's future."
Denny Hook, a retired Methodist minister from Gainesville Texas, describes himself as "An environmentalist that happens to be a minister." In taking action today, Hook hopes to inspire more people to join the movement. "Things are so dire that if all of us don't rise up we won't make it. This pipeline is the difference between Earth on the edge and Earth over the edge."
In the face of this waking nightmare, blockaders have little choice but to act out of conscience. We simply have no time left to wait for the legislative to catch up with the judicial. We won't allow our homes and our futures to slip through regulatory loopholes!
Tar Sands Blockade is a coalition of Texas and Oklahoma landowners and climate organizers using peaceful and sustained civil disobedience to stop the construction of Keystone XL.
"The blockade is an expression of people who have spent years using every available avenue afforded to them, and nothing has worked," explains Tar Sands Blockade spokesperson Ron Seifert. "The urgency of this crisis is galvanizing supporters who understand that doing nothing involves a greater risk than taking action."
Visit EcoWatch's KEYSTONE XL page for more related news on this topic.
EcoWatch Daily Newsletter
Related Articles from EcoWatch