7 Surreal Natural Wonders in the U.S.
Jan. 26, 2014 11:45AM EST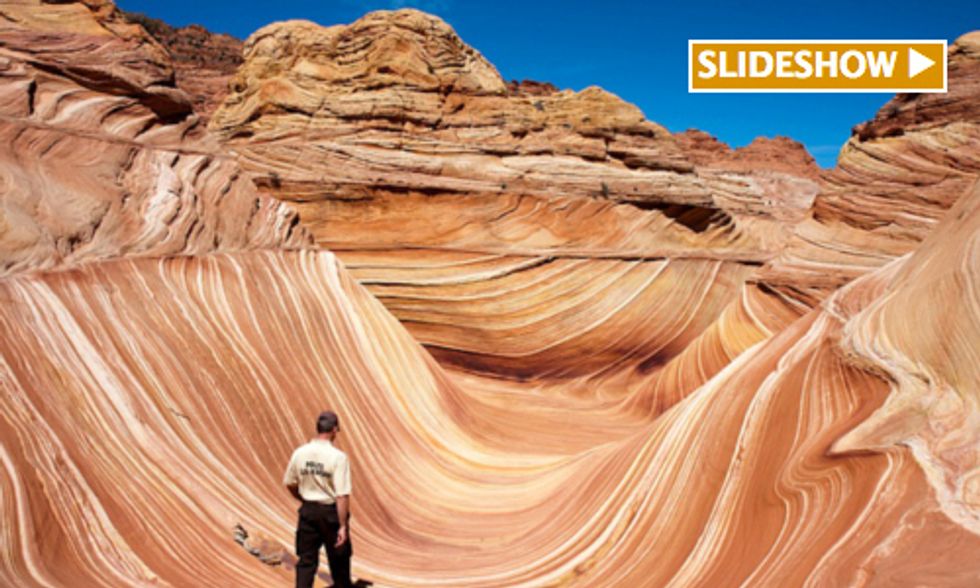 America is filled with places just as strange as any surrealist painting.
Spanish painter Salvador Dali passed away 25 years ago this January. His name by then all but synonymous with that of the art movement he championed during the prime years of his career: surrealism. In honor of Dali—and weirdness in general—here are seven wild places that exemplify the bizarre, from ice caves to devilish mineral deposits.
[slideshow_deploy id='346834']
Mendenhall Ice Caves, Alaska
The coldest place on this list may also be the toughest to get to: the Mendenhall ice caves sit inside a 12-mile glacier near Juneau, requiring a kayaking trip and treacherous hike merely to visit. What's more, the site is at risk due to climate change—a crushing blow to our national legacy of strange wilderness. These frigid blue tunnels have a spacey, science-fiction ambiance, producing scenes so eerie and entrancing that visiting photographers are sometimes accused of digitally manipulating their images.
Bisti/De-Na-Zin Wilderness Area, New Mexico
Bisti/De-Na-Zin Wilderness feels like the surface of some faraway planet plopped down in northwest New Mexico. The 41,000-acre stretch of badlands that forms its core is overseen by an army of hoodoos (thin pillars formed within sedimentary or volcanic rock formations). Like watchful sentinels entombed long ago, these formations underscore the sense of stark—and visually stunning—isolation here. Luckily, there is still a lot to do: activities permitted in the area include hiking, camping and horseback riding.
Devils Postpile National Monument, California
Appearing more like the work of mischievous space aliens than the result of gradual glacial and volcanic shifts, the Devils Postpile is one of the most pristine arrays of basalt columns on Earth, a 60-foot cluster of hexagonal formations that resembles an enormous honeycomb from overhead. It is no wonder the area, which has enjoyed its monumental status in the heart of the Sierra Nevada for over a century, continues to inspire photographers and hikers. It is considered one of the most outstanding natural attractions in all of California.
Petrified Forest National Park, Arizona
This world-famous weird landscape is filled with fossils, most notably the colorful remains of scattered tree trunks that have become hard quartz over millions of years of geological upheaval. Set amid spectacular eroding badlands, the park—which was recently expanded by thousands of acres and contains two wilderness areas—brings to mind the ruined columns of some classical civilization. Petrified Forest was a national monument for more than 50 years before gaining its current status.
Badwater Basin, Death Valley National Park, California
Badwater Basin in California's famed Death Valley National Park is best-known for its low elevation—at 282 feet below sea level, the lowest spot in North America—and 200 square miles of ever-changing salt flats. These flats form because pools of rainwater evaporate very quickly in Death Valley, leaving salt deposits behind. The fragile, ice-like crystals that blanket the area's muddy crust give it the uncanny appearance of displaced frozen tundra, even as summertime temperatures in the area frequently top 100 degrees Fahrenheit.
The Wave, Arizona
A swirling geological formation in the Arizona half of the Paria Canyon-Vermilion Cliffs Wilderness Area , The Wave has a simple sobriquet because it is a singular place: a tract of desert sandstone rippling with orange, red and yellow striations, as sinuous as a rolling sea. Its physical magnificence has made it a must-see attraction, requiring a lottery system for visiting permits (only 20 people are allowed in per day). However, it is notoriously dangerous for inattentive hikers, so proceed with caution.
Desert of Maine, Maine
Unlike the other attractions on this list, the Desert of Maine looks pretty ordinary—except that it's a desert in the middle of Maine. This 40-acre attraction was created by the movement of Ice Age glaciers and uncovered some 215 years ago as a result of man-made erosion. Naturally, proprietors have made liberal use of pyramid and camel imagery in promoting the area, which has been a popular tourist attraction for more than 80 years. Despite sitting amid a classic New England pine forest, this mini-Sahara feels like a desert, too: sometimes temperatures on the sand break the century mark, aided by the bright, highly reflective sand dunes.
YOU MIGHT ALSO LIKE
Night Sky Comes Alive in Breathtaking Time-Lapse Viral Video
Only 3 Wolves Left at Isle Royale National Park
Barbie Quits SeaWorld as Jane Goodall Says It 'Should Be Closed Down'
EcoWatch Daily Newsletter
Recent Stories from EcoWatch