This website uses cookies to ensure you get the best experience while browsing it. By clicking 'Got It' you're accepting these terms.


The best of EcoWatch, right in your inbox. Sign up for our email newsletter!
7 Satisfying and Healthy Meat Alternatives
Dec. 24, 2014 07:39AM EST
Food
More and more people are getting the idea that it's healthier for both us and for the climate to eat less meat. But they're not quite sure how to go about it. Will they have to eat what some have disparagingly called "bird food" and be stuck with food that never packs a tummy-satisfying punch?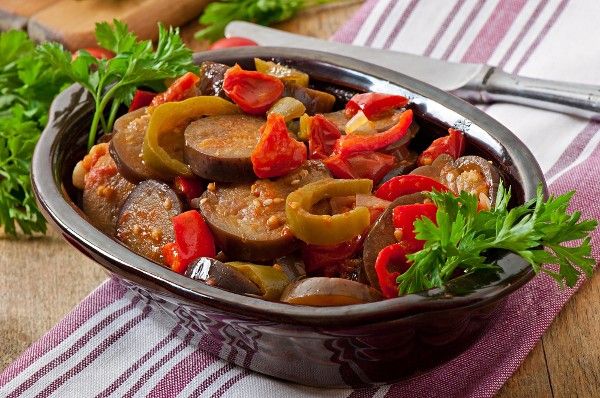 Photo credit: Shutterstock
That's not the case at all. Home chefs as well as restaurants are starting to take another look at what constitutes a hearty meat-free main dish. And they've discovered that even without resorting to those tastes-like-meat substitutes, which some feel is a good bridge food for those not quite ready to give up the taste of meat, there are plenty of things to plan a meal around that won't leave you hungry.
1. Often one of the first things to slip onto the menu of a place that specializes in burgers and sandwiches is the portobello sandwich. These dense mushrooms have been a popular meat stand-in for a while. But there's a whole host of these earthy fungi with an almost limitless variety of sizes, textures and flavors that can add heft to a meal.
2. Beans are another vegetable that come in too many varieties to keep track of. They're the real foundation of a chili, more so than the meat, and if you add the right vegetable accompaniments and herb seasonings, most might not even notice there's no meat in there. They're a mainstay of soups and stews, and they're known for the mighty nutritional value they carry, especially if you mix them up.
3. Eggplant is a vegetable some people are devoted to and a lot of people just don't really get. Its chunky pieces can take up a lot of room in a stew or stir fry, adding a little flavor or texture that doesn't overwhelm whatever surrounds it.
4. Tofu is a well-known vegetarian staple that adds bulk without adding a lot of taste of its own. It's gotten a bad rap for tasting like pencil erasers, but add your own favorite herbs and spices and it picks up their flavors and amplifies them. Or fry it to add some crunchy texture to a dish.
5. Lentils have been a staple of thick, satisfying vegetable soups forever. You have probably eaten them without even knowing it. They've been stepping up and taking a starring place in dishes since vegetarianism started to surge and people began to eat healthier. They're an excellent replacement for ground beef.
6. Olives are probably not the first food that comes to mind as a tummy-filler. But their flavor is so full and rich, it expands a dish well beyond what you'd expect from their small size. We know a chef who prepares a dish of black olives and fennel that's so rich, it has to be eaten very slowly or it overwhelms you.
7. Potatoes have long been though of as a reliable side dish but they can be the main event too. They can add the heft to a casserole or stew, mixing with carrots, onions, beans, turnips and other vegetables to create a complete meal.
YOU MIGHT ALSO LIKE
How Diet and Climate Change Are Intrinsically Linked
6 Things You Need to Know About Protein
EcoWatch Daily Newsletter
arinahabich / Stock / Getty Images
By Sydney Swanson
With April hopping along and Easter just around the corner, it's time for dyeing eggs (and inadvertently, dyeing hands.) It's easy to grab an egg-dyeing kit at the local supermarket or drug store, but those dye ingredients are not pretty.
Aerial of farmland and mountains near Seaward Kaikoura Range in New Zealand. David Wall Photo / Lonely Planet Images / Getty Images Plus
By Jordan Davidson
New Zealand's pristine image as a haven of untouched forests and landscapes was tarnished this week by a brand new government report. The Environment Aotearoa 2019 painted a bleak image of the island nation's environment and its future prospects.
heshphoto / Image Source / Getty Images
Mike Taube / Getty Images
A new EPA rule on asbestos does not say anything about the asbestos currently in the environment. Bob Allen / Getty Images
A mountain woodland caribou bull in the Muskwa-Kechika Wilderness area in northern British Columbia, Canada. John E Marriott / All Canada Photos / Getty Images
It's heartening, in the midst of the human-caused sixth mass extinction, to find good wildlife recovery news. As plant and animal species disappear faster than they have for millions of years, Russia's Siberian, or Amur, tigers are making a comeback. After falling to a low of just a few dozen in the mid-20th century, the tigers now number around 500, with close to 100 cubs — thanks to conservation measures that include habitat restoration and an illegal hunting crackdown.